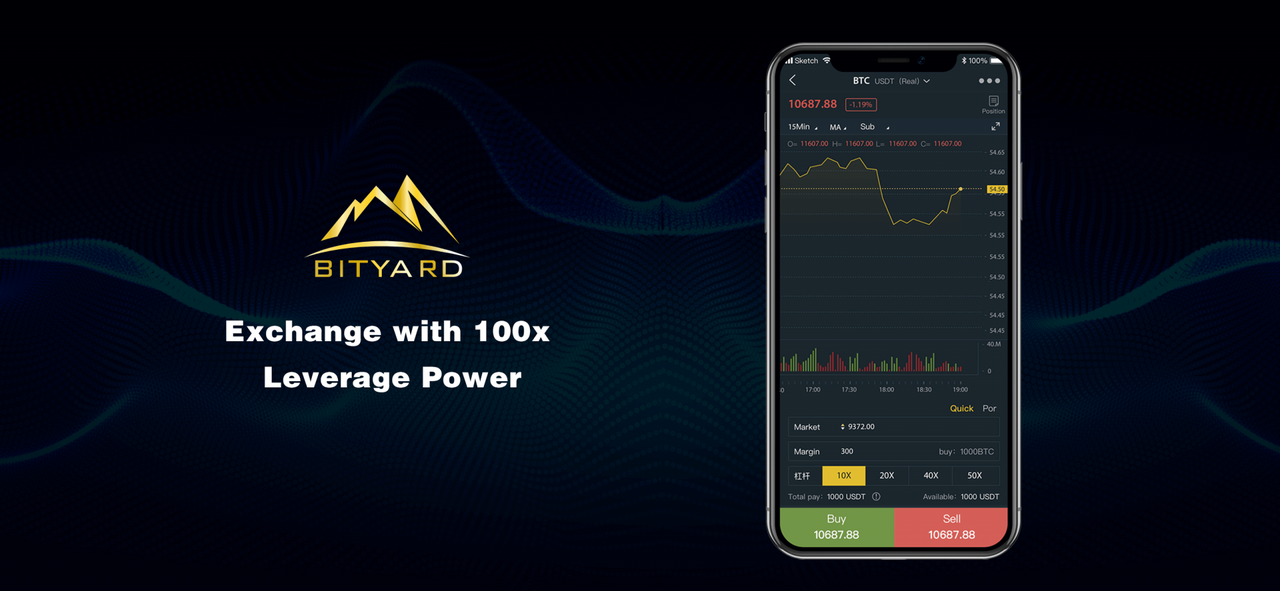 Bityard is a Singaporean exchange that was created in 2019. The core principles of Bityard is safety and security, user friendliness and speed. It is worth mentioning that Bityard is licensed in four countries: Singapore, Estonia, Australia and United States. Furthermore for users that prefer doing everything on their mobile devices, you can simply download Bityard app and start trading immediately. You can use the barcode scanner on your phone, which will make an installation process even easier.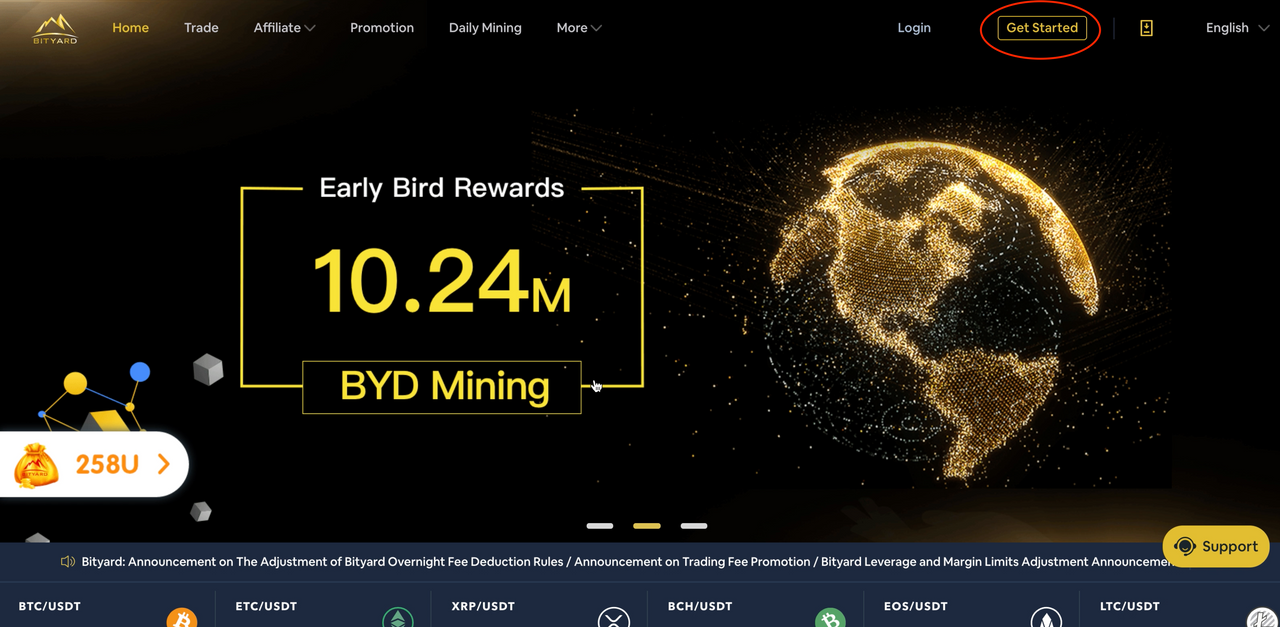 Lets' move on to the registration process. To kick things off you need to click on get started in the right top corner of the front page. When the page has loaded, just fill in your e-mail address, enter the verification code, create a password and you are ready to go.
After we have registered an account, we can start trading. To do so go to the trading section. Here you can see all 10 trading pairs that Bityard is offering, starting from BTC and other valuable altcoins like BCH or ETH. In the middle of the page, you can see trading charts that you can personalise by adding your favourite trading indicators and selecting the right time frame. As you can see the price is very unstable and the price is falling and raising over and over again. Lets' try to earn some money on it.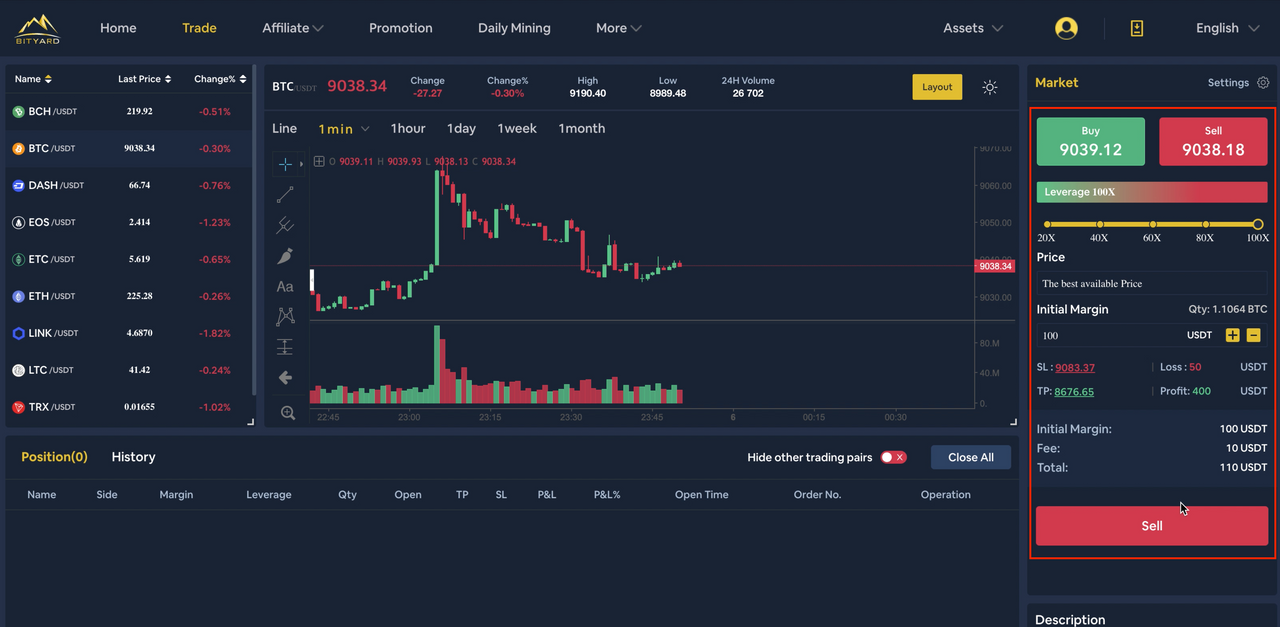 On the right side, you can see your trading interface. Initial margin is the place where you are entering the amount of your funds, we will make it 100 USD. Then you need to select the right leverage, we are trading BTC now so lets' go big and select 100x. The next step would be to determine the right Stop Loss and Take Profit. You can always change it by clicking on Setting button in the right top corner. Once again, Take Profit is the amount of money or percentage you will get when BTC hits the certain price. The same works for Stop Loss but this time it is the percentage you are going to lose.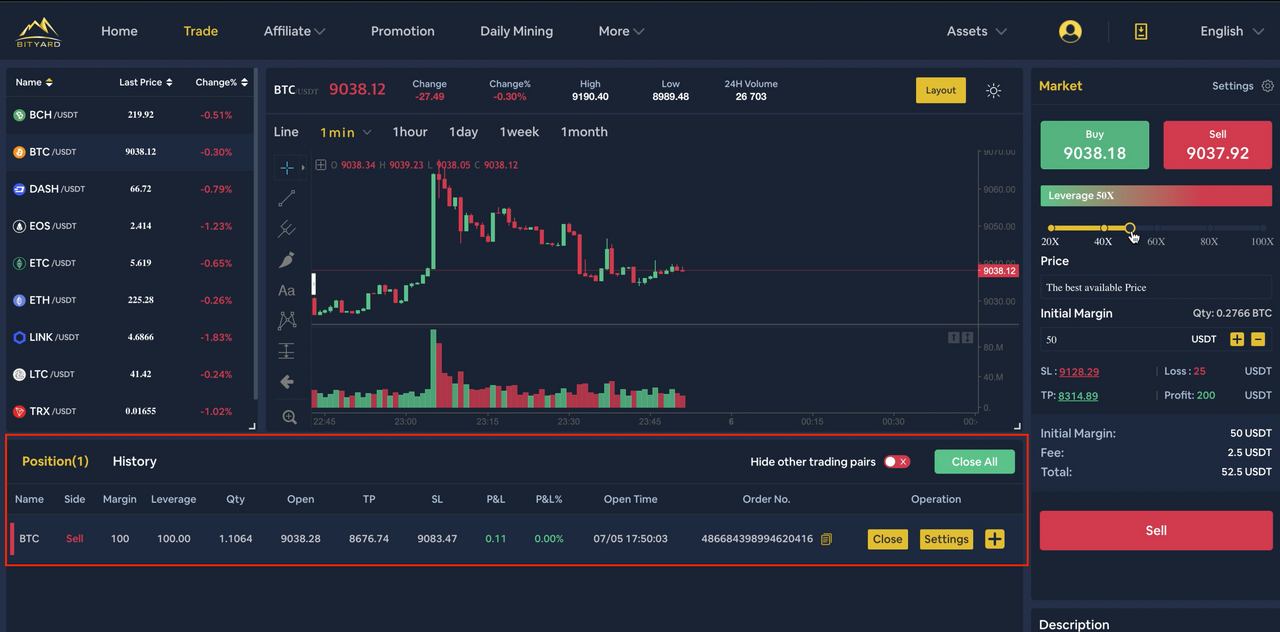 When everything is set, just click on sell and confirm. And our order is live! You can see at the left bottom corner all the statistics. If you are wondering where does 1,1 BTC come from if we only paid 100 USD? It is the leverage, money you are borrowing, so 100 USD multiplied by 100 times is equal to 10.000 USD or 1,1 BTC.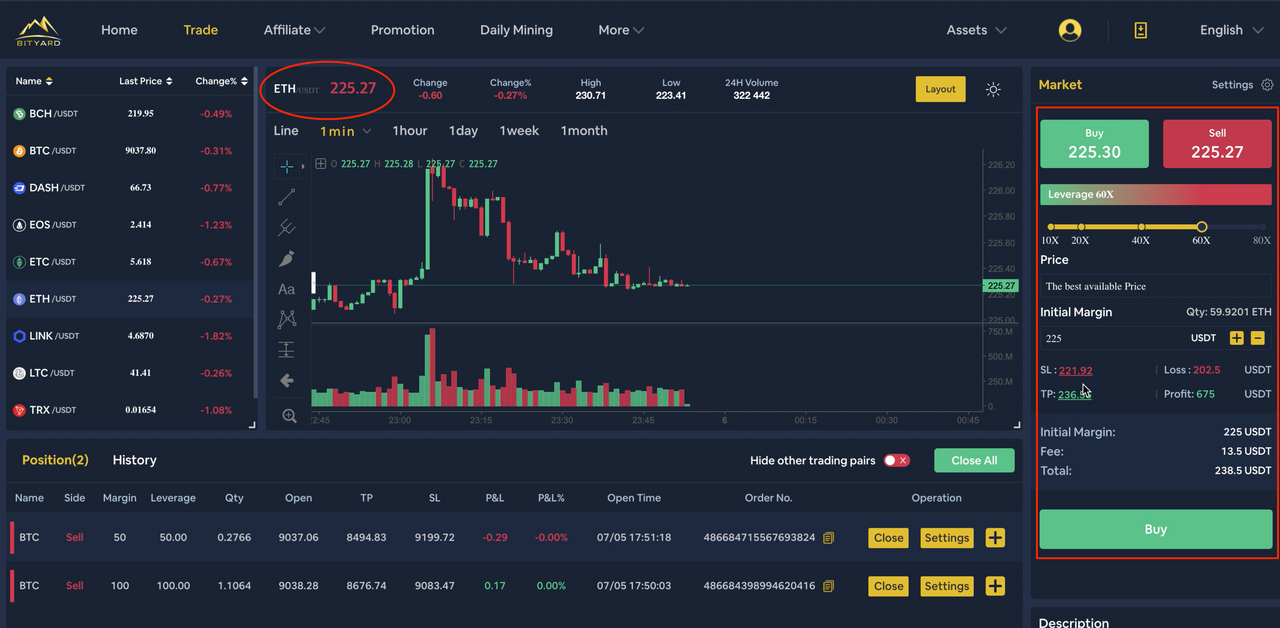 Recently we talked about ETH 2.0, so lets' trade some ETH. We think that the price will go up, so we click on buy, selecting the right leverage x60 and typing the amount of money we want to spend. Lets' make it 1 ETH or 225 USD click on buy and confirm. So now we have multiple orders, and if we want to see only ETH orders, we can click on hide other trading pairs. If you want to change the details of your order, click on settings. Here you will be able to change Stop Loss and Take Profit, while the order is already live. Also you should take a note, that if you change SL and TP, the percentage of earnings/losses will change as well.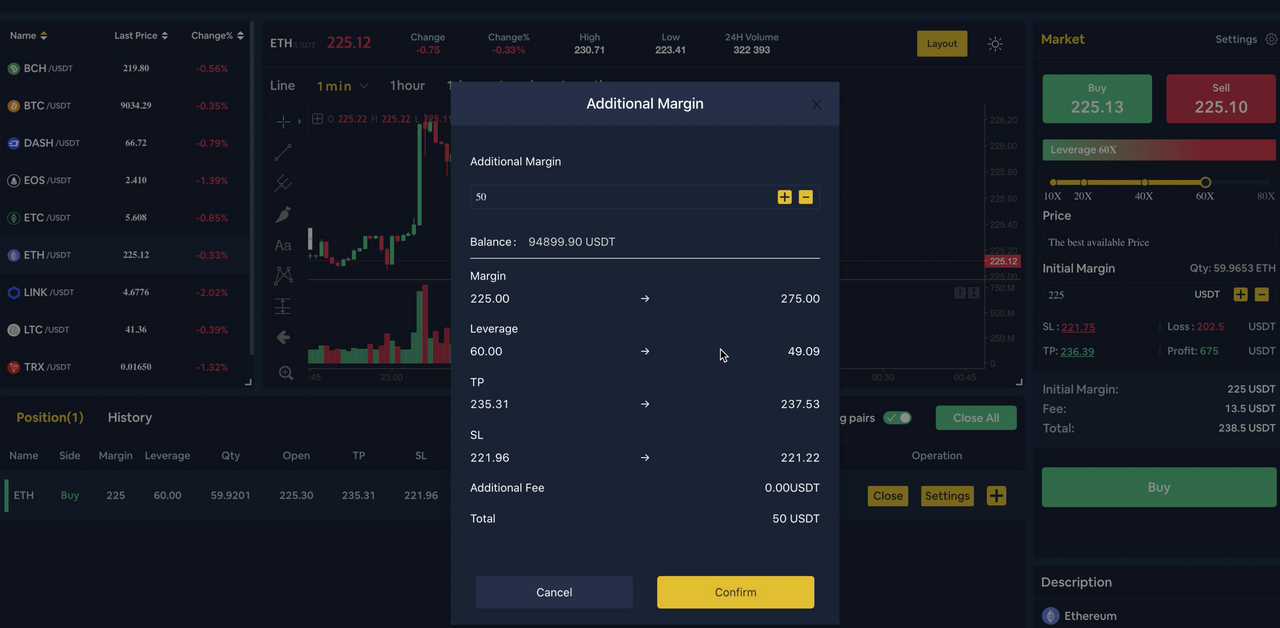 Buying ETH was not the best idea, our order got by 12% in loss, but we would like to add some funds to our order, to do so, just click on +. Here you can add additional funds to your open orders. You should be aware that if you do so, all the parameters will change, including Margin, Leverage, Take Profit and Stop Loss.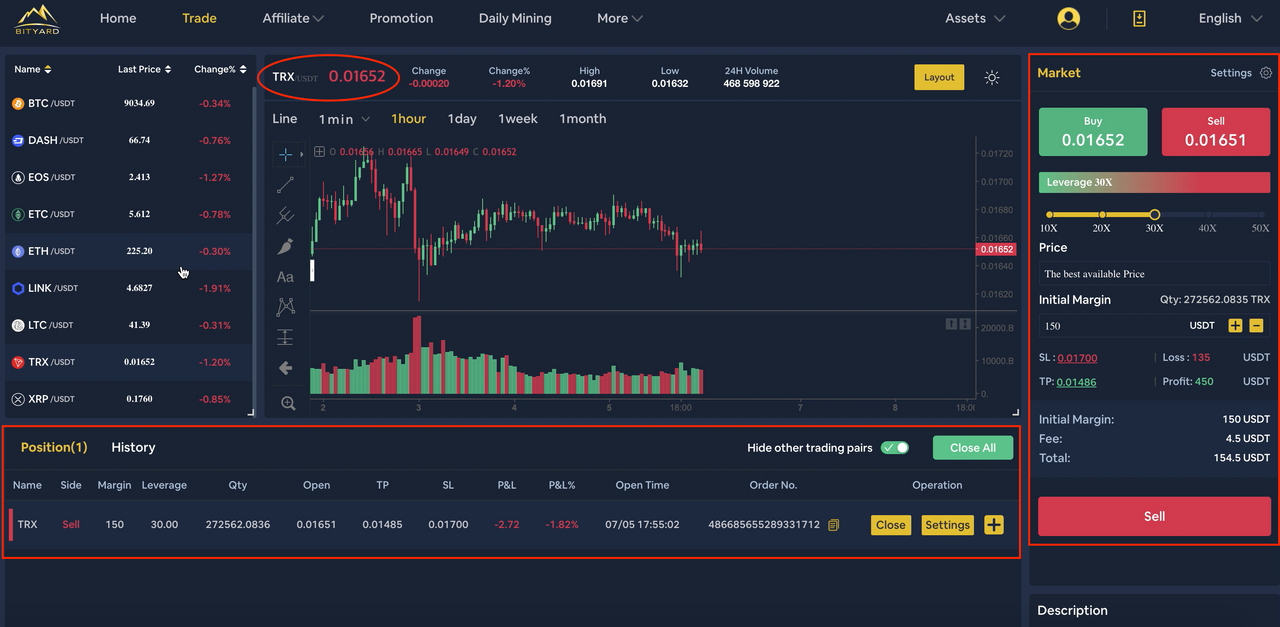 As we are doing a complete trading session, lets' select several other crypto currencies to trade with. Lets' try TRON out, because they have a big announcement in the nearest future as well. TRON price movement is quite stable, but all major cryptos are falling, so we would try to sell TRX as well. Selecting 30x leverage and entering the initial margin, in our case 100 USD. Lets' make it 150. Check Stop Loss and Take Profit and click on Sell and confirm.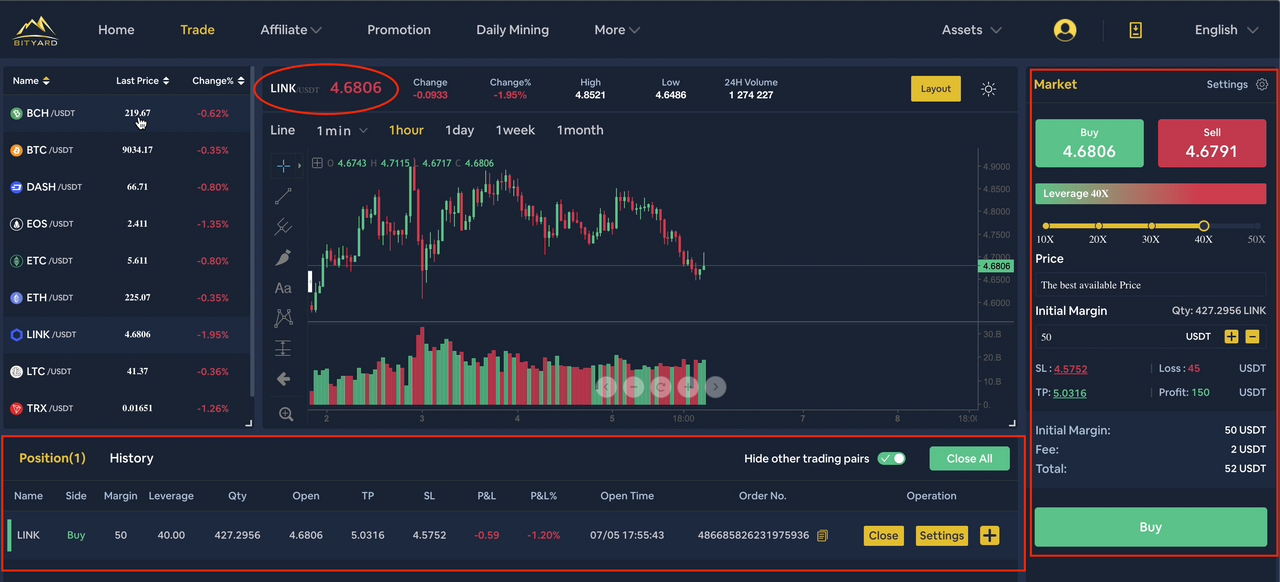 Now as everything is falling let us select the most dropped crypto and create a buy order. It seems like LINK is the one. 40x Leverage, 50 USD on the line, clicking on Buy, checking Stop Loss and Take profit ratios and finalising the order.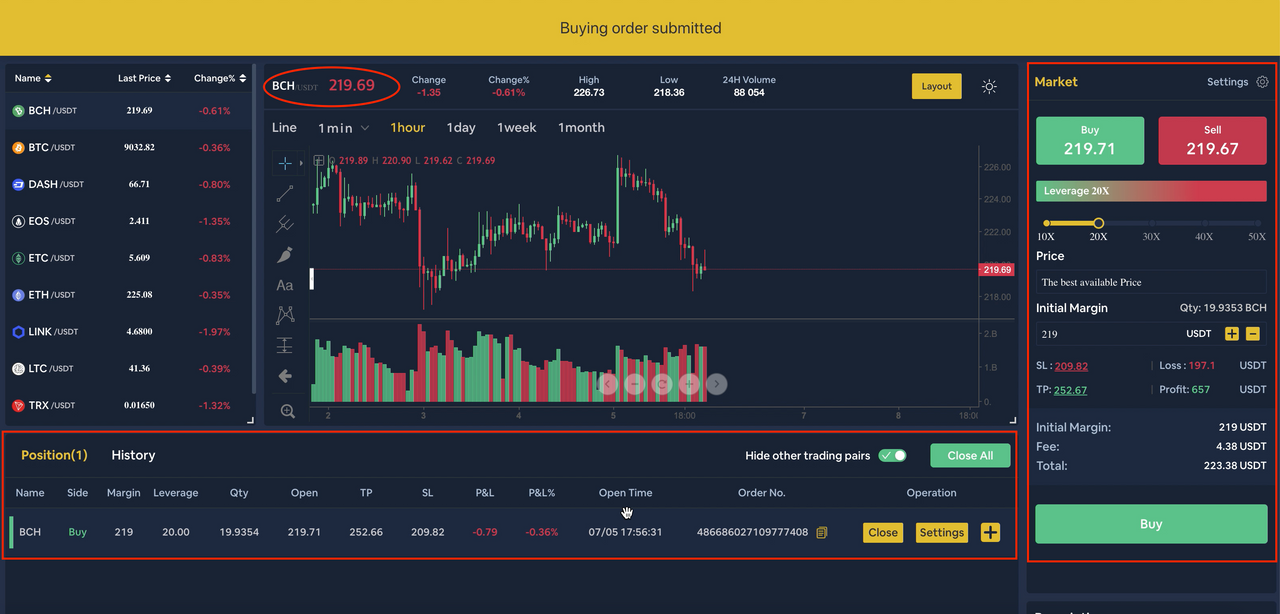 We are going to make the last trade on Bitcoin Cash (BCH). Bitcoin Cash is crashing so lets try to catch it and create a buy order with 1 full BCH. 219 USD plus 20 Leverage makes it almost 20 BCH. Click on buy and our order is live! Now if you select unhide all trading pairs, you will see our open orders on BTC, ETH, TRX, LINK and BCH.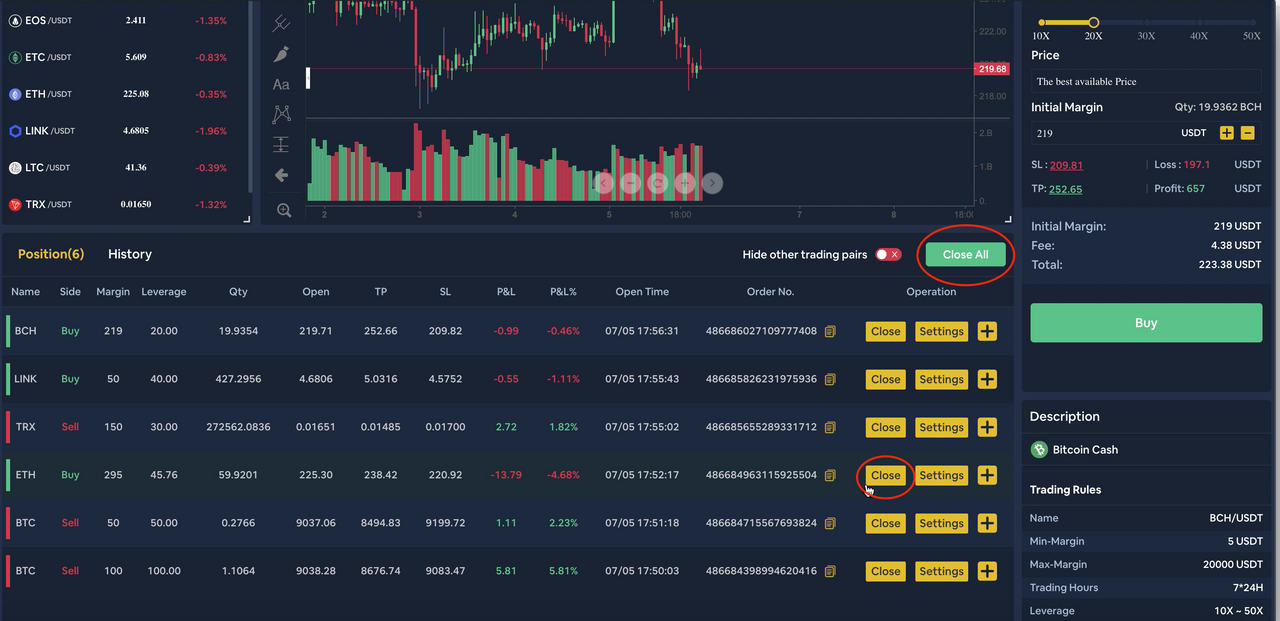 Ethereum still seems to be the weakest trade today, so we will just close the order. You can see that BTC orders are giving profit, while others are still around 0. You can always change your order or add some funds by clicking on settings or +. You can also close all your orders at once by clicking CLOSE ALL. Now you can see all closed orders in history page and you can track which were profitable and which were not.
Conclusion: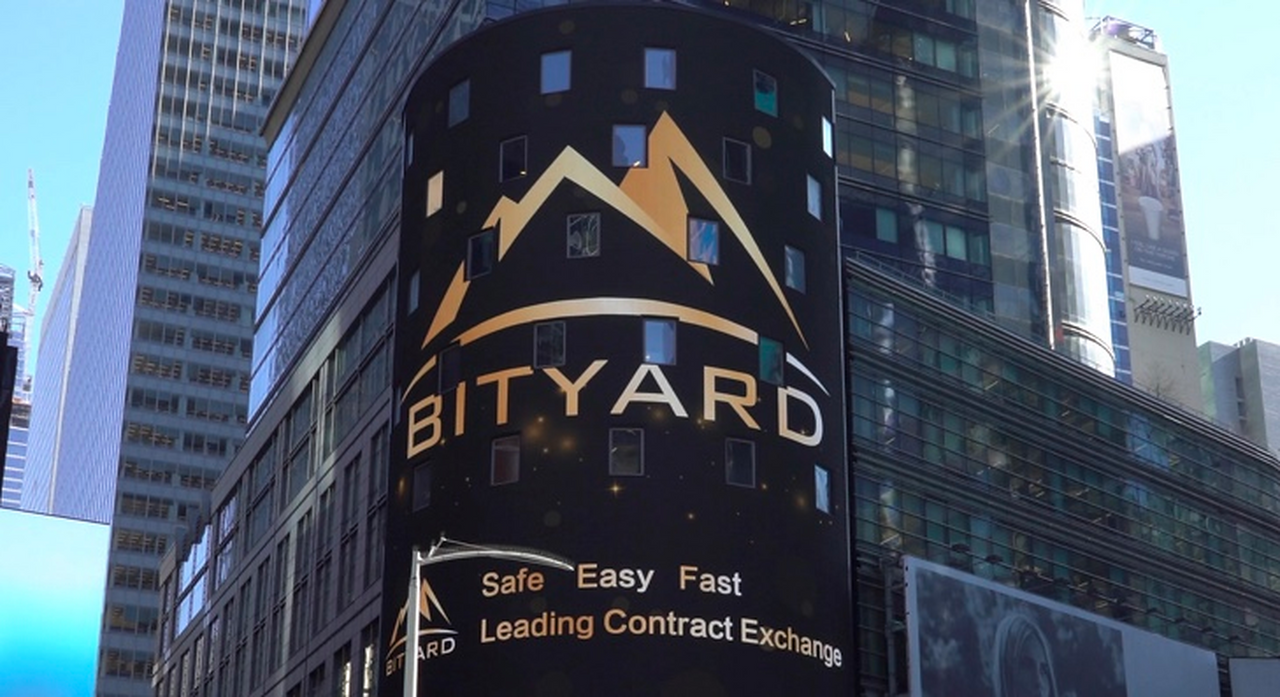 All in all, Bityard is one of the leading exchanges in margin trading sphere, especially when it comes to user-friendliness and easy access to trading. Even complete beginners would can interact and trade on Bityard.
Useful links:
Website: https://www.bityard.com/?ru=d2xubB
Telegram Group: https://t.me/BityardExchange
Twitter: https://twitter.com/Bityardofficial
Facebook: https://www.facebook.com/Bityardofficial/
Linkedin: https://www.linkedin.com/in/bityard/
Medium: https://medium.com/@bityardsns
Steemit: https://steemit.com/@bityard