Blockchain and Bitcoin popularity further rising on Google, but did you invest in a lazy or ambitioned team?
(Repost+upvote will give you a chance to win)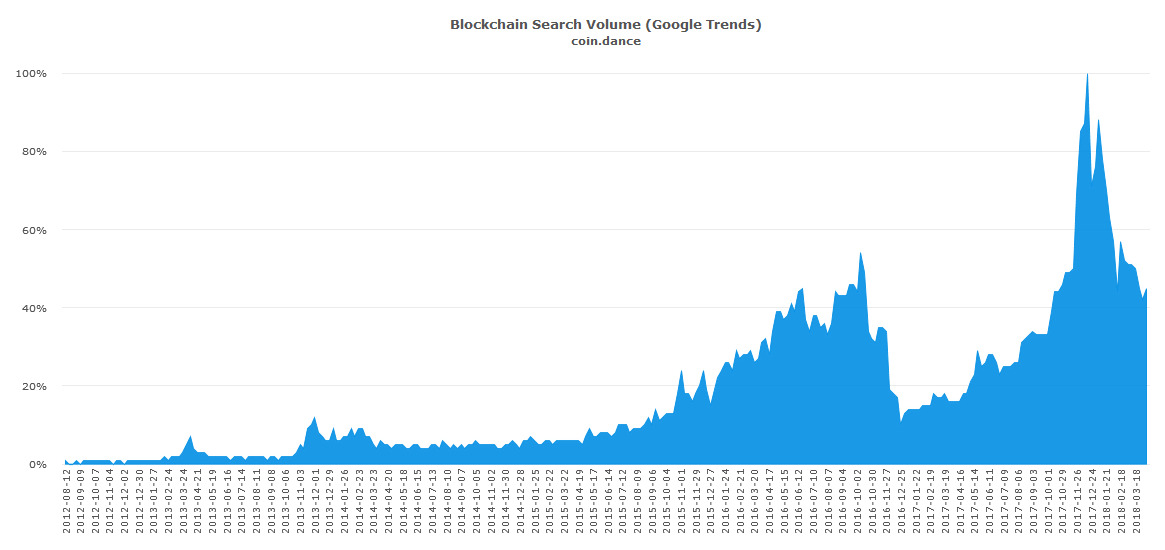 Despite the rising popularity of Bitcoin and even more Blockchain on Google we shouldn't forget to check up the Github activity of the development teams even if it wouldn't be the Holy Grail of trading strategies and you couldn't compare them without some compromises, nevertheless it could give us an indication of further development and future advantages.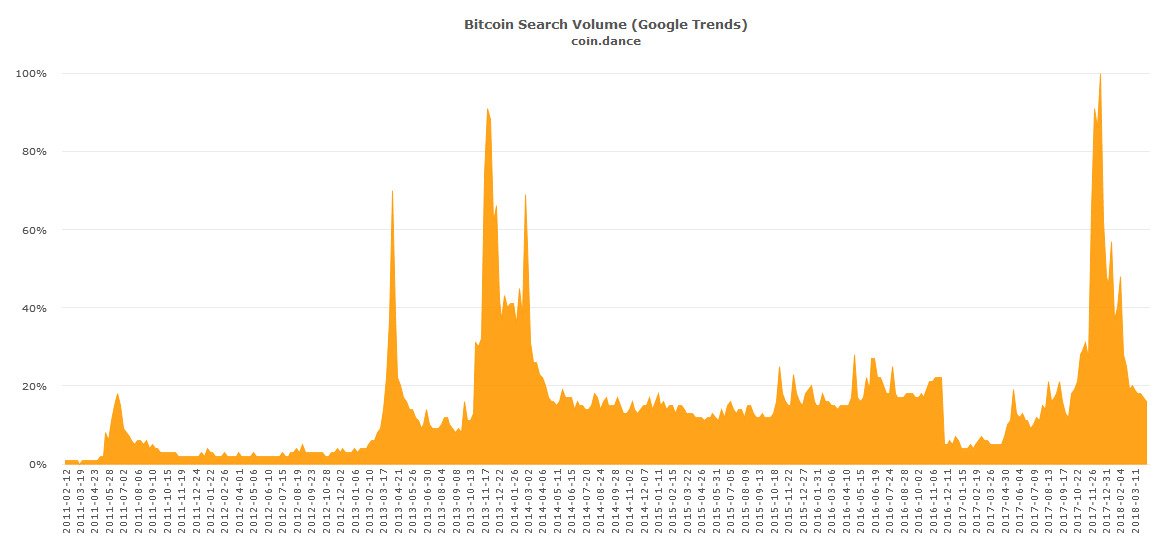 This article is focused on the coins with the biggest market capitalization. We should keep in mind, that some projects just have started, we can't compare "apples with pears" and should keep in mind the age of the single coins. Constant productivity is marked in orange boxes, descending activity red and ascending green, while I highlighted some exceptionalities. Most interesting occurrences will be inspected further and compared to the corresponding time lines.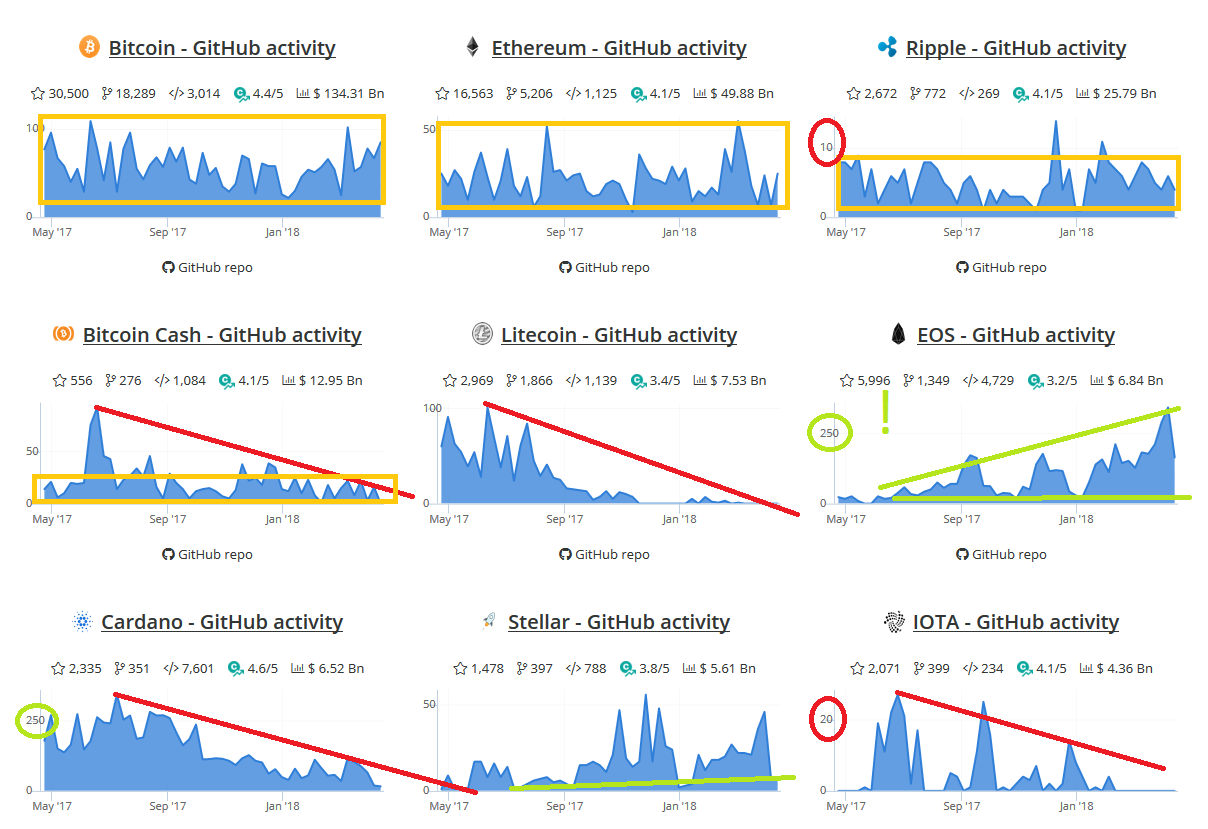 Bitcoin - BTC
a. Has a constant development rate and looks really solid
Ethereum - ETH
a. Looks also really constantly, but has a little decline in the end
Ripple - XRP
a. Also constantly producing, but at a lower level than the best
b. Mood drop in bear market
Bitcoin Cash - BCH
a. Big decrease, but fighting at the low end
b. Mood drop in bear market
Litecoin - LTC
a. Was really actively, but got stuck somehow
b. Mood drop in bear market
EOS - EOS
a. Nice increasing activity at a high level, probably they're working hard on the release in June
b. Productivity even risen in baisse
Cardano - ADA
a. Drop of productivity, but from a high level
Stellar - XLM
a. Rising productivity
IOTA - IOTA
a. Decrease from a low level to bottom
b. Mood drop in bear market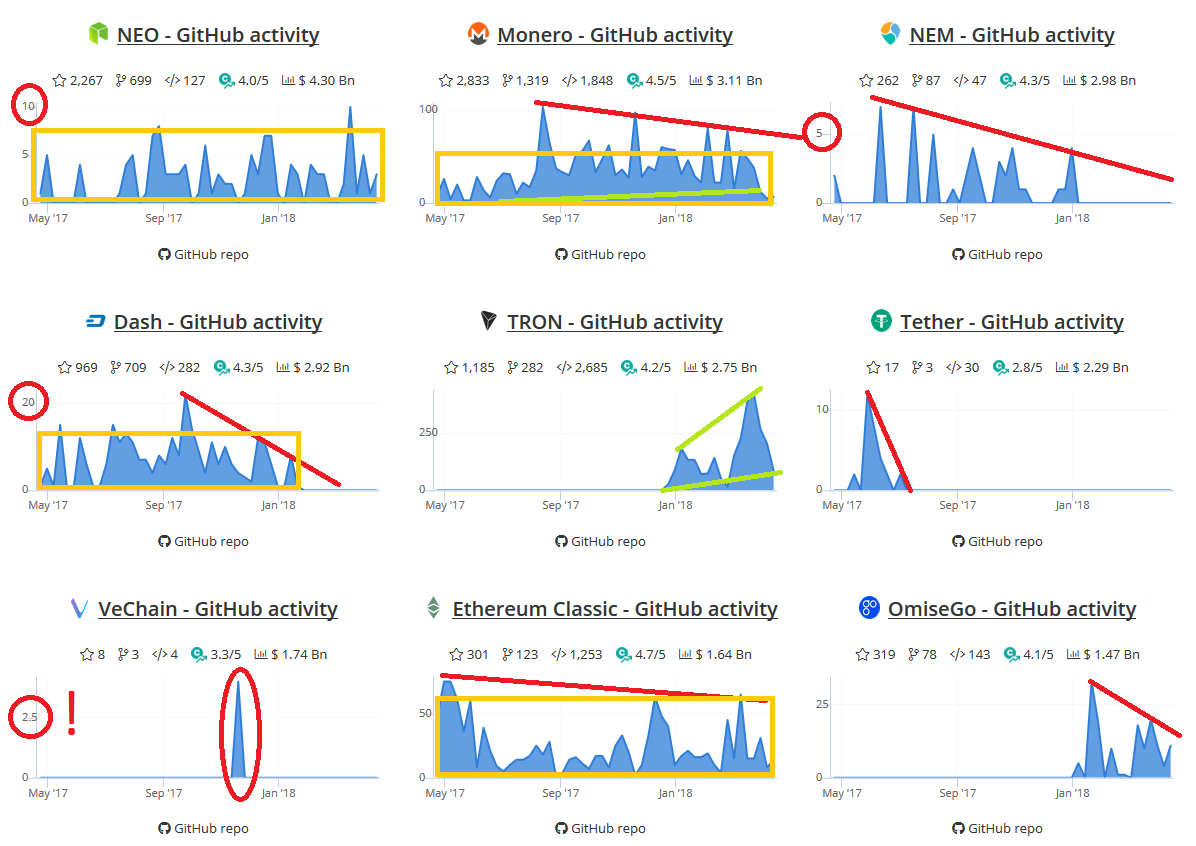 NEO – NEO
a. Constantly developing at low end
Monero – XRM
a. Solid productivity chart with small decrease
NEM – XEM
a. Lost their low activity after falling of short peak hustles
b. Mood drop in bear market
DASH – DASH
a. Was relative constantly at a low level, but decreased to zero
b. Mood drop in bear market
TRON – TRX
a. Was frozen, but started their work again in January 2018
b. Productivity even risen in bear market
Tether - USDT
a. Last productive time was in the middle of 2017
VeChain – VEN
a. Last impulsive activity in the end of 2017, but nothing really happened before and after it also it wasn't really that much
Ethereum Classic – ETC
a. Looks really solid with a not really noteworthy decrease
b. Mood drop in bear market a little bit
OmiseGo – OMG
a. Impulsive action went lower
b. Mood drop in bear market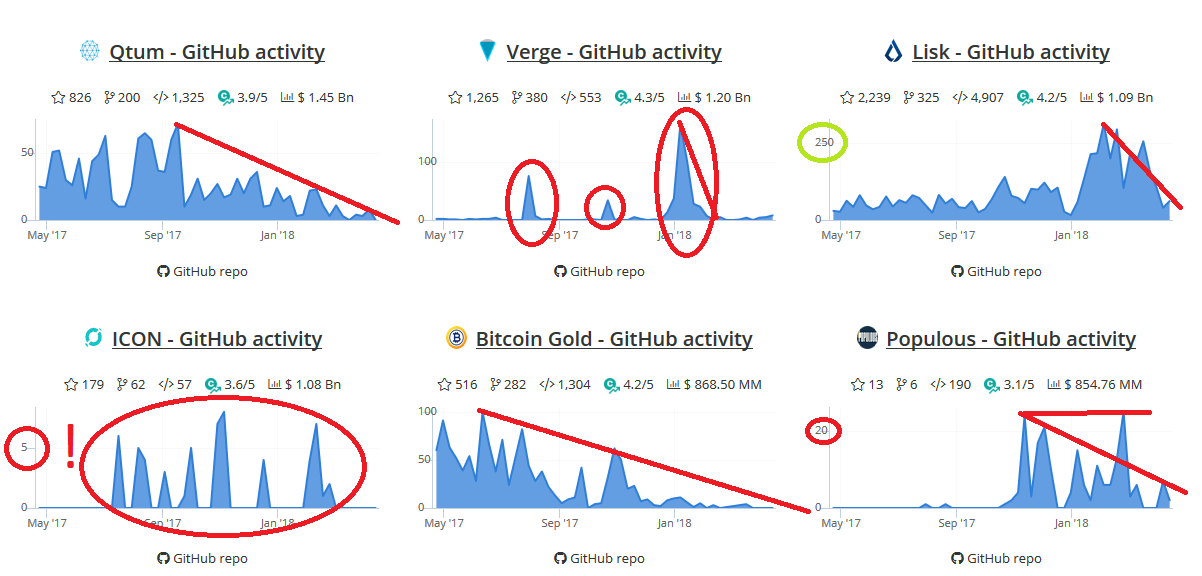 Qantum – Qtum
a. Decreasing, but still working in a lazy manner
b. Mood drop in bear market
Verge – XVG
a. Just small impulses and only with a magnifier perceptible productivity, I would probably now "sell on good news" (publication of partnership with pornhub)
b. Mood drop in bear market
List – LSK
a. Had a nice run with new tops, maybe in defiance of the critics
b. Mood drop in bear market a little bit
ICON - ICON
a. Just impulses, but never constantly and at a really low rate
Bitcoin Gold – BTG
a. Just decreasing since last year
b. Mood drop in bear market
Populous – PPT
a. Constant with impulses and maybe a small decrease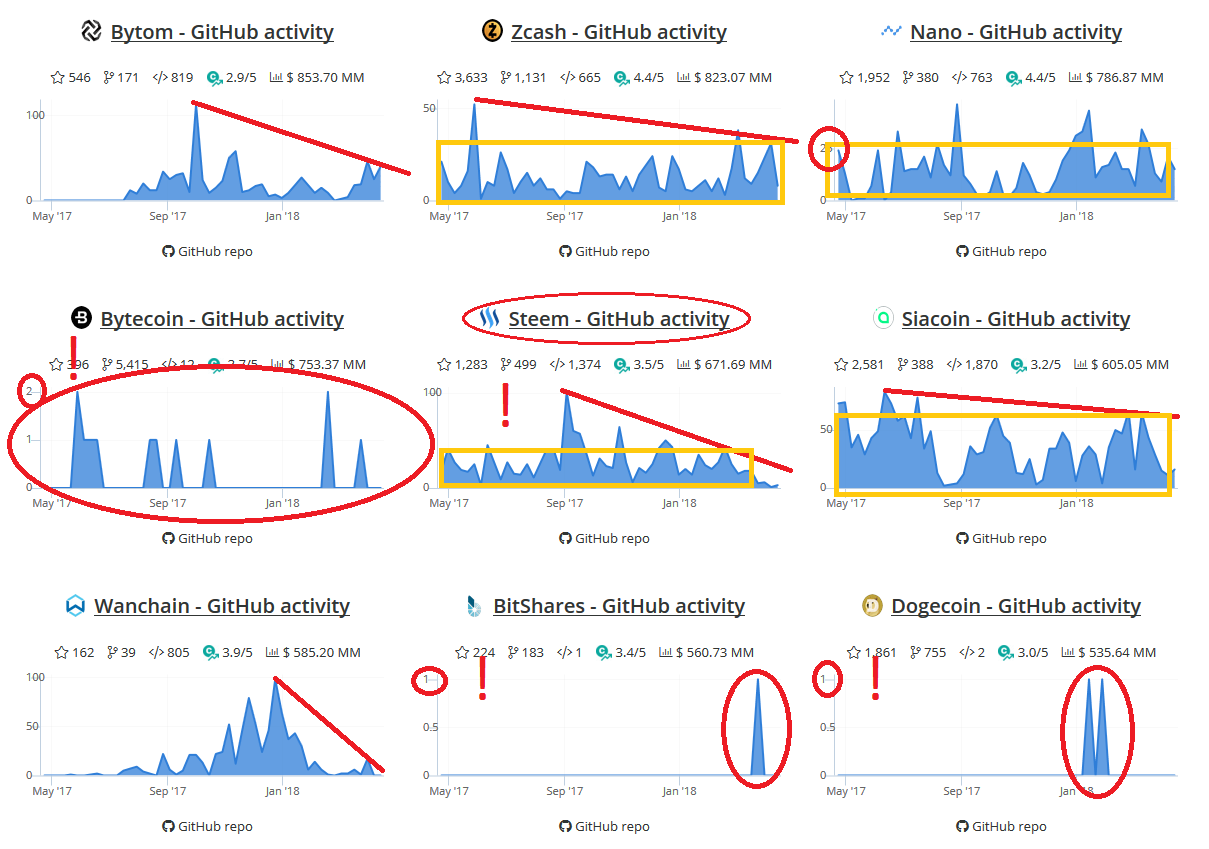 Bytom - BTM
a. Hustling on the low end with slacking energy
Zcash - ZEC
a. Constantly working on their coin with a small cooling from the initiation
Nano - NANO
a. Solid chart at the low end
Bytecoin – BCN
a. Fragile impulsive development at the lowest end
Steem – STEEM
a. Constantly producing came after decrease to nearly zero
b. Mood drop in bear market
Siacoin – SC
a. Constantly working on their vision but with a little bit less energy
b. Mood drop in bear market
Wanchain – WAN
a. Had it's last peak in January 2018 and decreased a lot
b. Mood drop in bear market
Bitshares – BTS
a. Just a single impulse at the bottom
Dogecoin – DGD
a. Just two single peaks in the low end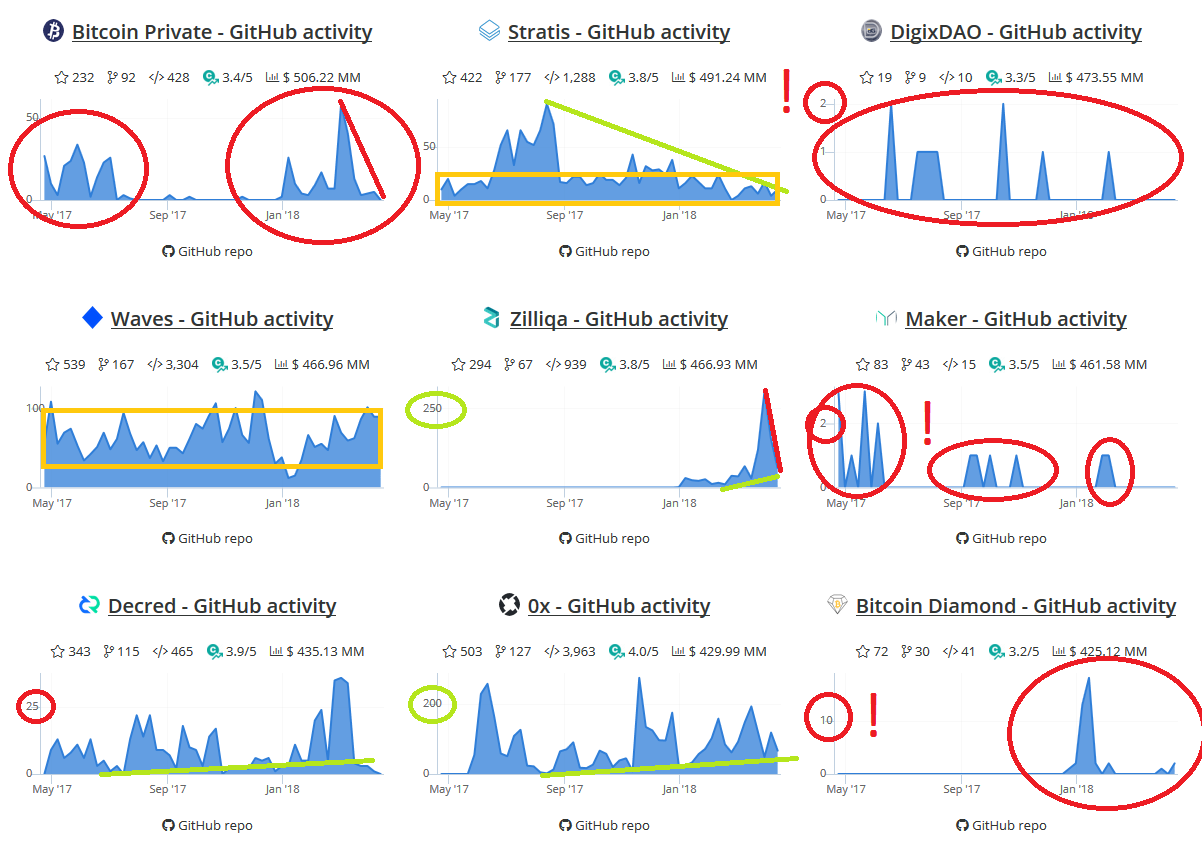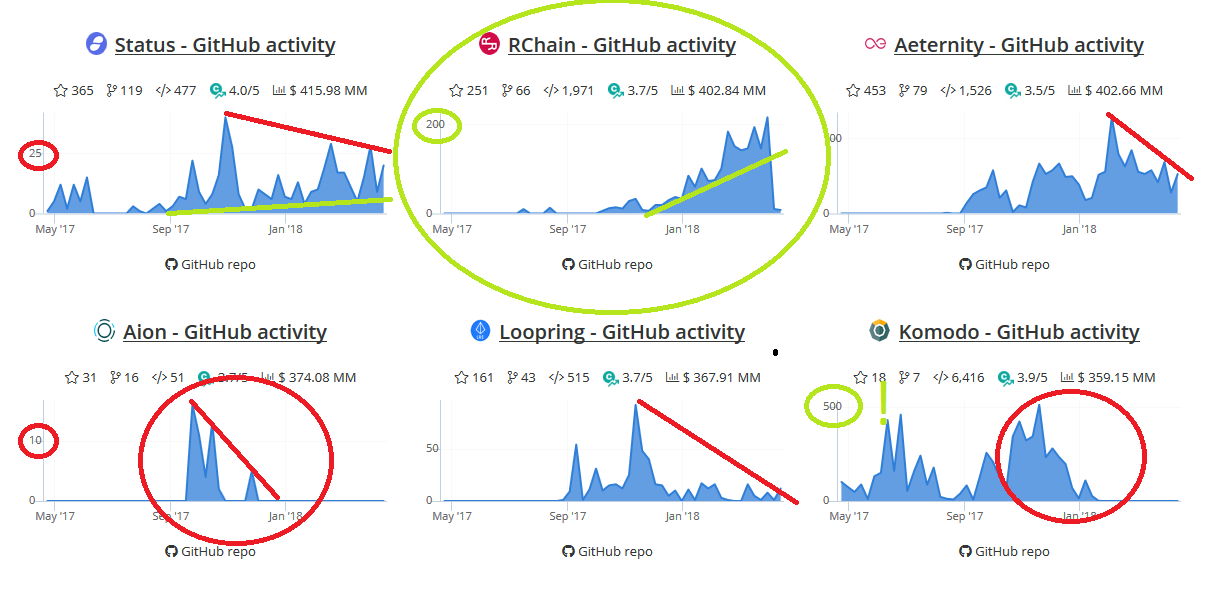 Bitcoin Private – BTCP
a. Started their new project, stuck in between and just begun to work but not really constantly
Stratis – STRAT
a. Activity not as much as in the beginning, but without breaks
DigixDao – DGD
a. Just five little pushes at the low bottom
Waves – WAVES
a. Looks like a good distributed teamwork at a constant developing rate
Zilliqa – ZIL
a. Started their work with a nice peak, but eased up a little bit
Maker – MKR
a. Short episodes of small impulses, looks sparse
Decred – DCR
a. Growing productivity but not the highest
0x – ZRX
a. Rising activity at some nice levels
Bitcoin Diamond – BCD
a. Just a short low impulse in January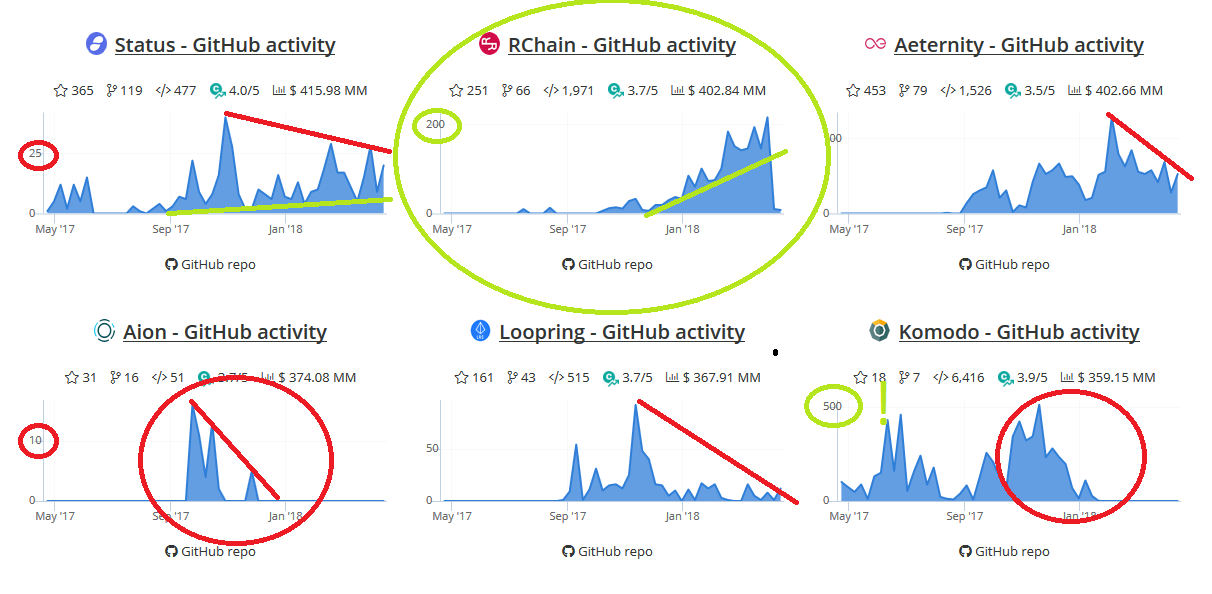 Status – SNT
a. Developing activity is building a triangle in the bottom area
RChain – RHOC
a. Since January a nice increase to a respectable level
Aeternity – AE
a. Started in September 2017 and till then constantly working on their vision, but energy got a bit weaken
b. Mood drop in bear market
Aion – AION
a. Just two small pushes without continuity at a bad level
Loopring – LRC
a. Falling activity since end of 2018
Komodo – KMD
a. Was working in record levels, but since January 2018 came to a halt
b. Mood drop in bear market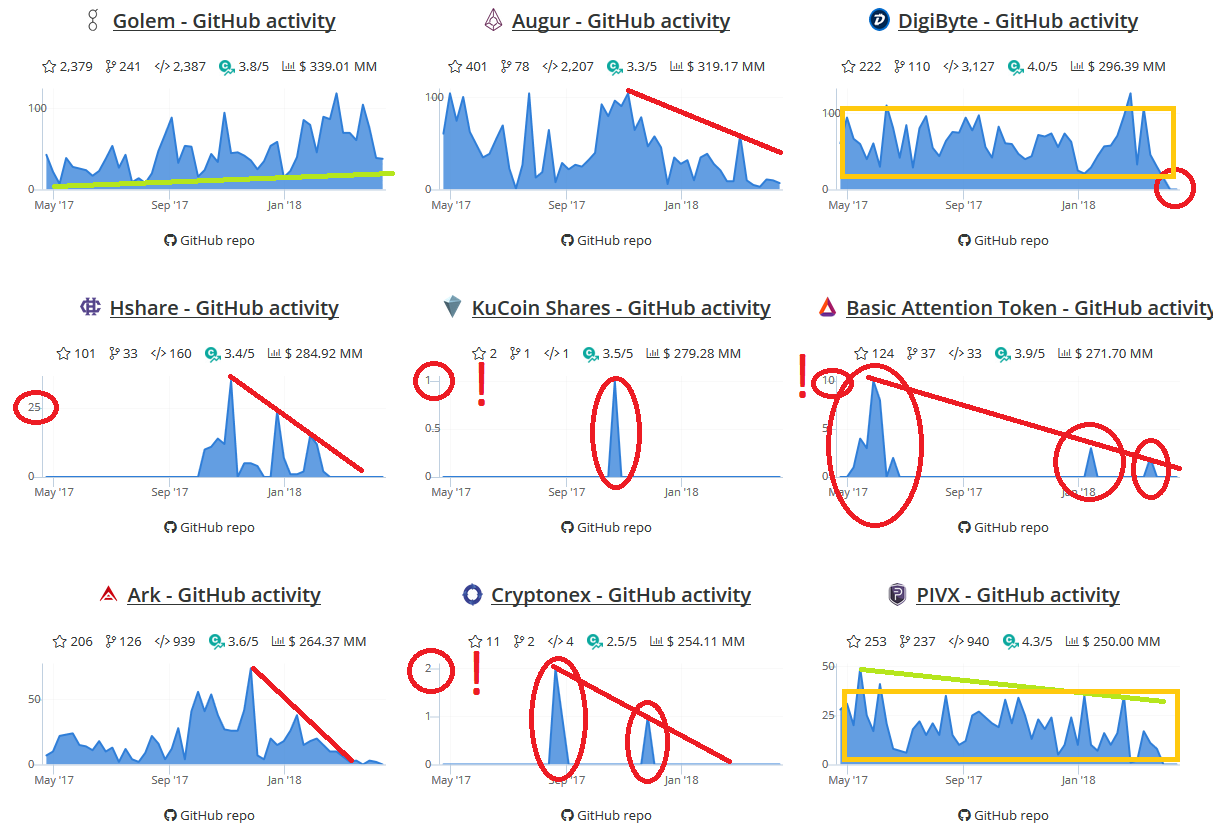 Golem – GNT
a. Constantly rising
Augur – REP
a. Activity decreased, but never froze
b. Mood drop in bear market
DigiByte – DGB
a. Worked relentlessly on their project despite in the end it dropped to zero
Hshare – HSR
a. Looks not really trustworthy with its impulses in the low end
KuCoin – KCS
a. Just a really low impulse in the end of 2018
Basic Attention Token – BAT
a. Three little development inputs phases, but with less and less energy
b. Mood drop in bear market
Ark – ARK
a. Consistently working but with less enthusiasm
b. Mood drop in bear market
Cryptonex – CNX
a. Two not really considerable episodes of developing with declining energy
PIVX – PIVX
a. Steady working for their vision, but slumping a little bit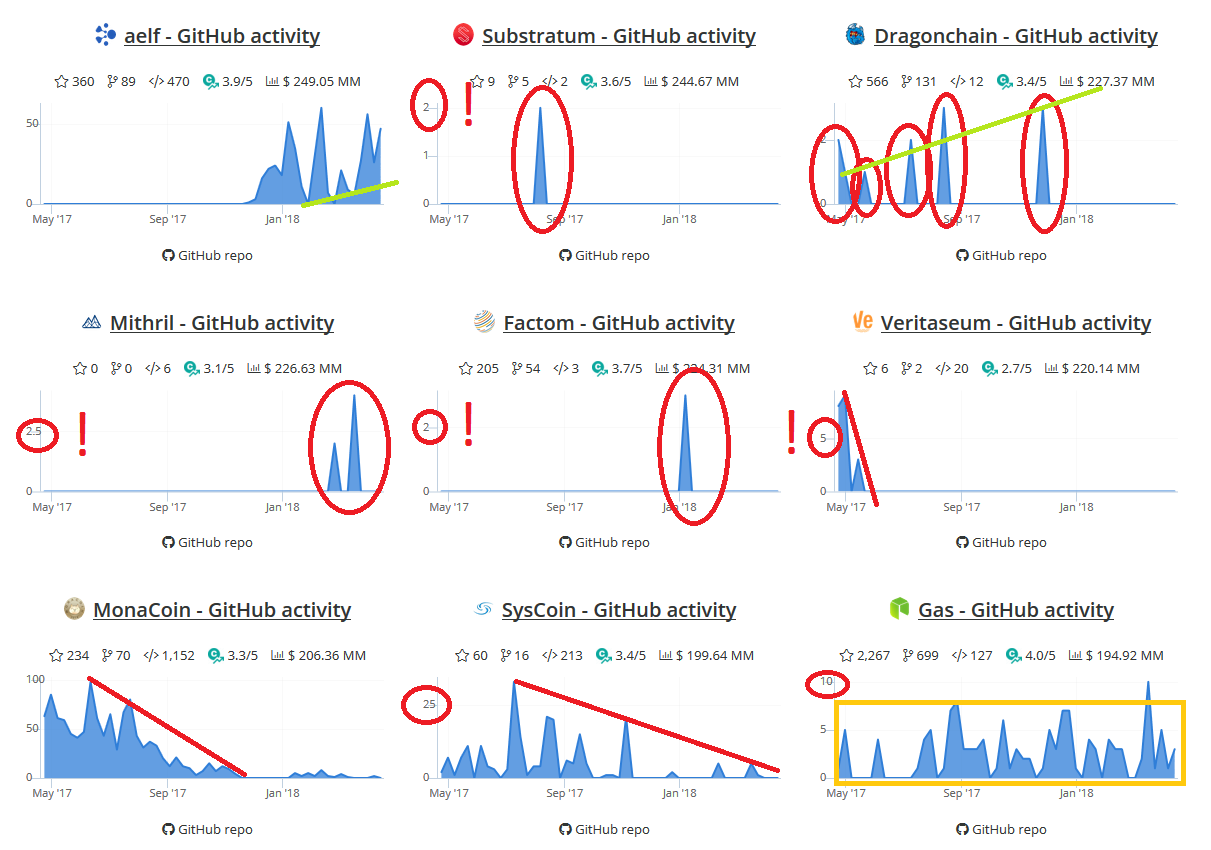 Aelf – AELF
a. Rising ambitions
Substratum – SUB
a. Just small production episode in July/August 2017
Dragonchain – DRGN
a. Bumpy rising development with pauses
Mithril – MITH
a. Just started small and will maybe find a more productive timespan
Factom – FCT
a. First steps with less energy in January 2018
Veritaseum – VERI
a. Last development in May 2017 since then nothing happened!
MonaCoin – MONA
a. Activity dropped but still warming over low heat
b. Mood drop in bear market
SysCoin - SYS
a. Worked only in the bottom area and has a fall in activity
b. Mood drop in bear market
Gas – GAS
a. Constantly working on their product in small steps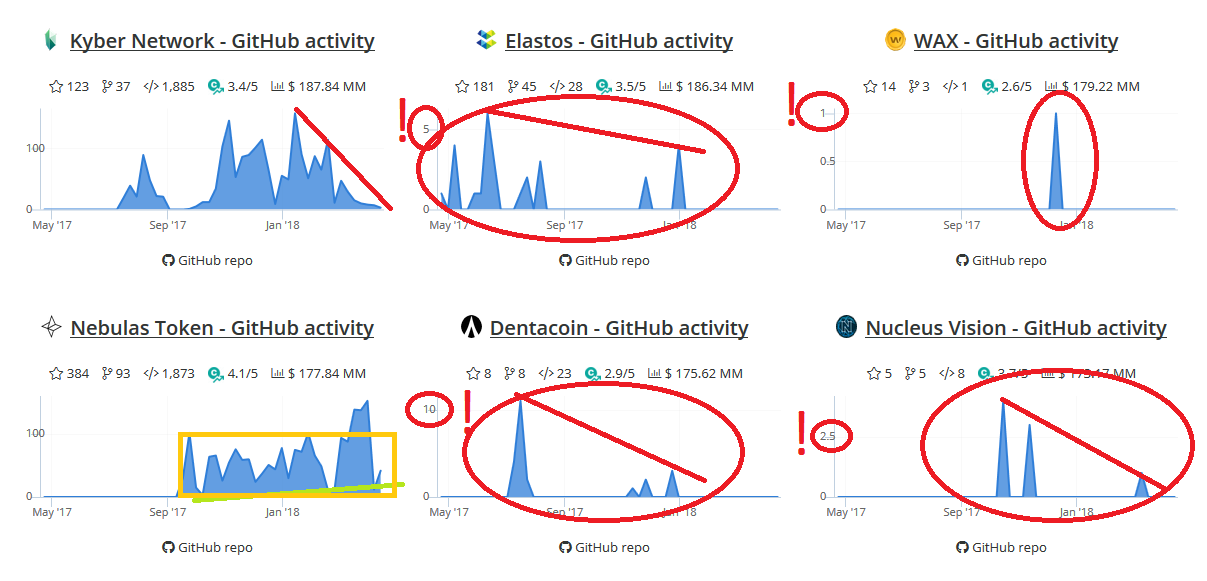 Kyber Network – KNC
a. Worked constantly from October 2017 till March when it stopped suddenly
b. Mood drop in bear market
Elastos – ELA
a. Struggling at the bottom in impulses
WAX – WAX
a. Just a small development with no noteworthy potential
Nebulas Token
a. Had constant phases, but dropped a little bit
Dentacoin – DCN
a. Just smallest stimuli with decreasing energy
Nucleus Vision - NCASH
a. Record lows in productivity moreover decreasing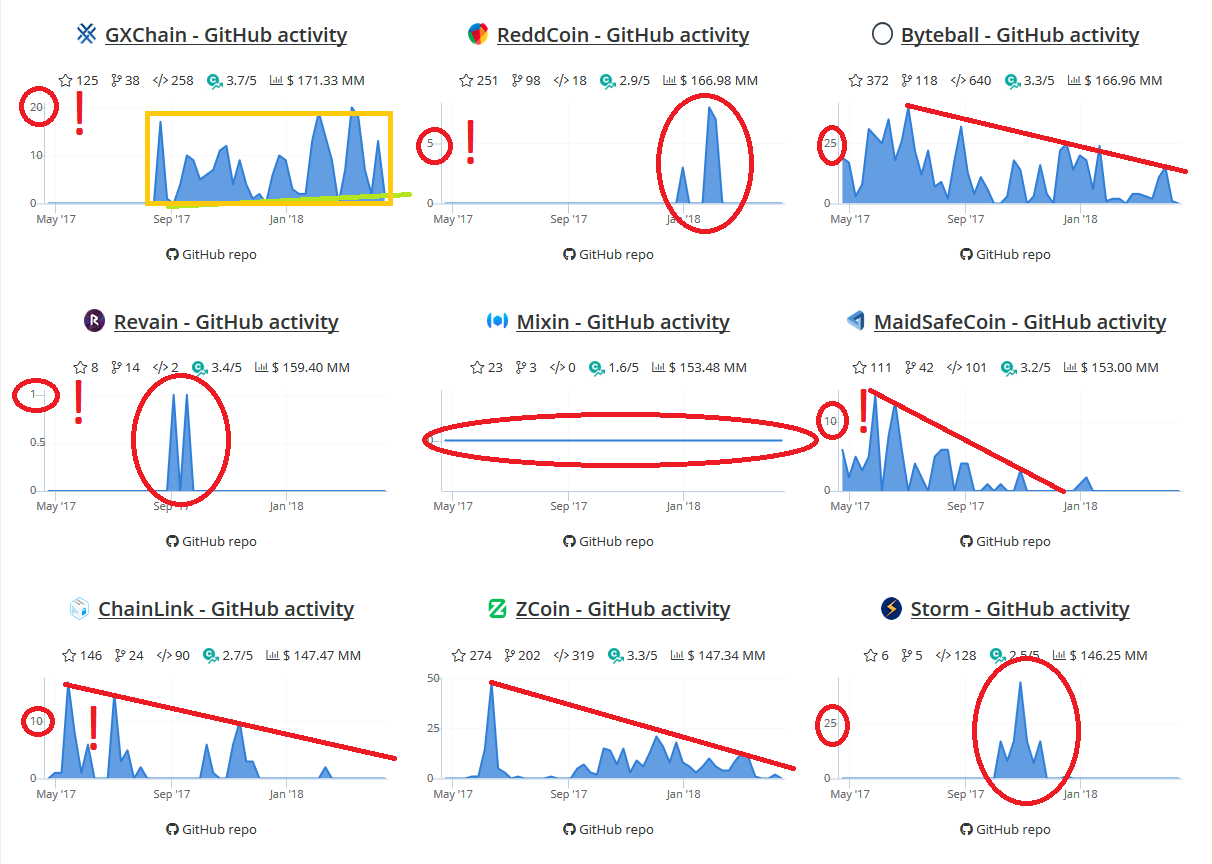 GXCHain – GXS
a. Switchbacks but steadily developing with small activity
ReddCoin – RDD
a. Had its peaks between January and February 2018 in two little impulsive time spans in the bottom area
Byteball – GBYTE
a. Decreasing activity at the low end
b. Mood drop in bear market
Revain – R
a. Just smallest inputs in September 2017 apart from that nothing happened
Mixin – XIN
a. Nothing happened since May 2017
MaidSafeCoin – MAID
a. Dropping chart is not looking really solid specially if located in the bottom
ChainLInk – LINK
a. Bumpy development with less power
b. Mood drop in bear market
ZCoin - XZC
a. Fresh coin with decreasing inputs
b. Mood drop in bear market
Storm - STORM
a. Just a small episode of productivity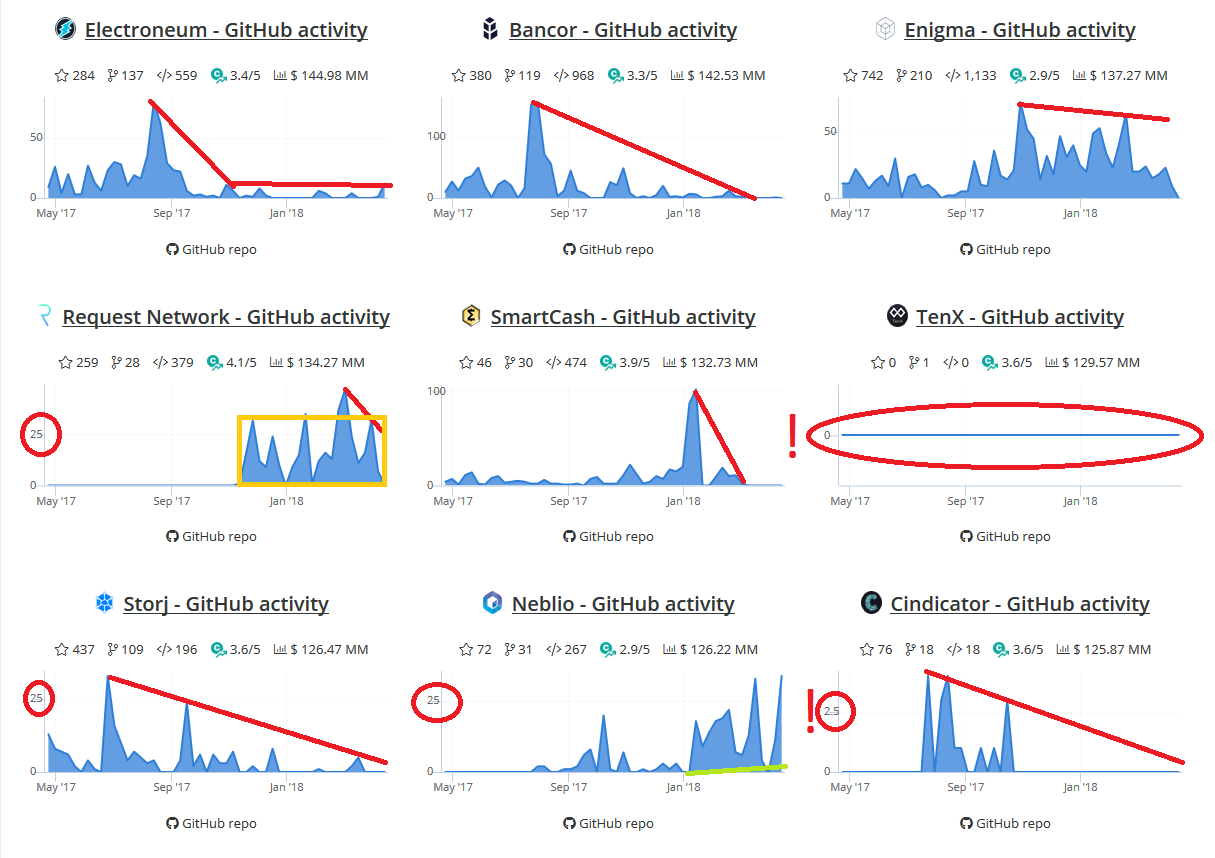 Electroneum – ETN
a. Had a good start but consolidated at the bottom with a constant developing rate
b. Mood drop in bear market
Bancor Network Token – BNT
a. Tumbled productivity but still a little bit active
b. Mood drop in bear market
Enigma – ENG
a. Constantly developing with small drop
Request Network – REQ
a. Since December last year consistently working with sparse inputs
Smart Cash – SMART
a. Small steps in the beginning with big rise in January 2018 which ended in a total drop
b. Mood drop in bear market
TenX - PAY
a. Nothing happened since May 2017
Storj – STORJ
a. Less activity except sometimes and then even few
b. Mood drop in bear market
Neblio – NEBL
a. Climbing to new highs
Cindicator
a. Total drop since last year October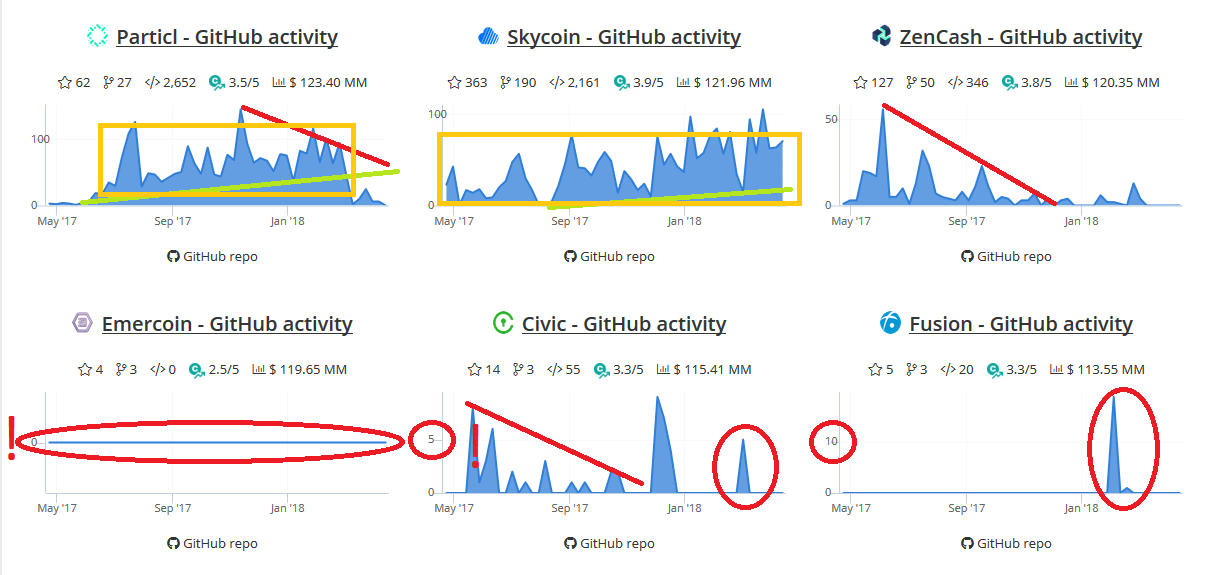 Particly – PART
a. Steady developing progress with small drop in the end
Skycoin – SKY
a. Constant productivity with small increase
ZenCash – ZEN
a. Fall of developing energy in last year, but sometimes little pushes
b. Mood drop in bear market
Emercoin – EMC
a. No activity since May 2017
Civic – CVC
a. Sawtooth formation in the productivity with breaks in between
Fusion – FSN
a. Big step in January/February 2018 since then paused
Conclusion:
Every coin or token is special in its own manner: crypto currencies, utility tokens and securities. Besides we can't just easily compare a fresh new project with an more established one, cause every start up needs to invest more effort in the beginning to get the ball rolling. This process will be for most entrepreneurs the biggest hurdle to overcome, cause 90% fail within the first years. The fast evolving technology sector is combined with A.I. and the industrial revolution 4.0 which makes the crypto space even more rapidly changing the big amounts of money will foster the best vision in a long term perspective. Still can the best vision turn into an illusion.
The crypto space is even mostly open source which will made it easily for other projects to adapt the achievements of others. The advantage of the big start up capital is also not that important in this space cause most projects receive mostly big amounts of money in the beginning.
"Mood drops" could also just signalize a worse financial condition, an economical mind set or the minor believe in their vision in comparison with the established ones at high market capitalization. But I would guess it's almost a combination of the first two. Let's have a little outlook at what we can expect out of this analyze technique.
Advantages:
Analysis of the team is one of the most important things in such an undifferentiated market of clones
Anticipation of future events, specially in combination with trading calendar
Sentiment indicator for the team in some kind
Recognize the organization and structure of the development team
Realize when a project got stuck or is dead
Disadvantages:
Not 100% clear method or trading signals just in combination with further details like community stats, news and more
Most are opensource which can bring really fast changes into the market, because of copycats
Different types of coins could just roughly being compared
Projects are in different intervals of developing even if it's the same kind of coin
This analysis only reviews the last year of activity
I'm no professional finance advisor
In the second part I'll compare the charts with the roadmaps of every project. I wanted to finish it today, but now I need to sleeping and I just missed most of the crypto news for you. Please share and upvote my article if you like it, cause I put some effort in. Even though it would be a good motivation for writing the second part. I would appreciate your feedback, comment and/or following!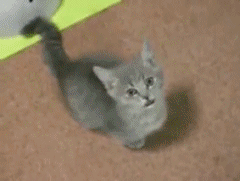 Informations about winning conditions and rules:
Multiple support will result in a higher winning rate
You can upvote, repost, comment or promote
Write your actions under this article and a number for every of the done steps of 2.
The number have to be between 0 - 100 with two decimal places (i.e. 42,37)
The winner will be called out at the payday
For the determination of the winner I'll use a random number generator, which I'll upload at dtube
The winner will receive 10% of my author reward