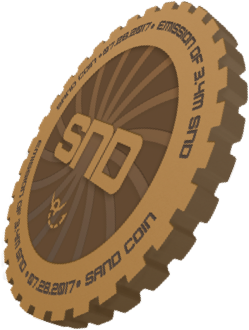 Dear friends!
The SandCoin blockchain option starts in just a few days — on September 18! We invite you to take part in bidding and launch this large prospective project with us!
Here are some facts to prove that it's profitable to buy Sandcoin tokens.
Firstly, dealing with Sandcoin, you invest money in the real product. When the development of the sand quarry is over, one sandcoin token will be immediately equal to one cubic metre of sand. At the same time, during the ICO stage, you can buy it at a price three to four times lower than the average market price!
Secondly, dealing with us you invest your money in development industry. Sand is an irreplaceable material for construction and our investments in this industry are much more reliable than any fiat currency. Our piece of land of more than 100-hectares is located in 10 km distance from the Central Circular Road construction. The territories along this huge construction site will be actively developed very soon. Particularly, there will be built a railway connection along the Central Circular Road, speed highways Moscow-Noginsk-Nizhny Novgorod-Kazan and new accommodations. The builders will need sand and sandcoin tokens will be liquid at the stock exchange and their holders can resell to the developers and gain profit.
Thirdly, dealing with us, you invest your money in the working project. The SandCoin team are the experienced specialists in the construction industry. At this moment, all the expert works on the sand quarry development have been done. The company has got a sand extraction license of Geological Institute from Federal Subsoil Resources Management Agency of the Russian Federation. According to the estimates of the geologists, there will be extracted about 90 000 cubic metres of sand per month. This way, if the market price of one cubic metre is $5.30 today then the profit from the sand quarry will be almost $ 500 000 per month.
These are not just empty words! The action plan is already approved and we are ready to start just when the ICO is over. In October we will start the development of infrastructure, equipment buying and personnel recruitment. In May 2018 there will be an accessway — it means the start of the sand quarry extraction. Already in summer 2018, the tokens buy-out will start.
Still have some doubts about buying SandCoin tokens? We'd like to remind you that 230 thousand Sand Coin tokens had been successfully sold-out at the pre-ICO stage within only six days! This fact dispels all the doubts of the most serious sceptics. About 10% of buyers invested $20–60.000! People believe in the project and we are assured of the success of this business!
SandCoin is the real future of the developer's industry. It is based on the newest tools of investment and reliable technologies of development. Let's build together with Sandcoin tokens!
Also you can participate in our bounty programme: https://medium.com/sandcoin/sand-coin-bounty-campaign-e1925a8721d5
You can join us on Telegram, we will give an answer to all your questions: https://t.me/sandcoin
Here is our project: https://sandcoin.io/
Also you can find us on Facebook: https://www.facebook.com/SandCoinICO and on Twitter: https://twitter.com/ruslanyocto