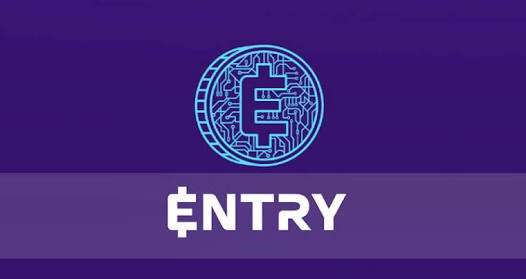 What could be more frustrating than having funds that cannot be spent? Millions of people out there are moaning over obvious poverty in the system. The few affluent ones are finding it hard to spend their wealth. With this, there is no discrepancy between the rich and the poor. Since the affluent cannot spend his funds, he is reduced to same status as the one without any.
Cryptographic currencies enriched many and also rendered many poor. Given its high volatility that might fluctuate at batting of eyelid, these currencies can make or mar one's finance. Though they were not massively adopted at the onset, several years down the line, their adoption took different dimensions.
Currently valued at well over $300 billion USD, there is ready market for these currencies. The issue is their decentralized nature that makes it impossible to exchange as fiat.
The coming of the blockchain removed barricades erected by intermediaries. These middlemen collect high fees and literally doing nothing to aid transactions. With fiat transactions fragmented by longer processing time and high level of insecurity, there was need to change the status quo.
The blockchain would have been great towards that but many were yet to accept it into their domain. At the moment, cashless transactions are on the rise though fragmented by declines.
ENTRY is a decentralized platform on the blockchain that aims to fast-track adoption of the blockchain and cryptographic currencies. On the other hand, it will clear the air on possible use of the blockchain for financial services.
Pushing for Crypto Involvement
At the core of the project's goal is to facilitate use of cryptographic assets as exchange. At the moment, these currencies are not traded son stock exchanges. Backed by the ENTRY Cash business model, you can withdraw and spend your crypto funds in reality. On the other hand, the platform is working with APIs and smart contracts to breed the block chain as a platform for banking.
BANK ON THE BLOCKCHAIN
The other motivation behind the platform is to provide banking services on the block chain. To this end, there were six different models deployed for the platform's operations. The most important to that end is ENTRY Bank.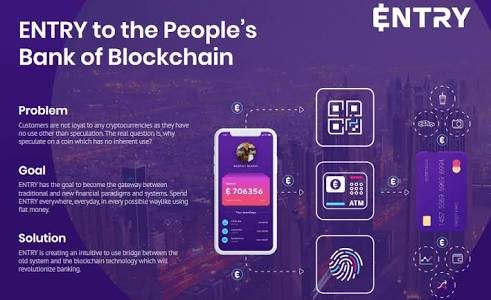 It was designed as a digital bank that will integrate all-known services provided by traditional banks. Deposits and withdrawals will be supported just as digital assets can be used as payments for products and services. The bank will also use the ENTRY token as payment method. This will also foster the market value of the token.
There will be provision of debit cards for virtual and physical uses. With over 3 million ATM terminals in the world, ENTRY debit cards can be used as bridge linking crypto to fiat and for easy conversion of digital funds to fiat. These transactions can be held using mobile apps.
Working Products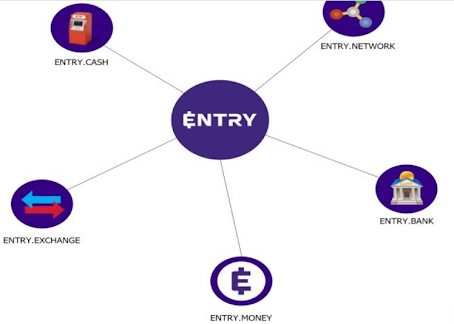 Aside banking, ENTRY also has unique products. The cash model will allow easy conversion of funds and its withdrawal. Its exchange will be responsible for peer transactions with ENTRY Money cementing transactions easily.
There is the ENTRY Network vested with the authority of scaling the platform. With backing from smart contracts, transactions will be well-coordinated. There are APIs supported by machine learning and AI. These APIs are useful for trading and development of products such as websites and mobile applications.
Lastly, the ENTRY token will be the main source of transacting on the platform. Designed as virtual currency, the token will back transactions while fostering peer transactions.
Allocation of Tokens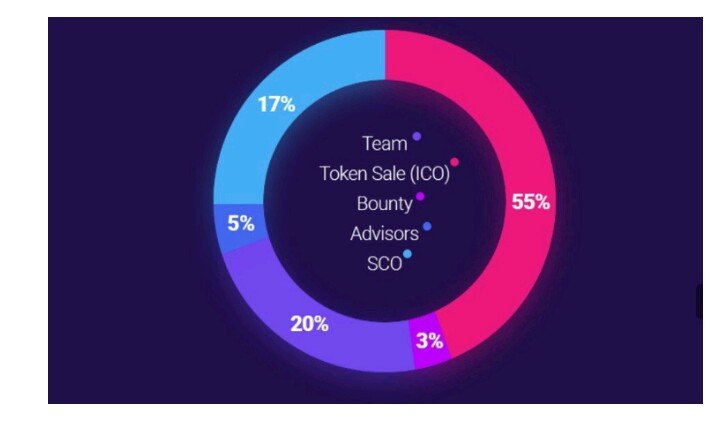 Token Sales Information
Ticker: ENTRY
Platform: ENTRY
Standard: ERC20
Token Type: Utility Token
Price: 1 ENTRY= 0.15 EUR
Total Supply: 590 million Tokens
Soft Cap: 25 million Tokens
Hard Cap: 325 million Tokens
Accepted: DASH, ETH, LTC, EUR, USD, BTC, BCH
     The Team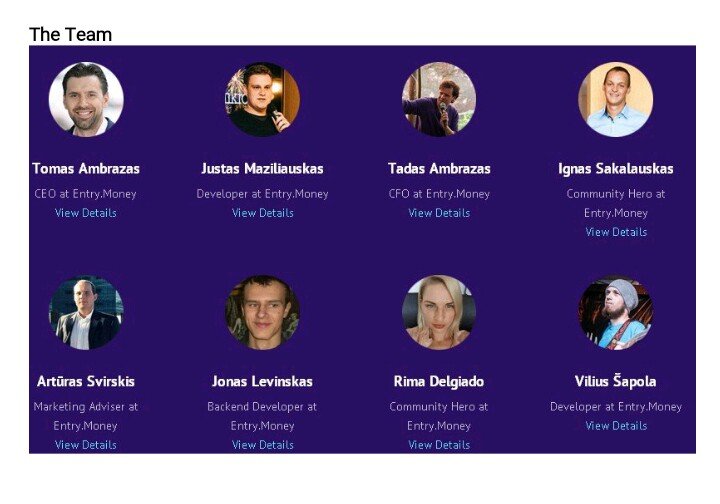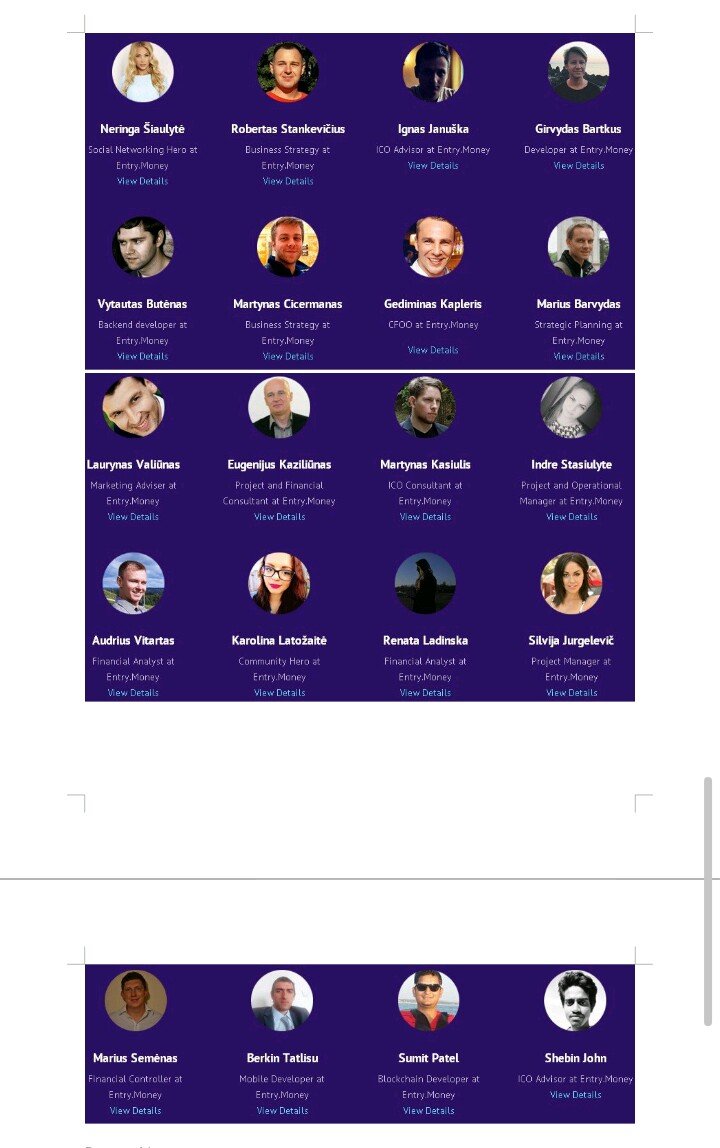 Bottom Line
It won't amount to literal expression positing that ENTRY has indeed made entries into block chain banking. Banking services are hardly known on the block chain. What were predominant were crypto trades. With its coming, ENTRY will bring much needed financial services to the block chain. Furthermore, businesses are allowed to use the platform's architecture in developing websites and relevant applications.
For more information kindly visits;
Website : http://entry.money
Whitepaper: https://entry.money/ENTRY_Whitepaper_v1.pdf
Bitcointalk ANN: https://bitcointalk.org/index.php?topic=3229958.0
Twitter: https://twitter.com/EntryMoneyICO
Facebook: https://www.facebook.com/entrymoney/
Telegram: https://t.me/Entry_Official
YouTube: https://www.youtube.com/channel/UCFgbl8yquCO9yiLP3kqXolg
Reddit: https://www.reddit.com/r/EntryMoney/
Medium: https://medium.com/@entry
GitHub: https://github.com/EntryMoney
Author: sholex00
Author's Bitcoin profile link: https://bitcointalk.org/index.php?action=profile;u=1256875