Popular cryptocurrencies have shown huge growth in the little time they've been in existence. Many people are optimistic about the future of bitcoin and other altcoins as they grow in value and increasingly gain attention. Appealing features of cryptocurrencies is that they are decentralized, free from financial or legal regulations and away from governmental control. However, despite the above listed attracting features, cryptocurrencies have suffered some major setbacks such as the inability and complex process of converting them to generally acceptable fiat currencies, thus limiting their potential as a widely used currency for achieving day-day transactions. Bitcoins and other cryptocurrencies are still only accepted by a minute group of merchants, a development that has dettered the massive adoption of cryptocurrencies by various investors and financial sectors. To tackle this and other bottlenecks associated with the utilization of cryptocurrencies, FuzeX ecosystem was birthed.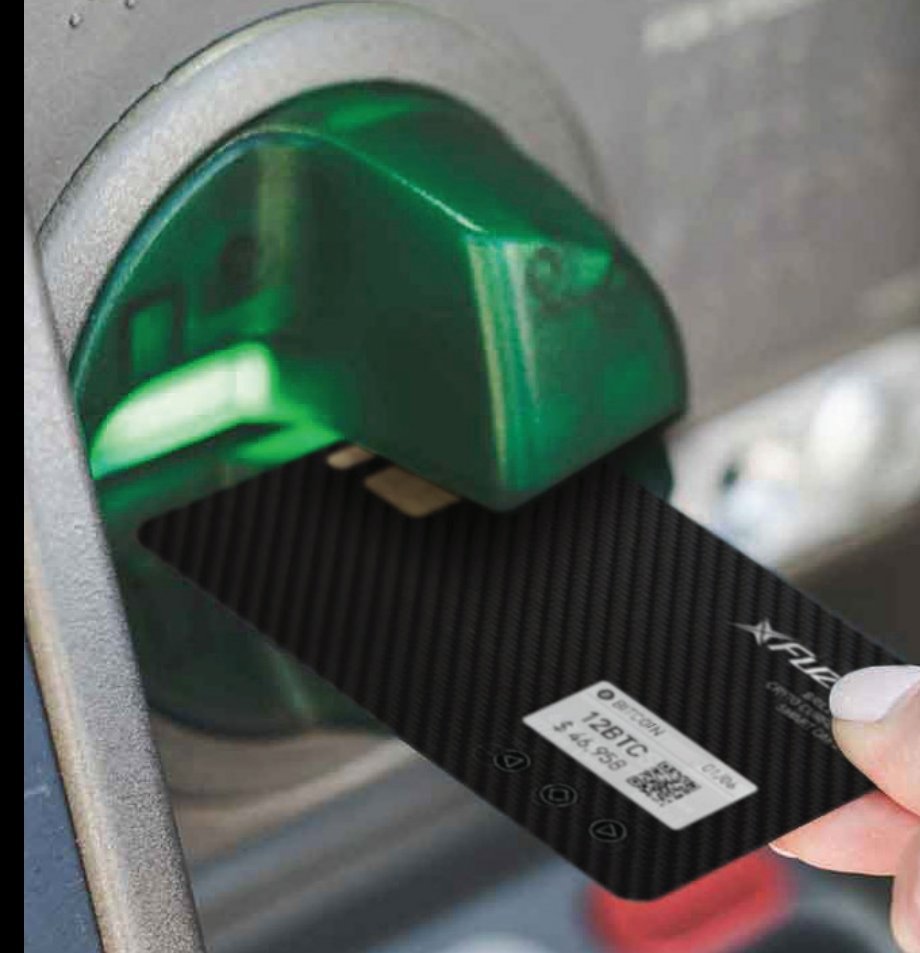 The FuzeX Ecosystem was built based on the recognition that present exchanges simply had systems that tie down the assets of holders in form of digital currencies; these exchanges only make it possible for one crypto asset to be converted to another and repeating the process over and over again. As a result, there arose the desire to produce a less complicated, stable, fast, efficient, and reliable, more mobile and convenient means of achieving mainstream usability and adoption of cryptocurrencies by enabling its conversion to fiat and most importantly to encourage its usage for transactions and purchases
FEATURES OF FUZEX
The FuzeX Ecosystem comprises of several tools which work together to achieve its aim of promoting cryptocurrency utilization. They include FuzeX card, the FuzeX Wallet, and the FuzeX Exchange.
The FuzeX card builds its framework on the already existing Fuze card. Fuze cards are smart e-cards that allows user combine up to thirty credit, debit or reward cards into one. The FuzeX card posseses all this feature as well, but with an additional integrated feature of blockchain technology to bring about multi-cryptocurrency integration. The FuzeX card looks like a regular debit/credit card, although it has button features that enable power on/off, entering of pin codes, making of selections, authorizing of payments, etc. It also has a display system for viewing balances on the attached accounts. Other features and accessories include: NFC for credit and debit card payments, barcodes for payments of rewards, QR code for cryptocurrency wallet address, Bluetooth connection feature which connects the card with FuzeX wallet to enhance maximum security, battery with a life span of 45-60days, and a rechargeable power bank for charging the batter. It also has a remote-wipe technology feature which helps to clear data from the fuzeX card for the purpose of security. However the use of the card cannot be totally achieved without the Fuzex wallet.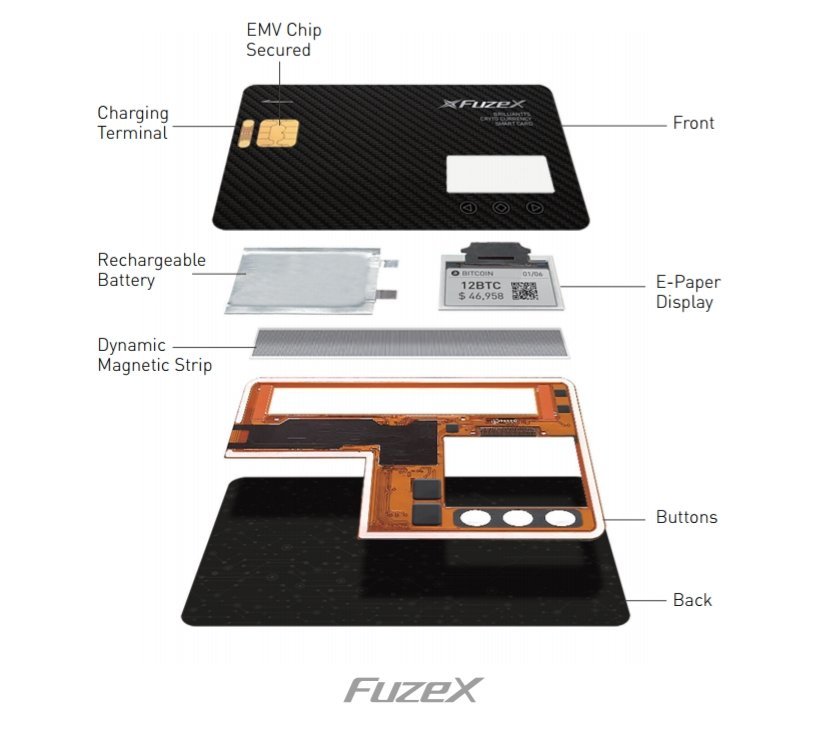 The FuzeX wallet available for download for iOS and android users is a tool that allows for users to be able to store, spend, receive and transfer assets. It manages the accounts embedded in the FuzeX card and allows users the option of spending cryptocurrency on the FuzeX card same way they would utilized the regular debit or credit card. It enables registration of users on the FuzeX ecosystem and checks account balance, transaction history and monitor real-time exchange rates of all embedded cryptocurrencies. To serve as a two factor authentication for the purpose of private keys security, users will enter their pin codes on the FuzeX card as well as input their password on the wallet for decryption of the account.
The FuzeX Exchange is the core feature of the FuzeX Ecosystem that allows users spend currencies on the card and wallet, and also allows reception of fiat currencies (ranging from dollars to euros to any currency). FuzeX will partner with existing cryptocurrency exchanges and issuers, partner exchanges will benefit from Fuzex solutions via the use of its card which offers a way for usability of their listed cryptocurrencies, thus increasing their user base and patronage. Afterwards, FuzeX will build its own centralized FuzeX exchange. The FuzeX exchange will function as a real time exchange for converting cryptocurrencies to fiat for the purpose of making payment for transactions. During a transaction, the exchange connects with issuers/legacy payment network such as VISA, mastercard to verify the completeness of fiat equivalent cryptocurrency balance in users account. The exchange is responsible for settling payments with issuers by transferring the funds spent by users to the issuer in the corresponding fiat equivalent. The exchange wallet is secured by the user key, exchange key and isolated key, transaction can only be carried out if 2of this 3 keys are deployed.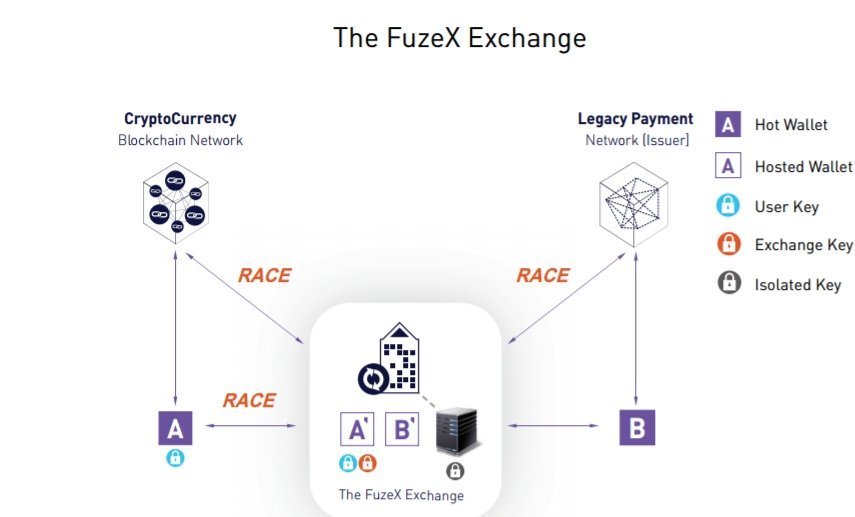 MECHANISM OF OPERATION OF FUZEX ECOSYSTEM
The user first downloads the FuzeX wallet on their mobile phone (iOS or Android)
Creates an account
Joins the FuzeX Exchange
Orders a FuzeX card
Transfers cryptocurrencies from external wallet to FuzeX wallet
Receives cryptocurrency and activates the card on the application.
Using the in-built buttons on the card, users can select his choice of cryptocurrency for transactions from the embedded ones
Via the card, users can view the selected cryptocurrency balance as well as the equivalent in fiat using real-time exchange rates
Merchants' POS terminal sends a request to issuers to verify the user and authorize the payment. This is made possible as a result of the existing partnership between FuzeX and issuers as earlier discussed. The issuer verifies by checking the users account to ascertain if his crypto balance when converted to fiat currencies will be sufficient to carry out the intended transaction. If it sufficient, the payment gets authorized, consequently locking the amount spent from the users' account. However, if the balance in users' account is not sufficient, the transaction gets denied.
Merchant then get notified to authorize the transaction, after which user gets the summary of the purchase on his FuzeX wallet App
Conclusively, the FuzeX ecosystem is a revolution to the cryptocurrency world, an upgrade to the cryptocurrency sphere and it is also an intuition to the future: the future after all is cryptocurrency.
For more information about FuzeX, kindly visit:
Website: https://fuzex.co/
Whitepaper: https://fuzex.co/wp-content/uploads/2018/01/FuzeX_whitepaper.pdf
Facebook: https://www.facebook.com/FuzeX.co
Telegram: https://t.me/FuzeX
Twitter: https://twitter.com/FuzeX_co
Writer: sholex00
Writer's bitcointalk URL: https://bitcointalk.org/index.php?action=profile;u=1256875