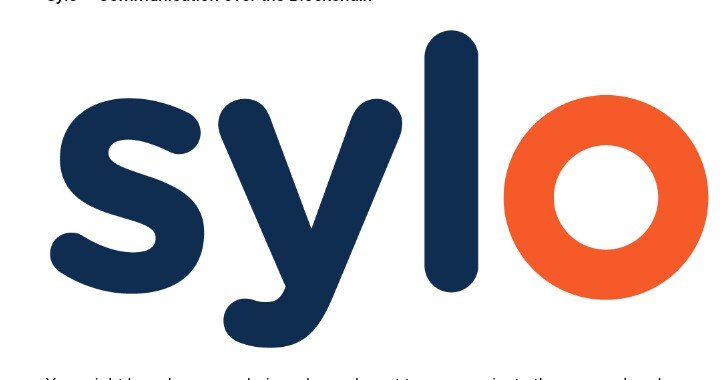 You might have been wondering why you're yet to communicate the way you've always wanted without some platforms regulating this. For instance, your call history and chats are backed up by service providers who take into account your behavioral activities and use same as data sold out to companies for digital campaigns.
To this moment, only few blockchain projects had waded into the telecommunication sector. Here is Sylo; another project that will overhaul inordinate practices in centralized communication and in the stead, create a system where end-users will be in charge of their interactions.
What makes Sylo Tick?
If you're still comfortable with hoarding of your information and selling same to multinational firms for their targeted adverts without your sole permission, then this project is not for you. But if you want to break away from the norm and hit the ground with your hold on personal information, then Sylo is pleased to help you.
The platform is one out of many decentralized disciples of the blockchain with immense input to the human communication stream. Envisage a situation where you have full access to your data. There will be leverage of the blockchain in redistributing information among users.
Protocol
As obtainable in many blockchain projects, Sylo is using efficient protocol; one that had yet to be used on the decentralized world. The Sylo protocol has its functionality delegated to seamless transactions between available applications and end-users.
Habitual service providers data-centered approach will be tossed away as the era of users calling shots will be upheld. To this end, users interact among themselves without any intermediary. Also, security will be top-notch thanks to different technologies that had been integrated on the platform.
At the optimum, the Sylo protocol becomes channel that links users to other applications that had been provisioned for the project. The protocol had its first use case on the app after its features had been used for decentralized interactions such as calls and messages on the app. On the other hand, the protocol births many other products such as the app that will be useful towards drives for decentralized communications.
The App
Sylo has a mobile application provisioned for the Android and iOS operating systems. Apart from being the core means of peer interactions, the Sylo app is the channel that will connect the dots that had been missing in human communication.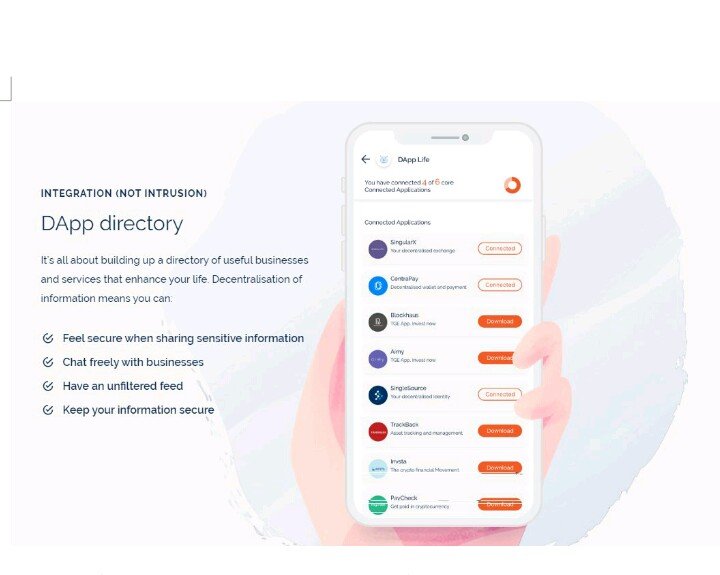 Being the first developed under the umbrella of the Sylo protocol, the app while link users to other applications on the platform. For instance, access to social networks is possible. These are part of the platforms Sylo looks upon as connected applications.
Human interactions have progressed from "Hi's" on the streets to creating connections that will remain vivid and indelible in users' minds. Such will be replicated here. As added advantage, the application seamlessly merges your contacts on other platforms (connected applications). So the next time you want to chat a friend on Facebook without switching tabs, the Sylo app is better way of interacting with existing contacts in your social networks.
App Benefits
Mention had been made that the application decentralizes communications but there are other areas that need be itemized. There is a decentralized storage facility that stores your data and keeps same away from prying eyes that might want to derive benefits from such. To this end, only selected users that have been permissioned will see what you have in your storage.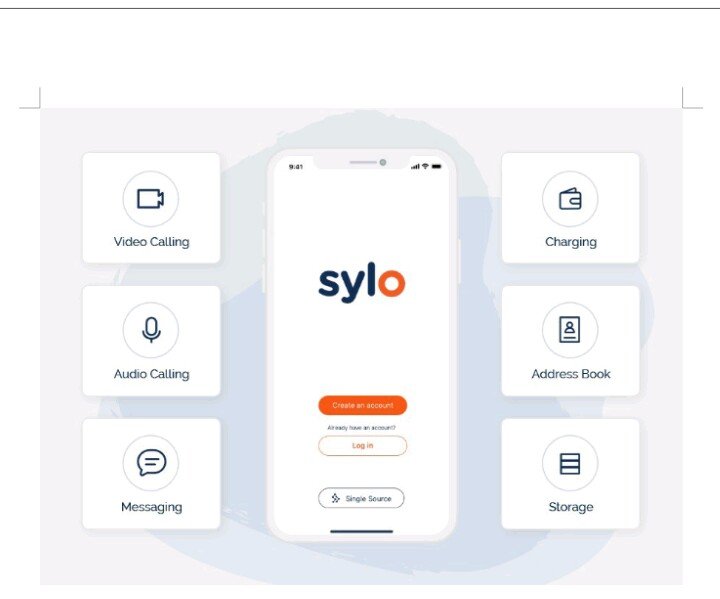 There is also a token wallet that allows you store and move funds without hassles. The address book with decentralized feature allows users add contacts to their budding list of connections. Apart from conventional telephone contacts, friends that have interacted with you on Facebook will be logged here for easy contacts.
Connected Applications
It had been stated that Sylo provisioned connected apps. These applications will be interoperable same way Facebook is with Messenger and WhatsApp apps. To this end, there are other applications that can be integrated into the Sylo app through this medium; offering users seamless interactions like never before.
Technologies
The blockchain plays lead role in the platform but there are other technological undertones that are relevant to Sylo's lifespan. Using a client-side API allows users interact with other connected applications.
On the other hand, decentralized storage and signaling are two distributed services that are billed to play crucial role in Sylo's development. While signaling will feature in peer and secure interactions, the storage safely stores data.
Roadmap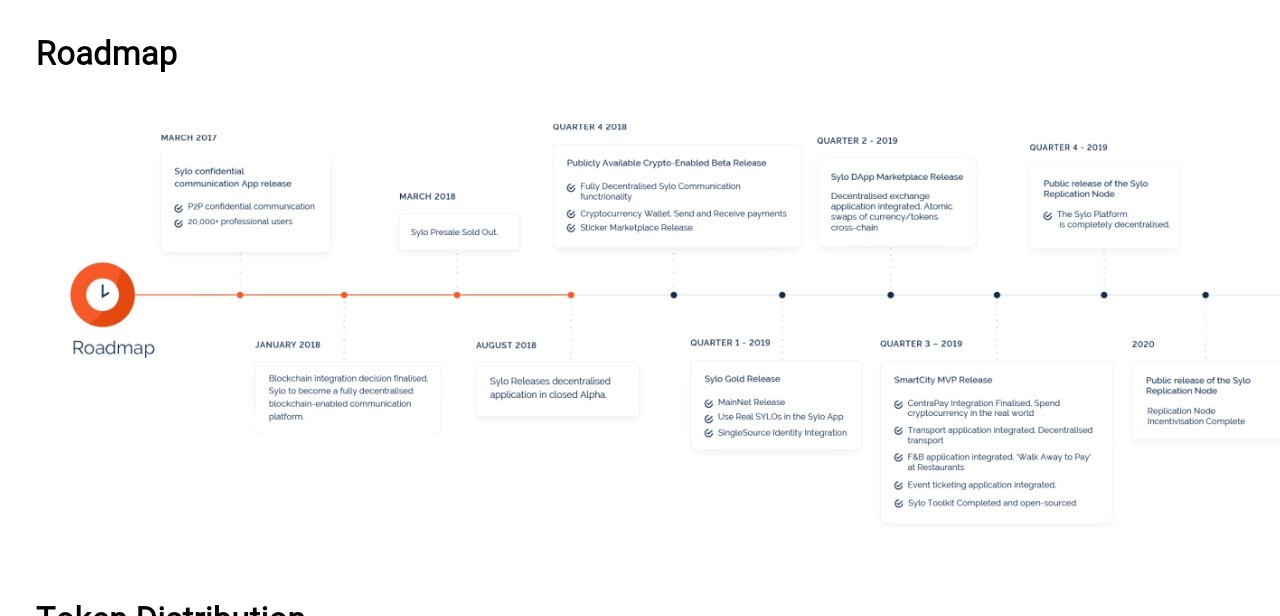 Token Distribution
Crowd-sales: 32.5%
Incentives: 10%
DN3010: 22.5%
Developers: 10%
Sylo Protocol Limited: 25%
Token Sales Information
Token Name: SYLO Token
Ticker: SYLO
Token Standard: ERC-20
Token Type: Utility Token
Platform: Ethereum
Token Supply: 10 billion
Soft Cap: $25 million USD
Hard Cap: $35 million USD
Accepted Payment: ETH
Exchange Rate: 1 SYLO= $0.087 USD
Country of Registration: Singapore
Restricted Areas: New Zealand, China, the USA, Korea, Singapore
The Team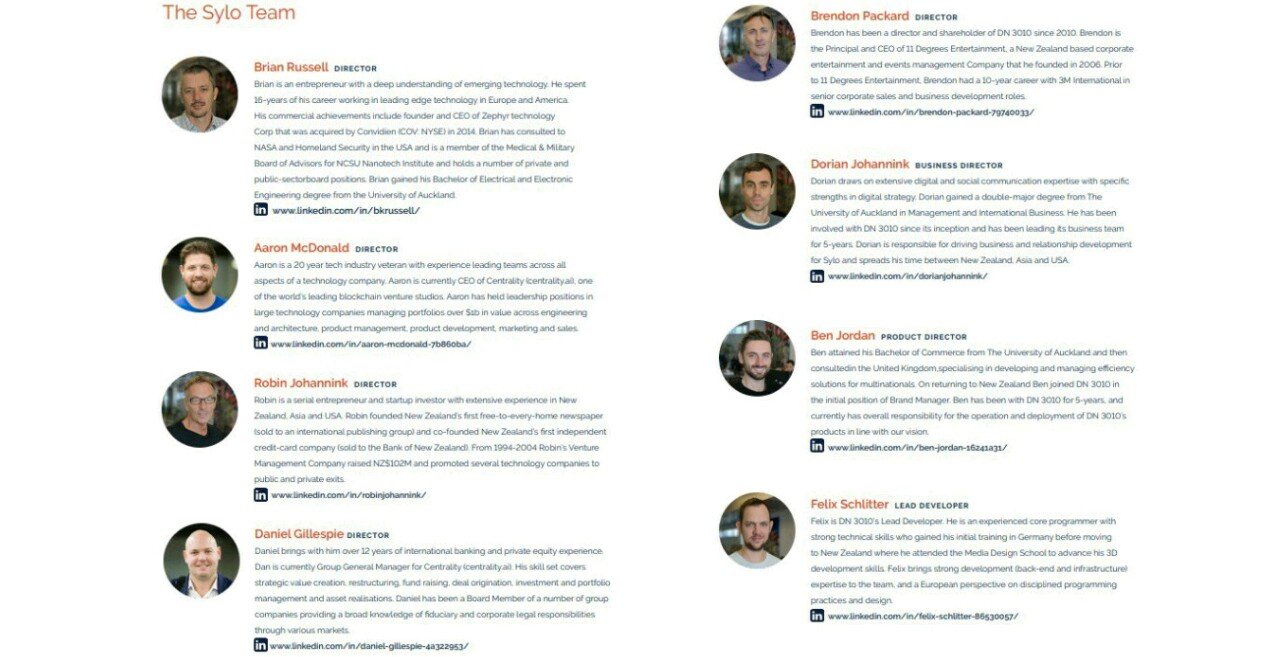 Final Words
There is need that a user dictates what he wants with respect to communication and discards that which is not necessary. This independence and other relevant features that will buoy communications without interference are what Sylo is all about. From the mobile app to impressive technologies and functionalities, there leaves no doubt that new model of communication had just been ushered in.
For more information about Sylo, kindly visit:
Website: https://sylo.io
Whitepaper: https://sylo.io/downloads/whitepaper_en.pdf
Twitter: https://twitter.com/sylo
Telegram: https://t.me/sylo_io
Writers Bounty0x username: sholex00