The blockchain and cryptocurrency craze is in sharp decline. Bitcoin has been the first crypto to see the light of day. Here we are 10 years later and sadly, the only real usecase for crypto and blockchain remains speculation.
We're speculating on future usecases, partnerships and utility that still has to come. But it probably never will.
For the sake of simplicity, I will use Bitcoin as example. Clearly most coins have superior technology compared to Bitcoin. You are free to draw your conclusions from my analysis and reflect them on the coins of your liking. Please let me know in the comments below if there is any coin that defies my points.
Bitcoin will never be used as means of payment
Bitcoin transactions are slow. It is highly impractible to pay for anything in a retail store, when you have to wait up to 30 minutes for the transaction to be confirmed. Even if you pay for a coffee before drinking it, chances are you will have to remain in the café for as long as the transaction is unconfirmed. Centralised payment networks allow for much faster transactions.
Bitcoin transactions are expensive. Undoubtedly you are able to send millions of dollars abroad for a relatively small fee. Doing that happens rather seldomly in my case although. Paying $0.10 for every transaction, in the ideal case, is adding up to quite a lot throughout the day when going about our usual buying habits. Not only that every transaction costs money, whereas most means of payment come for free, most credit cards even offer some sort of cashback for doing purchases. Could Bitcoin ever compete against that?
I do not think so.
Bitcoin will never be used to bank the unbanked
There is simply no infrastructure to support this. For people to be able to not be reliant on banks, they need to be able to spend their Bitcoin without any friction in most places. This is not the case for any country in the first world.
Banking the unbanked only is an issue for the third world. The infrastructure to spend Bitcoin there is even worse, to the point of almost being non-existant. How would a person be able to buy or sell Bitcoin for local currency to go about their day to day life? For that to be feasible, a personal bank account is an absolute necessity. Trying to achieve independence from banks through Bitcoin, at this stage and the future to come, is absolute bogus.
Bitcoin will never aleviate issues of struggling nations.
Venezuela is the best example of that. The Bolivar is using value increadibly fast, the shelves in stores are empty, barter has become the most common means of exchange. Perfect conditions for Bitcoin to prosper in this environment one would think. But it is not. Bitcoin can not solve these problems. If one was to send financial aid in form of Bitcoin to Venezuela, how would the reciever go about using it?
He would want to sell it for local currency, as very few actually would trade goods against it, and hoard goods to hedge against the declining Bolivar.
If trading Bitcoin is forbidden in a nation, banks will simply refuse payments from Crypto associated sites like Coinbase. The only benefit is to eventually being able to circumvent international laws for transferring money, but Bitcoin will not be used as a local currency. When there is no bread anymore in the shelves, the infrastructure to support crypto will be long gone before.
What is Blockchain Technology good for then?
In my humble opinion there are only two true usecases.
Censorship resistance is one of them. Blockchains like STEEM and Ethereum offer to store data immutably. That´s something very few companies actually desire, moreso a thing for private persons or journalists. Companies usually want to retain a certain amount of flexibility, whereas Wikileaks certainly has an interest to store data immutably. This is a legitimate usecase, although the price speculation clearly went too far, to value this feature of Blockchains at the heights of December 2017. It comes at a cost that most businesses would not want to pay. Storing their data on a secured server, is cheaper and more efficient as paying nodes, scattered around the world, to publish content or store the data. Nevertheless, this is a feature of Blockchain that can hardly be contested.
What cryptocurrency could really excell at, is acting as a Store of value. So far Bitcoin has offered a great opportunity for that, depending on when people bought in. It can be argued that crypto can act as a valid hedge against fiat currency. But there are many issues with crypto fulfilling that role, Bitcoin actually has real problems in that regard.
There are lot's of BTC adresses in existence that could single handeldy crash the market. Crash it by a magnitude that will make the recent decline look pale in comparison. There a people that are still way above of 10.000% profit that could dump their holding anytime. There are whales involved that the majority of the community deems harmful, which already threatened to dump their stake to further their agenda. Another issue is that Bitcoin pays a huge price for the security of its network. Miners inflate the pool of available coins daily, yet no major coin ever was threatenend by a 51% attack. Miners are likely to sell all mined coins slightly over their breakeven point, at the expense of all the people that actually provide value to Bitcoin, it´s holders.
New Coin, New Approach
There is a coin on the horizon that managed to grab my attention because it aligned so well with my view on the cryptoverse and has the potential to act as the best possible cryptographically secured store of value.
Introducing BitcoinHEX
BitcoinHex (HEX) is not selling any coins. It is not a Bitcoin fork, even though the name could suggest that. BitcoinHex (HEX) takes a snapshot of the Bitcoin Blockchain at a yet to be determined block. You will then be able to claim your BitcoinHEX (HEX) as ERC-20 tokens on the Ethereum blockchain.
You are not paying miners, Ethereum is tested and secure, and the true value providers are the beneficiaries of the inflation, it´s holders.
BitcoinHEX is offering a unique interest model, that rewards holders for the longer they lock up their HEX. This process is proned to increase the value of HEX. It favors those that commit the longest to staking their HEX, to the benefit of every holder there is.
While we are still waiting for more information to break about the project, have a look at the breakdown of the HEX distribution.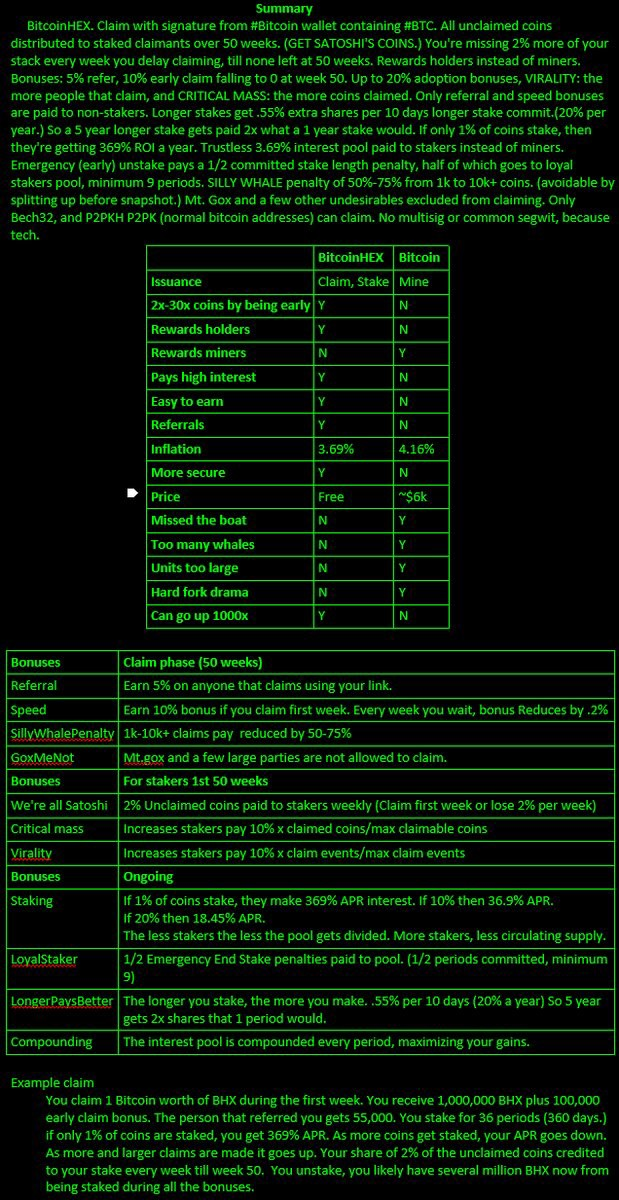 Even if you should not be amazed of the distribution method or the Tokenomics, it's still free tokens for everyone holding Bitcoin.
Make sure to regularly visit www.ClaimBitcoinHex.com to stay in the loop when more information breaks.