In a class a little while ago my client and I were talking about IKEA kitchens, he has one - as do I. The reasons my wife and I chose IKEA when we renovated the apartment we bought were four-fold.
Firstly, they were less than 50% of the cost than the nearest local quote and on a budget, that was necessary.

Secondly, we were planning on having children and no matter how hard wearing something is, they are likely to damage it and having the IKEA standards means that replacement parts are available and cheap.

Next, the place we live in is meant to be an "interim" home until such time we can buy another more suitable and rent this one (hopefully) or sell if we must - this means that we are able to not only replace for renters, we can update the entire look and feel of the kitchen by replacing a few pieces that are available and cheap.

Lastly, IKEA kitchens work at least as well and probably better than the ad hoc ones as they have been battle tested millions of times and while this makes them far from unique, IKEA do not want to keep replacing broken pieces which means they evolve components. The components IKEA use are basic but, reliable. Especially given the price.
This is my kitchen near completion in 2015.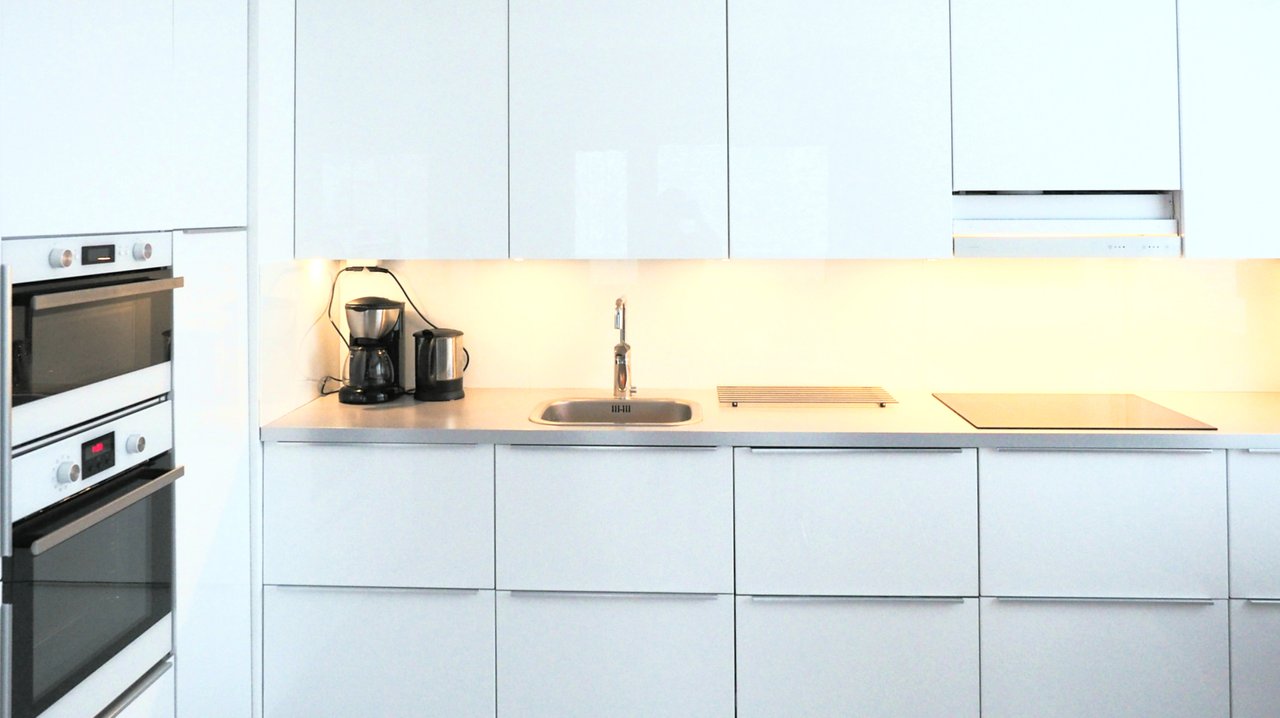 It looks identical now bar being messier.
After I listed my reasons as well as some supporting points, my student said that he heard that NASA only send into space technology that has been tested for ten years and while I can't confirm this, it would make sense - at least for critical components. It means that they can be tested, vulnerabilities found and fixed, re-engineered, improved and made much more bulletproof as sending stuff that doesn't work to space is, pretty expensive.
When it comes to cars, the most reliable aren't the ones that have the latest technology included, it is those that have components and systems that have been running mile after mile with low error rates. There is a reason that Toyota is both one of the most reliable cars and the developers of six sigma quality processes. While maybe a little boring, they keep going and they do it relatively cheaply and comfortably. Mass consumption demands reliability when it comes to significant components in the same way NASA demands it for their components so they let it test for 10 years before relying on it.
What is interesting is that Bitcoin has just turned 10 years old this year - the first Blockchain and while NASA might not be sending it to space, perhaps Elon Musk will or any number of other providers as more and more companies start using it for their Quality Management systems (QMS) as as far as keeping records, Blockchains are very reliable and they have proven it many times already.
How many transactions has the Bitcoin blockchain failed to record? How many has the Ethereum Blockchain failed to record? What about Steem?
The statistical representation of Six Sigma describes quantitatively how a process is performing. To achieve Six Sigma — statistically — a process must not produce more than 3.4 defects per million opportunities. A Six Sigma defect is defined as anything outside of customer specifications. A Six Sigma opportunity is then the total quantity of chances for a defect.
Does Blockchain technology qualify as Six Sigma compliant?
So for ten years, the Blockchains have been recording transactions and just like the IKEA kitchen components, been evolving and testing various types of technology looking to improve upon the last. POW becomes POS and dPOS. All are trying to solve various issues of speed, scalability and of course, reliability with various successes and failures and after ten years, the development is getting to the point that it is reliable enough for the brave among the corporations to start making tests of their own.
More are developing and integrating some of the apps for payment, tracking some of their products and even letting their customers follow too. This is mass adoption happening before our eyes and, many people are still worried that it isn't going to happen - even as it is happening. Pretty soon, the tokenization of the world is going to be so commonplace that it will seem like it has always been here, like the microwave oven that heats your food or the flatscreen television that sits in your loungeroom.
While the Blockchains have proven themselves to various degrees of reliability, there are still many question they have to answer in order to scale and transact at the levels they need but, there are more developments made each day. The Blockchains that are able to simplify their processes are the ones that are likely to have longevity because not only will they be easy to learn and use, they will be able to reliably deliver a consistent user experience.
While my kitchen isn't going to win any design awards for innovation, it looks okay, it works well and it has been doing so daily for 5 years now with very little variation in experience. I don't have to think about how my kitchen behaves, I just use it for what I need and go on about my day. This is how the Blockchains and tokens will become adopted - thoughtlessly.
Think about it.
Taraz
[ a Steem original ]