I have an Ethereum Wallet installed on my home PC. I don't keep full node running at all times for it is inconvenient for common folk. Occasionally I open the wallet and it starts syncing the blockchain. No idea why is it such a slow process, even with a fast connection, but I long abandoned all hopes that it will eventually catch up with real time. Good thing there's a "Launch application" button right here, and the wallet is mostly functional even with partial database.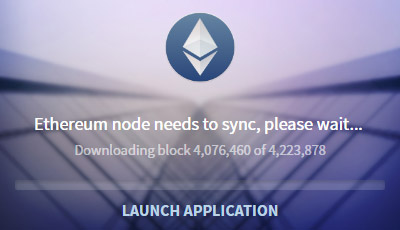 Looking at the familiar startup screen today I wondered how much disk space do different blockchains take up. Research eventually lead me to bitinfocharts.com, which answered the question for at least some of them:
| Network | Blockchain size |
| --- | --- |
| Bitcoin | 155 GB |
| Bitcoin Cash | 150 GB |
| Ethereum | 137 GB |
| Monero | 26.2 GB |
| Ethereum Classic | 23.9 GB |
| Litecoin | 8.9 GB |
| ZCash | 6.5 GB |
| Dash | 3.9 GB |
With ETH and BTC hosting 85% of all transactions in crypto-space, hardly surprising they have the largest databases. (BCH cloned BTC and inherited the blockchain size.) Scary thing is that number of transactions seems to grow exponentially: Bitcoin and Ethereum gained 50-150 GB over the last year alone.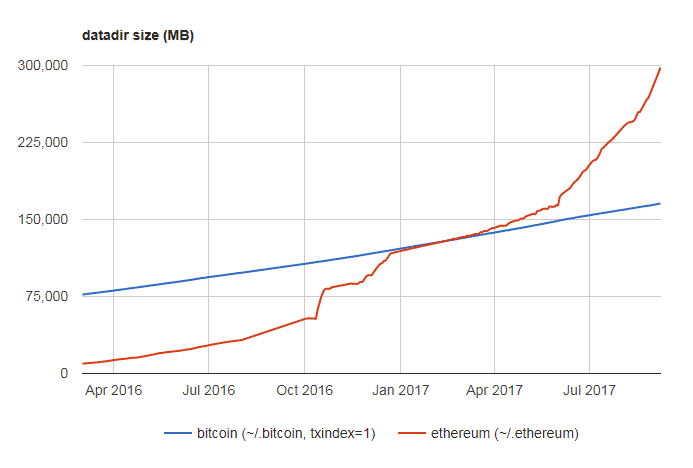 Which raises a question: how is that at all sustainable. Common people like me can no longer be expected to merely run a full node of Bitcoin or Ethereum, let alone mining stuff. People have no incentive to run full nodes, will not run full nodes and will have to trust some business to run them instead. In largest crypto-flagmans, aren't we losing all the hyped decentralisation sweeties promised... And eventually, even though we're far from it, the enterprise too will not be able to keep up with bloated chains.
Even more worrisome is that I don't see any long-term solution to the blockchain bloat problem even in any of the younger tech. When/if any of the smaller networks starts receiving comparable traffic, its blockchain will inevitably bloat, too. Bitshares/Steem/EOS are at least honest about it: we have dedicated Witnesses who do all the work and we have to trust them, end of story. So far it's the best solution I know of. If solution is limited to a single blockchain, that is.
There's a messy alternative. At some point a blockchain may decide to drop all history while keeping state of balances. This pretty much means spawning a new currency, with all the problems of a hard fork. Blockchain is not an easy beast to kill, and is so by design.
So, this is my bold prediction from the depths of 2017. Unless some bright genius invents a new tech to revolutionize us again, a process of gradual value transfer between older and youger blockchains should develop. People will tend to value old, bloated chains less and less, while new and fresh ones accordingly more. This process will cycle and repeat itself, forming generations of crypto tech. We live in a world of mortal things after all, so everything should eventually die. Even blockchains.