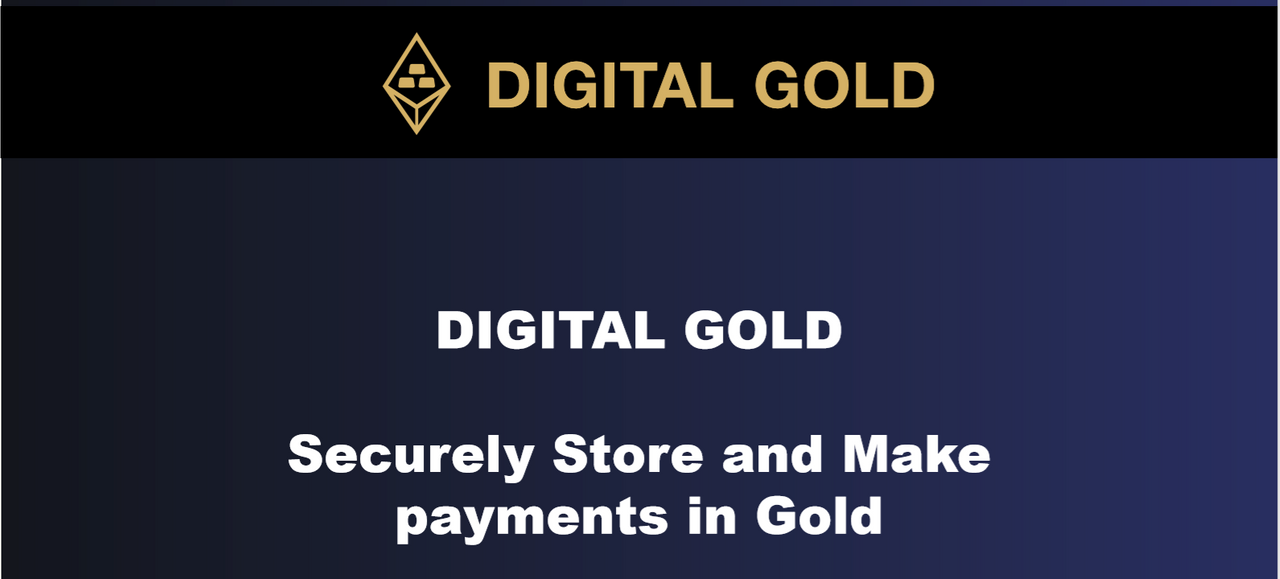 INTRODUCTION
Over recent years, digital currency awareness has been on a rapid rise since Satoshi Nakamoto pioneered it by developing Bitcoin. To enhance the digital currency and payment system, a lot of cryptocurrencies have been developed which has also led to improving scalability. But we cannot talk about cryptocurrency without mentioning Blockchain Technology.
Blockchain Technology is currently one of the revolutionary technology which has ushered the entire world into a system of decentralization where people are in charge of their financial transactions and financial independence. It is described as a transparent database network to record and store value. This technology has introduced some level of financial democracy in aspect of investing and making financial exchanges online with lesser cost or fee. With blockchain technology, anyone located anywhere in the world can easily join the network and start sending and receiving transactions or data.
The integration of blockchain technology into the entire world's ecosystem via the introduction of Bitcoin by Satoshi has made people realize that blockchain technology holds some level of great potential in revolutionizing the entire financial market and ecosystem. This ideology has led to the creation of different blockchain networks and cryptocurrencies all with the attempt to explore the potentials of blockchain technology. Some of these blockchain networks (projects) have succeed and others weren't able to present anything reasonable. One of these successful blockchain networks is the Ethereum Blockchain network which introduced smart contracts and a platform that allows other developers to take advantage of their network to create their crypto coin in the form of tokens. A good example of project that uses the Ethereum blockchain platform to create their crypto coin is the Digital Gold project. This article will be focusing on the Digital Gold project and the purpose of this project to both the crypto ecosystem and investors.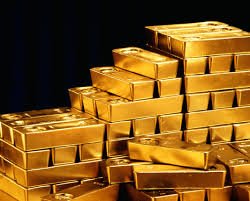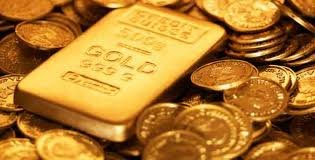 DIGITAL GOLD (GOLD TOKEN)
Gold has always been considered as one of the world's oldest investing commodities for over thousands of years to present days. It is either used as a payment option or a storage of value. During the period where physical fiats were not in existence, Gold was used for almost every transactions made then. It was mostly used as the superior payment method and trading commodity. Gold has always been described has an excellent storage of value and a payment method although it's prevalence in recent times has decreased. In as much that there is some reduction in its prevalence, some investors and a hand full of people are still interested in investing in Gold due to its low price volatility and also having a good monetary storage potential. But the problem here is that, not everybody can purchase, store and trade it due to complicated procedures and high purchase requirements.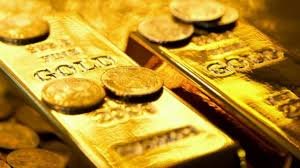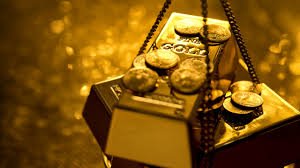 Gold is always believed that it will constantly continue to play an important role in the financial ecosystem and asset market. Considering the uniqueness of Gold and its long history, a group of blockchain and Gold enthusiasts decided to develop a project that will address the challenges people face to invest in Gold and blend that with Blockchain Technology. To achieve this and bridge the gap, Digital Gold was born. The team behind this project believe that, blockchain technology can easily leverage the use, trade and store Gold. This project has created an Ethereum-based ERC-20 token called GOLD TOKEN which has a value equal as physical gold.

The Digital Gold project is an Ethereum-based blockchain project which is designed to encourage the digitalization of the Gold market ecosystem making it easily for both investors and individuals to obtain purchase coverage of physical gold by holding the GOLD token. The main focus of this project is to bridge the gap between gold and crypto space through the use of blockchain technology, and also leverage blockchain technology to trade, store and use gold without going through any complicated procedures.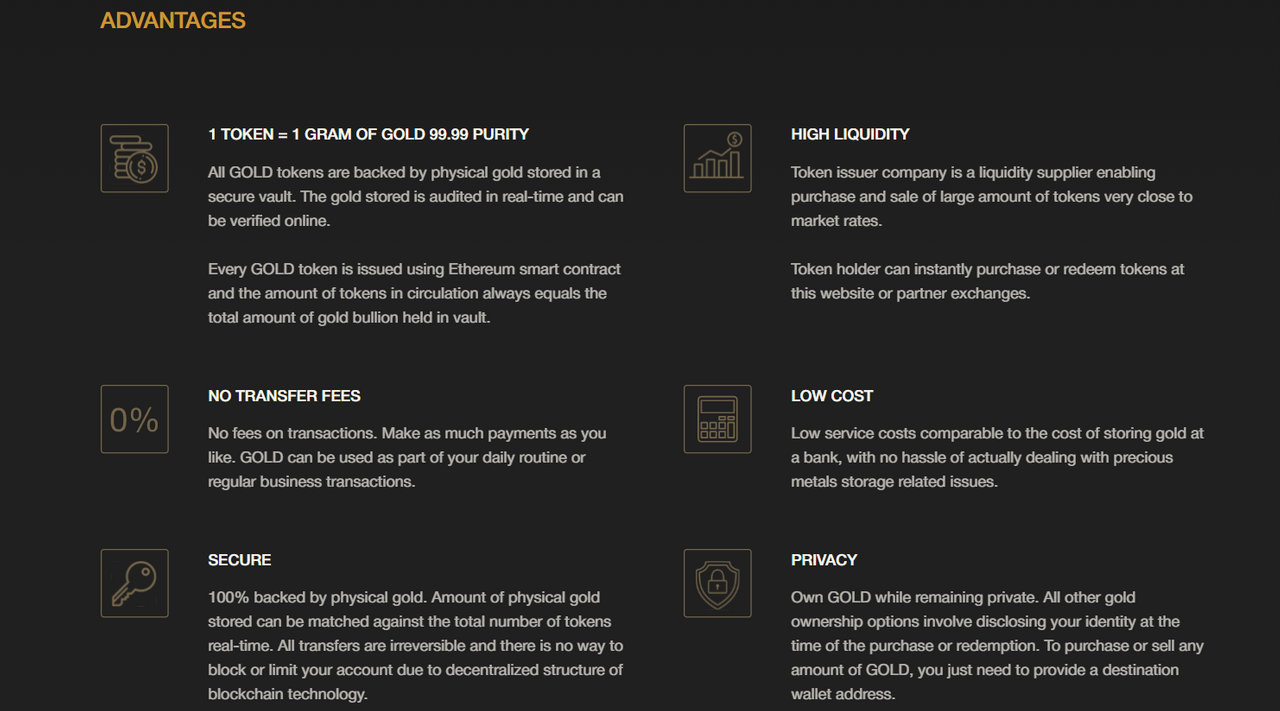 For either an investor or an interested person to purchased physical gold, he or she has to find a reliable supplier, deal with paperwork, and finally deciding where to store and keep the purchased physical gold safe and secure. There are two options to keep and store the gold purchased gold. It's either at the bank or home. If this person decides to keep the gold in a bank after a successful purchase, he now has to deal with another paperwork and a storage fees to keep it in the bank for safety. And with keeping and storing it home, the probability of getting robbed is very high. These were the challenges identified by the digital gold team.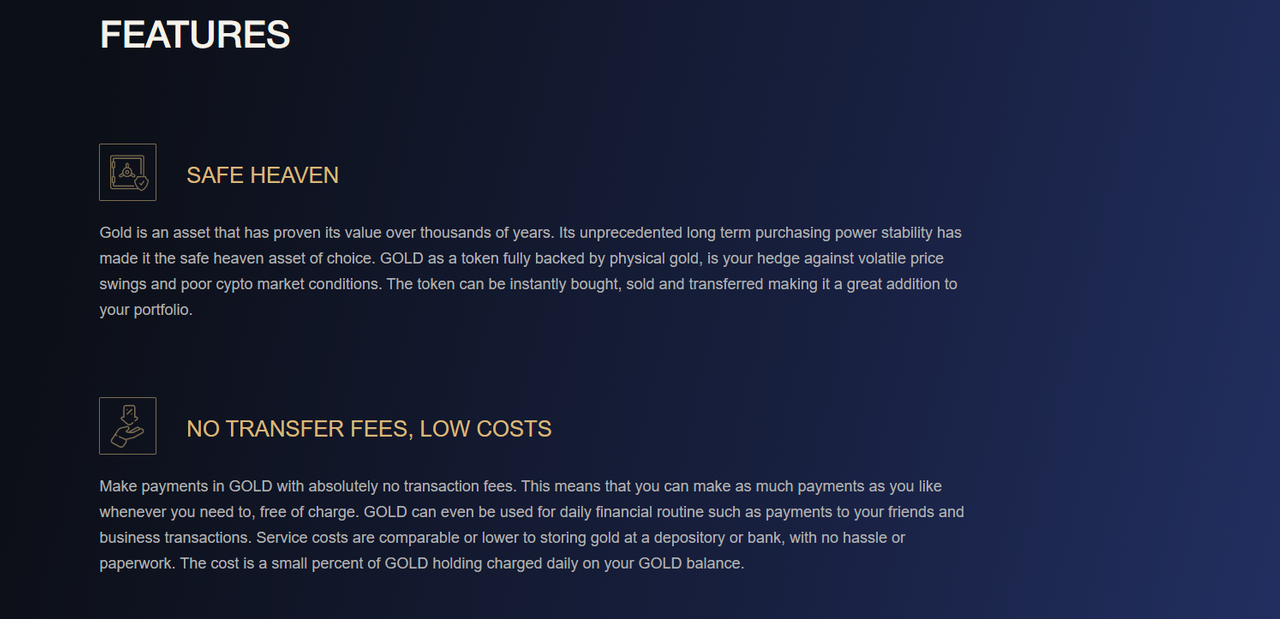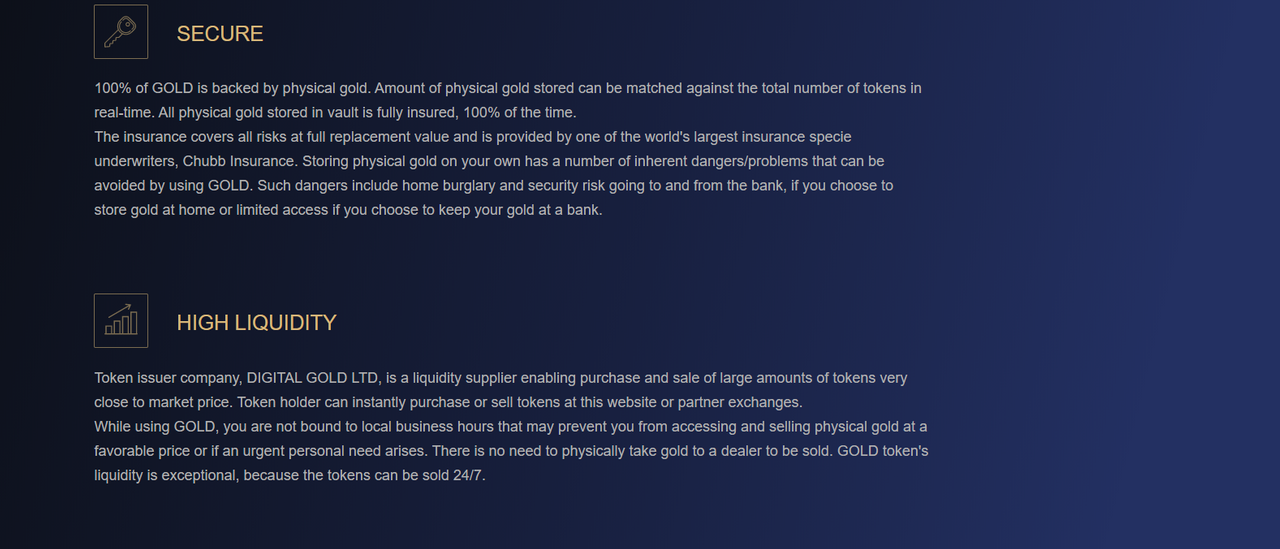 To bridge these gaps, they developed the GOLD TOKEN (an ERC-20 compatible token that is based directly on the Ethereum blockchain). With the GOLD TOKEN, investors and interested individuals purchase coverage in actual gold since the digital gold company have secure vaults for every tokens purchased in equivalence in physical gold purchased on the behalf of token holders and stored in a BullionStar-based secure vault (one GOLD TOKEN is equal to 1 gram of 99.99% FINE gold). All the physical gold are insured by the Chubb Insurance Company minimizing the risks with a full replacement value in case of anything. For transparency, holders of the GOLD TOKEN are free to carry out their due diligence by verifying the BullionStar live audit reports. The audit report is to let holders know and confirm the value of gold being stored. To fully bridge these gaps, the team has deployed the use of blockchain technology which has a promising potential in improving the demand and supply chain of gold.
ROADMAP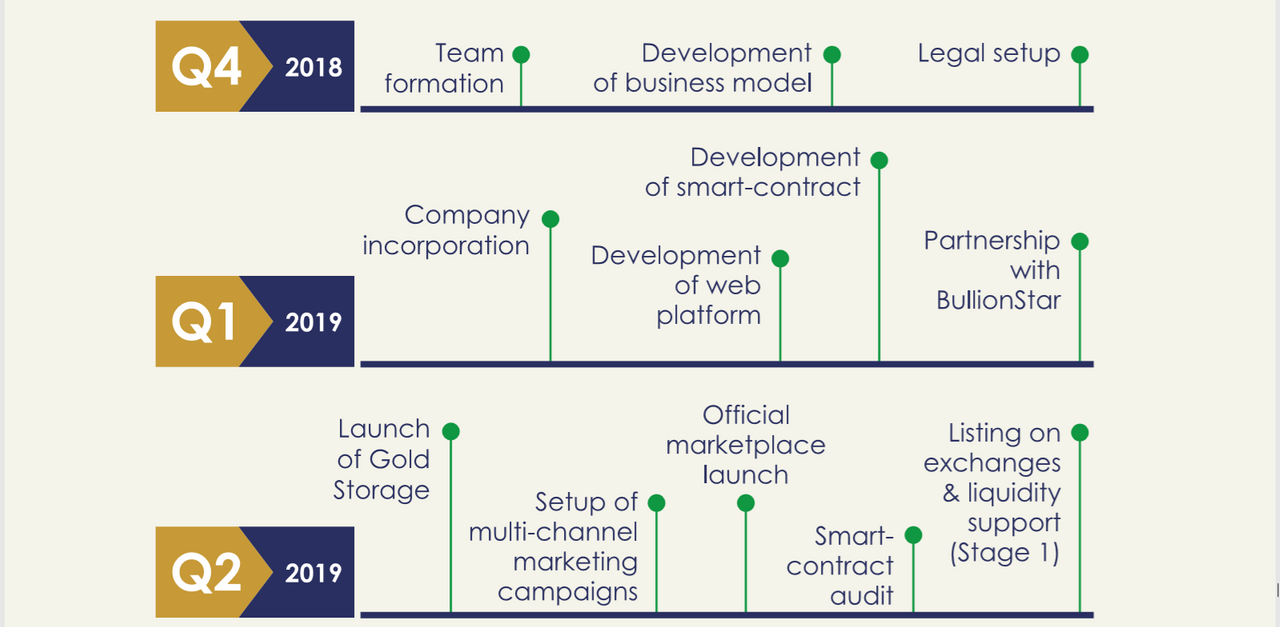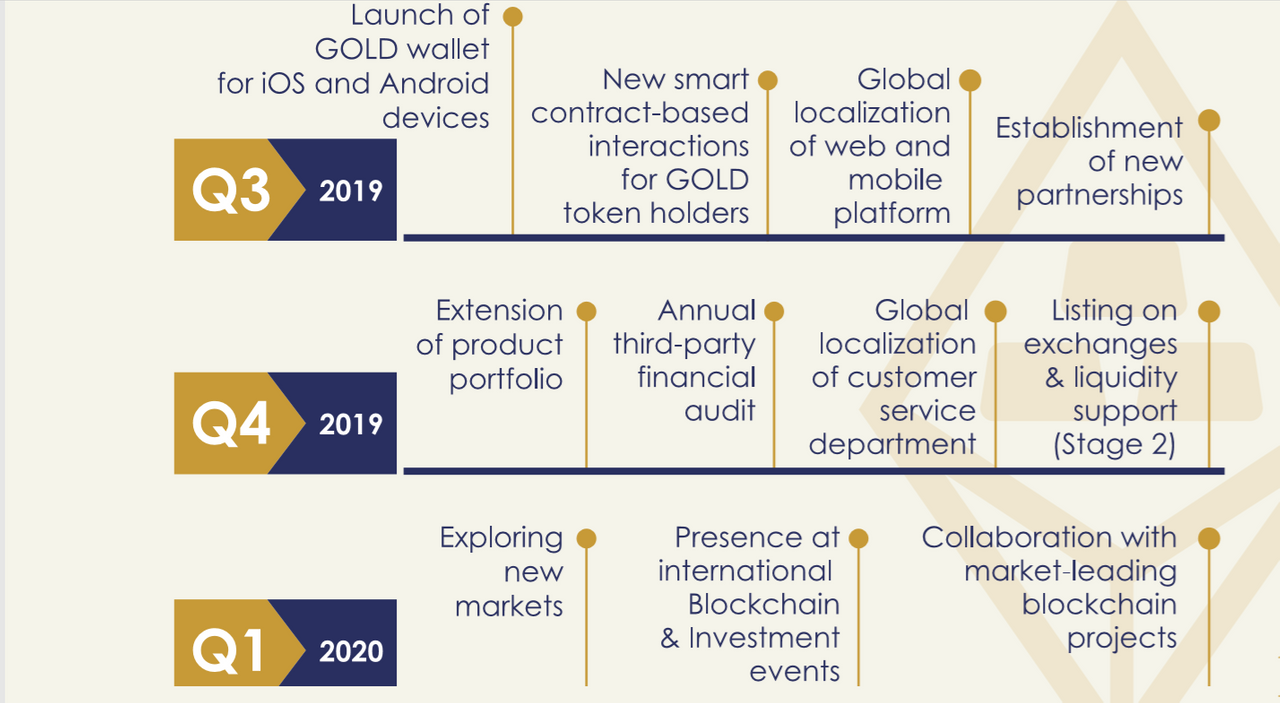 For more detailed information on Digital Gold project and their GOLD TOKEN, visit;
Website: https://gold.storage/features
Twitter: https://twitter.com/gold_erc20
Medium: https://medium.com/@digitalgoldcoin
Bitcointalk: https://bitcointalk.org/index.php?topic=5161544.0
Created By:
Bitcointalk Username: Cryptotissue
Bitcointalk URL