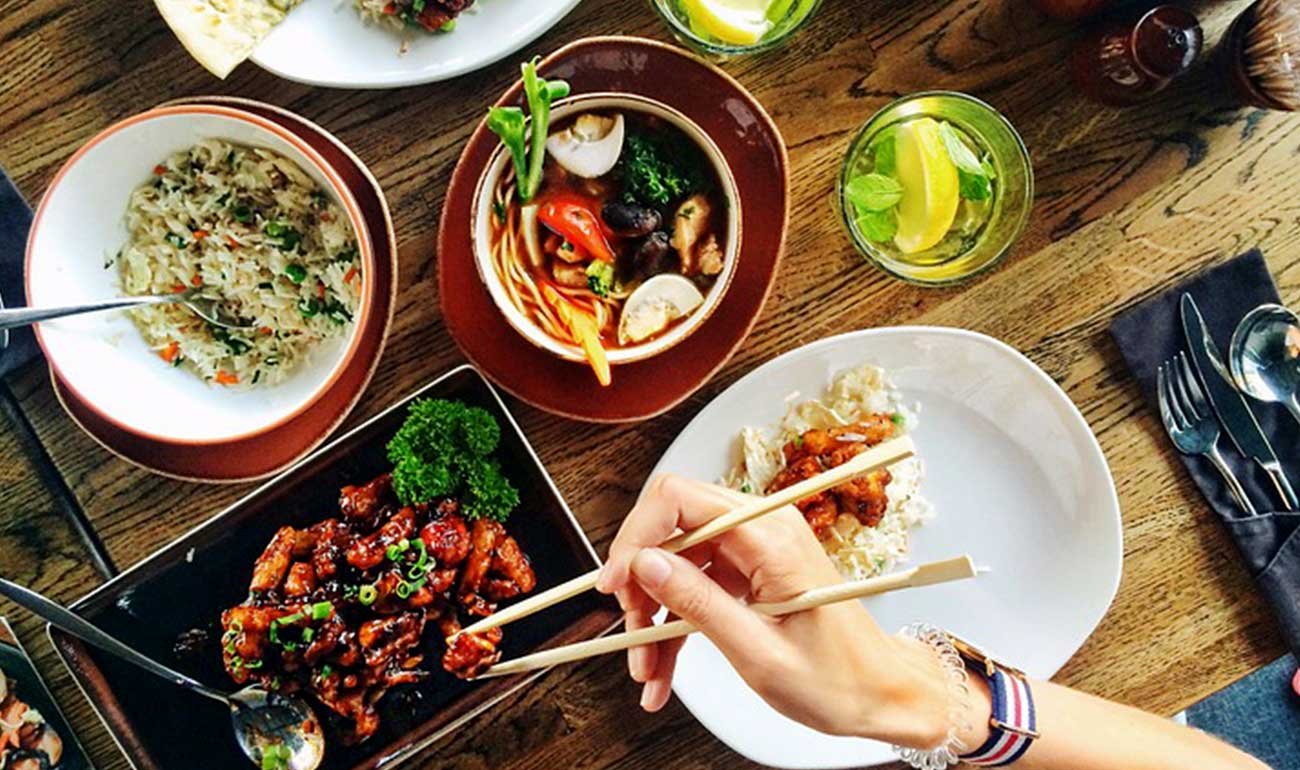 It is amazing the extent which modern technology continues to bring several innovation and conquer more areas in our everyday life. With the current trend and projection of advancement coupled with brilliant innovation in the blockchain technology space, it would be impossible to imagine a future without the blockchain and cryto-based technology fully intergrated into our everyday lives ranging from finances, media, investment, logistics and food.
Blockchain technologies has proven effective in applications of finance and business systems, more sectors such as gaming and personal information continue to adopt blockchain technology application. The diamond industry has also adopt this technology for lisitng and verification of authentic jewels, real estate as well is in on this technology, the fact is that in the coming 4 - 5 years, blockchain technology would have been fully interegrated into every key areas of our lives.
Taking a dive into the Gastronomic Sector, this undeniably important sector is being plaqued with some problems which are not new to people who have particular interest in exquisite culinary culture. Who doesn't love good food in a homely, welcoming place. It would be ludicrous to ignore the current issues plagued with this important as well as valuable community of food lovers and producers alike.
The Problems
Although we can find places using the google app, 8 out of 10 people get lost trying to locate restaurants in new places, be it travellers in a new county or individuals who just moved into a new neighbourhood, it is cumbersome if not completely impossible locating good restaurants with nice recommendations at the said locations. Many platform has tried to bring restaurants closer to users over time but this attempt has been unsuccesful due to factors such as name changes, businesses closings, wrong GPS positions and other factors that affect users' experience.
It is worthy to note that finding specific restaurants tailored to the users taste is quite complex, a simple search of Hotdog will combard the users with thousands of results making it difficult to choose the right place for the user. These problem is that the information provides are not focused on the gastronomic sector and therefore give you everything they have regarding your search and it's difficult to pick from thousands and thousands of results, user will get tired out and this proves to be an issue.

Living in the new age where false information can be easily circulated around the internet and business owners can manipulate the general public with false information, it is a good point to note that reviews from several listed restaurants have been tailored to favour them and most of them are lies. It would be upsetting reading about this great restaurant that serves a dish I love only to get there and discover they do so with dirty and unkempt waiters.

The problem that particulary interests every blockchain enthusiast is the adoption of cryptocurrency in modern day fiat transaction. Local restaurants are yet to adopt cryptocurrencies as a means of payment, this is due to it's volatility and the fact that there are thousand of currencies out there, some are dependable, some are not. A full integration of crytocurrency to fiat transaction will be a revolutionary and ground breaking achievement across all levels especially in the gastronomic sector.
The Solution - Gastro Advisor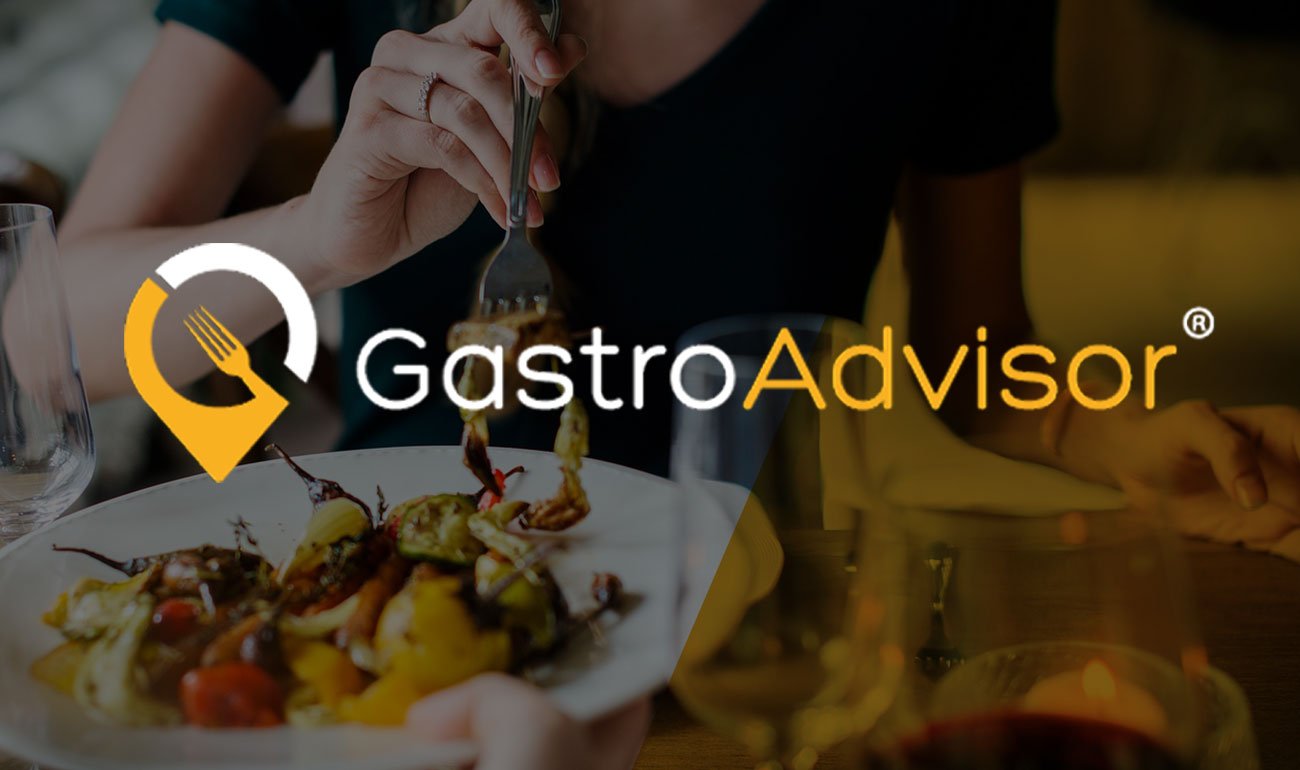 Since it's inception in 2016, Gastro Advisor simply seeks to create a platform to search, recommend and book restaurant and gastronomic venues, GastroAdvisor wants to help people around the world to easily find restaurants and venues that match their personal taste, making it easier for the gastronomic businesses to find new customers and to grow in the web market.
Gastro Advisor is an online platform designed based on the modern blockchain technology to cater for the gastronomic sector by bringing users closer to quality restaurants across all locations. Using smart technology, Gastor Advisor can tailor search results based on your preferences eliminating information overload from other platforms.
How is Gastor Advisor the solution?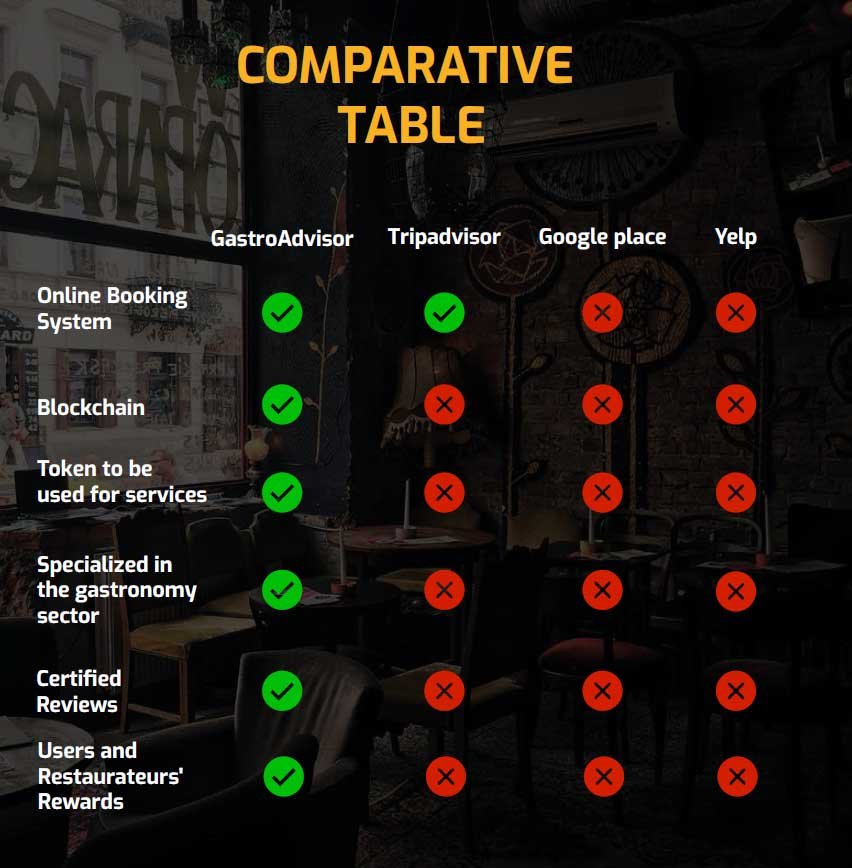 Unlike other platforms in the gastronomic sector, Gastor Advisor has clearly defined steps to tackle the problems currently plaguing this lucrative and yummy sector:
A Platform Exclusively Dedicated To Gastronomy Information on this platform such as location, name and reviews of restaurants will be carefully analysed by the Gastro Advisor team. Being the first to create a specialized platform for the gastronomic sector, Users from anywhere in the world can add new restaurants, update business
informations, edit and add information.

A Smart Platform That Learns From You Using artificial intelligence, the users actions are used to provide feedback regarding the views, likes, searches and restaurant rating providing the user with the best match result on the social food network. This will eliminate information overload from searches because results will be tailored to personal preferences.

Classic Reviews, Certified With Blockchain (bronze, silver, gold) A simple and smart solution has been proposed to solve the issue of false ratings and fake reviews. The Gastor Advisor team will be reveiwing restaurants on three levels after careful analysis and research of the restaurants on the Gastro Advisor platform.

A System Dedicated to Gastronomic Businesses Banking on the blockchain technology of cryptocurrency transaction application, Gastro Advisor will introduce business to the limitless world of Cryptocurrency. The adoption of the FORK token will enable seamless transaction between the fiat and cryptocurrency world.
Verdict!
In the coming years, it will be amazing the level of integration the blockchain and cryptocurrency technology will be in our everyday lives. Early adoption and wise investments will only position an investor years ahead of spectators waiting for the project to come to fruition.
Gastor Advisor will solve the said problems and expand more on subsequent challenges that may arise. This is owed to the team of 15 passionate individuals led by Rosso Samuele, the CEO. These team members have proven experience and intellectual prowress in the application of blockchain technology and evident experience in the gastronomic sector.
GastroAdvisor is building the first global recommendation platform for restaurants and dining venues based on Ethereum blockchain. Wise investors can make use of this opportunity and secure their position in the future of blockchain technology with Gastor Advisor. Their ICO starts soon, to be a part of it visit website: https://www.gastroadvisor.com/
For more information, kindly follow the links below
Website: https://www.gastroadvisor.com/
Whitepaper: https://hilo.io/assets/whitepaper.pdf
Twitter: https://twitter.com/gastroadvisor
Facebook: https://www.facebook.com/GastroAdvisor/
Instagram: https://www.instagram.com/GastroAdvisor_Official_ICO/
Telegram: https://t.me/GastroAdvisorOfficial
Youtube: https://www.youtube.com/channel/UCfvle9ZLVsNdzrpp7I4EvhA/featured?disable_polymer=1
Author: Tymix12