Let's Increase Crypto Adoption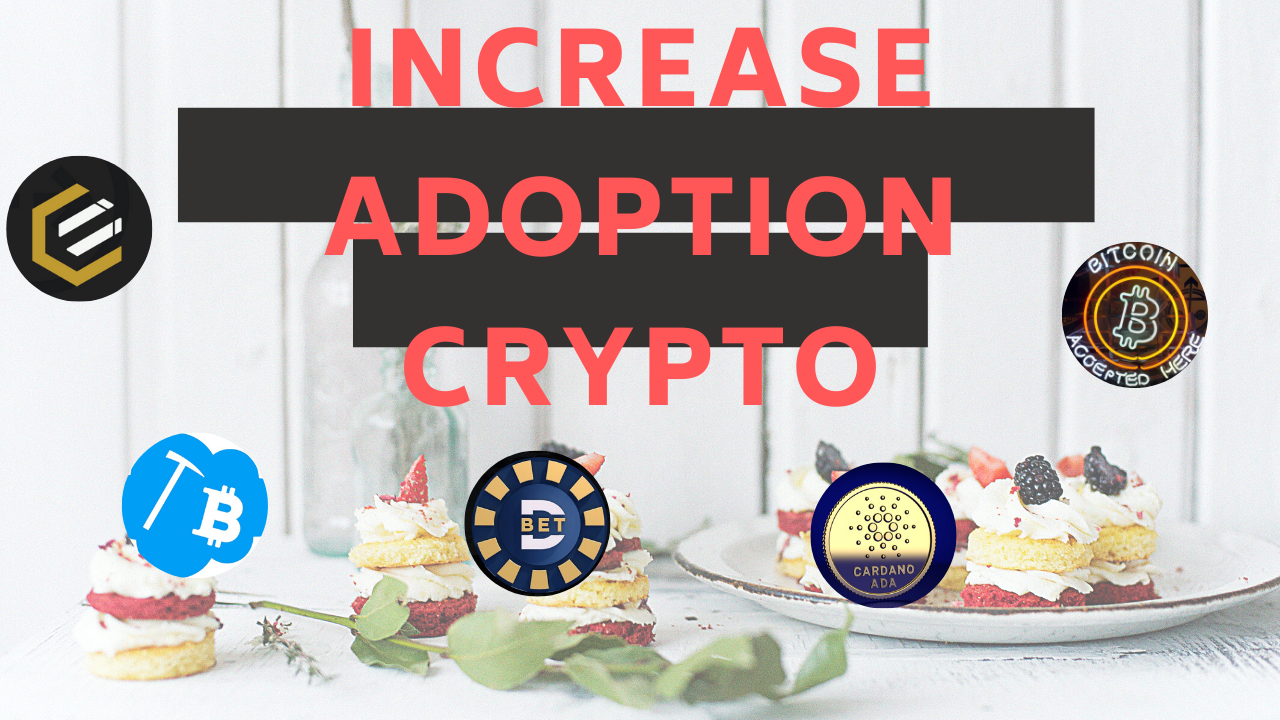 I'm in cryptocurrency space for 2 years already and I am thinking of possible ways I could contribute to bitcoin and crypto community, I realized that we have different line of track in where we try to improve ourselves, our skills, and knowledge for us to create or do something useful. It is important that we all do ways to help bring more awareness to get more adoption.
In terms of bitcoin adoption, people could wear shirts with bitcoin logo, tell their friends about bitcoin, and sell items through bitcoin or altcoin. I've just researching and learning how to code and I've tried to develop a system (Point of sale) for a small business located in our area but with a twist, it might be easy because what I've did is just to add a QR image of Bitcoin and Ethereum not much to focus on code to literally incorporate the blockchain system to it.
I always believe that the best way for the adoption of crypto is when it is actually used on the ground, in real life, in the day to day life of ordinary people. It will happen when merchants and business owners like you will start to accept it as payment. This will send the best message to crypto owners and those who, until now, do not treat cryptocurrency as real money because they cannot actually spend it-- that cryptocurrency is real money. That businesses will accept them as payment for as basic stuff as your daily meal. This will also alert the authorities that indeed cryptocurrency is real money because it is being accepted in stores and restaurants. And from there, they will be compelled to come up with policies in line with it.
Anyway, local adoption would always go through a payment processor, such as Bitpay or even Coins.ph for the lazy merchants. Digital banking partners such as Gcash, Paymaya and the likes are getting a head start on this race though, while bitcoin is still regarded as alien by most people.
It will take time before things start to get really good for bitcoin adoption, moreso the merchants accepting such payments and customers willing to pay for cryptocurrencies. For now, one can only hope that bitcoin gets the boost it needs on the side of usability and not necessarily price.
It's difficult because bitcoin was already able to prove itself that it is beneficial and it is capable on giving us opportunities yet they are looking on a negative side of it.
To increase the adoption rate, it should start from scratch and learning process should initiate good outcome before wisdom be absorbed by many people. Without conviction and determinations they won't be attracted with cryptocurrency, due to less awareness and worst, some FUD might influence these people whose newly involved in crypto.
Promoting Bitcoin to many small businesses and showing them the advantage of adopting and accepting Bitcoin for their operation can be helping a lot. However, this is just one side of the story. The other side is encouraging more and more Bitcoin holders to be spending their digital assets on everyday transactions. I think that if there is a huge demand for anything, merchants will do anything to be on board. The biggest problem is that more and more Bitcoin owners are holding on to their wallets because we are speculating that Bitcoin will be going up soon. And since many Bitcoin holders do not have a regular source of Bitcoin, there is that tendency not to use Bitcoin to buy or sell but just leaving them on wallets of our choice. How do you convince a merchant to integrate Bitcoin if there is a less chance that he can see a rise of business transactions? Will it not just be a big waste of time on the side of the business? It would have been different if we are all receiving our salaries in Bitcoin because we are assured of regular supply of the coin then we will have the greater tendency to spend them.
By establishing and building some shops who are accepting bitcoin or ethereum as a payment was a very good help for us crypto enthusiast because on that small thing that we are doing, we already gaining and adopting the bitcoin to the masses. In which we are already promoting it to used by others. So I believe that in a very small doings, we can really help bitcoin on increasing its adaptation. Ho
wever, even though the local government allows for the adoption of crypto, I'm not sure it will have a significant impact, I mean, people around that suddenly use crypto as a payment option will just increase. It's more like first we need to make people aware about crypto, let them know about this. People's interest to crypto is more important than just make the government allows crypto adoption.
I think the use of Bitcoin is not well-established reputationally and is hard to perform for a regular person to become interested in it. From start till now, there were numerous attempts to quantify the adoption rate of Bitcoin, but they were extremely complicated due to Bitcoin's privacy and lack of information about individual accounts. the mass adoption of Bitcoin could growe by increasing use of cryptocurrency in businesses. The rising amount of enterprises, individuals and manufacturers that accept Bitcoin as a means of payment positively affects it's adoption by ordinary customers and households.