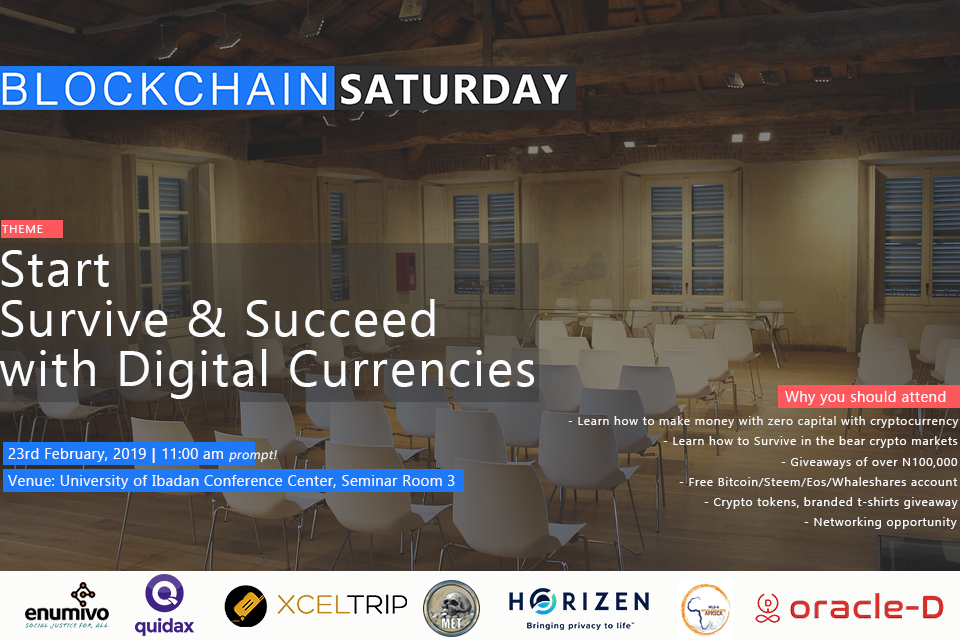 Blockchain Saturday is a cryptocurrency educating and networking event, geared at creating awareness of the crypto space and to foster interactions with and networking abilities within individuals in the crypto space, several MeetUps have been held in several locations, the last for 2018 being Blockchain Saturday Lagos Edition, which was held on the 8th of December, 2018.
The event was graced by several people from different people in the crypto ecosystem with massive wealth of knowledge and experience on blockchain, decentralization and smart contracts, crypto trading, and the likes.
Another blockchain Saturday event is upon us again.
This time it is being in the Ancient City of Ibadan - The Premier City of Nigeria, in the Prestigious University of Ibadan, Conference Center, Room 3 and Time is 11AM Prompt.
Features of this event:
Learn how to make money in cryptocurrency with zero capital
Meet and Network with other members of the crypto space
Be part of the #100k giveaways
and lots more...
My Registration/Proof of Interest to Attend: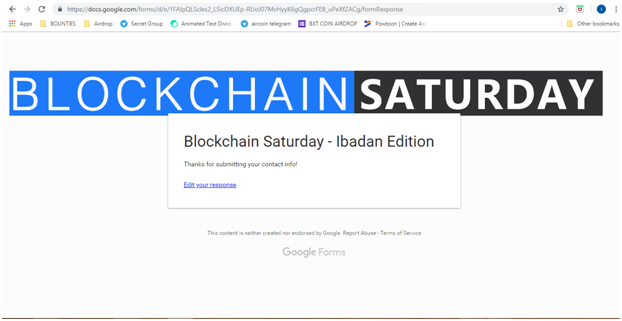 The image shows my proof registration for the event, you too can register by following this link
Help us advertise This event:
make a post about blockchain Saturday using the following tags : #blockchainsaturday #bcs2019 to get curated by one of the sponsors of the events @met or Read this Post for more information.
@IamChijamz, and i will meet you there!