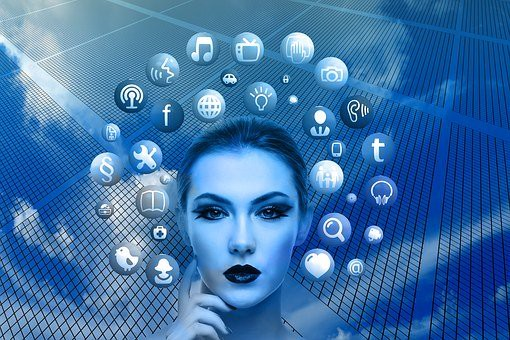 After the year 2000, everything was flowing to the internet. We couldn't live without the internet until the end of the decade. And now, as expected, almost every service has become faster, easier and safer than the Internet. Within seconds, you could book your transportation, or you could order food, or you could read a book, or you could see your loved ones through social media. The end of the decade was the forum for the development of two innovative solutions to the process. One was social media, and the other was a digital currency.
Once two big networks first thinking about creating their own separate channels, they never thought that one day they could have partnered to build a new future for us.
Social media giants Facebook, Twitter and Snapchat were founded in 2004, 2006 and 2011. And as you all know, the first cryptocurrency, bitcoin, was revealed in 2008. They didn't see the fall after the opening of these two industries. Now, the blockchain industries are rapidly evolving and entering every sector.
In the meantime, social networks have been able to connect the globe and capture the attention of business influencers. The effect of social media is too high to destroy or create any kind of institution. As for the blockchain technologies, they use these channels to reach out to people and demonstrate the promise of the projects. The outcome turned out to be good. The impact of social media could also reduce the price of currencies or simply eliminate the popularity of any industry.
What will happen if these two big industries combined and build a new platform for the future?
The regulatory situation is the most troublesome system for industries. Where social media is very popular in every industry, cryptocurrencies are forbidden in some countries. Some countries even consider these cryptocurrencies worthless for asset class regulation. While cryptocurrencies have mixed feelings from different countries, social hubs are freely roaming around the world.
If there is no regulatory risk, these two platforms will emerge peacefully and live happily. The situation here, however, is slightly different. Cryptocurrencies are still under growth, and policymakers are researching every corner of these innovations to ensure the safety of people's property. Social media giants like facebook, twitter, snapchat, etc. are driven by these new technologies to know the massive outcome for the future.
Libra is a payment transfer platform within their individual social cloud. This proposal was put forward by the founder of Facebook, Mark Zuckerberg. If Libra succeeds, this will be the first-ever project to be accepted by regulators and launched by a social media platform. This shows a reflection of the brand's interest in blockchain innovations and how it is involved in bringing it into the field of technology. If the coupling is successful, Libra could be the best example of combining the two major marketplaces of social networking and blockchain technology.
What is Facebook's CEO looking in the crypto industry?
Facebook has already set up a social wellbeing site. From the facebook website, it's easy to share ideas, business opportunities, social life, etc. It also makes it easier to stay connected to the people you love and to have access to making new friends from all over the world.
Mark's new venture with Libra focused mainly on blockchain-based payment transfer mode. Nevertheless, this project is facing highly regulatory challenges as it is expected to be the first-ever regulated currency system. Since 2018, Mark has been studying the blockchain market. His statement has shown his view on cryptocurrencies since 2018.
With the rise of a small number of big tech companies — and governments using technology to watch their citizens — many people now believe technology only centralizes power rather than decentralizes it.
There are important counter-trends to this — like encryption and cryptocurrency — that take power from centralized systems and put it back into people's hands. But they come with the risk of being harder to control. I'm interested to go deeper and study the positive and negative aspects of these technologies, and how best to use them in our services.
Mark was applauded for the impact of the decentralized model of payment and for the way in which it operates perfectly well without having any centralized authority. He then introduced Libra to the public in mid-2019, although the service is still behind the legislative bar. Mark has done his best to offer the ultimate distributed payment solution.
Now we've come to know that Facebook and Mark Zuckerberg are embracing the crypto ecosystem and seeing the future through it. But what do you think the other social hub is doing to these market opportunities?
Let's have a look at what Twitter CEO sees through this industry?
Chief Executive Officer of Twitter, Jack Dorsey is also the CEO of Square, a decentralized business ecosystem that enables sales and payment transfer platforms to be purchased. He once said in an Australian publication interview that Bitcoin is not ready to become a monetary solution. This needed a range of supportive facilities that could lead to mass adoption.
Dorsey is working on its payment solution, Square Inc. According to his view, I think the internet will have a native currency and anything we can do to make that happen is what we're going to do. "And he also said about the square," It's going to be things like hardware, analytics, payroll and lending.
From the beginning of the year, Dorsey said, "Bitcoin is resilient. Bitcoin is a matter of principle. Bitcoin is a native of internet ideals. And it's a great brand. "which means he agreed that bitcoin might not be able to become the currency solution right now, but it has become the brand face of the crypto world.
For Dorsey Bitcoin, there's a lot more than just a cryptocurrency. It's a global currency. If the world needs only one crypt to run all the economic agendas, then Bitcoin is the only solution. With the times of London, he expressed his opinion. "In the end, the world will have a single currency; the Internet will have a single currency. I personally believe it's going to be bitcoin,
What is Snapchat doing with the crypto market while everyone running towards it?
Snapchat CEO Evan Spiegel has a clear view of cryptocurrencies. Cryptocurrencies are the place to store value in a digital environment with a distributed system. According to him, snapchat has never been against anything that has a potential marketplace. Bitcoin and cryptocurrencies are one of them and snapchat has invested almost around 2013 in the blockchain industry. But it was not because they were unsure about the security of their property, but because of the interest of the facets of the sector.
However, many countries are facing an economic crisis like Venezuela and shapchat is likely to invest more in blockchain technology to help. In his interview, he addressed the economic situation in different countries and showed how blockchain technology could enable people to keep resources secure.
"You don't really care about the ability to store money in the U.S. dollar if you live in America. You're not worried about the ability to spend your money. You're not worried that the cash in your bank account will suddenly not be open to you. This is not true in Venezuela, and it is not so in other areas of the developing world. For cases like that, seeing the advantages of the blockchain applied to cash when you don't have confidence in your financial option, it can be very convincing."
Therefore, it's really important to know how these media giants see the crypto markets, whether they're behaving positive or negative. Keeping track of their acts and comments is quite fair, as a backward shift in these social media platforms might bring down the popularity and revenue of any crypto-related industry. Their positive attitude toward crypto-industry like sponsorship, investments, jobs and projects bring hope and strong grip to the industry.
Follow us on our social channels:
https://www.coinbreze.com/
Telegram: https://t.me/coinbreze
Twitter: https://twitter.com/coinbreze
Facebook: https://www.facebook.com/Coinbreze