Innovaminex is an innovative business model that uses blockchain technology to ensure traceability of precious metals. By applying a set of procedures, you can certify the entire process, from its origin in the mines, to the refinery and commercialization to the final consumer. This commercialization is done through Innovamlnex e-commerce stores, affiliate stores and own ATMs.
This will allow buyers to check the origin of the acquired metal, ensuring that the extraction is lawful, that the environmental protection is always protected or that it cannot be used for money laundering because all transactions Registered and the entire community has access to them.
The ultimate goal of Innovamlnex is to make gold and other precious metals more accessible to all people using INX cryptocurrency, obtaining the best possible price for both customers and the community, focusing on transparency and security of transactions.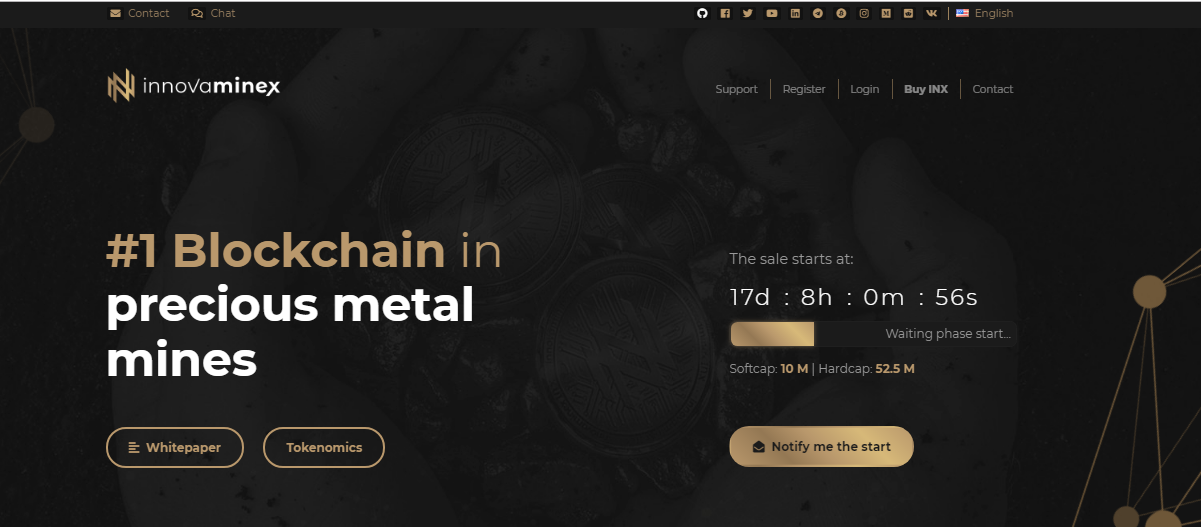 Projects
Mining Project
7 mines rich in gold, silver and zinc – among other precious minerals – with a project already underway. Ecological mining of underground veins. For the first 5 years, the estimated gross margin of sales (of the mines to be exploited) is US$ 2 billion.
Refining Process
Plant with a refining capacity of 200 kg of gold per day in a free zone and security 24×7. Refining of gold from our own mines and from third parties'. Innovative designs coined in gold and silver with cryptocurrency casting moulds.
E-commerce Innovation
Gold and silver coins and ingots of the main cryptocurrencies. Cryptocurrencies as a means of payment and discounts when paying with INX. Purchase and sale of precious metals. Integration of our products in large marketplaces (Amazon, eBay, etc.).
ATMs
Sale and purchase of cryptocurrencies (INX, BTC, ETH, etc.). Safe and intuitive interface for users. Purchase of gold and precious metals through our e-commerce in our ATMs.
Advantages of InnovaMinex
Blockchain
The best and most advanced technology providing complete information on traceability from the extraction of precious metals to their commercialization.
Safety and integrity
Users can rely on the fact that transactions will be conducted in an invulnerable, automatic and trustworthy way, removing the need to trust in third parties.
Faster speed
Interbank transactions usually take several days before they are cleared and settled. INX work 24/7, reducing transaction times to just minutes.
Low-cost
By eliminating traders and third parties, we can remove unwanted additional costs. That is how InnovaMinex is able to significantly reduce transaction fees.
Transparency and immutability
All INX transactions are publicly visible and immutable for the whole community. They cannot be either altered or deleted.
Quality traceability
The certification performed by our blockchain will be complete, consistent, precise and publicly available.
Market
InnovaMinex is the safest and the most cost-effective option for the purchase of gold and precious metals.
INX
Our cryptocurrency will rank first in the mining and precious metals industry.
Services and products
Smelting
It is carried out with induction equipment and gas treatment systems, achieving homogenous and clean alloys.
Analysis
X-ray fluorescence (FRX). Using this technique the chemical composition of different metal alloys is determined. This process has become very relevant worldwide because it it is clean, fast and accurate.
Refining
Our company's cutting-edge technology has developed specialized chemical processes – that follow strict international quality standards – that allows us to obtain precious metals of the highest purity. Our customers are sure to receive gold, silver and platinum with a purity of 99.9%, obtained through processes that are responsible and environmentally friendly.
Granulation
Granulated gold, silver and platinum are produced with feature sizes below 5 mm. This allows for a better handling and control of bulk quantities.
Remanufacturing
Using new metal or reusing crucibles or already worn elements, crucibles, saucers and other accessories are remanufactured, thus optimizing initial investments and reducing costs.
Separation
It is a delicate process where the precious stones of new or discarded jewels are removed, making sure that the stones will remain in their original state of assembly. This an alternative to the traditional casting method that owners choose when they want to reuse metal. This service is aimed at the jewelry sector.
Recovering
Thanks to the innovative processes performed in our refinery, this service helps to minimize the environmental impact of small and medium mining through the recovery of gold and silver from gravimetric concentrates. In addition to the environmental benefits it represents, the recovery obtained with our technology is much higher than that obtained with mercury. This allows our customers to improve their profitability while being environmentally friendly.
Crucibles
These are made with pure platinum and alloyed with gold and other precious metals of the same group. We have a high range of references. And we also manufacture platinum accessories and tools.
Threads & wires
Threads and wires are produced in platinum, silver and pure gold or in special alloys of different diameters. Straight and cut rods of different lengths are also manufactured.
Salts
We produce salts from gold, silver and platinum that are later transformed into raw materials for the jewelry, chemical, pharmaceutical, cosmetic, electronic and electroplating industries in general.
Galvanic salts: silver nitrate, silver cyanate, silver-potassium cyanate, gold cyanate, silver iodide, silver sulphate.
Cryptocurrency casts
Our coin casts have a unique quality and variety of metals and alloys, and they can be manufactured according to the specifications of each cryptocurrency that we will design. We base ourselves on this in order to build the best international reputation.
Thanks to our experience in smelting, die-cutting, laminating and exhaustive quality procedures, we can satisfy every existing cryptocurrency community. We will offer a wide range of shapes and sizes, alloys and precious metals (gold, silver, platinum and palladium), either die-cut or not, with or without borders.
All our coins have all the necessary quality certificates, as well as the histograms that detail their weight, dimensions, mechanical characteristics and history of the cryptocurrency.
Purchasing and selling metals
Purchase of metals
We acquire gold, silver and platinum from legally constituted mining companies and small traders, which comply with the legal conditions required by the oversight bodies.
During the purchasing process we pay attention to every detail from the origin and quality of metals to the safety in transport and storage, all this guaranteed by an optimal infrastructure.Purchases are made according to international prices for metals. However, we aim to negotiate purchases with our INX Cryptocurrency, demonstrating its benefits.
Sale of metals
We will sale gold, silver and platinum, both nationally and internationally, and always under the principles of transparency, quality and service. If the purchase of these metals is done with INX, our customers will have exclusive benefits, for example, a better price than if it is done with a fiat currency.
Our goal
After some time refining gold with the highest quality guarantees, we are in the process of submitting a formal application to the LBMA (London Bullion Market Association) in order to become part of the Good Delivery List. This is a long and tedious procedure due to the strong demands of the LBMA. However, becoming part of the Good Delivery List, would mean that the refinery would have reached extraordinary standards of quality and service, since the LBMA
demands a series of very strict requirements to those companies that are part of it or that work with it, both in terms of commercial organization and at the technical and quality level.
INX Value and Utility
INX ALREADY HAS A VALUE OF ITS OWN: Merely by having INX, you will receive coupons and discounts from InnovaMinex loyalty program, that you will be able to redeem in our e-commerce. Having INX means getting the best prices, which makes it a very sought-after digital asset, both by savers and consumers.
GOLD DEMAND ALREADY EXISTS! Therefore, we do not need to generate it. Gold is security and its demand constantly grows.
Gold Purchase: We encourage our customers to buy with INX, offering them greater benefits and discounts.
Participant Stores: In large platforms and small participant stores, INX can be used as a means of payment.
Exchange and ATMs: INX will be listed in several exchange platforms and available in ATMs, where they could be bought, sold or exchanged for other cryptocurrencies, for fiduciary money and even for gold.
E-commerce
E-commerce consists mainly in the development of market actions, sales, customer service,portfolio management, logistics management and, in general, any commercial event or exchange of information carried out through the Internet.
Nowadays, e-commerce has become a very successful tool for the business world thanks to the openness and ease of access to the Internet.
Strengths of electronic commerce:
● Creation of business opportunities and new ways of distributing products and services.
● Unlimited access to customers in any geographical area. Opening of new markets and expansion within them.
● Increased competitiveness and quality of service.
● Rapid response to needs and shorter or non-existent delivery chains, which can in turn lead to a final price reduction.
● Better control of clients and orders.
Our online store will use Magento, a leading platform in electronic commerce that covers over 30% of the online stores in the market.
The main reasons for choosing Magento e-commerce are:
● It is the best and strongest e-commerce platform in the market. Its technical features are so unique that it can perfectly integrate with all the business processes of a company (ERP), i.e. Microsoft Dynamics Nav (Navision), Axapta, SAP R3, Business One, Sage and SPYRO.
● The wide variety of available extensions allows our store to be adapted to the latest online shopping trends, allowing for increased profits and providing buyers with a unique shopping experience. All this allows us to develop the B2C (sale to final customer) and B2B (sale between companies) project.
ICO details
General information
Token: INX
Platform: Ethereum
Standard: ERC20
Quantity: 300,000,000 INX
Price: 1 INX = 0.50 USD
Payment: BTC, BCH, ETH, LTC, DASH, ETC, USDT, XRP
Soft cap: 10,000,000 USD
Hard cap: 52,500,000 USD
KYC: No
ICO
Quantity: 210,000,000 INX
Start: 11/26/2018
Completion: 07.01.2019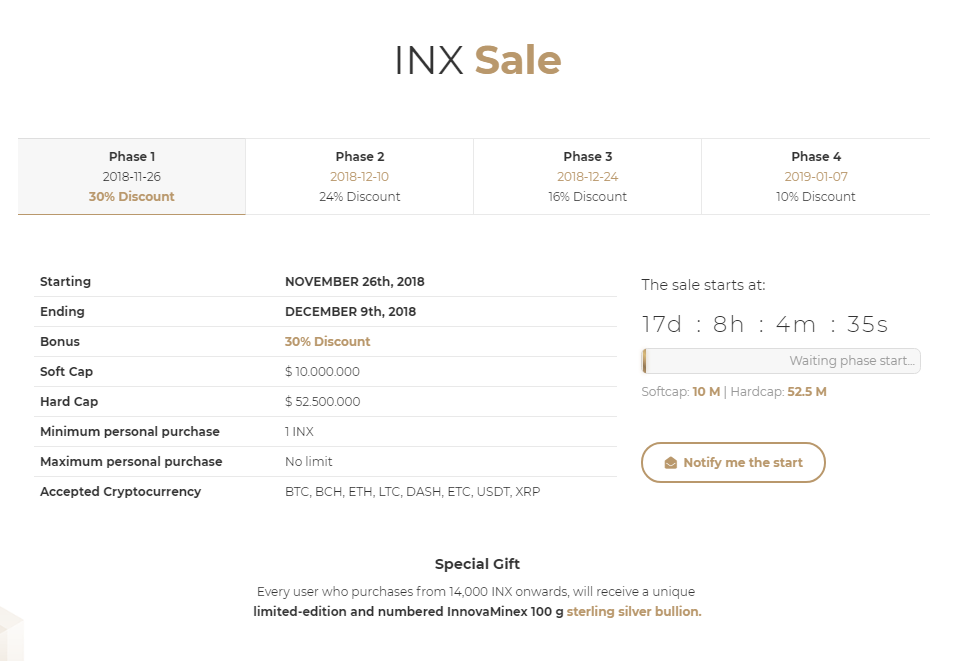 ROADMAP
Since 2013
Search for potential clients: direct investments are made for the project Verada Guayaquil. Six other gold mining concessions are being discussed.
November 2018
Initiate assembly production in the Guayaquil project. Additional studies were conducted in the Vizcaya project. The accumulation of minerals begins.
November 2018
On the 26th, the official sale of INX begins. There will be 4 stages with different types of discounts up to 30%. It will last until January 21.
December 2018
INX will be displayed on multiple exchange platforms and ATMs around the world.
January 2019
We launched our e-commerce for selling gold and silver (launching a marketing campaign to raise awareness of our innovative products).
February 2019
Initiation of refineries and the start of gold processing with the help of other mines and associations.
April 2019
Begin assembly of the Bolívar 2 project unit. This is the second plant of InnovaMinex.
April 2019
InnovaMinex ATMs: the commercialization of precious metals and the launch of the first ATMs selling gold, INX and other cryptotermines.
May 2019
The opening of the mine entrance for the project "Biscay" and the accumulation of minerals.
June 2019
The plant under the project Guayaquil 1 begins its work, and the construction of the beneficiation plant in the project Bolívar 2 begins, in addition to mineral reserves.
August 2019
The assembly of the enrichment plant in the Vizcaya project begins. The restoration and construction of the main galleries in the Antioquia 3 project begins.
September 2019
Commercialization of our gold and other precious metals processed by our refinery.
May 2020
Mineral mining and accumulation begins at the Minex 7 deposit, as well as the construction of the main galleries, mining and accumulation of mineral reserves in Minex 12.
June – July 2020
The enrichment plant in Antioquía 3 begins its operations, and the construction of the Minex 7 plant begins.
February – September 2021
Minex 7 plant begins to work, and construction of the Minex 12 concentrator begins. The accumulation and construction of the main tunnels of the Tolim project begins.
TEAM
Fernando García Sanz
CEO (Chief Executive Officer)
Rafael enríquez
CINO (Chief Innovation Officer)
Dr. Baloch asif
Blockchain director
Paco de benito
CCO (Chief Communication Officer)
Paco montero
CSO (Chief Strategic Officer)
Julio Pérez-Tomé
CMO (Marketing Officer)
Ignacio naveilhan
Full-Stack Developer
Jaime valero
CAO (Chief Administrative Officer)
Jaime krahe
Trade manager
Raúl berlanga
CFO (Chief Financial Officer)
Richard O'Rourke
UK Market Representative
David Olaya
CLO (Chief Legal Officer)
Vincenzo giorgioni
Head of institutional relations
Iván garcía
CIO (Information Director)
Manuel del palacio
DPD (Data Protection Director)
Rafa páez
Brand manager
Andreas Oti Nilsson
Market Analyst
More information contact :
Website : https://innovaminex.com/en/inx
Whitepaper : https://innovaminex.com/docs/whitepaper-en.pdf
ANN Thread : https://bitcointalk.org/index.php?topic=5040040.new#new
Facebook : https://www.facebook.com/Innovaminex/?ref=bookmarks
Medium : https://medium.com/@innovaminex
Twitter : https://twitter.com/innovaminex
Telegram : https://t.me/InnovaMinex
Author : upik05
Telegram : Upik05
BTT username : upik05
BTT Profile Link: https://bitcointalk.org/index.php?action=profile;u=2205131
Address wallet
0x6B4D2B44e4FB4648FE87029C4ddf00Da999127c4