Lenders in emerging markets struggle to make loans to small businesses and informal sector borrowers, because they typically have no credit history or traditional financial documentation. LendLedger solves this information gap using open APIs, Stellar blockchain technology, and the LOAN digital asset. The LendLedger network connects lenders with unleveraged digital data, and records all lending market transactions, introducing transparency, trust, and efficiency. We envision a lending market that is inclusive and profitable for all participants.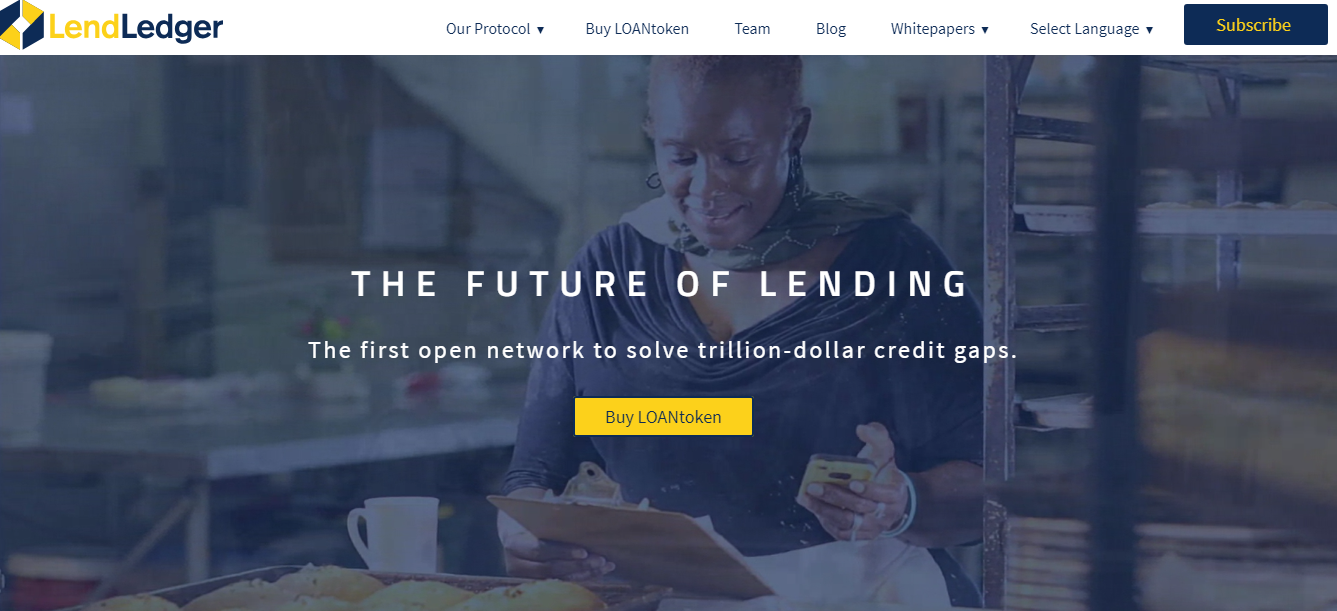 PROBLEM
The future of lending is in the informal sector, which accounts for as much as 90% of employment and 50% of enterprises in many countries. However, the lack of data on those Borrowers makes it difficult for Lenders to properly evaluate them. To enable the flow of the desired data and open up the lending market, a solution must address 3 primary issues:
Problem One
Lenders lack an affordable way to evaluate informal sector Borrowers.Lenders that want to pursue informal sector loans are discouraged by expensive loan origination methods. Lenders need affordable and reliable alternatives to evaluate this untapped market of Borrowers.
Problem Two
Valuable user data exists, but is inaccessible for credit evaluation.Lenders want the shop owner's borrowing business, which would give both parties a profitable outcome. But without a reliable way for Lenders to evaluate unconventional financial data, the shop owner's borrowing options are extremely limited.
Problem Three
Data-sharing partnerships between DPs and Lenders form slowly, one by one. This method of sharing data will not scale globally. Although many Lenders and DPs understand the value of partnering, the current path there is too cumbersome to impact the lending market as a whole.
Platform Lendledger
The platform called Lendledger works on a very simple principle. In fact, it is the intermediary between the debtor and the creditor. By means of many modern technologies, including Blockchain and smart contracts, there is a process of search and a vault of the necessary creditor for the debtor request.
In order to maintain the trust of users to their network, the developers have made the process of issuing and obtaining a loan completely transparent to all users. All lending processes are visible in the network to any user. This system is designed to raise the level of trust of both the lender and the debtor.
This platform is a clear opponent of the current education system, the project developers believe that the current lending system is not sufficiently competent to ensure the contractual conditions of both parties. There is a process of inequality between the opportunities of both parties involved in signing the treaty.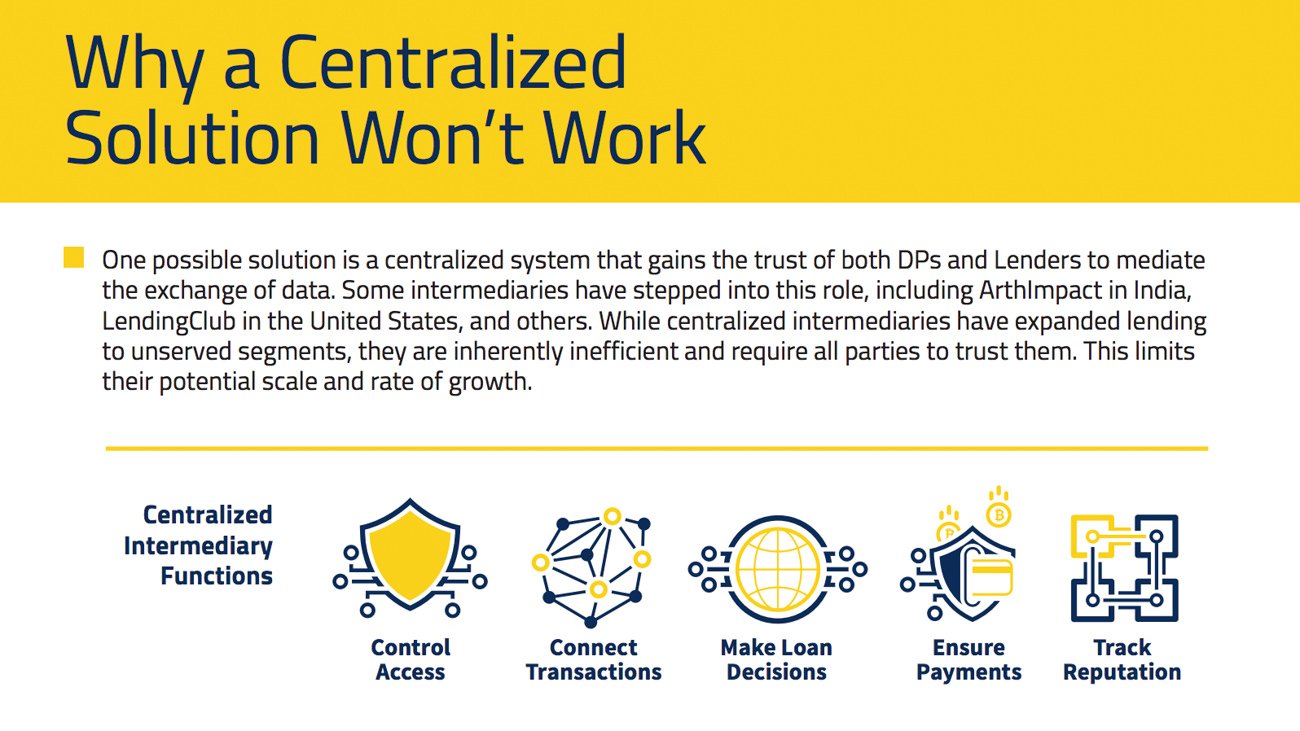 Let's take a closer look at the technologies that make up the Lendledger platform. In the main part of its work it includes four important technologies:
Data Apis. With the help of this technology, the process of fixation and identification of all passing data between the two parties of the contract is underway. With the collaboration of modern Blockchain and Data Apis technology, all the information received is formatted. Developers report that further development of this technology will allow them to process even more information.
Transaction Apis. This technology forms certain blocks, which are sometimes called construction. These blocks consist of all contracts drawn up and completed between the creditor and the debtor.
Loan Smart-Contract Templates. To serve small businesses, where the platform is targeted at the beginning of their development, will be used specialized template smart contracts that ensure security and high transaction speed. Once the platform has gained popularity and expanded its capabilities, it will be possible to use loans for less-known debtors.
Loan Digital Asset. With the help of this technology a specialized contractual unit is created which makes the accounting within the contract. The technology expands possible receivables by using special fiat currencies.
OPPORTUNITY
LendLedger uses distributed ledger tech to create a trustless, open lending network. A blockchain is particularly well-suited to create trust between participants who don't know each other. Anytime a smart contract is executed on the blockchain, information is recorded to the public blockchain ledger. There's no central administrator and no gatekeeping. Any information logged to a blockchain is public and permanent, keeping all participants accountable.
Connecting Lenders to digital financial data will help bridge the multi-trillion lending gap between institutional lending capital and informal Borrowers. LendLedger brings together Borrowers, Data Providers (DPs), and Lenders in an open and secure global ecosystem built on blockchain technology.
LendLedger is changing the face of lending for unserved segments. Our software for data providers and lenders has processed tens of millions of dollars in loan requests for hundreds of thousands of borrowers and resulted in $7 Million in loans to informal and small business borrowers in 400 cities across India.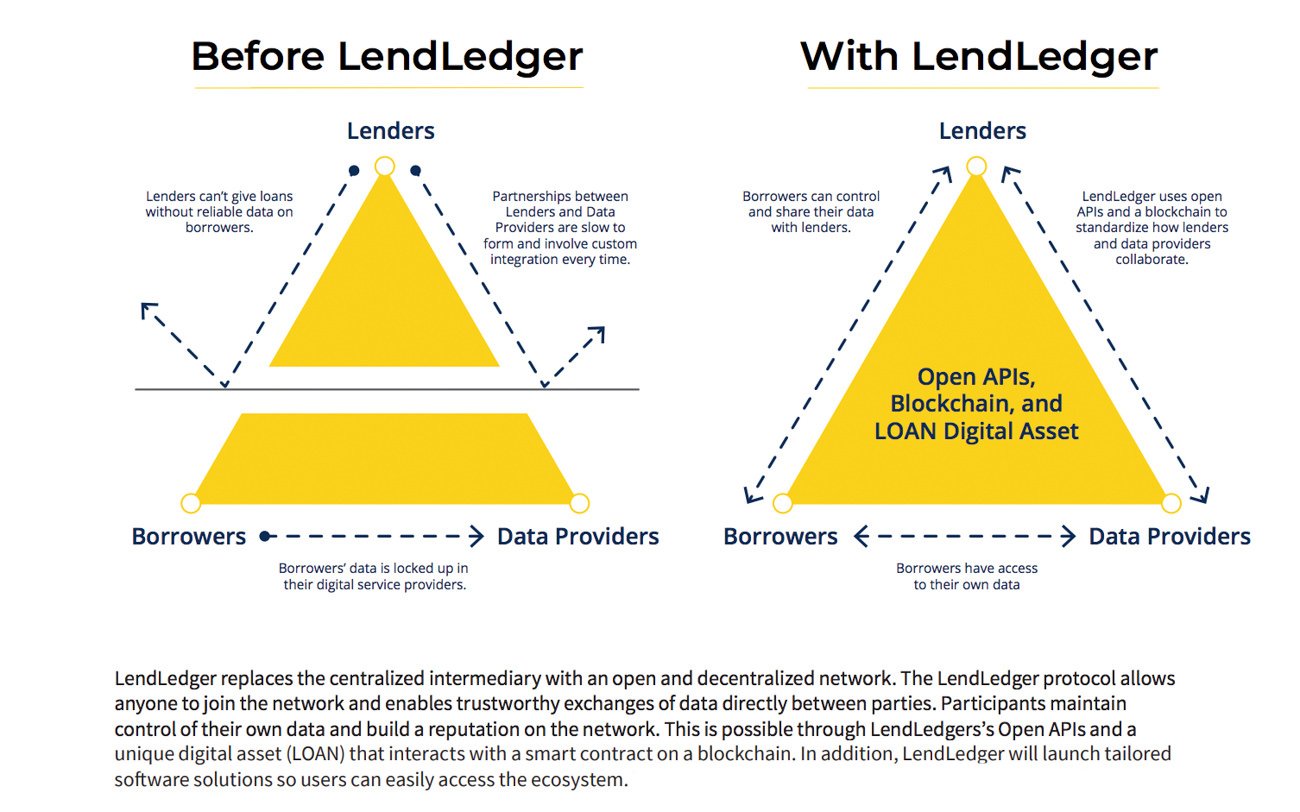 Security of transactions
Lendledger Where there is a financial component, the first question always arises about the security of all passable transactions on the platform. Let's look at what tools and technologies developers use to ensure that their platform is completely safe.
First of all, the project uses a special functionality that creates a complete reporting of all actions during each transaction. In the work of this project, developers will use only currency that has a stable state in the currency market. This is necessary in order to avoid loss of money in the dynamic currency exchange rate. It is not strange that the exchange rate change will adversely affect all parties to the contract.
In order to be a lender on the platform, you will need to obtain special permission from the platform moderators. This system completely excludes all risks of abuse of the title of the creditor, and also reduces the risk of getting on the fraudster. Only specially authorized persons who have a certificate of the lender will be able to work on the Lendledger platform.
The last level of security of the Treaty is its decentralization. The platform provides a multitude of treaty instruments that provide both parties with a lot of opportunities to deal with the required contract conditions and their execution tracking systems. At the moment, there are few credit companies that are able to grant many privileges to normalize contractual relations between the creditor and the debtor.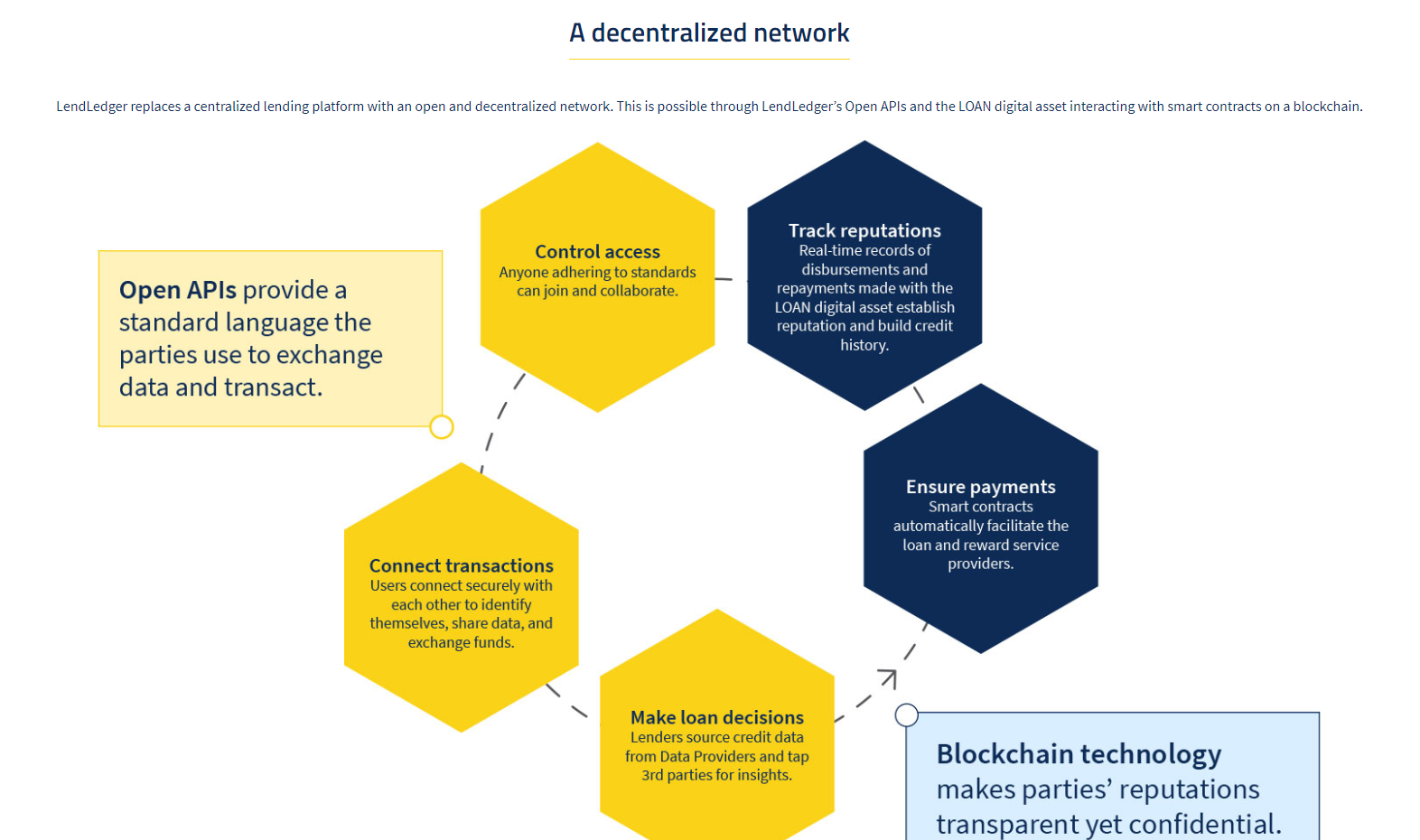 The actuality of the financial sphere and credit is very difficult to overestimate. It will always be a useful and fast way to receive funds and then return to the interest. Since the Lendledger platform with the help of modern technologies allows solving many problems of the current credit sphere, we can safely say that it has the right to exist and develop.
Everyone should decide whether to use such platforms or not. It is always worth remembering the risks that all exactly happen. Always be careful and careful.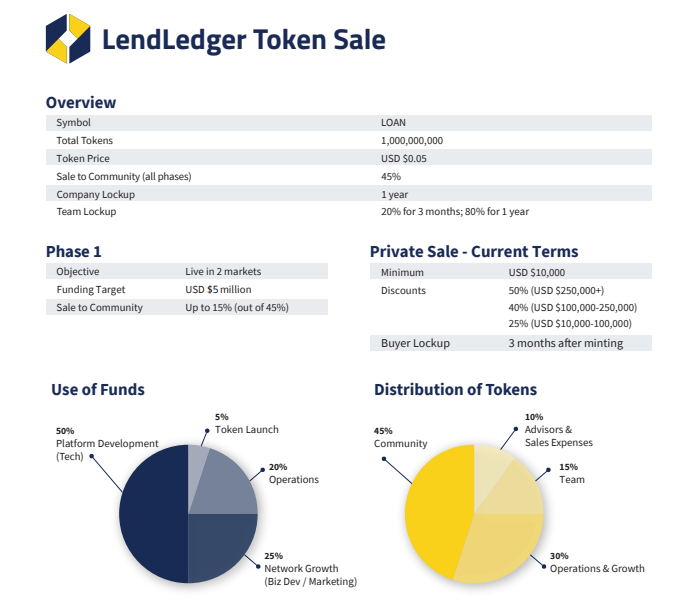 ROADMAP
Milestone 1 (Q4 2018): Demonstration (India-Based Pilot)
By the close of 2018 LendLedger will have released its initial protocol focused on core blockchain functionality.. The co-founders of LendLedger currently own and operate a data-driven Indian lending business which is onboarding loans at a run rate of $30 million annually. This will become our pilot group and we will move all of these loans onto the LendLedger blockchain. In addition, LendLedger will become the first test Credit Node. Credit nodes are essential to the running of the platform: they stake LOANtoken in exchange for Ledger Credit – the stable, non-fungible asset, used to make loans on the platform. For more details please see the LendLedger Technical Paper.
Milestone 2 (Q1 2019): India Onboarded
In the first 6 months of 2019 LendLedger will have expanded the pilot platform, built off our existing Indian lending business Happy Loans, and will be operating in the wider Indian market via the second iteration of the LendLedger protocol. Amongst other things this will involve off-chain data exchanges and Credit Nodes in testing with 3rd parties. As the basic software for Lenders and Data Providers will be live there will be a deep focus placed on bringing more actors onto the platform. The project will draw on the extensive relationships our founding team have with Indian institutions such as ICICI Bank, RBL Bank, Yes Bank, HDFC Bank and establishing partnerships like that with the Smart Campaign to assure those on our platform are observing best practice. We aim to have reached a annual run rate of over $50 million at this stage.
Milestone 3 (Q2 2019): India + 1 Other Market
After successfully establishing LendLedger in India the team will focus on scaling through expanding into other emerging markets. LendLedger has advisors and Community Experts with valuable experience in our target markets such as Nick Hughes, founder of M-KOPA and Nicole Van Der Tuin Co-Founder and CEO of First Access.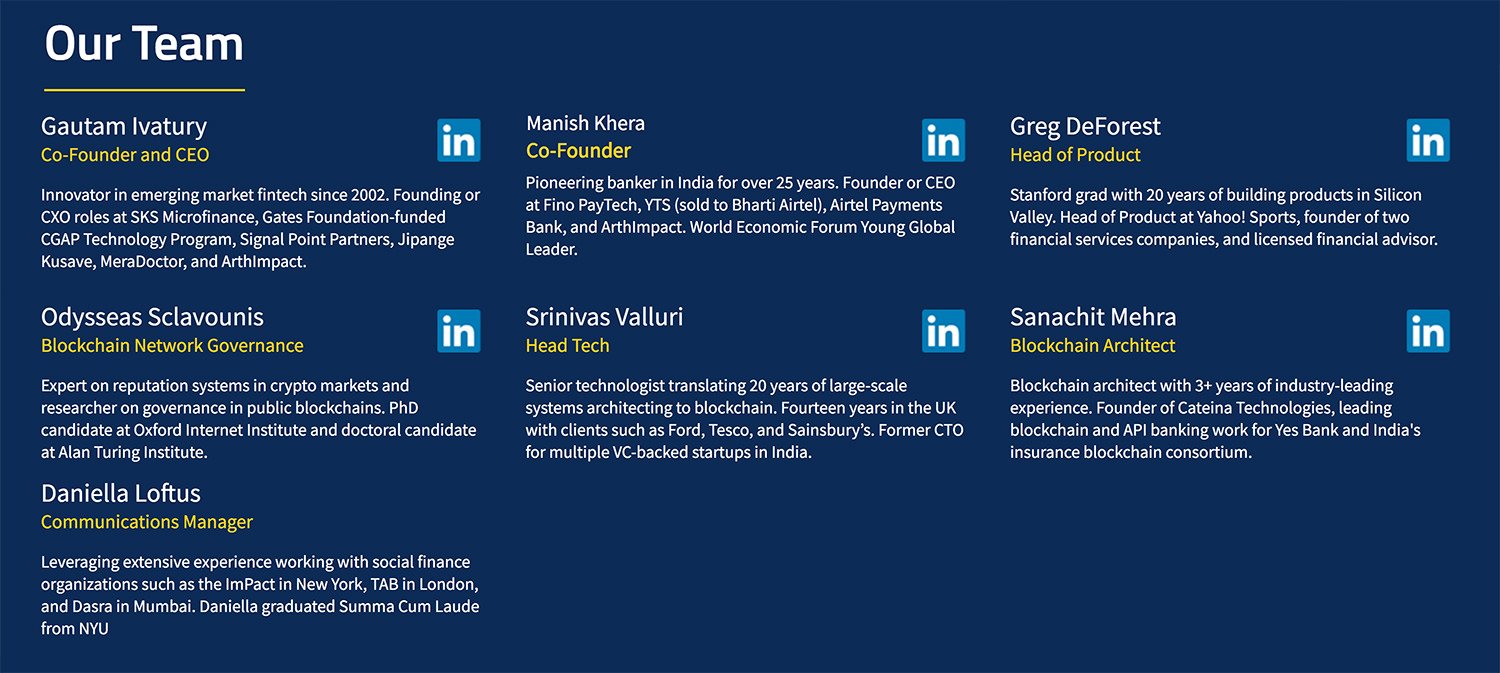 More information contact :
Website: https://www.lendledger.io
Techpaper : http://lendledger.io/images/LendLedger_TechPaper.pdf?pdf=LendLedger%20Tech%20Paper
Telegram: https://t.me/lendledger
ANN thread: https://bitcointalk.org/index.php?topic=4424652.0
Medium : https://medium.com/lendledger
Twitter: https://twitter.com/LendLedger
Author : Upik05
Telegram : Upik05
BTT username : upik05
BTT Profile Link: https://bitcointalk.org/index.php?action=profile;u=2205131
Address wallet myether
0x6B4D2B44e4FB4648FE87029C4ddf00Da999127c4
Stellarterm
Your Wallet Account
ID: GCWX32OJIOGFJETHNAAPFNQ4T3RYDJTXYSOODA7HINMHT5SPBZHMUFBI