Namek wants to make an innovative source of financing accessible to all, especially in emerging market countries. In fact, the Namek platform can be used as a bridge to enable young entrepreneurship in developing countries to gain access to the international capital market. In addition, thanks to the Namek platform Bounty and Airdrop, startups can access the global workforce without actual cash flow. In fact, these freelancers will be paid tokens that will have value after the successful launch of ICO. In other words, we allow startups to collect money through ICO and save costs thanks to the Namek platform.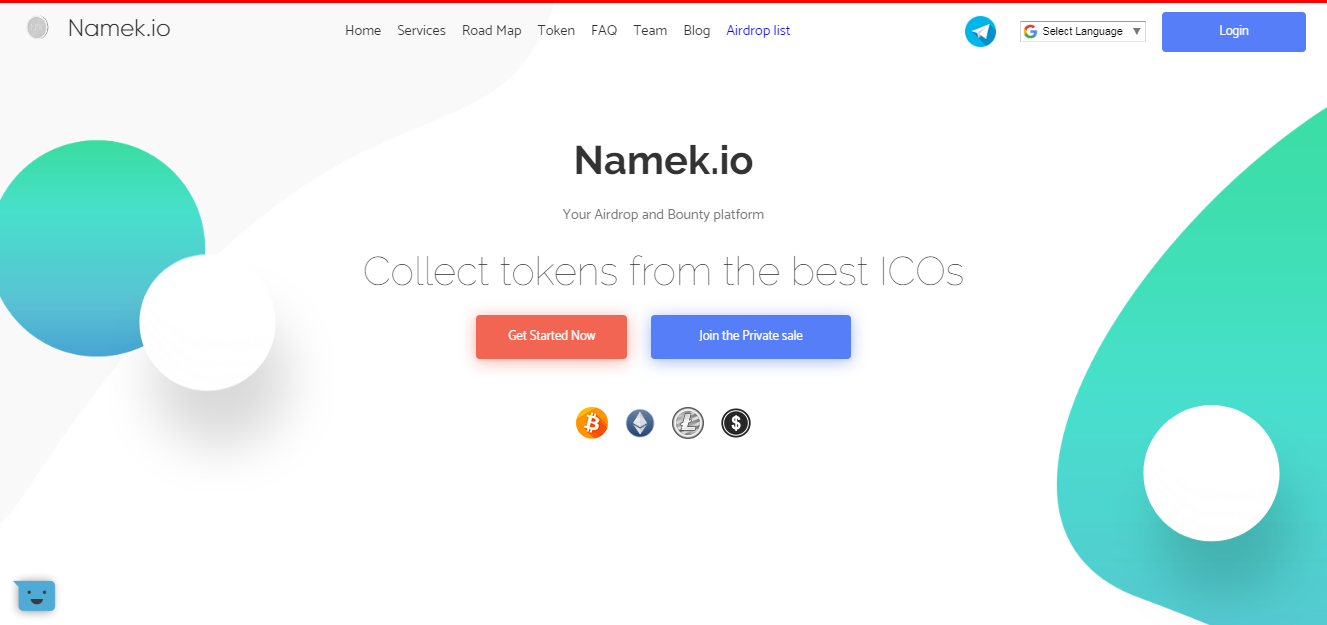 Vision
The 2008 crisis has opened the realm of a new fintech era through blockchains and cryptocurrencies.
We are not even at the beginning of it. The economy is going crypto.
Blockchain and nowadays' distributed ledgers have overcome the market of trust. As it's
the main purpose of everything's value, those distributed databases are perfectly fit for
financial technologies such as currencies, securities, and insurances.
It works with no intermediaries and does not need any trusted third party.
Just supply and demand to set the prices.
This way, we can reach a market efficiency.
A whole new set of opportunities comes with this new economy.
Problem and Solution
Startup founders always need funds at the beginning of each project, and it's especially the moment they have the least.
To launch a growing project they need a team, to get a team they need funds, to get funds they need a growing project.
How can we find a solution
Startups need a way to gather a team for the project they are executing before getting funds. Tokenized team payment is a way to reward team member contrary to a classic freelancer job, and this reward gets its value when the project successfully reaches its goals.
That is the reason why we are building a strong turnkey platform to let any tokenized startup launch its core project quickly by finding the right team members.
After setting your ICO/Token sale, you can use the Bounty & Airdrop Platform to find your bounty team members, airdrops, and even advisors.
If you are a beginner in the crypto world, the Namek team can help you set your token sale.In this case, you should se the services of an experienced Bounty Manager to set up and manage your campaign, alternatively, you can create a separate bounty program for each skill you need.
By making a bounty program you actually manage the bounty by yourself with both the tools provided by the app and the bounty enthusiasts you find on the platform. This way, you control every aspect of the bounty that you make and find the right people needed for your project.
Product
Airdrop platform :
A growing platform that enables both users and ICO projects to find each other. Projects getting more , users getting tokens from the project.This is in most cases the first step to get involved into the bounty and the ICO team.
Bounty platform for freelancers :
Cryptocurrency and tokens are new ways to get paid as a freelancer. ICO projects are even more a way to find freelancer missions.
Bounty platform for ICOs :
A bounty platform to get your whole project information about teams, tasks, payments and deadlines is a good deal. This same bounty platform with its whole users directly integrated in your website is even more interesting to manage tasks team, campaigns, cryptocurrency payments, contracts and even more.
HOW DOES IT WORK
Airdrops don't require particular skills and often refers to a task such as liking or sharing posts in the multiple social media. And like bounties, airdrops are rewarded in tokens.
The airdrop is the first step to get into bounties You give your email, links and ethereum address, through a Google form, a telegram bot or a native dedicated platform.
The email and links are for communication purposes and bind of your activities on social media.The ethereum address is for getting the tokens as a reward.
You must be the only holder of the ethereum address' private key you provided.
If it is not the case, you might not get the reward tokens: don't use an ethereum address from exchanges.
You can use for example:
Metamask.io → A browser extension that holds your tokens and private keys.
Myetherwallet.com → A secure website to store your tokens and private keys.
WHAT IS A BOUNTY
One of the key goals of any marketing strategy is to ensure as much market penetration a possible for the product/service. By so doing, many people get to know about the company,what they offer and how to interact with their products and services. This helps to increase
word-of-mouth advertising which leads to increased sales. Since the dawn of the digital age, there has been a lot of emphasis on social media marketing. The use of internet-based platforms to promote a business.
The bounty is the reward people get for reporting a bug, translating, helping on marketing,on coding, on social media,.In our case, it is a cryptocurrency reward.
The bounty hunter can be anyone with any skill who wants to get involved in an interesting startup project.
The bounty program is a campaign to get people to provide help for bounty missions. For some specific purposes like social media sharing or marketing, the number of bounty enthusiasts can be huge (more than 1,000 people) to push the project forward.
The bounty campaign is the collection of all the bounty programs that a startup makes at its launch.
The bounty manager is a professional that manages a bounty program or a whole bounty campaign. He/she finds people, sets rewards, makes reports, and pays rewards.
TYPE OF USERS
Our users are true cryptocurrency enthusiasts.
They know about trading, technology, and decentralized technologies.
Some of them are knowers, some of them are not, some are freelancers, some are entrepreneurs, and some others do it only for pleasure.
This platform is for you if you:
Want to make a tech startup project
Are a true crypto enthusiast and want to see the latest projects,getting some
tokens in the way
Are a freelancer looking for a new mission: find bounties, get tokens and be part
of the best innovative teams
Are looking for new projects to invest time in
Want to know more about the crypto-economy and how it is done
Want to promote your project
ICO details
General information
Token: NMK
Platform: Ethereum
Standard: ERC20
Quantity: 400,000,000 NMK
Price: 1 NMK = 0,10 EURO
Payment: BTC, ETH, LTC, USD
Soft cap: 400.000 EURO
Hard cap: 2.000.000 EURO
KYC: YES
PreICO
Start: 11.05.2018
Completion: 12/02/2018
ICO
Start: 12/03/2018
Completion: 01.27.2019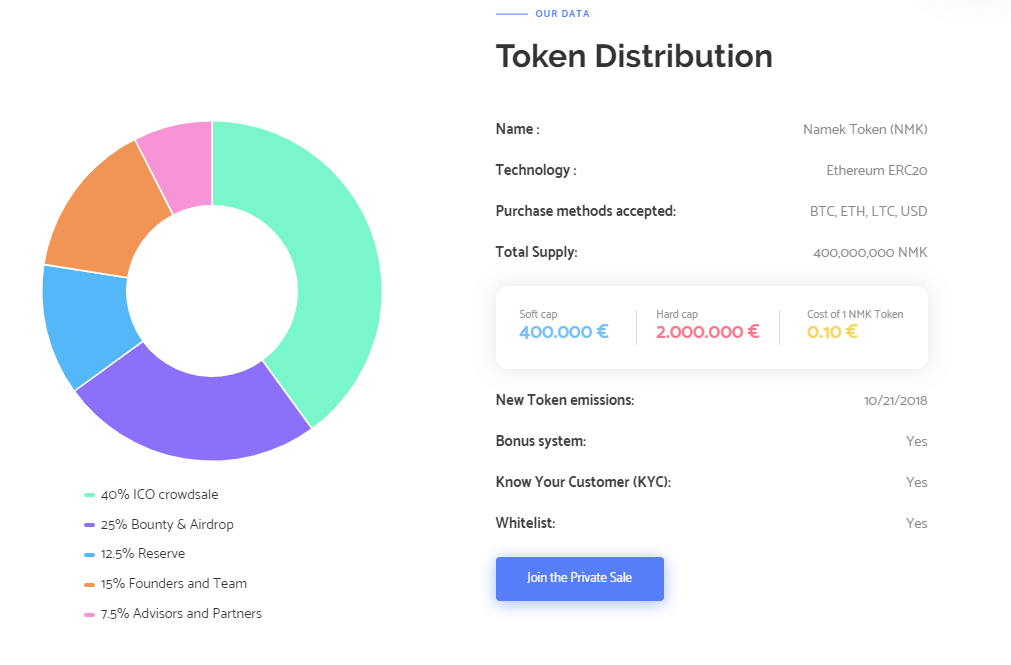 Benefits
For entrepreneurs:
Make an ICO or promote your current project and start to hire before the end of the fundraising.
That allows you to raise much more money than what you could raise with your founding team alone.
For freelancers:
Get some work done and generate remarkable cryptocurrency revenues. By accepting
those differed cryptocurrency payments you'll get more than 4 times the revenue of a classic freelancer job.
For investors:
Secure your investments by buying the startup ICO's tokens. Just like shares, you can sell it anytime you want without pushing down the valuation of the startup you've invested in.
ROADMAP
Q1 2018 Platform Design
Q2 2018 MVP Release and Tests
Q3 2018 White Papers and first users
Q4 2018 Issue ICO and Smart contract
Q2 2019 Beta bondy & airdrop platform release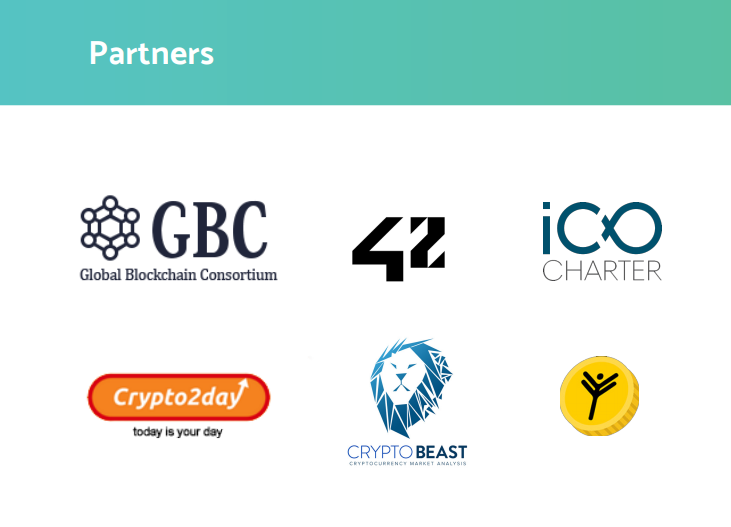 TEAM
Mehdi tagaizine
CEO & CTO
Daniel Aguas
COO
Simo laraki
CFO
Anne-sarah ratsimbazafy
CDO
Yassine khaled
CMO
Warren azzoug
CCO
Daron bennett
Head of Growth
Sumantha shankaranarayana
Head of Acquisition
Isaac atoyebi head of
Isaac atoyebi head of
Delia rojo
Community Manager
Advisors
Max M Mansoubi, Phd
Startup Advisor
Abiodun Ayorinde
Blockchain advisor
Anil kumar
ICO Advisor
Sheraz majeed
Global Blockchain Consorsium
More Information Contact :
Website : https://www.namek.io/
Whitepaper : https://www.namek.io/whitepaper
ANN Thread : https://bitcointalk.org/index.php?topic=4586730
Facebook : https://web.facebook.com/namekio/?_rdc=1&_rdr
Medium : https://medium.com/@namekico
Twitter : https://twitter.com/Namek_io
Telegram : https://t.me/joinchat/GmCv_BCn0jawGxxfQ1lXQA
Author : Upik05
Telegram : Upik05
BTT username : upik05
BTT Profile Link: https://bitcointalk.org/index.php?action=profile;u=2205131
Address wallet
0x6B4D2B44e4FB4648FE87029C4ddf00Da999127c4