Sportie was born out of a love for sports, the thrill of a stake in each game, but without the risk of owning or investing in a team. Every year, millions of dollars are wagered on various sports and leagues. However, these wagers are heavily regulated, the result is that the prize is greatly reduced, as winnings are reduced by fees and taxes.
Sportie is reinventing the global betting industry with blockchain integration that is smart, secure, and easy to use. Sportie's platform will allow all users to bet on the sports they love, while removing many of the fees and obstacles that face players today.From veterans to beginners, there is a place for you on our platform. Welcome to Sportie Token.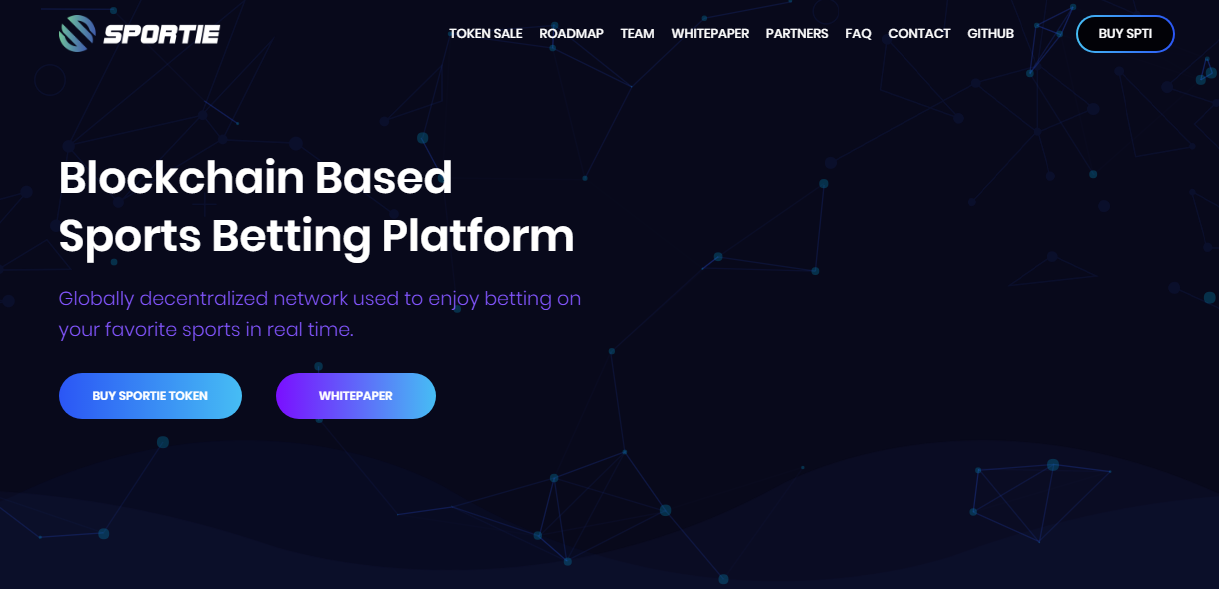 Vision and Business Model
Sportie's vision is to become the world's most trusted and fair sports betting platform.Sportie will appeal to a wide range of players, from the experienced bettor looking for a more secure and convenient platform, to the novice who wants to have a stake in the games he or she loves.
Sportie will begin with professional American sports (NFL, NBA, MLB, NHL), and international soccer leagues to provide year-round opportunities to wager as well as the ESL (eSports).
Sportie will then introduce the NCAA, MMA, and finally automotive racing such as NASCAR, and Formula 1.
The Sportie website at https://www.sportie.io/ will be used to introduce players to the Sportie Platform, as well as provide access to the community in the form of forums, and group chats. The forums will include announcements and press releases, as well as introductory steps for newcomers.
The Sportie app will be the primary means of access to the secure platform and will permit players to make wagers on the go, at work, at home, or anywhere they may choose.
Sportie will allow unlimited winnings, meaning the only limit on your winnings is the pool you choose to participate in.
Sportie will emphasize transparency to build trust. Transactions will be logged utilizing blockchain, so all parties can view the outcomes. Nothing behind the scenes means no possible human error or tampering can occur unobserved.
Sportie will continue to strive for innovation, and will welcome any and all feedback to make this a platform that is all about the players.
Sportie Token
Sportie Token is the token used on the Sportie Website and Mobile Application. It will be released using the Ethereum platform, and in compliance with the ERC20 standards.
The Ethereum platform is a distributed public blockchain network. Ethereum offers several features which make it ideal as the basis for the Sportie Token.
Block Times – Blocks refer to the recording of cryptocurrency transactions.Ethereum uses a highly efficient, very rapid process to record transactions.

Smart Contracts – Ethereum uses Smart Contracts, which defines and enforces the rules and penalties of a financial agreement. ERC-20 is a technical standard for Smart Contracts. It defines a common set of rules for Ethereum tokens which permits developers to accurately predict how Ethereum based tokens will operate.

Ethereum Virtual Machine (EVM) – This is the heart of the Ethereum network and permits Ethereum to operate with a wide variety of applications. EVM is also highly secure making it a perfect choice for an online gambling token such as Sportie.
Sportie App
Our team will be developing an app that will offer multiple features.
● Head to Head, Social Betting
o Play against friends or groups of friends across the world
o Set your own rules: Max bets, timing, over/under.
● Traditional betting, using Vegas odds
o For the more experienced players, used to spread-based wagers
● Instantaneous pay -outs
● Community Support including access to Forums, Chat groups
● Visual Wallet
o Watch and track your wallet balances
● Available on iOS and Android devices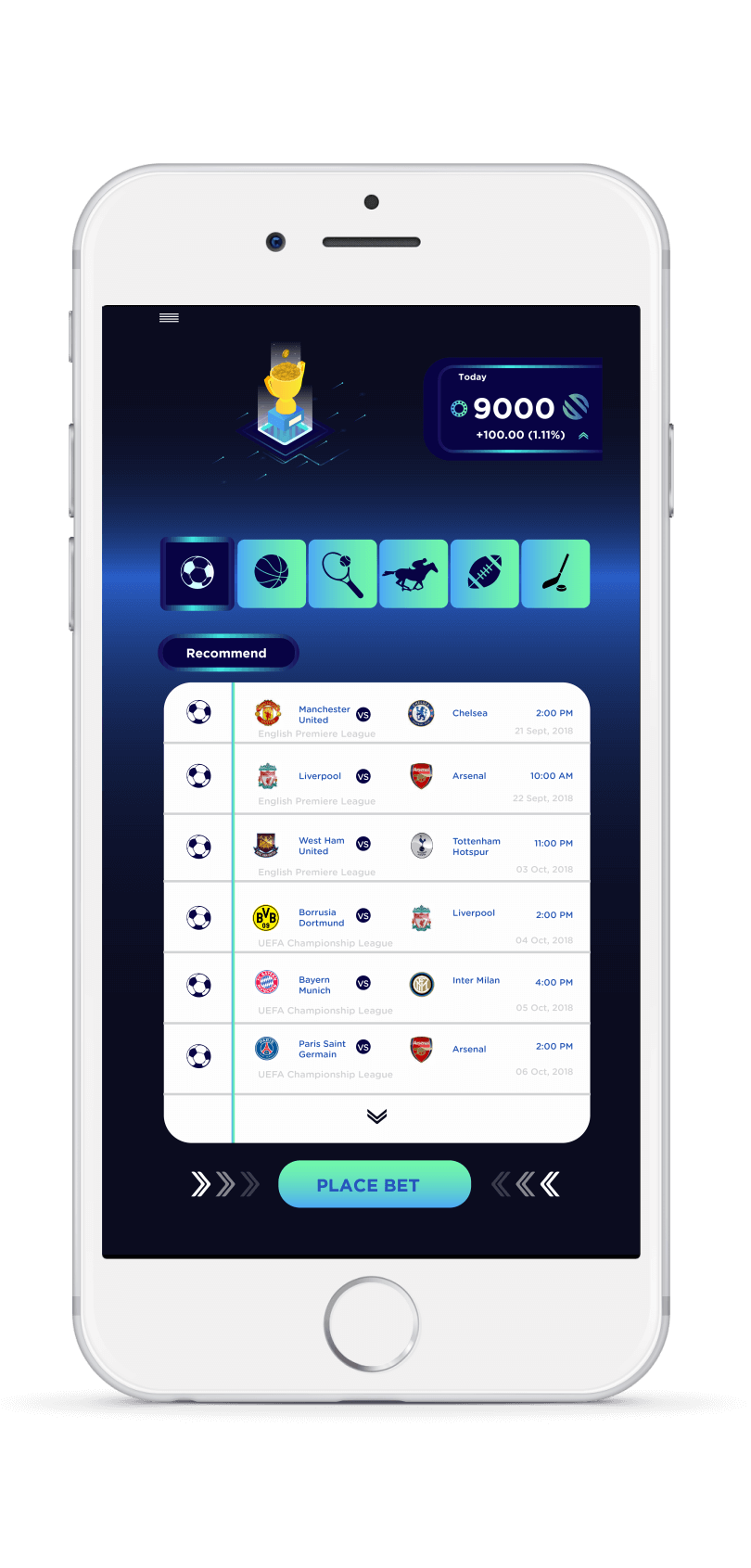 Platform Operation
To utilize the Sportie Platform, players will need to first purchase Sportie tokens from an exchange, unless they participated in the crowdsale and already have tokens. Once players have exchanged their tokens and placed their bets, their winnings will be paid out in SPTI tokens. Players would not have to be subjected to multiple Cryptocurrency Exchange fees to keep playing.
To place bets, bettors would have to decide if they are going to engage in Head to Head also known as Peer-to-Peer betting, or enter the "scrum", traditionally known as placing bets in a pool.
Head-to-Head betting allows for players to place bets with their friends, co-workers across the world, or at their favorite bar in a formal setting. Two modes will be available in the beginning: Choose from your friend list for private bets, or select to join one of the many open bets that have been created to form a pool. Utilizing smart contracts, the stakes of the bet would be set and agreed upon. Once both parties agree upon the stakes, the smart contract would be set. The stakes that are available will be plentiful.
As the Sportie platform develops, Sportie will listen to all customer feedback and implement new conditions and features as required. Having the ability to "negotiate" the conditions of the bet allows for more people to find suitable players to compete with, and are not limited to rigid search results.
Sportie Advertising
Cryptocurrency marketing is heavily regulated. Sportie will leverage Sportie App, as well as its' token through grassroots expansions and Social Media highlights such as YouTube, Twitter, LinkedIN, and Reddit.
Sportie's sales force will exist to convert those who enter the telegram chat into purchasing, as well as earning partnerships in a B2B aspect. We will also be contacting Crypto-token review sites, and partnering with them to post reviews of our platform, and our token.
Sportie has also formed a partnership with RadicalReach Social Media Experts, to enhance the effectiveness of Sportie Social Media advertising.
ICO details
General information
Token: SPTI
Platform: Ethereum
Standard: ERC20
Quantity: 2,000,000,000 SPTI
Price: 1 ETH = 10,000 SPTI
Payment: ETH, BTC
Soft cap: 2,000,000 USD
Hard cap: 24,000,000 USD
KYC: NO
PreICO
Start: 01.09.2018
Completion: 10/01/2018
ICO
Start: 10/01/2018
Completion: 12/31/2018
During the Pre-sale and crowdsale, there will be bonuses for early purchases:
Pre-Sale – 50% bonus (September 1st – September 30th)
Crowdsale stage 1 – 40% bonus (October 1st – October 31st)
Crowdsale stage 2 – 30% bonus (November 1st – November 31st)
Crowdsale stage 3 – 20% bonus (December 1st – December 31st)
All SPTI tokens will be distributed between January 1st through January 31st, 2019.Tokens will then be available for use during the launch of the Sportie Website. All users must register on Sportie.io to create their wallet and track their token purchases. All bonuses will also be assessed during the distribution period in January. Your wallet will not show the bonus until the tokens are added to your SPTI wallet.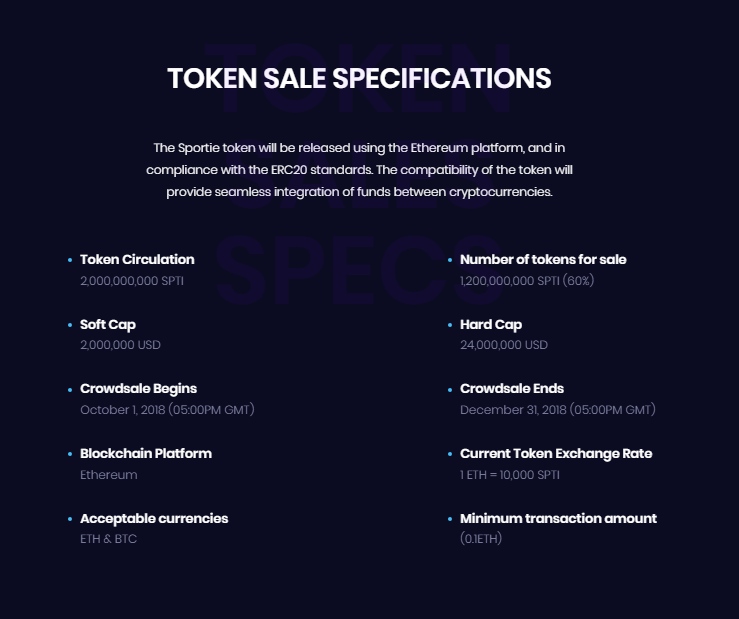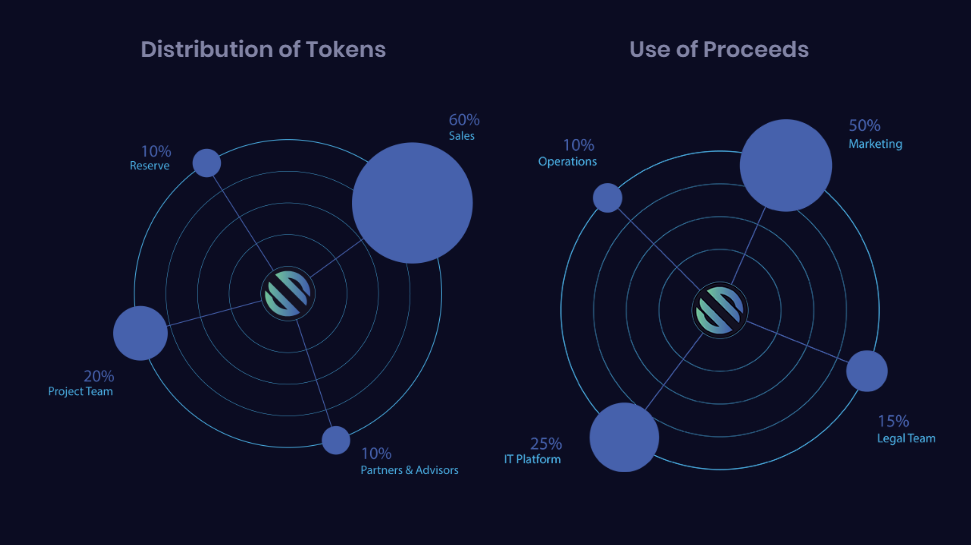 Utility or Security
The Sportie token is a utility, not a security. Sportie offers no guarantee of profit from the purchase and use of the Sportie Token. To be declared a security, a token must meet all four criteria of the Howey Test. The Howey Test was designed by the SEC in response to the SEC v W.J Howey Co. case in 1946. The Howey Test identifies an "investment contract" as "a contract, transaction or scheme whereby a person invests his money in a common enterprise and is led to expect profits solely from the efforts of the promoter or a third party."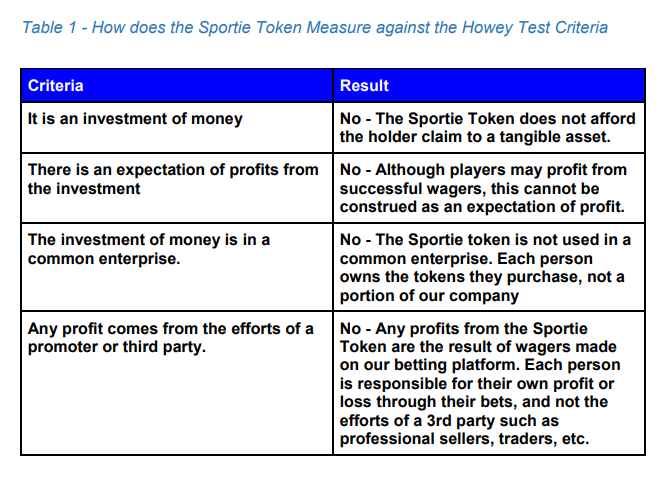 ROADMAP
March 2018
The Sportie idea was created and the Sportie team was formed.
April 2018
The development of the Sportie platform has begun.
May 2018
The SPTI token appears, and Sportie.io is also designed.
July – September 2018
Pre-sale
October – December 2018
Crowdsale with SPTI ID
Q1 2019
Development of the Sportie App, with live betting platform and first exchange listing
Q2 2019
Fully valid bets on our website and the Sportie app
Q3 2019 and onwards
Other betting options on our platforms and the continuation of applications for larger, more well-known exchanges
TEAM
Ryan johnson
Brett willbond
Drew strahan
Advisors
Rob tjan
Gaurav areng chakraverti
More information contact :
Website : https://www.sportie.io/
Whitepaper : https://www.sportie.io/pdf/Sportie_Whitepaper.pdf
ANN Thread : https://bitcointalk.org/index.php?
Facebook : https://www.facebook.com/sportie.io
Instagram : https://www.instagram.com/sportie.io/
Twitter : https://twitter.com/SportieI
Telegram : https://t.me/sportieICO
Author : upik05
Telegram : Upik05
BTT username : Upik05
BTT Profile Link: https://bitcointalk.org/index.php?action=profile;u=2205131
Address wallet
0x6B4D2B44e4FB4648FE87029C4ddf00Da999127c4