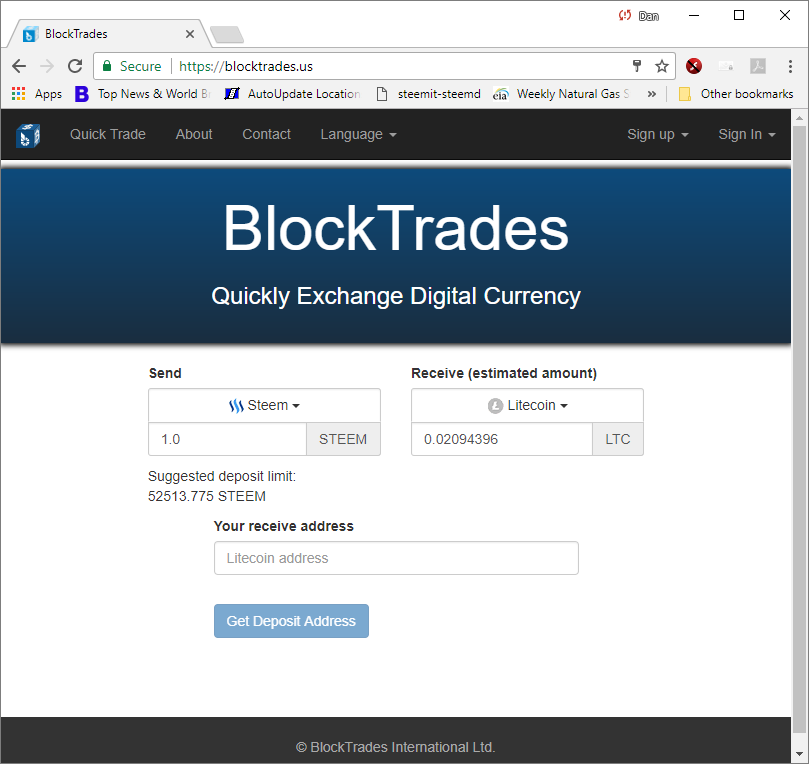 A lot of BlockTrades' customers who want to get USD or Euros will sell their Steem to https://blocktrades.us for Bitcoin (BTC), then sell their BTC on an exchange that supports fiat (USD/Euro) withdrawals. In principal, this is an OK methodology, but due to the high price of Bitcoin and the resulting increase in the transaction fee charged by the Bitcoin network, this isn't the most efficient way to convert your Steem to fiat dollars.
If you can find an exchange where you can sell either Litecoin or Ethereum for fiat, it's cheaper to buy Litecoin or Ethereum from BlockTrades, then sell those coins for fiat on the exchange, because the transaction fee charged by these networks is much, much lower.
This is particular important if you are sending relatively small amounts of Steem or SBD, because we have to pass along to our customers the cost we incur for sending them the bitcoin.
In some cases, the customer sends in an amount so small that it doesn't even cover the cost of sending the bitcoin to them. In this case, our system will display the message: permanent_output_failure_input_too_small. This error can easily be avoided by doing one of two things: 1) selecting a different output coin from bitcoin since just about every other coin has much cheaper transaction fees or 2) sending in reasonably large amounts of Steem or SBD to reduce the impact of the fixed cost of sending the bitcoin. Method 1) is generally your best option for getting to fiat, but if you can't get an account on an exchange that supports anything but BTC to fiat, then 2) is a reasonable option for combatting the cost of the bitcoin transaction fee.
Another advantage of using Litecoin or Ethereum for converting to fiat is speed: both of these coins confirm faster than bitcoin does.
EDIT: I wanted to clarify that the above recommendations are just for customers whose ultimate goal is a fiat currency like USD or Euro.
I don't mean this post as an encouragement to invest in Litecoin, Ethereum, or any other altcoin versus Bitcoin: there are many factors that could influence investing in any particular cryptocurrency and I don't plan to weigh in here on which one is best to hold for investment purposes, especially as I think the best coin to invest in can frequently change.
But if you are selling your Steem or other cryptocurrency to invest in Bitcoin on our site, I do recommend you make such purchases with relatively large values relative to the Bitcoin transaction cost. For example, instead of sending in 4 SBD at four different times for bitcoin, save the SBD until you have 16 SBD, then do one transaction on our site for the Bitcoin. This will save you the cost of 3 bitcoin transaction fees.