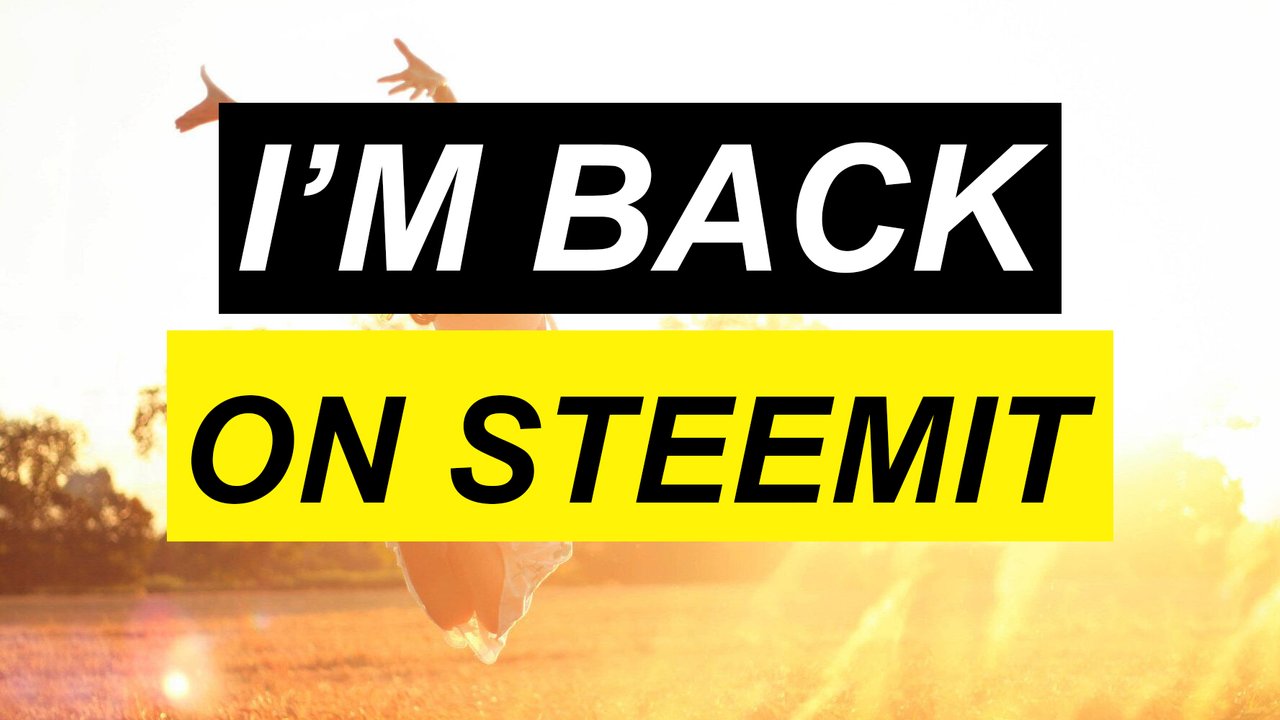 ---
I Cannot Believe A Year Has Passed
It's been a long time since I last found myself making a post for Steemit. In reality it has been a year or so since my last post, however, it does not seem as long as that but life moves so quickly these days, it's really not such a surprise, I suppose.
The reason my last post was a year agone was due to the fact that I decided to take a break from all forms of social media since it'd made me a wholly asocial, fake virtual-person who'd lost reference to her own self. At first, I enjoyed making my posts and I set myself a personal goal to make a thread on a daily basis however later down the road it started feeling laborious, and I wasn't enjoying myself as much as I used to.
The return to Steemit feels like reuniting with a former flame too many emotions tugging me left and right. There were many instances where I wanted to rush to my keyboard and start creating articles again, but my inner defeatist held me back.
How's Steemit Development Going?
Over the year, I have been trying to keep up with what is happening on steemit by checking out the steemitblog page. I see how SMT development has now become a priority for Steemit Inc. I was worried what was going to happen with Smart Media Tokens after 70% of the staff were laid off and the project was put on the back burner, but I'm glad it is making a return.
Moreover, Hardfork 21 is being released on the 27th of August. Another change to the rewards curve, seemingly benefiting whales as well as this new SPS system which I think is similar to Ethereums EIP and Bitcoins BIP.
People I Used To Stalk!
It's been a while, and I wonder if the people I would regularly converse with are still active on steemit. I've realised many don't post anymore, but I wonder how many still use steemit.
@msg768: I remember how you used to regularly make your daily Daily Devotion and Verse of the Day posts and it is rather remarkable to see how you are still powering through it. Are you still an ambassador for SmartCash or are those days distant.
@generation.easy: The gold/silver fanatic. Your coin collection must truly be something to envy and I'd always recollect how you would suggest buying some good ole gold/silver at the highs of cryptos. I don't have much of a diverse portfolio but hopefully my gamble in "investing" works out.
@jeff747: Great technical analysis, as well as I, remember how you would do this competition where you had to find a Steem logo on a picture of a camel. Also, just a great guy to talk in posts with.
@exyle: The one and only Exyle. I used to always keep up with your vlogs every single day. I remember complaining about how bad the video quality would be on dtube, but fortunately for me, you also uploaded on youtube. I hope you and Bianca are doing well. How are the gym sessions going? I miss the green egg and cute Sam! :)
@stackin: A genius when it comes to social media. I remember you taking steemit by storm and outgrowing many people on the platform significantly. Your charisma and energy are truly amazing injecting this platform with the life it needs. Keep grindin and stackin!
@glitterfart: Despite the fact we didn't really know each other, you were one of the reasons I started looking into and trading bitshares. I remember it being a handy alternative during the times of transaction fees skyrocketing on most coins.
@greenman: I remember you having a rather cool VW camper van. I keep thinking of a post you made about an engine. I forgot what it was about, but you were either replacing or upgrading the engine. How is the VW holding up? I'm sure mighty German engineering will keep to roaring for the decades to come.
@knozaki2015: Travel blogs to remember however, I recall that you bought a significant stake in Steem at a rather high price. I think it was around $1.20 you said, but I'm sure in the long run you will reap the rewards of hodling! :)
@creadordelfuturo: You were such a fun, bubbly character, and I remember how you used to come and engage with the posts and leave meaningful comments. I hope you are still having a great time travelling (If you are still doing that).
@v4vapid: Created some incredible posts on Steemit. Despite your amazing works, the only one I can genuinely remember is one about Organ Harvesting. I think it was about Syrian children (or some middle-eastern country). Sad reality how the poor and vulnerable are taken advantage of.
@krnel: You would make superior philosophical posts compared to me, and it was always a great treat to read your work. Some of your works may or may not have influenced mine haha.
@themonetaryfew: One of the people who supported me since day one on this platform and continued to inspire me to keep posting daily. I hope you are doing well!
@broncnutz: If it isn't the OG Broncnutz. I've never had an insight in the American football but you sure as hell did keep me up to date with how matches went and new player transfers within the Broncos.
@dragosroua: Created one of the most useful sites on the steem platform. It was so helpful using steem.supply to monitor my analytics. The author of multiple 30 day writing challenges which I always forgot to enter.
@uwelang: Forgive me if I'm mistaken, but I'm sure you are the one who loved creating posts about beer. I mean Germany is the beer capital so who could blame you with all those exquisite beverages. :)
@infovore: I remember I would leave rather long comments on your posts, but that was due to how inciting they were. I hope you are doing well.
@xaero1: The home of crypto memes as well as technical analysis. I remember how you would love your triangles, do you love them as much now?
@slowwalker: Enabled the steemit community to get an incredible glimpse of Asia with detailed context about certain buildings or statues. Great to see you are going strong now.
@stellabelle: The bubbliest person I knew. Truly made steemit a fun, entertaining place. I remember winning the Jar Of Yunk(zilla) for doing something. I forgot what it was specifically, but I remember you dressed up in some pretty interesting costumes to present the prize.
@kiligirl A real gem to the steemit community with some of the most high-quality work I have seen on the platform. You are also giving a stunning insight into the continent of Africa.
@demotruk: First person to truly showcase the power of Steem by purchasing a Nissan Leaf completely using cryptocurrency (I think). I remember how you ran an XMAS challenge where you had to find steem account details from some hints in a Christmas card and a bitcoin transaction. An incredible puzzle but it only took three months to power down and claim the prize money haha.
@dreemit: Would share incredible excerpts from their book as well as had a very talented brother who was great at singing and playing the guitar.
@janusface: Another person with a fine coin collection. If I'm not mistaken, you had some silver coins with the steem logo on which I truly envied.
@hilarski: One of the first people I followed on steemit. Made great posts about reminding people to cash in on airdrops as well as some great crypto memes!
@donkeypong: Another person who supported my start here on steemit. A real High-Quality user as well as I vividly remember a post about some peaches or plums for some weird reason. I'm not sure if they are affiliated with you or not but when I think donkeypong I think peaches.
@awgbibb: One rather cool person, I remember posts about your motorcycles as well as the videos you would record riding them. Hope you are doing well.
@ericvancewalton: If I'm not mistaken, you were a very talented writer. I remember loving reading your pieces. Do you still write?
@b0y2k: The home of motocross. I remember you making some posts about some junior academy and one of the riders had the steem logo on their bike. You'd always share some incredible highlight clips of events going on which were rather inciting. I hope you are doing well!
@kevinwong: Another person who supported my early en-devours on steemit. You are a true gem to the platform with all the posts you would make trying to improve steemit as a whole.
@stephenkendal: One of the first people I followed on the platform. A true asset trying to push for steemit adoption around the globe but especially in the UK. I hope promo-steem is going well!
@nonameslefttouse: A truly talented artist and I remember how you would create online personas such as 'this man'. I hope you are doing well.
@neoxian: The owner of the great bank of Neoxian. Glad to see you are still operating and creating a reliable, trustworthy platform where people can take loans. Have trust in Neoxian!
I've been working on this for a couple of hours and it is currently 2:30 AM. Feeling rather drowsy so I'm sorry if some comments seem lackluster, there are typos or I missed some people. I truly appreciate how you have supported me and the value that you have bought to the steemit community. It is people like you who encourage people to grow and drive discussion making the platform even better.

Time to end the post with a quote.
I hope you all have a wonderful day!
---