Recently, I started digging into the OpenBazaar scene. I have been following it for a long time now, and have messed around with it through the years by installing it and looking around and that was about it.
Until recently, it wasn't super easy to install and get running, but things have really changed. You can have it downloaded, installed and a store up and running in a matter of a few minutes. Everything is pretty straight forward and simple in terms of usability.
The OpenBazaar team is hard at work rolling out updates and has been concentrating on infrastructure, but I think things are starting to take a turn towards features now.
What would it take for a market like OpenBazaar to compete with the likes of Craigslist?
The first hurdle I see is the ever present challenge of getting into and out of crypto-currency. It seems like we are getting closer everyday with Bitcoin ATMs and CoinStar supposedly starting to roll out Bitcoin sales. We also have markets like @swapsteem building a peer-to-peer marketplace to buy and sell with Fiat, including PayPal transactions. That could be a real asset.
So, it is a hurdle for mainstream adoption, but movement toward solving the problem is happening.
The second hurdle I see is the ever present marketing challenge that pretty much every open source project faces. Is there a budget?
OpenBazaar does not charge any fees to list, buy or sell. Moderators may charge for their services, but the platform has no fees.
Will the communities support the project marketing and even take on responsibilities ourselves? Will that prove sustainable? I have been putting a lot of thought and research into how to make open source projects sustainable and provide marketing and I do think there are ways to accomplish this with the tools we have today - namely Steem. The more I think about it, the more I think that Steem is the greatest project asset we have ever seen.
I'm just wondering, but does Craigslist do any marketing these days?
My OpenBazaar Store
Check out my store: ob://QmbbhRFX8JABjmZxoU8ycGBrY8y266MW5nymNRPu3yACko/store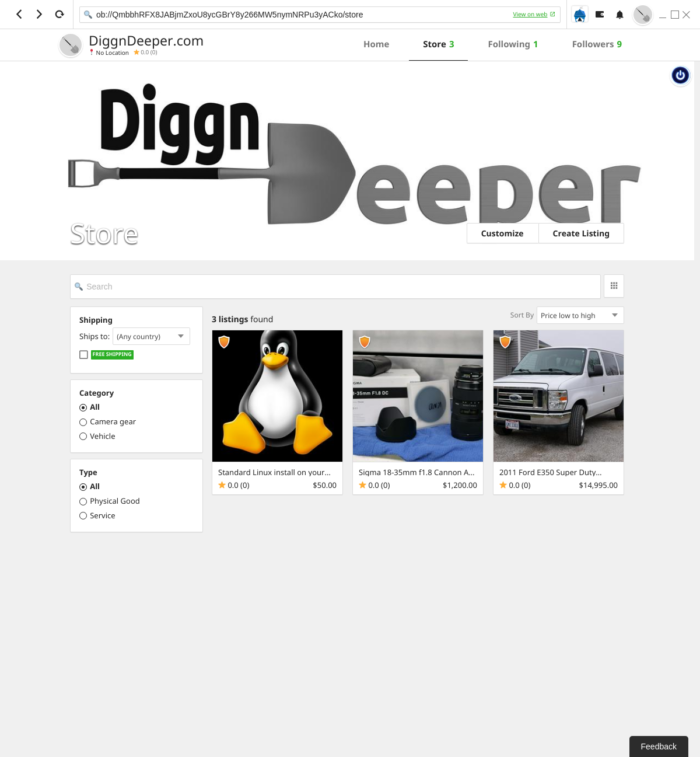 To do that, just head over to the OpenBazaar website and download your version.
Once it is installed, just copy the address above and paste it into the search/ address bar at the top of the app.
If you have a store, share it with us. If not, do you have anything to sell that you can list and then share it with us?
Please support @SteemOnOB (Steem on OpenBazaar Project) to be able to pay natively with Steem.
This would be a huge asset to our community and the OpenBazaar communities. Steem is one of the fastest transactions, if not the fastest of all the blockchains, plus transactions are free. This would certainly make Steem a very attractive choice and open a lot of exposure to Steem as a crypto as well as the communities it supports.
Please consider delegating to @SteemOnOB or donating for task bounties. This is a special account that is used STRICTLY for promoting and supporting getting Steem on OpenBazaar, so please follow and support us in any way you can.
Much more to come, soon!

---
Posted from my blog with SteemPress : https://diggndeeper.com/check-out-my-openbazaar-store/
---