Hello Steemian's,
I will admit, I am not the best at dealing with confrontation. I tend to get a serious negative physical response to such challenges. When I say negative, I mean full of adrenaline, and almost incapacitating to normal cognitive function or reasoning. I actually kind of mentally "clam up" and tend to get outwardly aggressive in my nature. I'm not sure why, but let's take a look at an example of an earlier confrontation I had. It wasn't serious, but it put me out of my comfort zone.
A man in his mid fifties looks at me and says:
---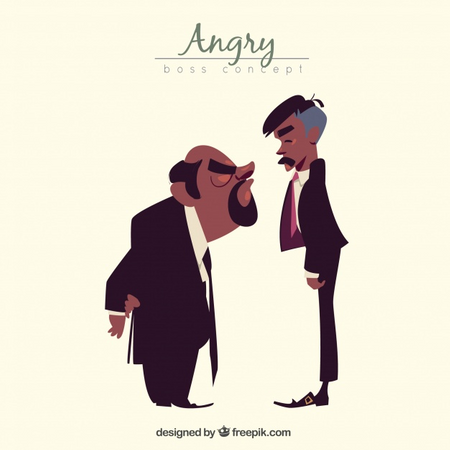 Business vector created by Freepik
---
Your generation is great at indiscriminately turning opinions into what you think are facts.
---
To say I was offended at his generalization, and seemingly direct attack on my intellect would be an understatement. Now if you haven't already thought about one aspect of this statement, I will just blatantly say that, it's a statement entirely based on opinion in and of itself. I suppose if you could show me some kind of extensive research, and proof supporting this I would change my mind about it, but I doubt anyone can or will. Entirely...opinion based.
My immediate response was:
---
Excuse me? Are you suggesting that I don't know the difference between an opinion and a fact?
---
He said:
---
Absolutely, you turn things into facts all the time that are actually opinions...
---
I said:
---
Are you serious dude? Please identify one single time where I have ever done this...Please.. You don't know anything about me, we barely talk except for in this smoke shack, and you are going to outwardly insult my intelligence by attacking my ability to differentiate between fact and opinion, while making a generalization which is completely opinion based to begin with???
---
He started to change his tune a little at this point, and insisted that it was a generalization that was not intended to be an attack on me, and also insisted that I was too sensitive. He then began talking about how shitty his day was going, and how it contributed to not fully thinking his statement through before stating it.
I was pretty humble with him, but I was still rather pissed off, and literally to the point of shaking. I wanted to beast out on him if I'm being honest, but that solves nothing, and in the long run, I feel like shit when I behave in this manner. I actually enjoy debates, but I prefer debates to maintain a certain level of respect. If you cannot enter into debate without outright insulting someone on an intellectual level, then it's my opinion you should not debate anything. Maybe that is a bit extreme? I believe in respect. I don't always respond in a respectful manner if I feel disrespected. Of course this is something I consider to be a character defect.
Where I live is filled with individuals who suffer from rather extreme mental health disorders, as well as recovering addicts. I have to remind myself of this aspect when I get upset, because I am one of them. I am not above anyone on this earth. This man I am speaking of was an esteemed lawyer once upon a time, became an alcoholic, his life went to shambles, and here he sits. He will not accept the fact that he did this to himself. He outwardly blames everyone else. I listen to him day in and day out yelling at his significant other on the phone. Telling her how this is "all her fault". I really wonder why she puts up with it.. but perhaps she is sick like he is.
Communal living just sucks. I had to get a little rant off my chest, because writing has a healing power, and also helps to put things in perspective. Looking back on it now, I could have handled it a little better, and not been such an asshole to him, but hey, I did kind of take offense to that pompous "know it all" shit, and he did seem rather surprised when I threw it in his face just how opinionated he made himself look..My little way of telling him not to call the kettle black.
Well that's it. I don't really know what else to say about the matter, and I don't have anything fabulous to close with so...
Much love,
@futuremind
---

---