The biggest problem of urbanization is rapid population growth. In the hope of a little happiness, for a little comfort, everyone is getting city-wide for a little extra income. And with the increase of population, the urbanization has reduced. City leaders are struggling to provide the necessary facilities.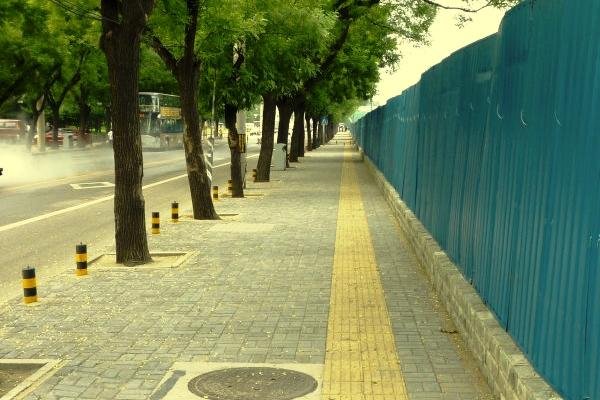 Image Source: http://www.bd-pratidin.com
Although late but we have noticed some good initiatives in Dhaka city. For the purpose of providing allocation of six seats for disabled people, women and children, for transport. Arrangement of quality public toilets in important location of the city. And the latest newest sidewalk arranged. Looking at the footpath in the new way, I was also thinking that this was being done for beauty enhancement. But it did not really do that for him. Listen to why this is done-
Walking on the road to the footpath noticed a thing while walking. A yellow line was drawn from the middle of the sidewalk. Although there are red colors on both sides, in the middle it is yellow with different types of tiles. but why?
This difference in the middle is actually done for the visually impaired. Straight straps in the middle tiles and kept slightly high. So that a blind eye can easily walk over the sidewalk over this line. Really nice idea.


Image Source: http://www.aaj-kal.com
Seeing a little more, it will be seen that some footpaths have been placed in the pavement. Along with sloping places, round circles have been made by tiles. This is because the visually impaired people can easily understand that the footpath has fallen down here.
It is good to think, new initiatives are being taken. But as long as we are not aware, it is really worthless to hope for something better. Let's all change together.
Thank you all. If you like it then give me comment and upvote.
And Thanks to-
@originalworks
#originalworks
@bangla
@bdbot
@sadbin
@minnowpond
@followforupvotes
@minnowsupport
#minnowsproject
@busy
@banjo
@dorabot
@dropahead
@gaman
@abasinkanga
@skreza
@kevinwong
@craig-grant
@juneaugoldbuyer
@blakemiles84
@bobbylee
@paco
@crypt0
@trevonjb
@yuliana
@thecryptofiend
@chriscrypto
@jonnyrevolution
@brianphobos
@followforupvotes
#followforupvotes
@thundercurator
@nanobot
@dailyupvotes
@seakraken
@cabbage-dealer
@minnowpond
@bidseption
@voteme
@ubot
@proffit