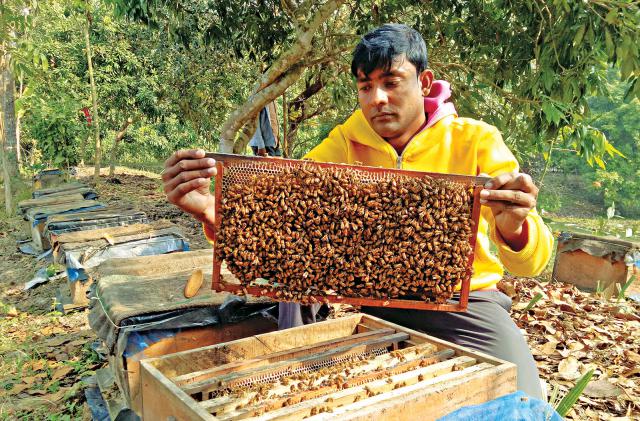 Mauchak means the rule of a queen. Monsanto surrounded him with the Queen sitting there. Even flying in the sky The queens as much as the bees The more honey Seeing the influence of the queen, Monkasasi Masud of Bausa village of Bagha upazila in Rajshahi started production of queen bees as well as Rana Madhusra. She supplied the Queen at different grassroots countries including Bangladesh Atomic Research Institute. He did this work by buying land. Pucca houses are also made. His younger brother Rajib Hossain is also accompanying him.
A honey bee has only one queen, some men and a group of workers bees. A queen, a man, a group of laborers and a large maulakasa sold at 7 thousand taka. Small boxes of 4 thousand 300 rupees.
Now Masud Runar has 150 mouxes. There is a continuous work to increase the number of queens from here. From November to May, they travel around Rajshahi to Sundarbans with this mausoleum.
Startup
Masud Runner's father's name is Abdur Rahman. He used to work in a non-government organization. The salary was low. He left the job for that. He started the bees in 2001. With his father's hand, his two sons were encouraged by the monsoon. Initially, they could not go to commercial production due to lack of capital. Abdur Rahman trained two boys from a farmer from Tangail. Abdur Rahman died four years ago.
Mauvax is a special type of box used to cultivate bees in artificial means, in which bees create bees. Two brothers started producing honey and queen flies commercially.
Now they are getting about 100 pounds of honey every season. The queen bees produce about 150. They sell small boxes at Tk 4,300 and in the big box 7 thousand taka. Honey sells to a herbal company The cost of making a small box was Tk 250 and the cost of the big box was 400 taka.