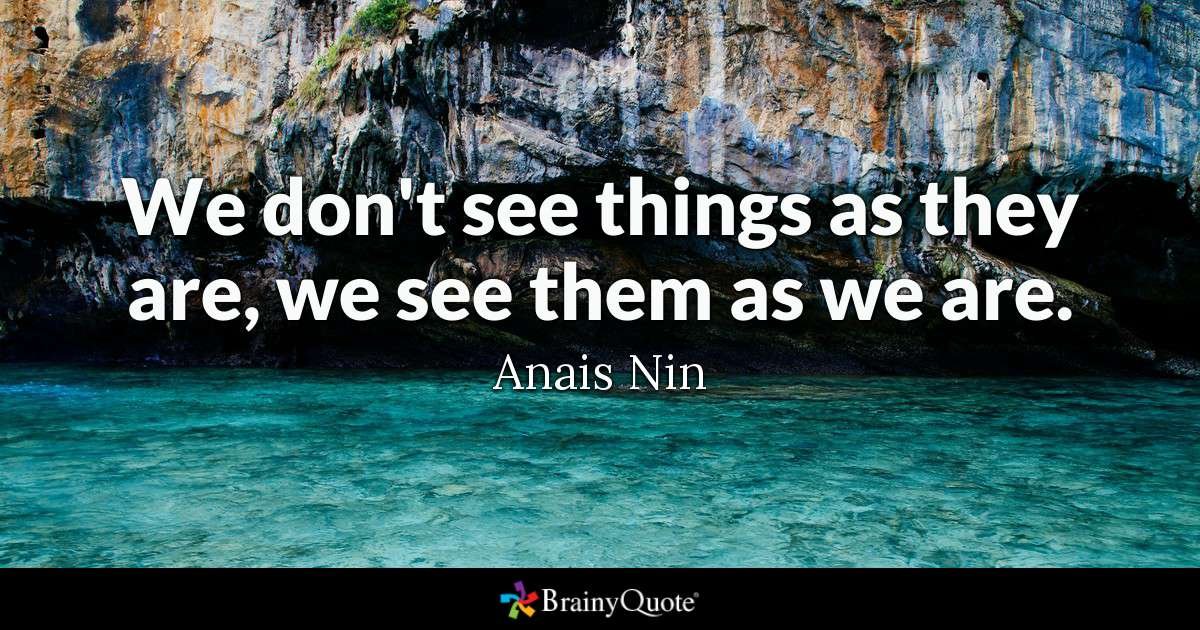 Communication is by far THE most important aspect of ANY life form. Trees communicate with the environment, animals with each other, species learn to read signals from other species, humans try to communicate with animals, and finally humans try to communicate with each other.
Yes, we do TRY to communicate, because sometimes we know certain communications don't quite go the way we expect. The thing about communicating, EVEN when we are keenly listening INTO someone is that WE SEE THINGS AS WE ARE.
Let's take this dialogue between Hawkeye and Black Widow from Avengers (2012) as an example:
Black Widow: "Just like Budapest all over again."
Hawkeye: "You and I remember Budapest very differently."
Black Widow has her personal history, spy training, combat training and a host of other skills, experiences, memories, values, beliefs and conditioning that makes her WHO she is.
Clint Barton, aka Hawkeye similarly, has his.
Though they allude to having been in a battle together, clearly each one REMEMBERS and RECALLS the experience differently.
The same applies to us in a lot of our daily interactions, if not all. We each have our own FILTERS that are made up of billions of bytes of input, right from the moment we are born, to this point in our life. Let's just take a look at one such moment:
If you wake up one morning, walk to campus and find it deserted, only to see the image of the NY Twin Towers being hit by a plane, the entire sensation of that moment in time, is etched into your memory - like a frozen still in a movie. You would remember the weather, the walk leading up to the building, the way the classroom looked or felt, or the sounds (or lack of) - ALL become imprinted in you.
The above example is actually a real memory. It is my memory of walking to my building only to find all the classrooms empty, with the TV screens repeating the same scene over and over again. It was such an eerie and surreal moment. Literally like a snapshot out of a HORROR movie.
Our filters are made up of our PHYSIOLOGY, PSYCHOLOGY, BELIEFS, VALUES, MEMORIES, and LIFE EXPERIENCES; it could have TIME STAMPS, and flesh memory from our SENSORY ORGANS. If you've ever had food poisoning over a particular food you ate, you can relate to how it feels to look at the same food again. ;)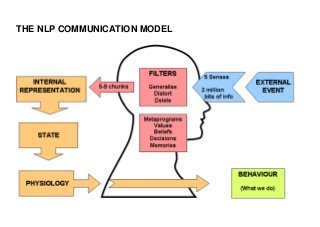 Melanie Richens NLP Communication Model
If we are not careful we run the risk of living and believing only in OUR view of the world, without quite stepping out to understand the WORLD's view of us.
I learnt an interesting and valuable lesson at a networking event on becoming aware of how other's see us.
We had three minutes to meet as many new people in the room as possible, ask for three words or phrases to describe us, record these down and move on to the next person. Of course we had to give three phrases for the person we met, in return. This exercise revealed how other people saw me; though some were expected, most were somewhat surprising and left me wondering what they meant.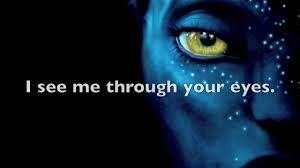 Most of us spend our time looking out into the world figuring out and making sense of what we are experiencing from it. We JUDGE and categorise people, places, things and events. We sometimes overlook certain details, whilst remaining hung up on others.
The above exercise created an external self-awareness of how others view me. In just the few seconds, I was surprised at what some people said. I had one person say that I had "a mind of my own". Now, I processed and understood that as being strong willed; but I still don't know in what sense she meant it as I didn't get the chance to dive deeper and ask more questions.
This is how a lot of our communication in the world goes. Through filters, where we receive a million bits of data at a time. In order to function and respond optimally, we zoom in on certain things, deleting other pieces of information. Sometimes we may take the information and repackage (distort) it in a way that makes sense to us linguistically or logically, and then put it in general categories of our mind. Deletion, distortion, and generalisation are filters we use to make sense of our experience of the world.
These filters can be positive when applied with awareness. Let's say we have a family member who constantly finds fault in something we do, or have naysayers who put down our new idea. Despite what they "say", IF our belief in ourselves can be strengthened by consciously DELETING the information that doesn't serve us, then we carry on the day focused on our goal.
However, if we allow OLD beliefs and emotional baggage to filter the information negatively, then we may spend an entire day or MONTH hung up on their opinions. If we operate from victim mode, everything we see, hear and understand will be filtered through the filters of a "victim".
Similarly, DISTORTIONS can be applied positively in re-framing to help us stay focused. If one rejection comes our way, we can either be dejected or see it as getting one step closer to a YES. Generalisations help us quickly parse through information in the world, like a mortgage calculation in a new country, or healthcare plans with another carrier.
Everything in moderation, and everything in awareness gives us the opportunity to experience MORE out of life. Generalisations can easily become a pitfall, even in well established relationships, when we peg someone into a mould we created of them 10 years ago. The person may have grown, and yet we see them for who WE remember them to BE. Sadly, we end up listening to them through our filters, hearing only what we have pre-programmed to hear.
So, it is important to have self-awareness, from an INTERNAL perspective (understanding our values, beliefs, conditioning, communication styles, etc) of how we SEE the WORLD, and EXTERNAL perspective of how OTHERS see US. It creates tremendous awareness of our world view and helps moderate our behaviour accordingly, to be effective communicators.
Another aspect of HOW we each uniquely communicate is our learning/communication styles. Some people are more VISUAL and tend to be very observant, seeing the world in visual dimensions. Others are more AUDITORY and tend to listen in on words, conversations, lyrics; paying attention to the tone and manner of how things are said, hearing the things that are NOT said, as equally as the ones that are.
Then there are some people who are KINESTHETIC and communicate with their hands and body. They are all about the action, taking the initiative and ready to serve. Finally there are the AUDITORY DIGITAL folks who take information directly into their mind to process and make sense of it, organise it, strategise and come up with processes and solutions.
You were probably nodding along to more than one type of communication style above. That's because we use ALL four types of communication in our repertoire. However, we have one dominant style, followed by our secondary, tertiary and the fourth style that reveals our communication blind spot.
I am a highly Kinesthetic (primary) and low auditory (fourth) communicator. I feel, understand, see and then finally hear the world. There is some pitfalls in how I operate; if I leave my communication styles unchecked.
When coming in contact with an Auditory person, I can potentially miss out a lot of things that MATTER to the auditory person. I could make matters worse by using a lot of visuals in presenting an idea to this auditory individual.
Communication styles cause us to delete, distort and generalise information based on the primary channels we focus on, and the fourth channel where things are lost in translation. Communication styles that are at odds with someone else's, could either result in a very brief and unpleasant encounter, or a fruitful and engaging one. It comes down to how aware and attuned we are to ourselves, others, and how we present the information.
We learn and grow through change. However, change starts first through an awareness of what isn't working. Then, one has to be ready to accept this revelation before behavioural changes are made.
In order to communicate well in social, workplace or coaching contexts, it is important to be AWARE of our filters and communication styles. When we realise and accept that we tend to have certain biases, internal censorship, selective attention and stereotypes; we can consciously watch out for these pitfalls and create a better communication experience for ourselves, clients, family and friends. ;)
Awareness of filters and communication styles is absolutely ESSENTIAL in coaching. A coach not only needs to be aware of one's own filters, but be simultaneously aware of everything the client is and isn't saying WITHOUT BIAS, investigate past their filters, and provide clarity and learning that is beneficial to the client.
---
**Note: This blog entry is to meet Catalyst Coaching Certification course content of FLOW5 C.O.A.C.H Process on the Awareness module: "ACKNOWLEDGING FILTERS & COMMUNICATION STYLES"
This piece has been posted from my blog Coach Chitrah if you wish to stay up to date with my content please consider subscribing.