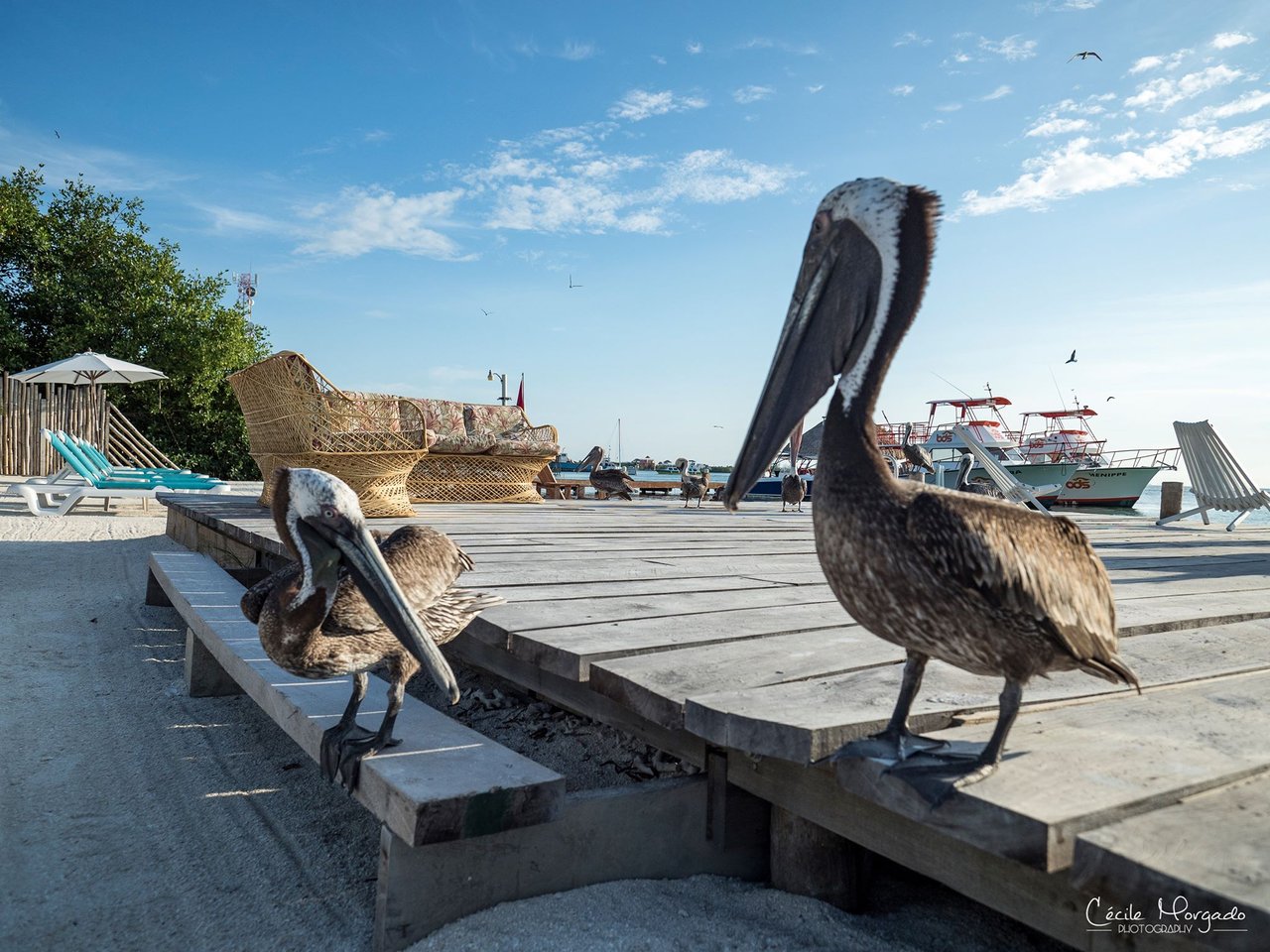 The Day after visiting The Great Blue Hole I decided to do my PADI, but I was still a bit scared, so I agreed to do another snorkel tour first to see the Hol Chan Marine Reserve and Shark Ray Alley, where I could practise free dive first and see how I feel with the pressure equalisation under water before I would take the actual course.
I think this is probably the tour that has been offered to us the most at Caye Caulker! Almost every dive shop or water sport shop or anybody with a boat really is doing it.
Usually it includes the following (depending if you book half day of full day)
Snorkel in the beautiful Hol Chan Marine Reserve
Swim with sharks and stingrays and snorkel in the Mesoamerica Barrier Reef
Enjoy a beach lunch in San Pedro on Ambergris Caye
Visit San Pedro, La Isla Bonita
As we love being at the boat on the water we booked full day and had a few stops extra after San Pedro:
Bird and Big Fish watching next to Caye Caulker
Pelicans and secret seahorse spot
Crossing Landsplit at Sunset
So in the morning we went to the dive shop, where we met another couple joining the tour and our tour guide Eloy preparing the little boat.
There we made ourselves confortable, enjoying a little breakfast and the beautiful View of the Caribbean water, while we went to our first stop: The Hol Chan Marine Reserve
Hol Chan is Mayan for "little channel".
Hol Chan Marine Reserve is a marine reserve close to Ambergris Caye and Caye Caulker, off the coast of Belize. It covers approximately 18 km² of coral reefs, seagrass beds, and mangrove forest.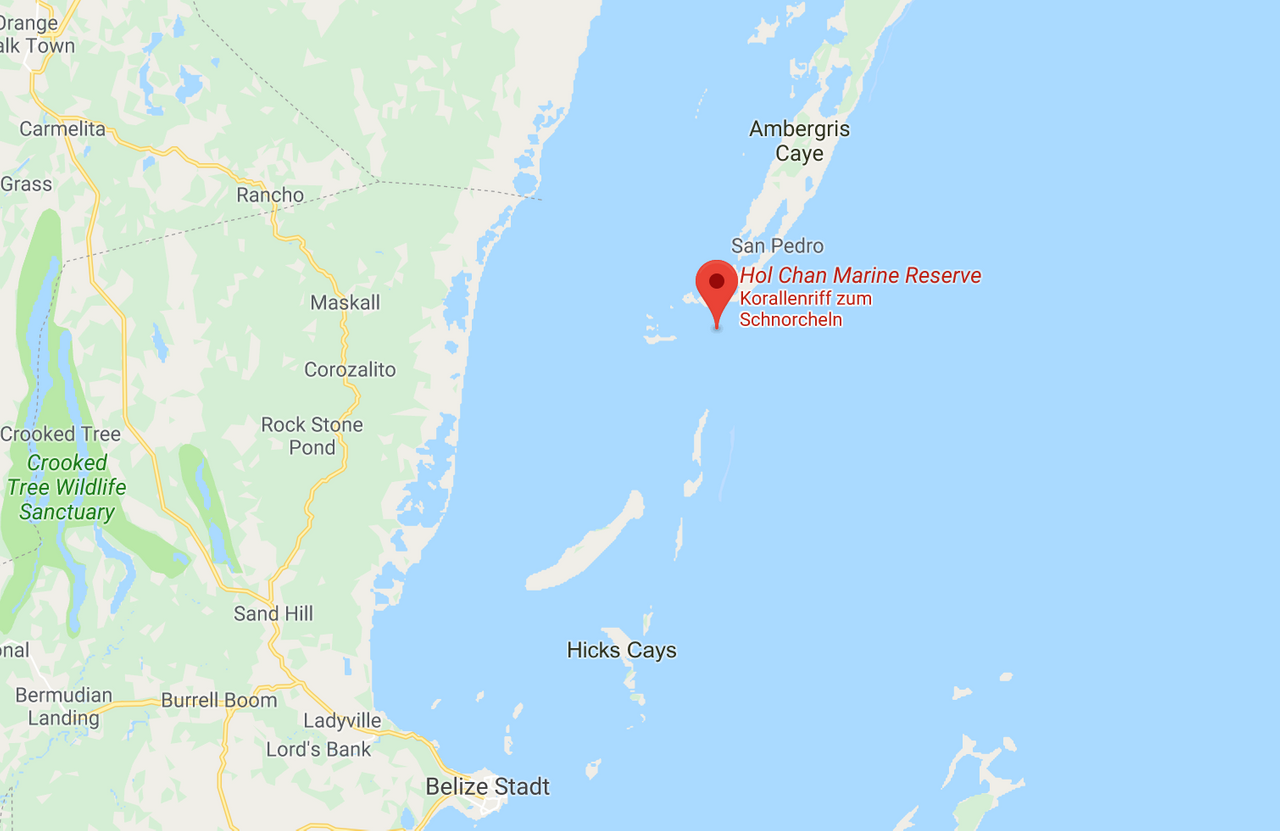 The reef is separated in 4 zones since 1989:
Zone A which includes the inside and outside of the reef (part of the Belize Barrier Reef). No fishing is permitted in this area, but snorkeling and diving are permitted on payment of a fee.
Zone B covers the sea grass beds inside the reef. Both commercial and sport fishing are allowed in this area with a license.
Zone C covers the mangroves swamps of southern Ambergris Caye. No commercial fishing is allowed in this zone, but sport fishing may be carried out under license.
Zone D is Shark Ray Alley. This is a second charged snorkeling area, but commercial and sport fishing are permitted in some parts of this zone on obtaining a license.
Hol Chan Cut is open to the sea beyond the reef, so allows marine creatures to travel from the outside of the reef to the inside and vice versa. Over 160 species of fish have been recorded in the reserve, along with forty types of coral, five species of sponge, two sea grasses, three species of sea turtle and three marine mammals: the short-beaked common dolphin, pantropical spotted dolphin and West Indian manatee.
Spotted eagle rays and southern stingrays are common at the bottom of the channel. Lobsters, moray eels and sea anemones live among the rocky outcrops, and some of the many corals include brain coral, elkhorn coral, and finger coral. Jacks, groupers, snappers and barracuda are all common.
The mangrove forests act as nurseries for many fish species. Adult blue striped grunts, French grunts, white grunts, gray snappers, French angelfish, gray angelfish, and seahorses may also be found among the mangroves. The seagrass beds have parrotfish, hogfish, and occasional turtles. Manatees are rare visitors. Shark Ray Alley has nurse sharks, rays, and occasionally other fish.
Here we saw a few turtles, of course nurse sharks, lobsters and many other fish!! It was quite impressive and we had perfect conditions swimming in warm, crystal clear water, with great view at the second biggest reef on earth!! While the others went their way, Eloy and I trained a bit free diving and equalizing pressure under water. I was fine, so I decided to do the PADI within the next days.. but more about that soon!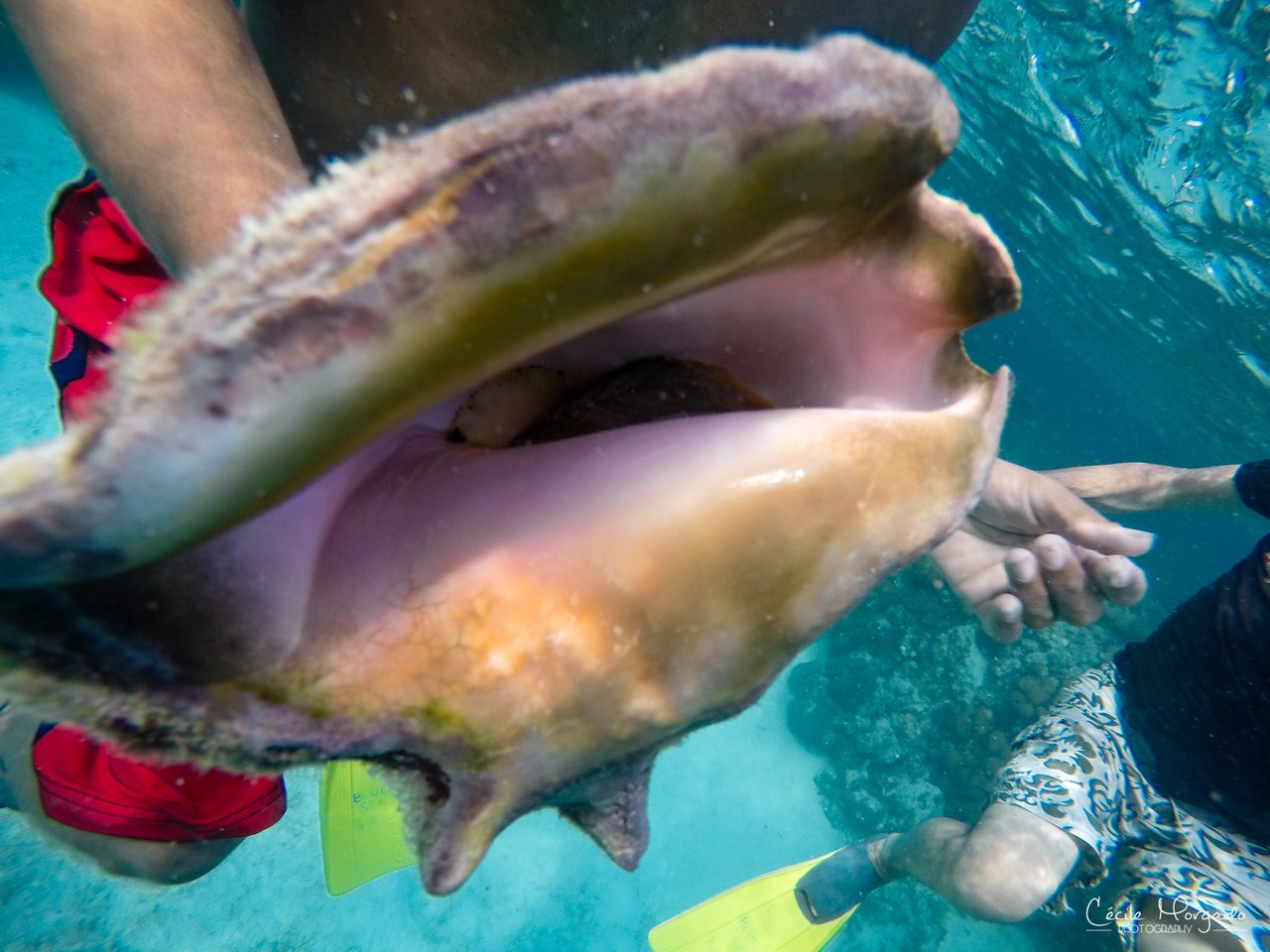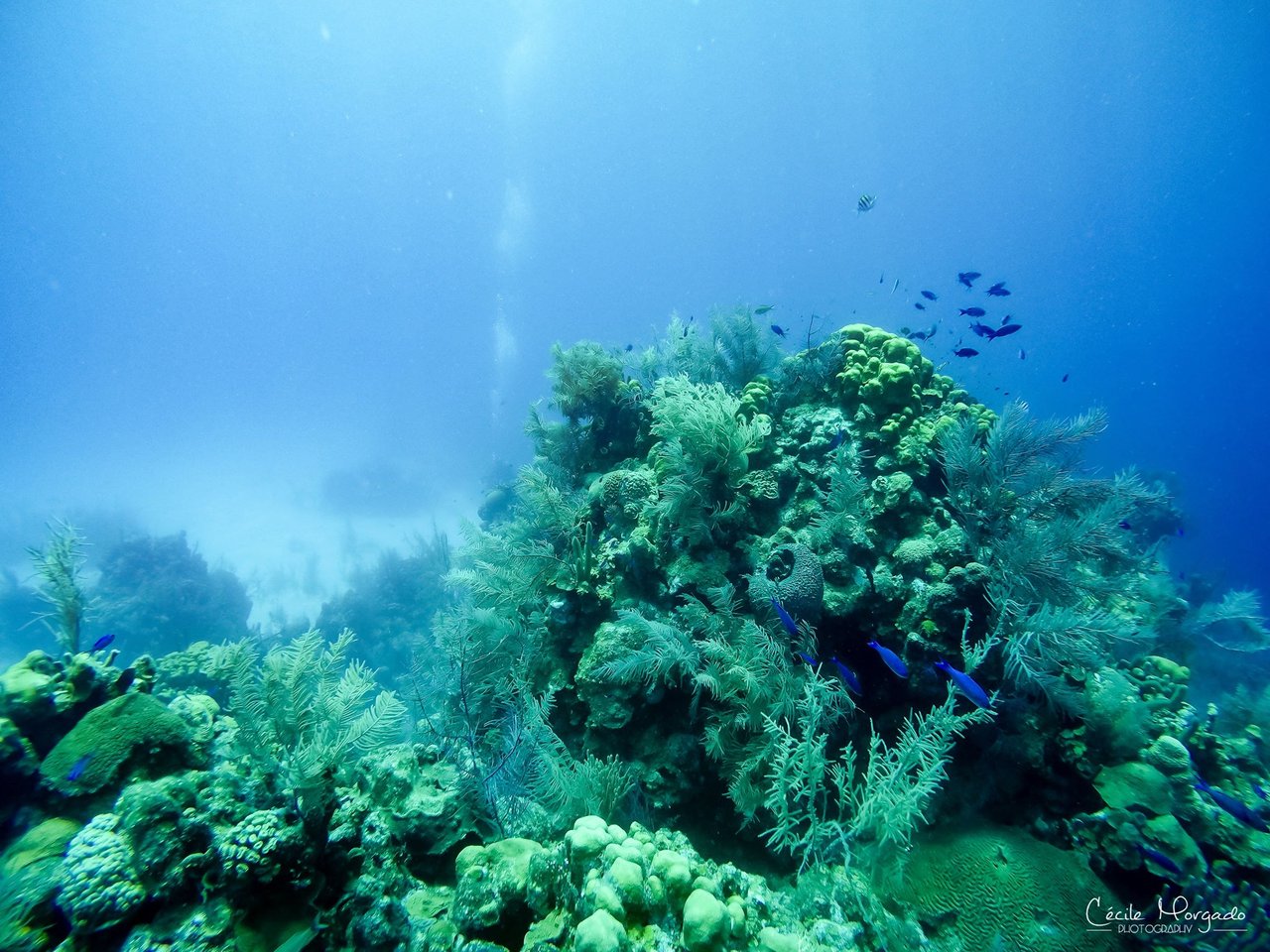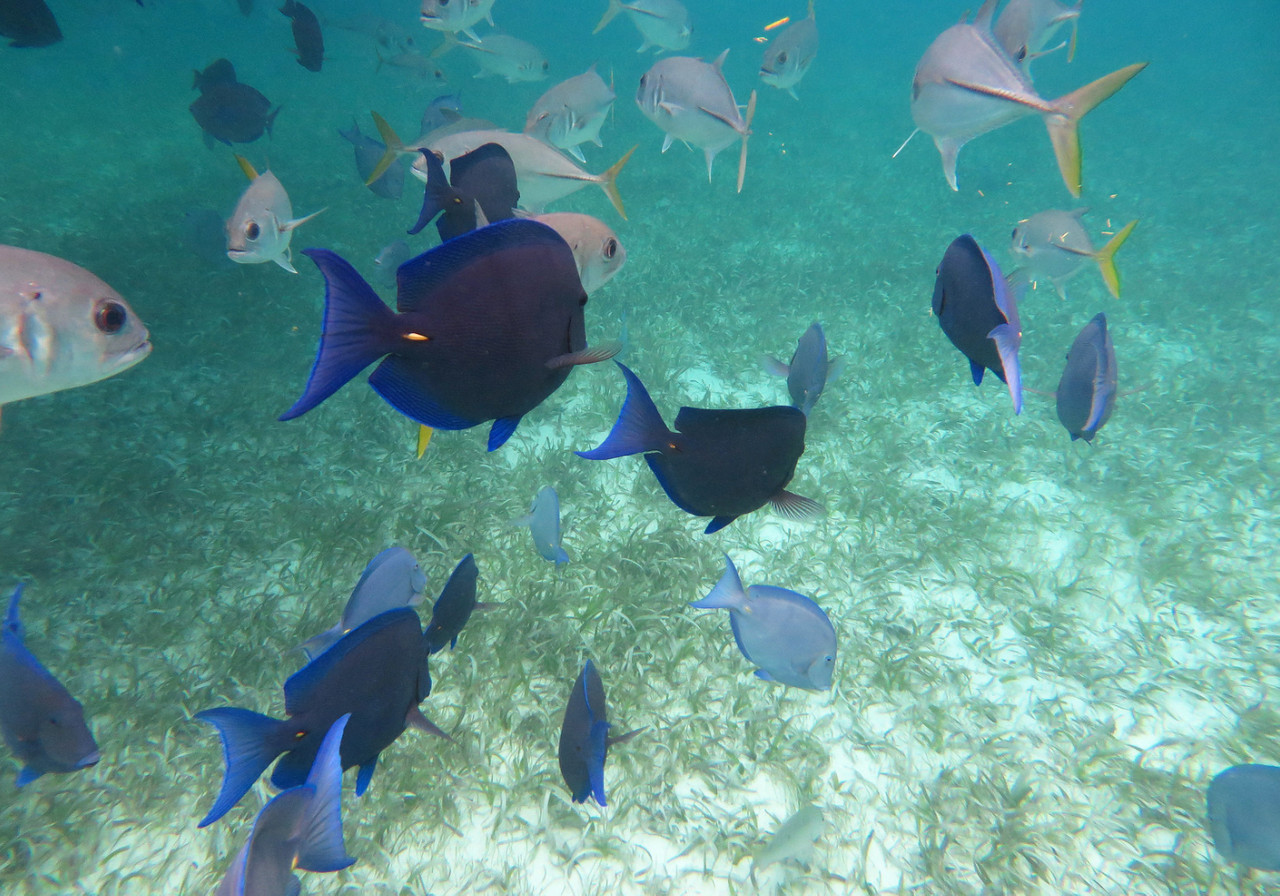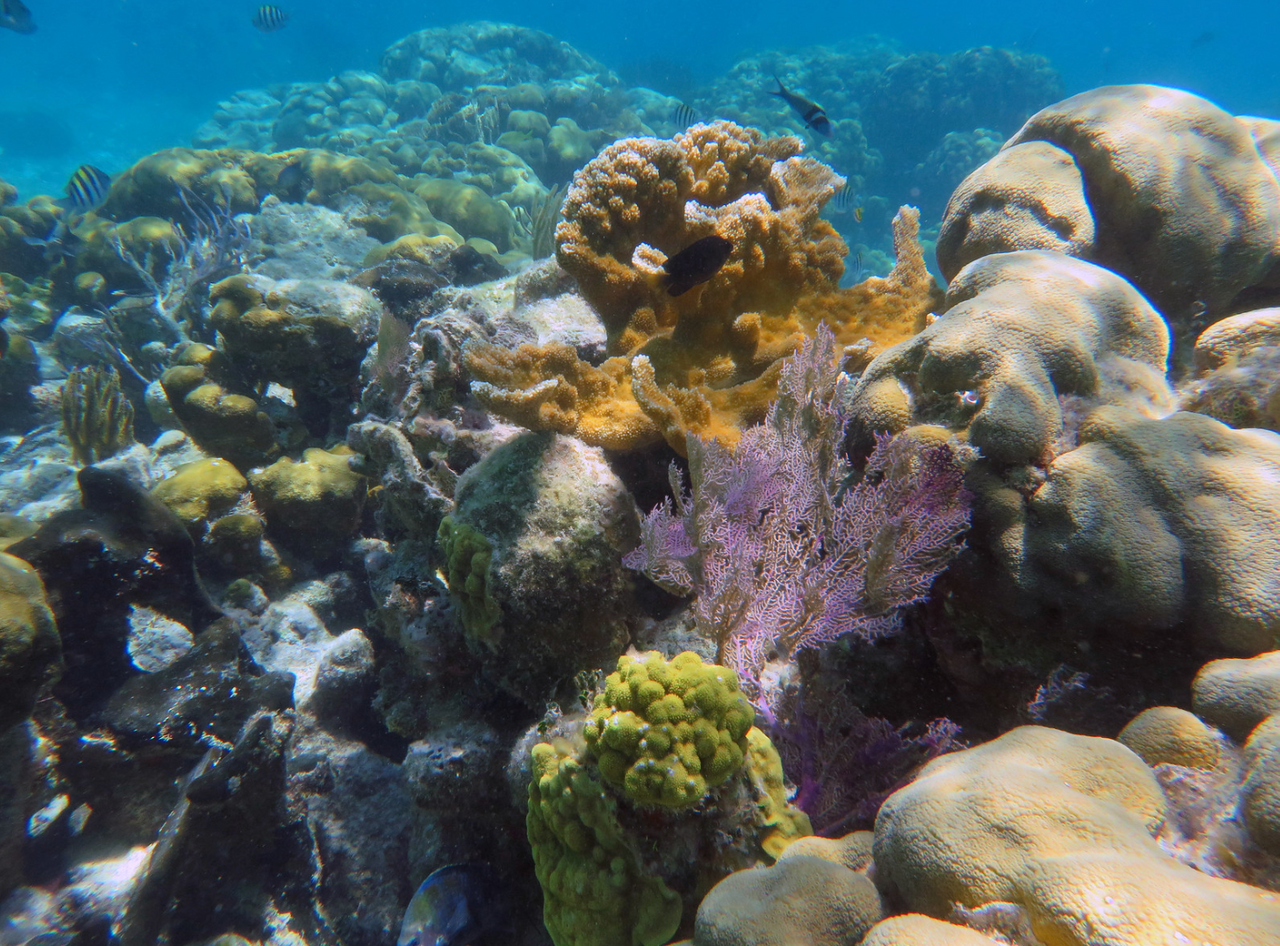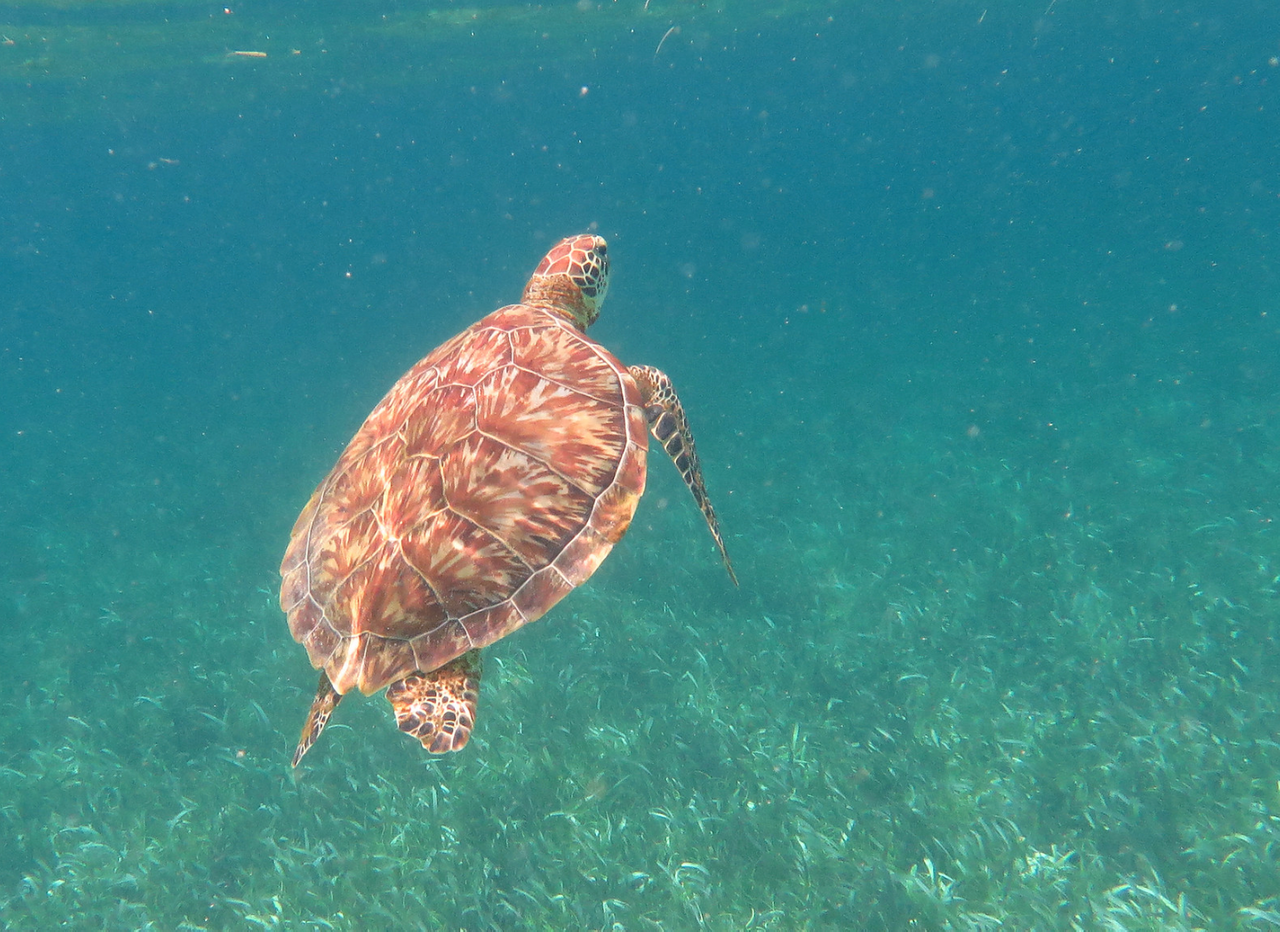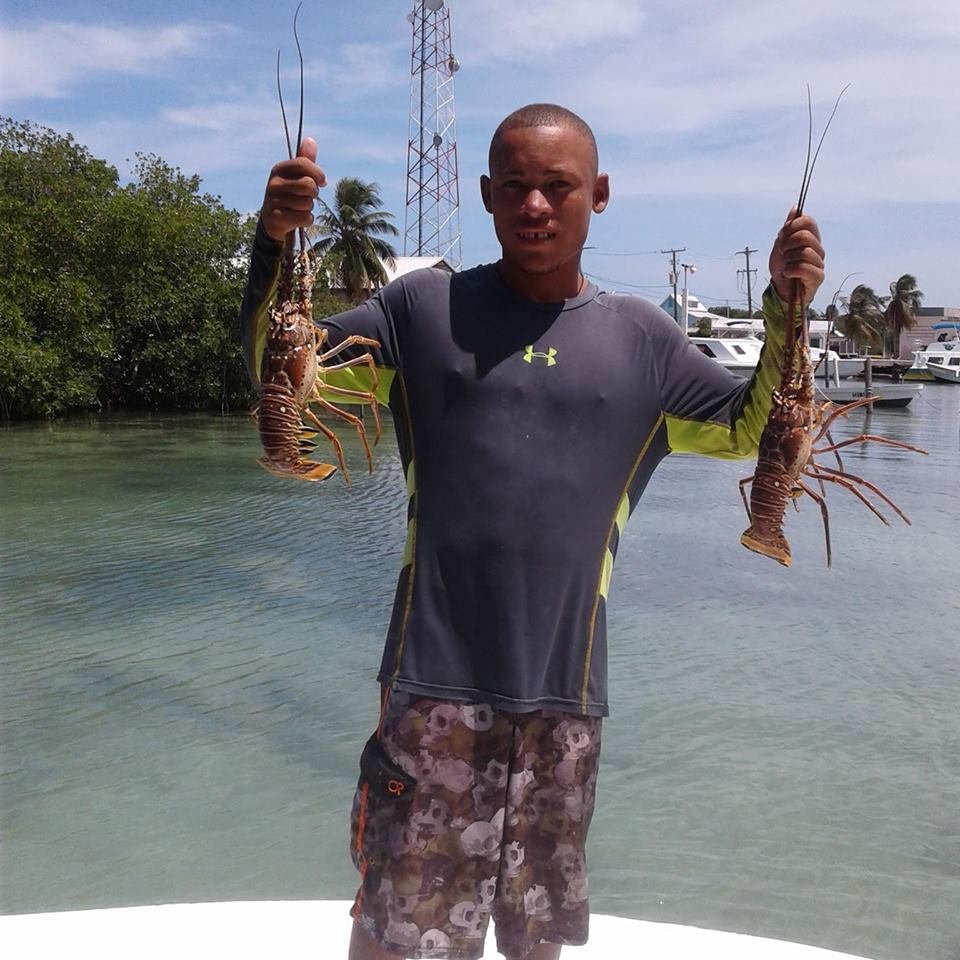 After about 2 hrs snorkeling we went to our next stop: Shark Ray Alley
Shark Ray Alley was traditionally a place for local fishers to clean fish, and the creatures attracted to the fish guts soon became a tourist attraction. As the name implies, the area is known for the big southern stingrays and mooching nurse sharks that come right up to the boat when it first arrives.
At first Eloy put in some shells to attract the sting rays and nurse sharks on one Side of the boat, while we could go in on the other side and see them from there. But once we were all in the water he let them spread and all of the sudden we were surrounded by soooo many sharks and sting rays!!
I am a bit afraid of fish in general already and as at this spot the water wasn't really deep I got scared and went back on the boat pretty fast. I was more afraid to step on one of the sting rays really .. but there were also really big nurse sharks swiming right at me...Cecile stayed a bit longer and took some pics of this crazy situation!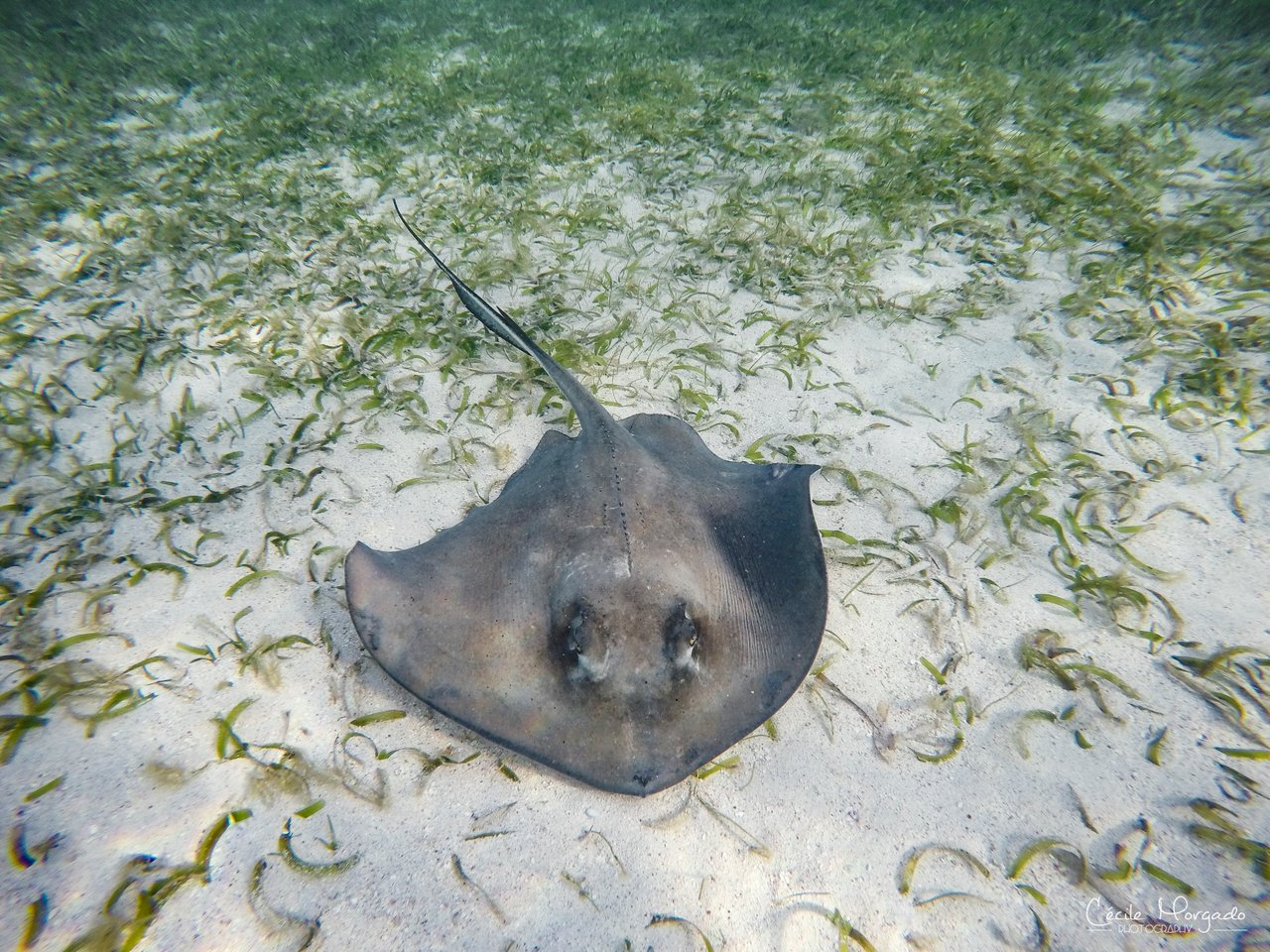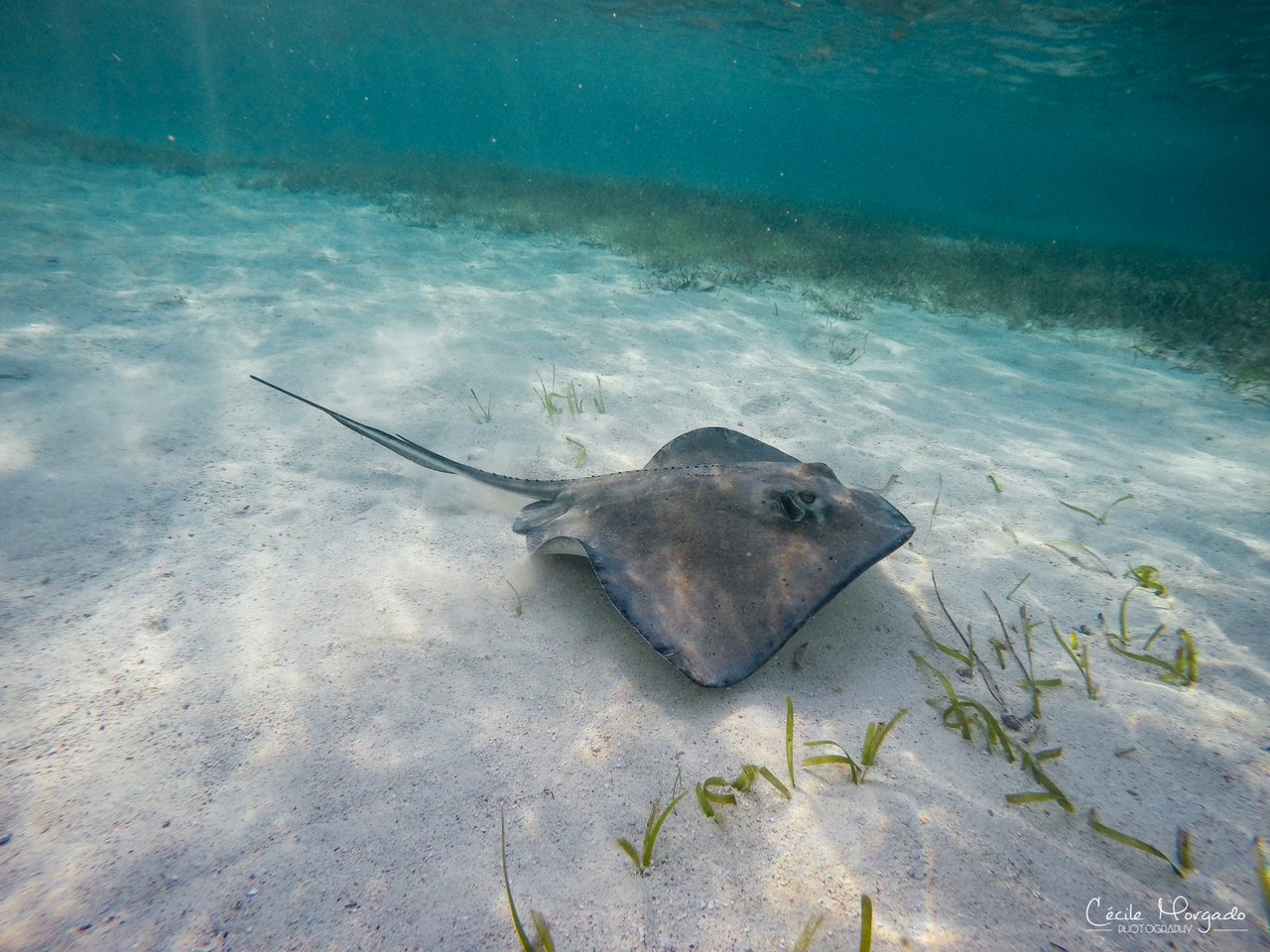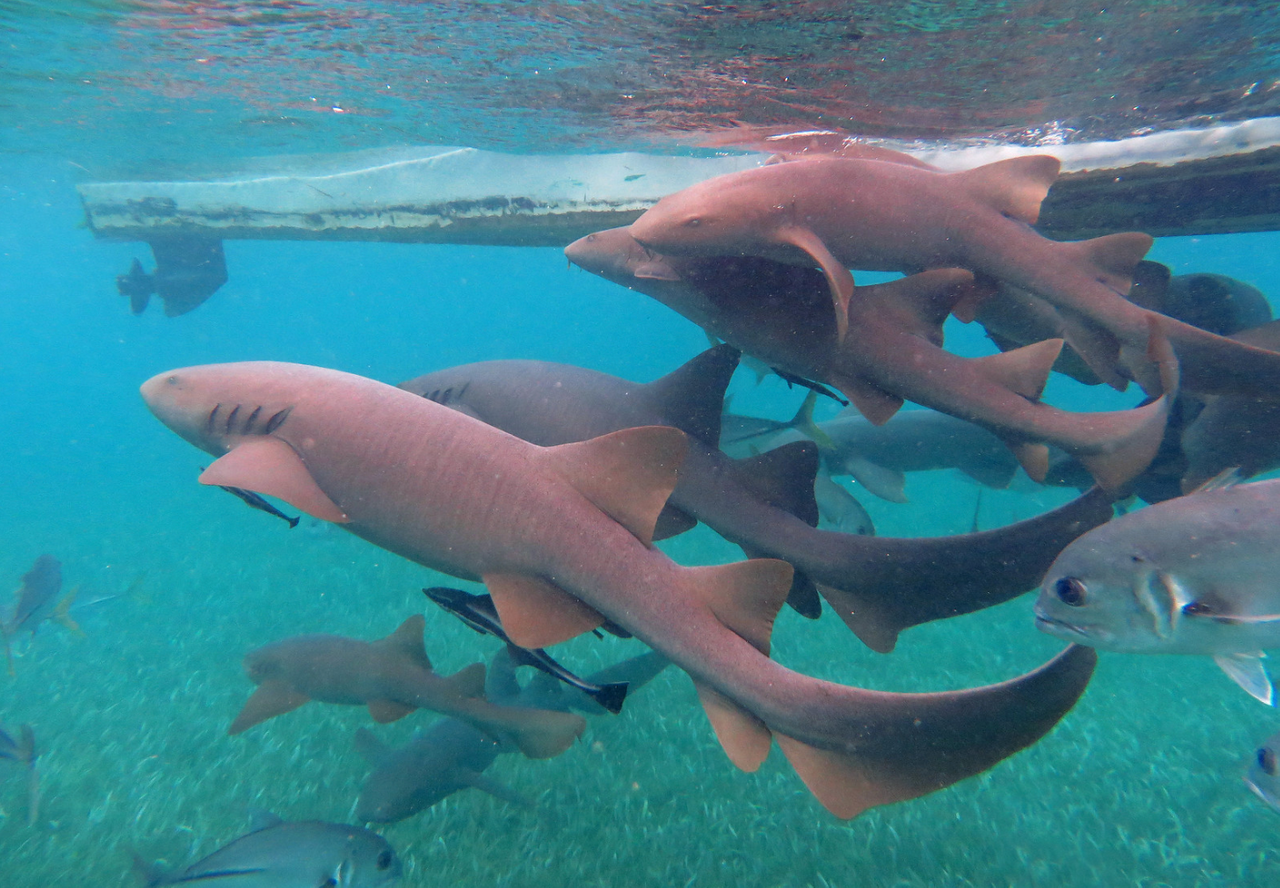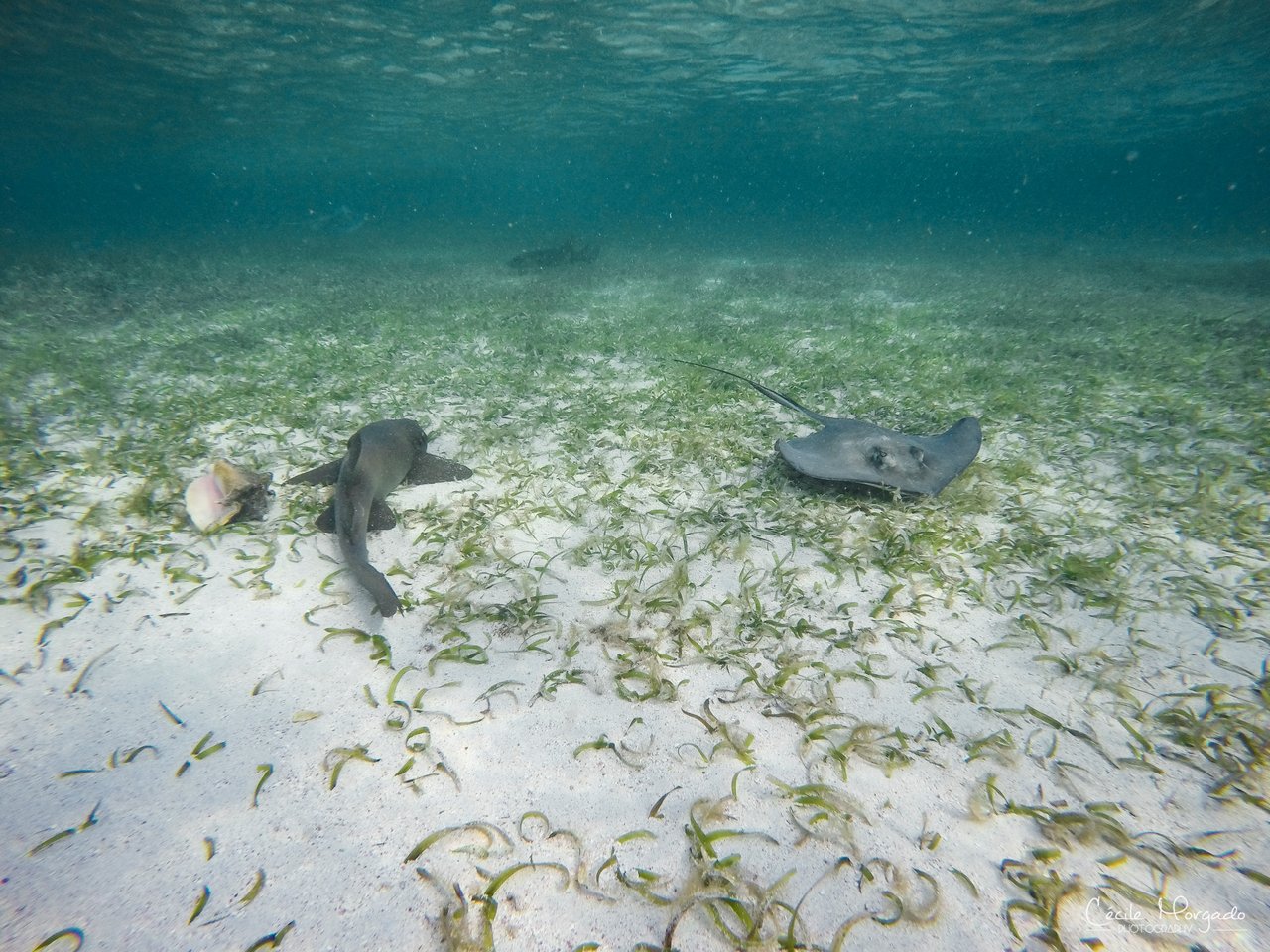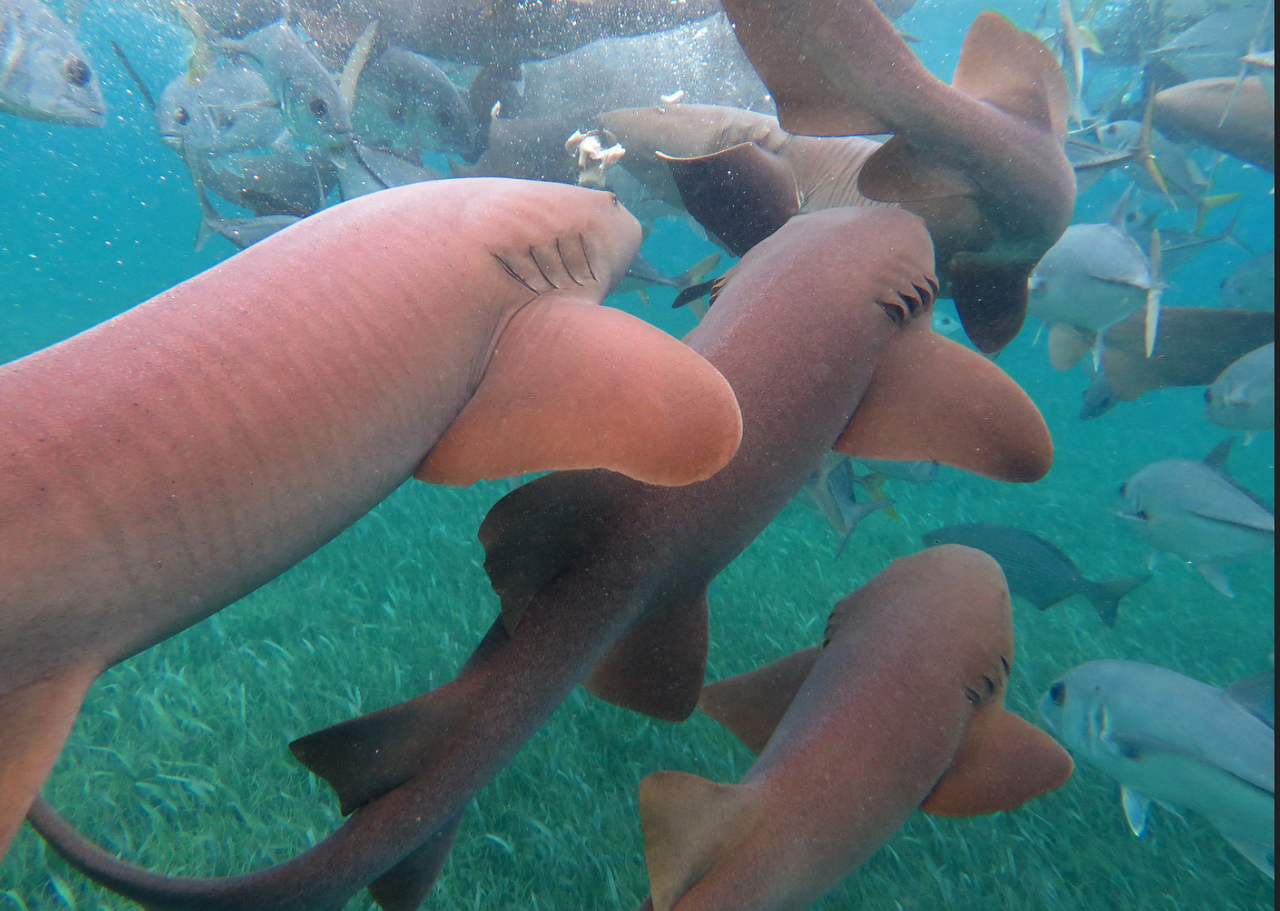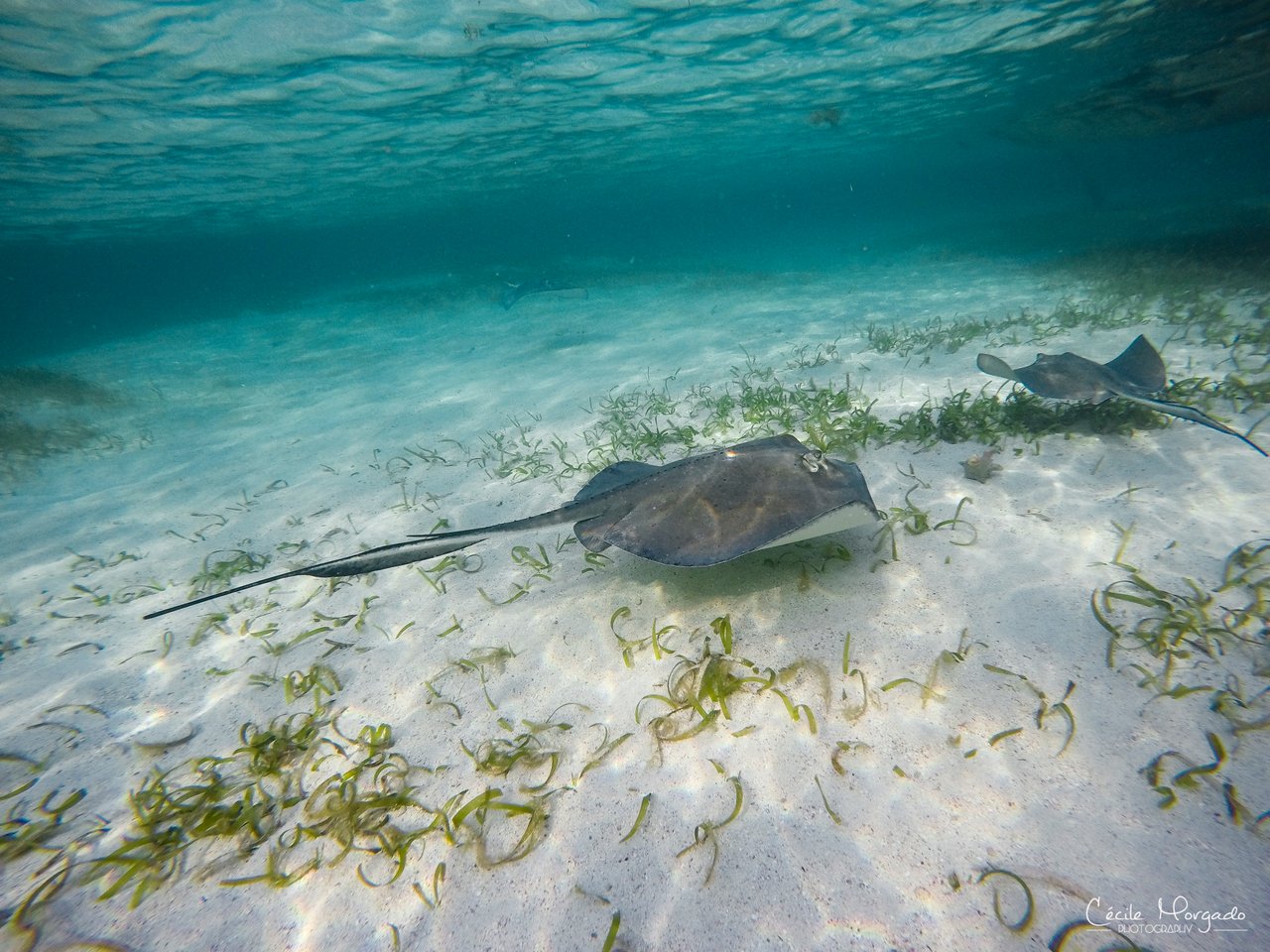 After that little adventure we had a lunch break at San Pedro for about 1 hour and then went back with the boat to Caye Caulker.
We crossed Split for the first time and went to the west side of the Island.
The spot is most famous for the large tarpon that reside here. HUGE to me, but apparently, at 50-60 pounds, these guys have nothing on the biggest tarpon – that can get to be almost THREE HUNDRED POUNDS and 10 feet long! - And of course we also had to feed them!!!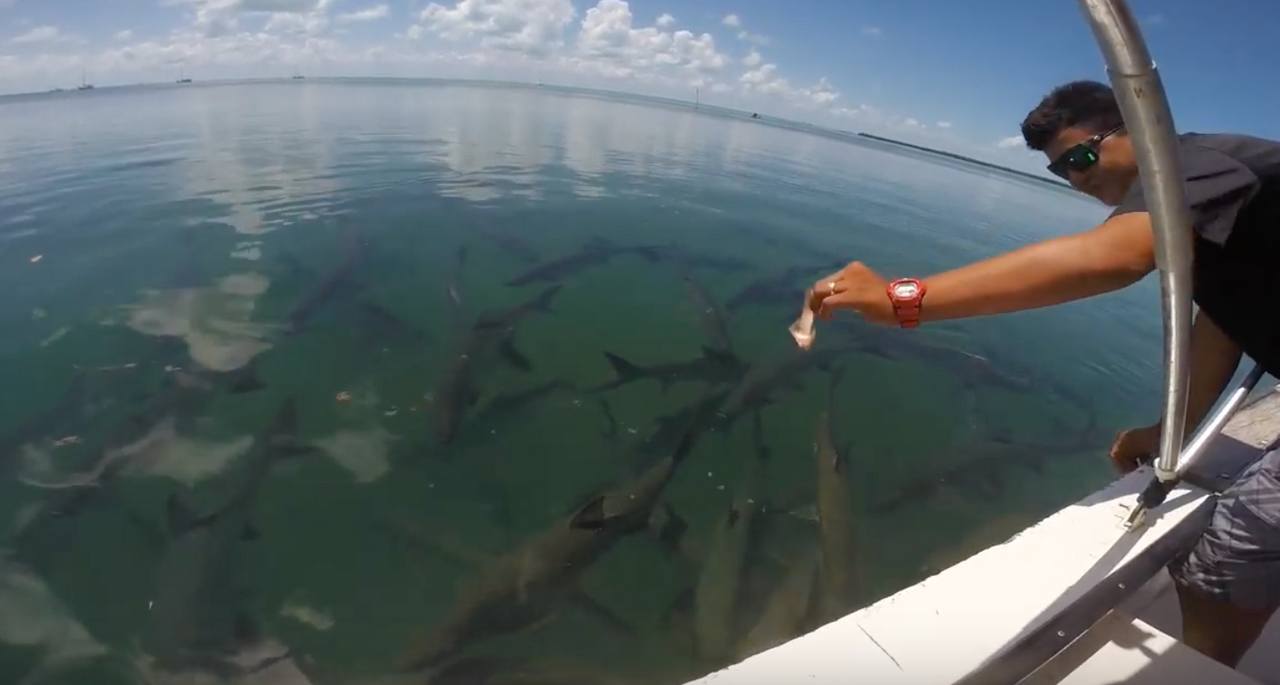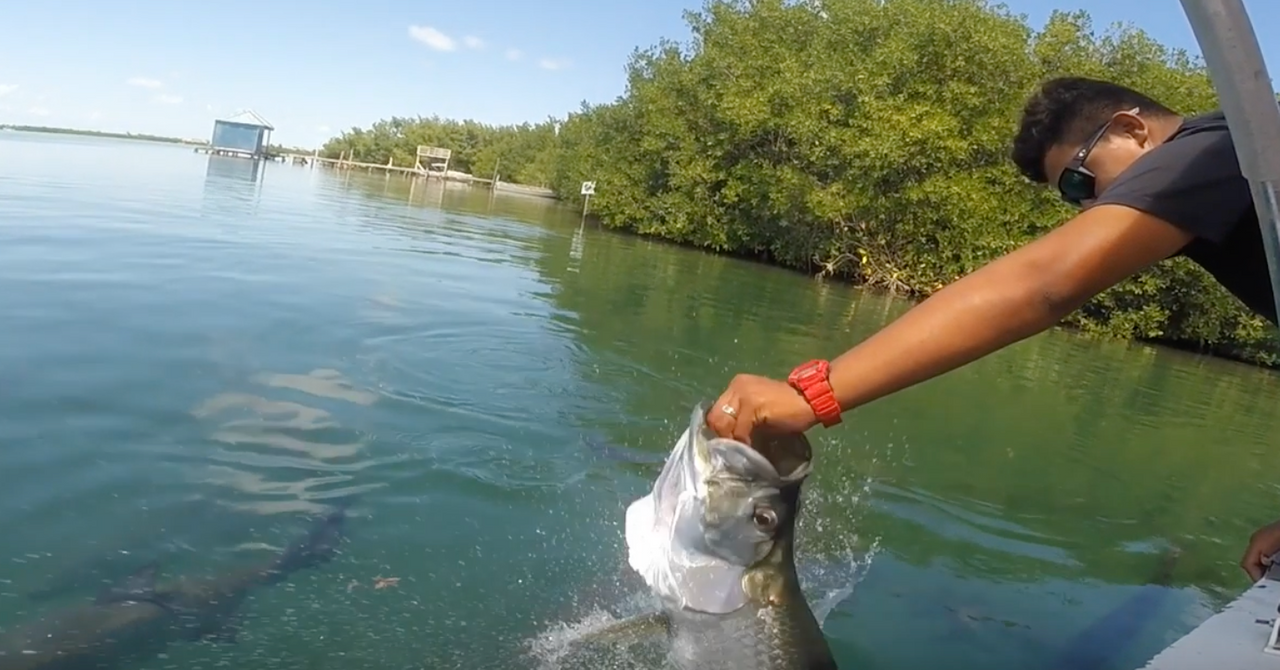 Of course the longer we were Holding up those mini fish to feed the tarpons, the more Pelicans got attracted and joined us on our little boat. I've never seen them coming sooo close!! It was amazing.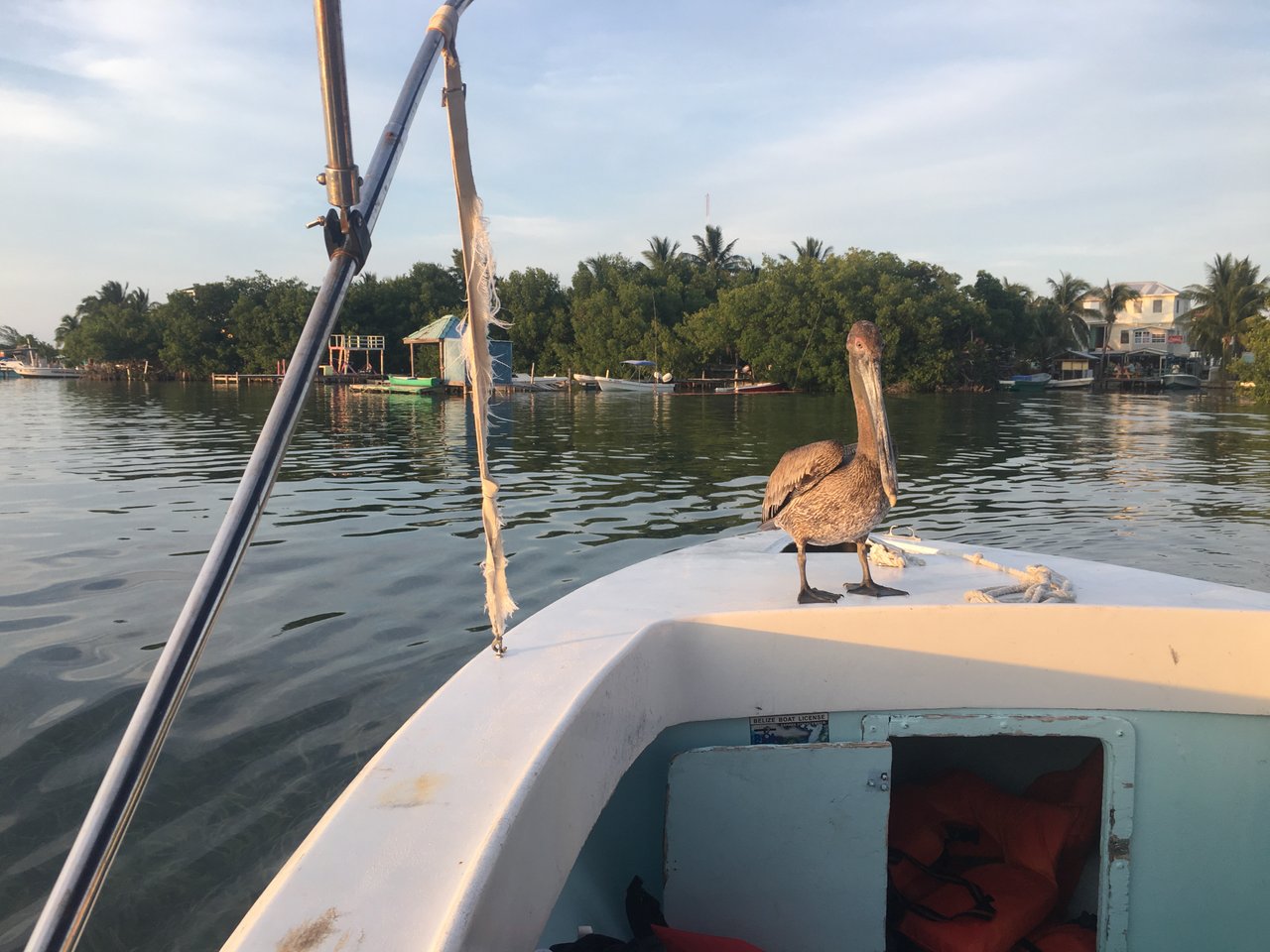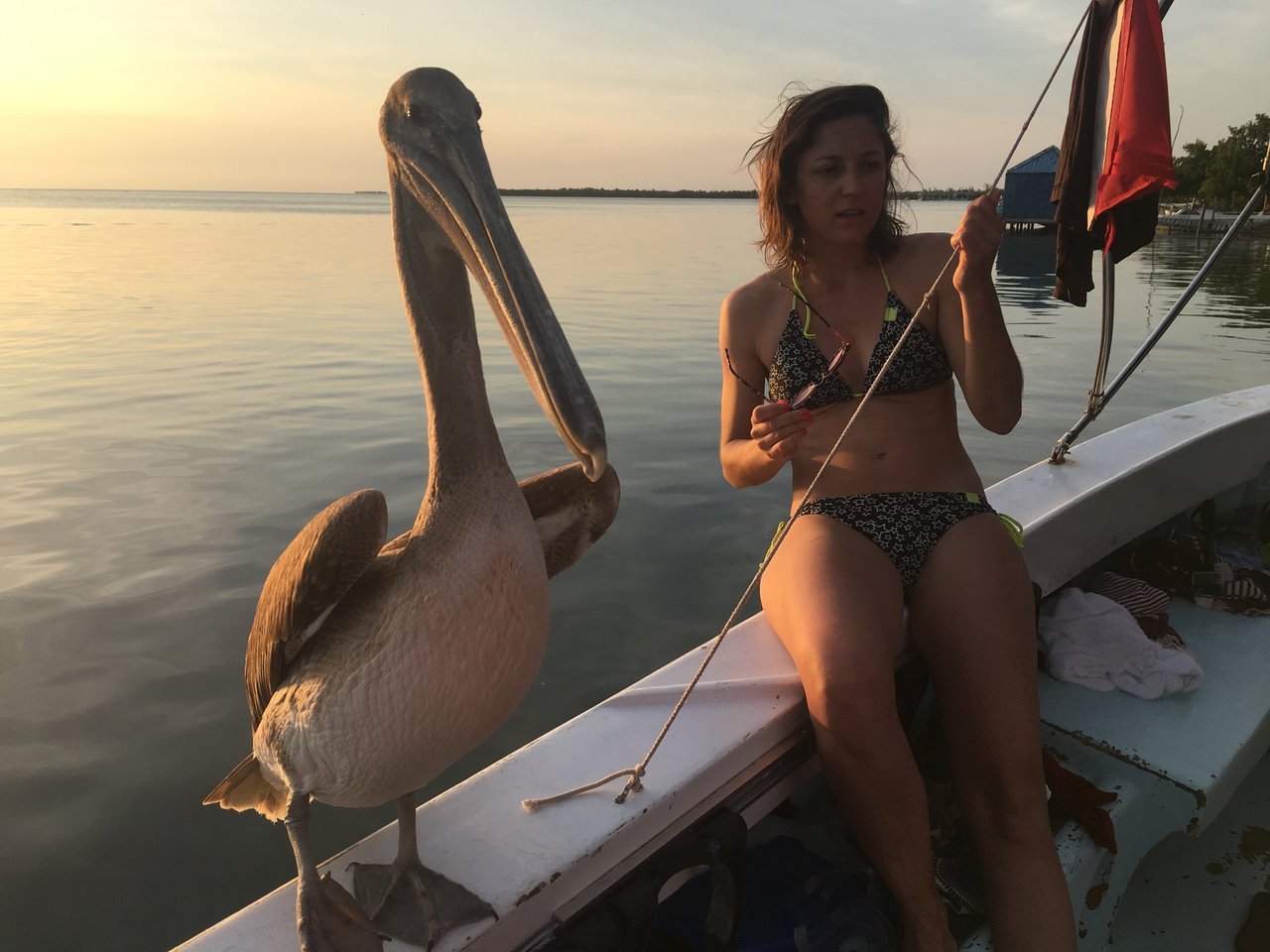 Since the tarpons weren't that hungry and we still had some fish left, we decided to also feed the birds a bit.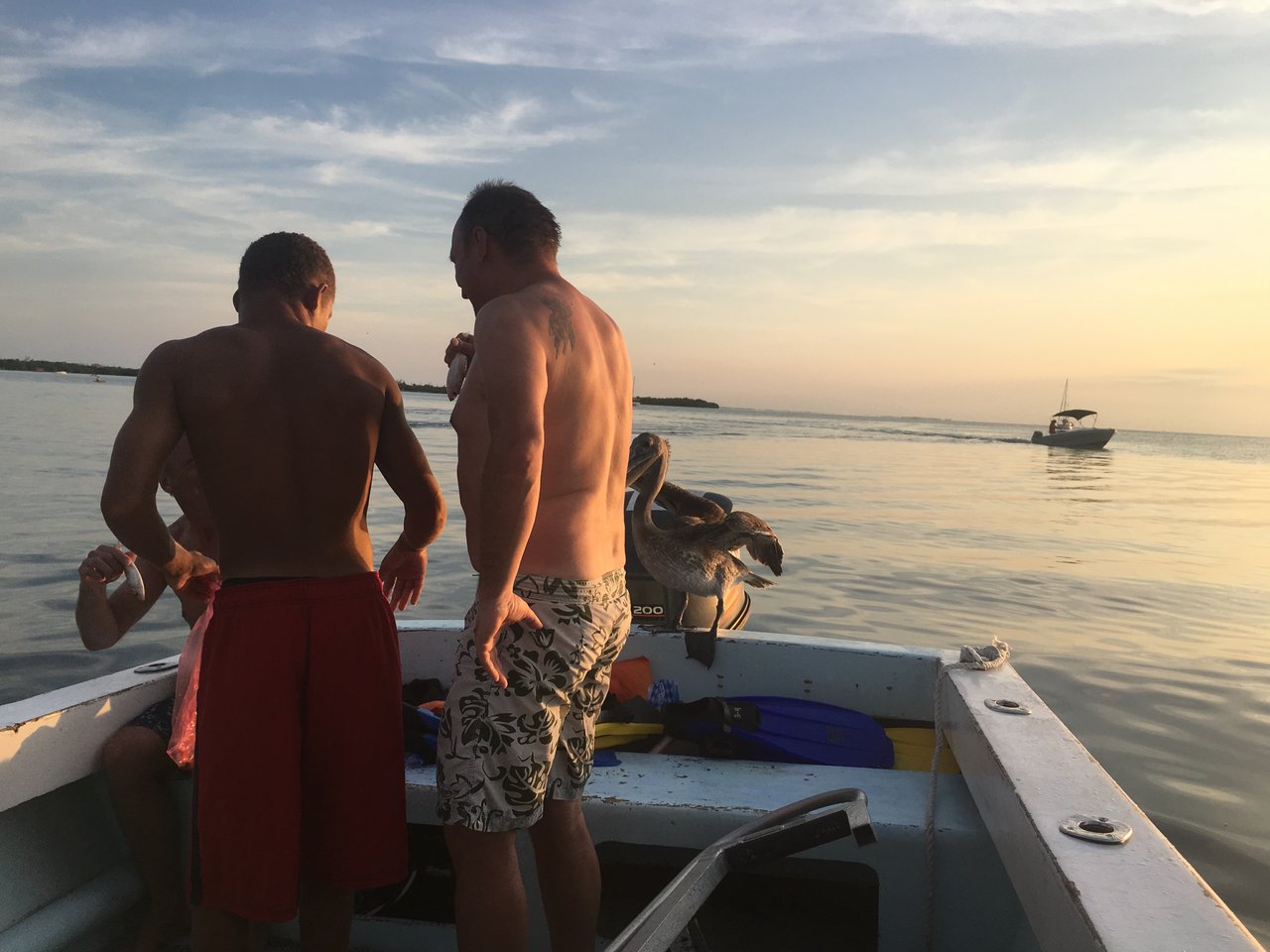 Mine was so fast that I didn't even saw it coming hahha
Since the Pelicans were already following us, we went right were all of them were, which is also the secret spot to see seahorses: The seahorse Ranch!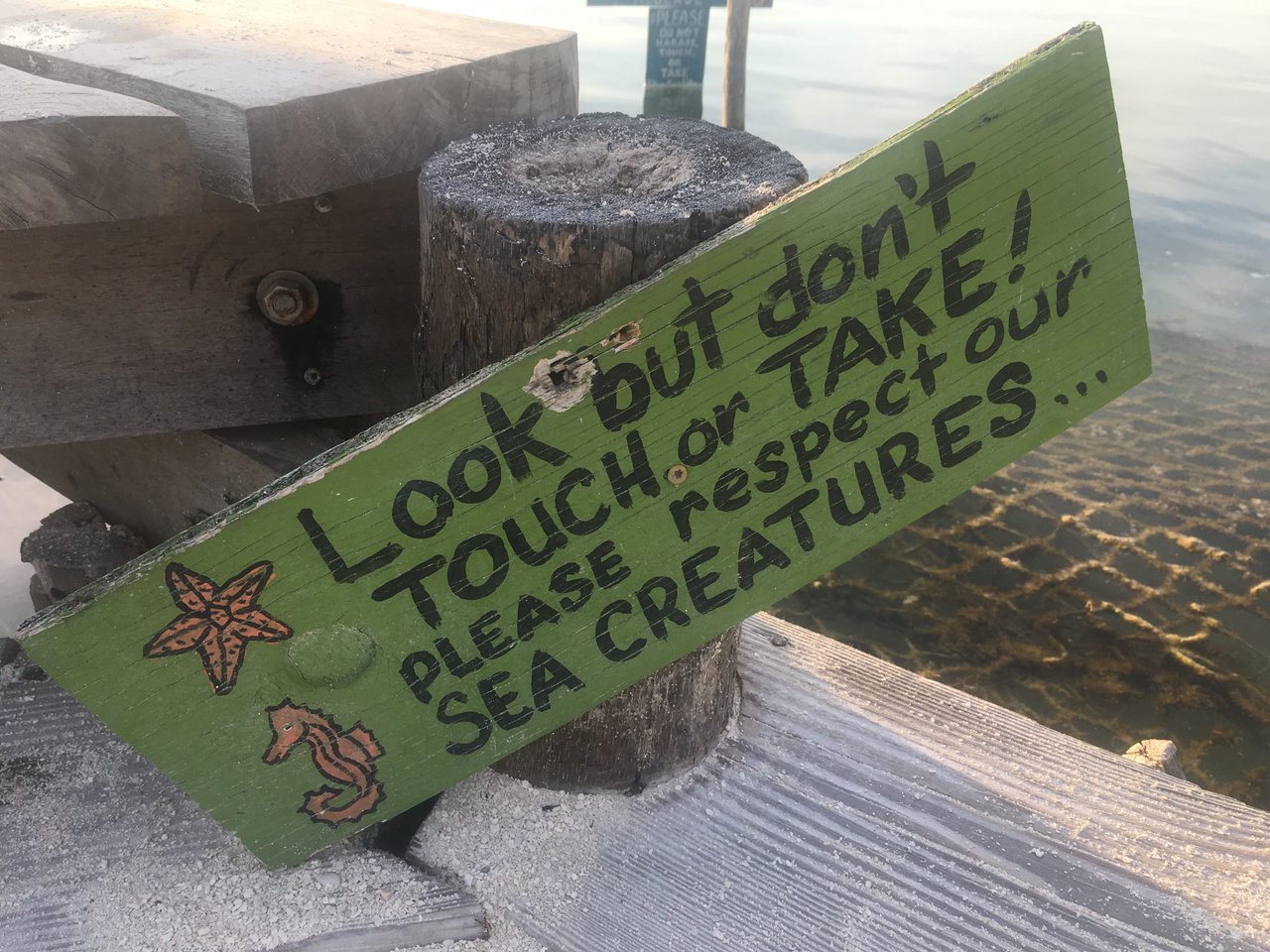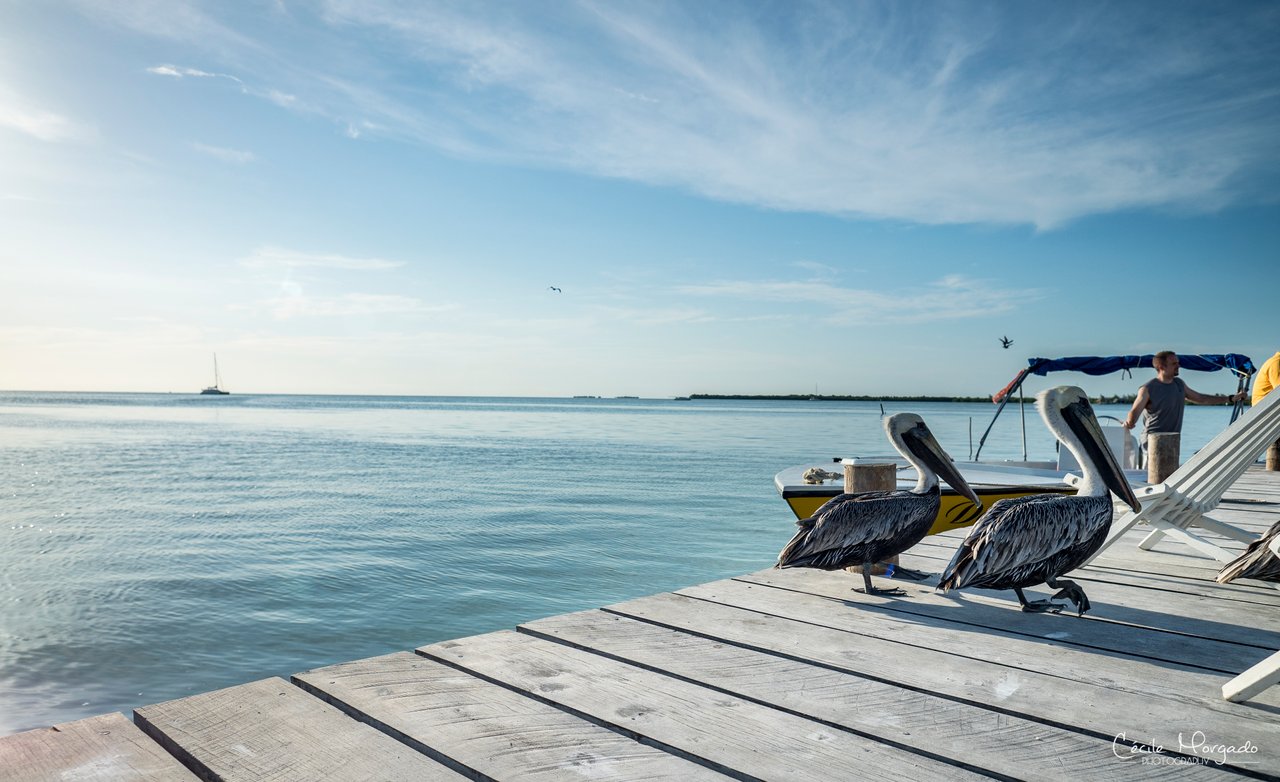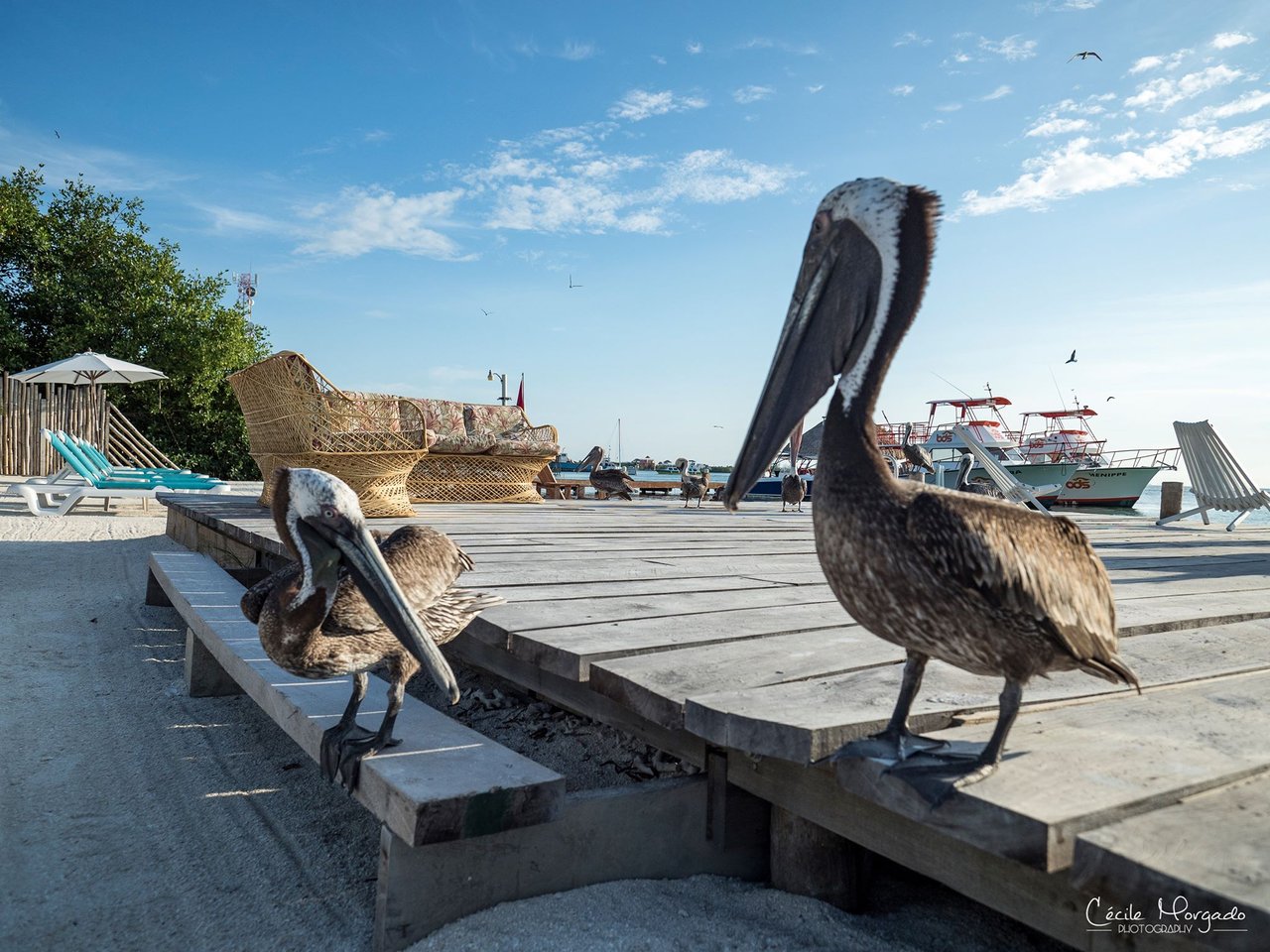 Right under the boardwalk you could see really tiny seahorses.. super tiny and cute!! They were hard to spot, but when one of them started swiming from one Point to the other I got the go pro and took some great shots!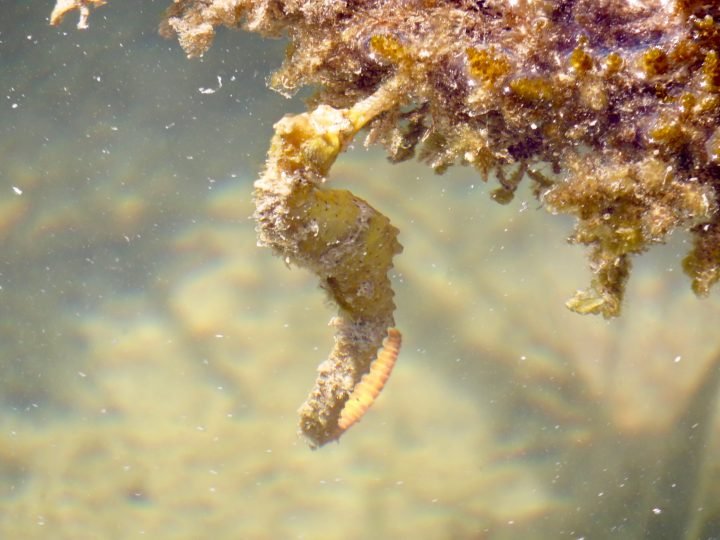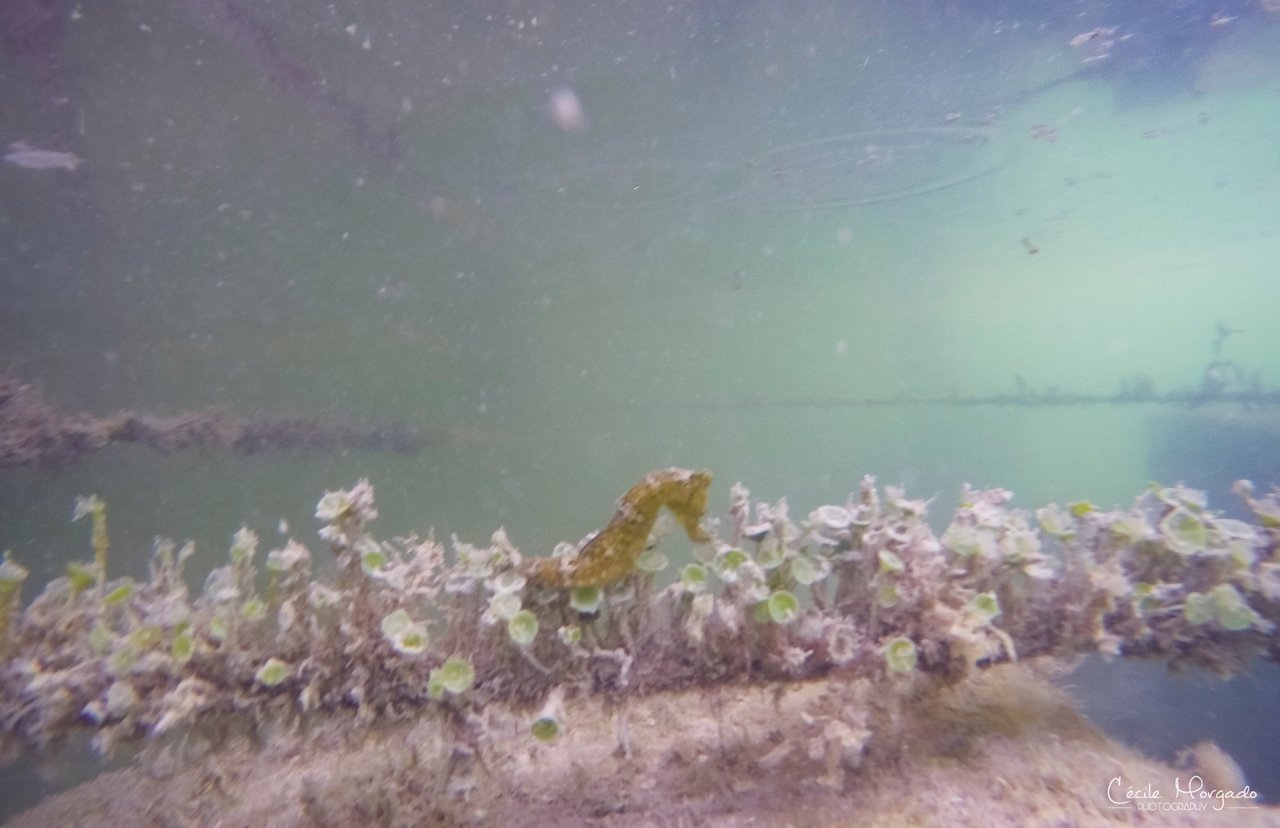 The sun began to go down so we jumped back on the boat and drove back to Split to have the best view for the Sunset!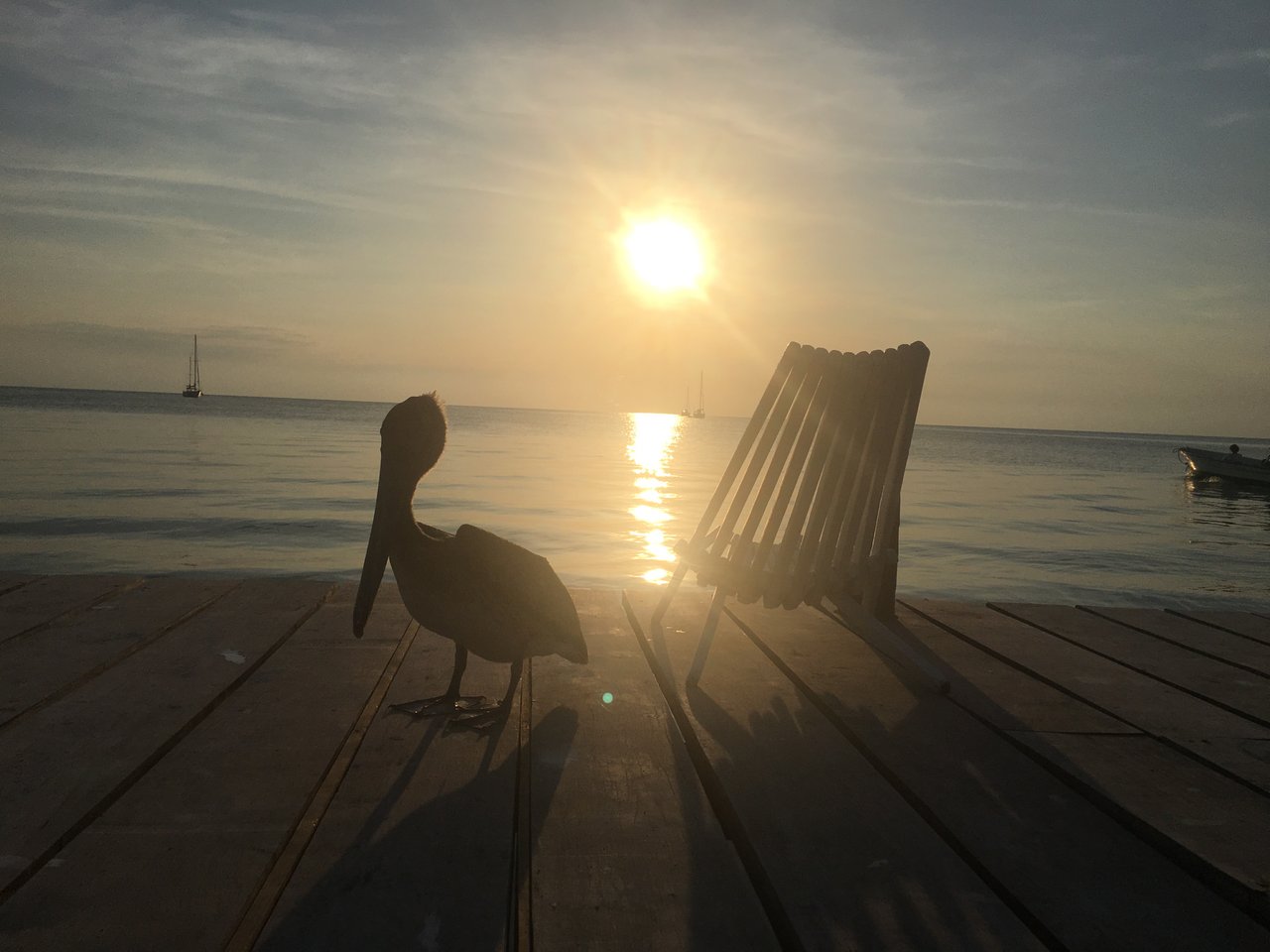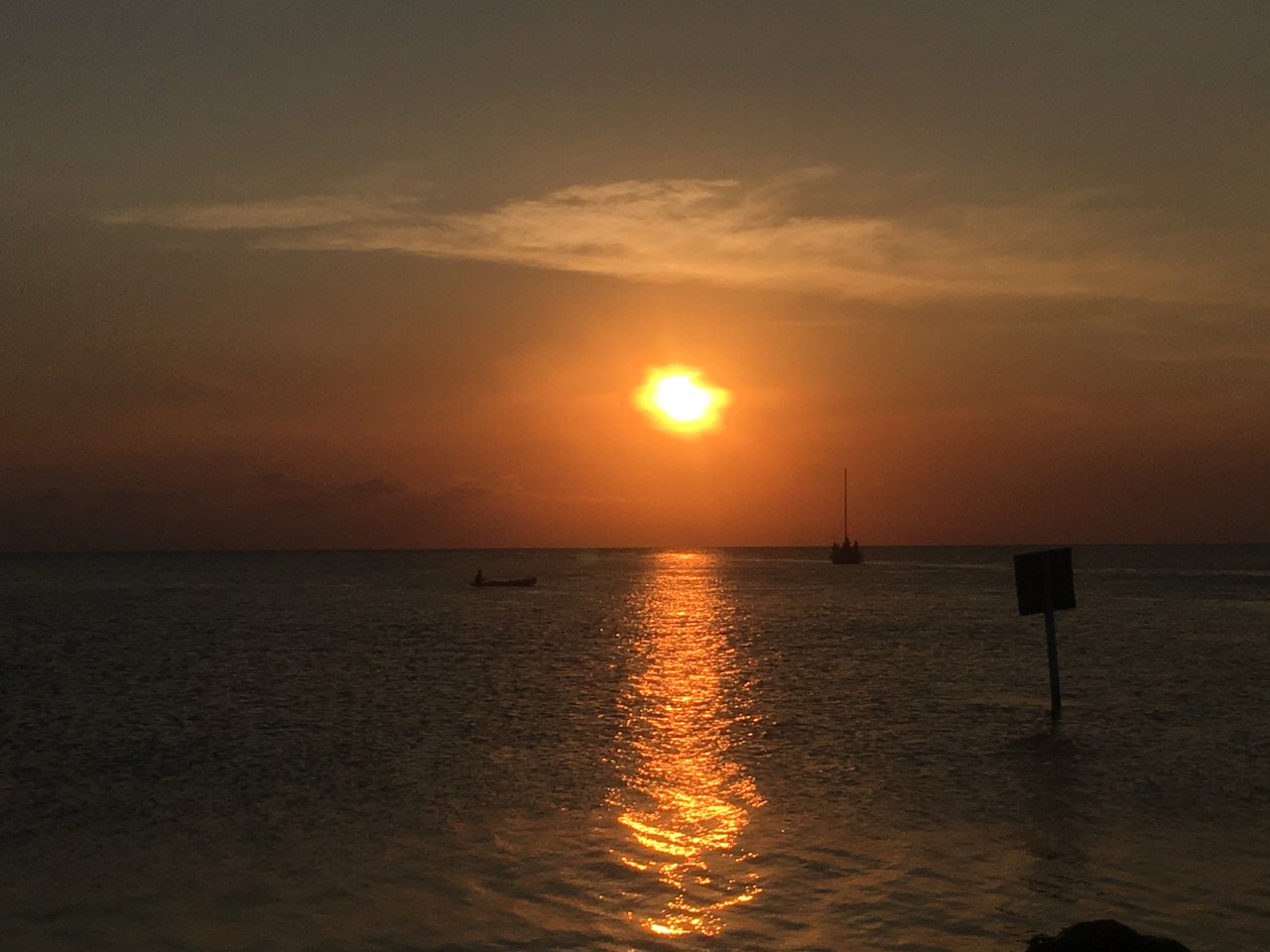 I just love the vibe here on the Island! Everybody is thinking sustainable, is relaxed and super nice! And the Sunsets are incredible!!
We left the boat at Split and had a few Drinks enjoying the sunset for a little bit longer. - Then we went to sleep to recharge our battery over night and be ready for my first PADI lesson the next day, but more about that soon so stay tuned ;)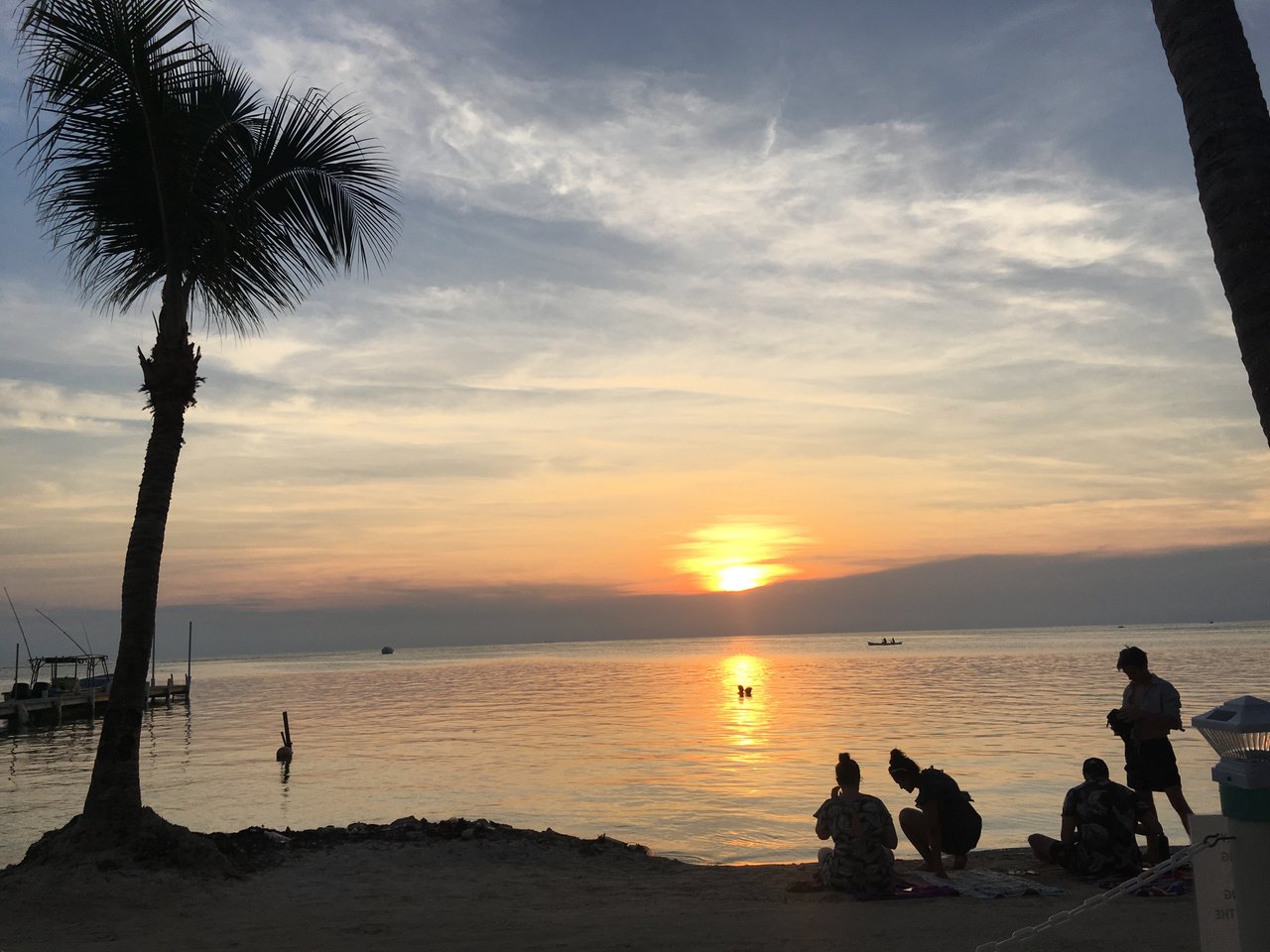 Cheers,
Liz