Patriot hates plagiarism, is he's often commenting on what he thinks should be done with them.
I tell him his ideas wouldn't be very good though , not because I disagree with him , but I do have to do most of the cleaning up around here...
How the hell would do you get eyeballs out of the light fittings without a ladder, for example?
His ideas are just not 'cleaner friendly', which makes him a bit of a selfish bastard, if you think about it.
Although- in fairness- the blowtorch action he suggests would actually avoid any pubic hair clogging up the plug holes, I suppose, so he has his good points in his own way...
How the hell did I get here...?
Plagiarism, oh yes.
...He's asleep, you see - so I'm stealing his work and posting it on here, and claiming it as my own.
I've deleted it off his computer, so technically speaking it doesn't exist there anymore - so I could hardly be blamed for plagiarism, now could I?
He'll never get the pliers and bleach out on me, though - he loves me too much, so I'm safe.
He also knows that it would mean that he'd have to do all the cleaning up ...and that makes me pretty untouchable.
(And the fact that I'd beat the shit out of him, and turn him every shade of black and blue imaginable..so that might count for something to ....)
So basically - fuck him, I've got the goods, and he hasn't ... in more ways than one.
So please enjoy patriots art work of us my work.... (ok, the blue girl is not original, but it has been played with, and it's just like me ...)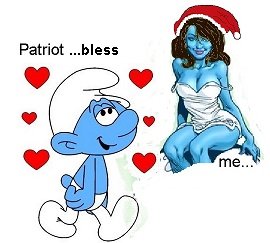 I nominate @arbitrarykitten and @shepz1