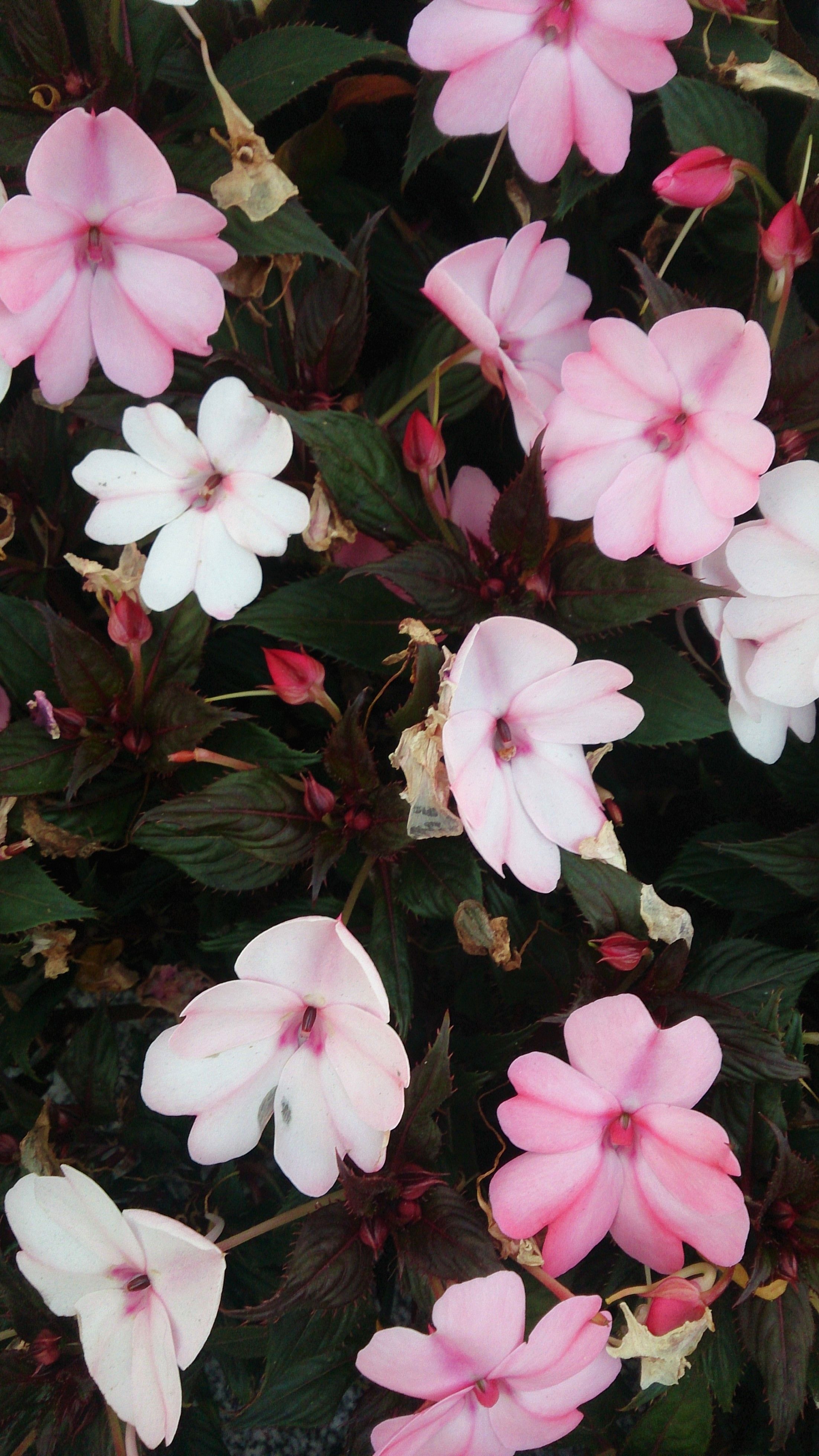 I'd like to offer a few of my thoughts on the current state of the market. The above photograph is of an Impatiens cultivar with pinkish white flowers and red-veined leaves. I took this photo back in the summer, and I've been trying to find the name of this exact cultivar since then, but still haven't had any success online. The genus, however, was already known to me, as it is a very popular ornamental plant.
The name Impatiens comes from Latin, and means the English word it resembles-- impatient. This is because the seedpods tend to burst when even gently touched. This helps the plant spread its seeds around the surrounding area.
I don't think I need to point out the analogy here. I've been very troubled, lately, by the extreme volatility of the market. At the time of writing this, BTC is just under 15k USD, SBD is at about $12, and STEEM is at about $1.75. Nevermind the peculiarity of BTC being apparently permanently bullish; the fact that SBD, which should be pegged to the US dollar, has gone up so much is baffling to me. I'm sure we all have our thoughts to say on the matter, but in hindsight I think it's easy to make any explanation sound like the correct one.
It's one thing to be making and curating content on here, but another entirely to try to predict the markets. I'm certainly inexperienced, but maybe I don't have the right temperament for it either. I get emotional. I get impatient. I am still learning, but each mistake I make is a costly one. I haven't done as poorly as some, but when considering how much better I would have fared simply by buying bitcoin and holding it over the past few months... it makes me feel quite embarrassed.
What I do believe in, of course, is the potential for more growth. I'm sure that's the reason why all of us are here in the first place, but when the prices fluctuate so much on a day to day basis, it's sometimes easy to get swept up and forget about the bigger picture. Only 1% of day traders can consistently turn a profit. This is a statistic pulled not from cryptocurrency traders, but I imagine we can't be faring that much better.
I guess what I'm trying to say is, maybe it's alright if we relax a little. The volatility offered by these markets is, for sure, a fantastic playing ground for those who know how to maneuver their way around, and if you're one of those people then I salute you and strongly admire what you do. But I think, for the rest of us, with the growth the way it is, even if we aren't able to jockey for a better position in the market, we can still climb our way steadily upwards just by being here and interacting with the community.
What do you guys think?
~Mel.