While thoughts are prayers are undoubtedly good things to add to any situation, especially a travesty such as the one in El Paso and then followed up at the Gilroy Garlic Festival in California, they are painfully inadequate during such a time as this. We don't have something "only thoughts and prayers" combined with a lack of systemic or mental changes can even begin to touch.
That's because we have an entrenched, systemic problem on our hands, one that has been with us since the establishment of what we call America. It's an epidemic of colonial proportions and it has to do with White European entitlement.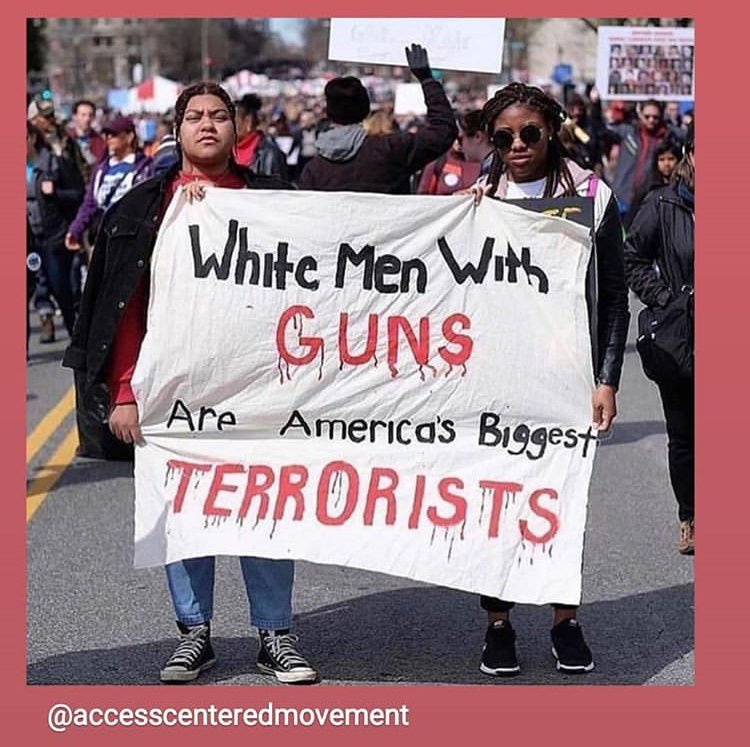 This land was not empty when Europeans came here, bringing their weapons, diseases and colonial mindsets. It was in fact inhabited, and had been inhabited for 10s of thousands of years, by indigenous people. It is ironic that Europeans seeking freedom from a tyrannical English rule and religious persecutions came to the land currently known as America and took part in widespread genocidal efforts to dominate this land and wipe out any presence of the indigenous peoples who lived here. They did so under the guise of wiping out "the evil and inferior indigenous peoples to establish colonial White European rule." They dehumanized the indigenous people to make their colonization & cultural control of the continent ok. We see this intent even in the words of previous President Thomas Jefferson,
"However our present interests may restrain us within our own limits, it is impossible not to look forward to distant times, when our rapid multiplication will expand itself beyond those limits and cover the whole northern, if not southern continent, with a people speaking the same language, governed in similar form by similar laws." Quote taken from An Indigenous People's History of the United States by Roxanne Dunbar-Ortiz
Now we see mass shooters who are citing fears of "White Genocide" in their manifestos.
The shooter at El Paso, who I will not glorify by naming, cited the New Zealand Mosque shooter as inspiration. For people who think that these are disconnected, not racially motivated attacks, realize that that couldn't be farther than the truth. In both of these manifestos, the white men make articulate though disgusting claims that their intention is to kill "the invaders"- in these cases Mexican, Muslim and Jewish people who are attempting to "take over this country".
To be brief but clear about the ideology, the main concerns I read from their manifestos are a fear of the disappearance of White European culture. That America is for and by White Europeans and that they fear the loss, disappearance and "take over" by "invaders" - namely people who come from other countries who are not white Europeans who, and this is a main fear, will slowly but surely genetically, culturally, economically replace White people.
In response to this invasion, there is a growing subset of the population seeking to wipe out these people, threaten and scare them into "going back where they came from" and they are also seeking to destabilize our country to a point of Civil War. Through these mass murders, they are hoping to inspire others to also take part in mass killings and inspire a governmental crack down on weapon sales in America. At this point, their theory is that Americans (ever-tied to their guns) will reach a critical mass in rebelling agains the government inciting a Civil War. In their memes, on 8chan, discord groups, twitter, etc, they refer to this as process as "Acceleration".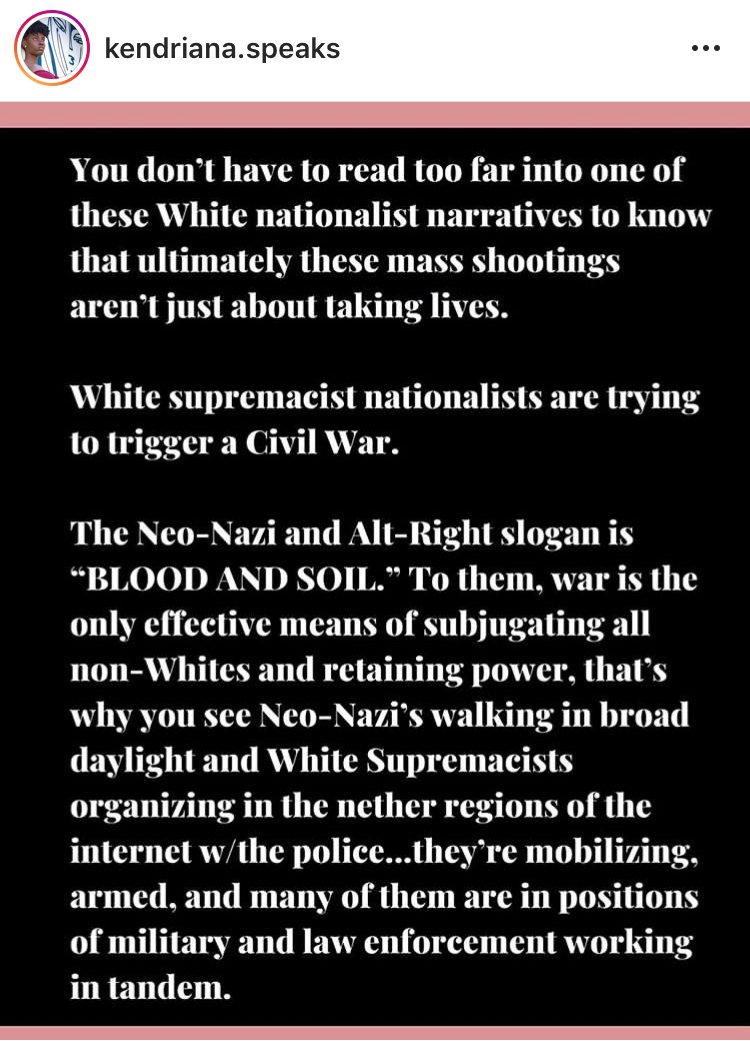 Source: @kendriana.speaks on Instagram
I write all of this to clearly distill the information I have gathered (even though it makes me sick to my stomach) because I think a huge problem we have is that we minimize these mass shootings, incorrectly labeling them a symptom of "mental illness" instead of rightly calling it what it is which is a White Supremacist/Ethno-Nationalist Uprising. Through these shootings they are gaining momentum and we need to understand what they are about to be able to even begin to face what we are really up against... to clearly see what is happening. It is not mental illness, it is White Supremacy.
I think the "thoughts and prayers" & silencing that usually accompany these shootings are keeping us in denial about the true threat facing this country and that is the escalation of violent racist actions by White Men (but certainly upheld also by White Women and the White Family) that hold these beliefs. White European culture has an unchecked history of violence within the United States. As mentioned previously, it is how this country was founded through the genocide of Indigenous peoples and it lives on through the actions of these men that are entitled, wanting total power and control of the evolution of the United States.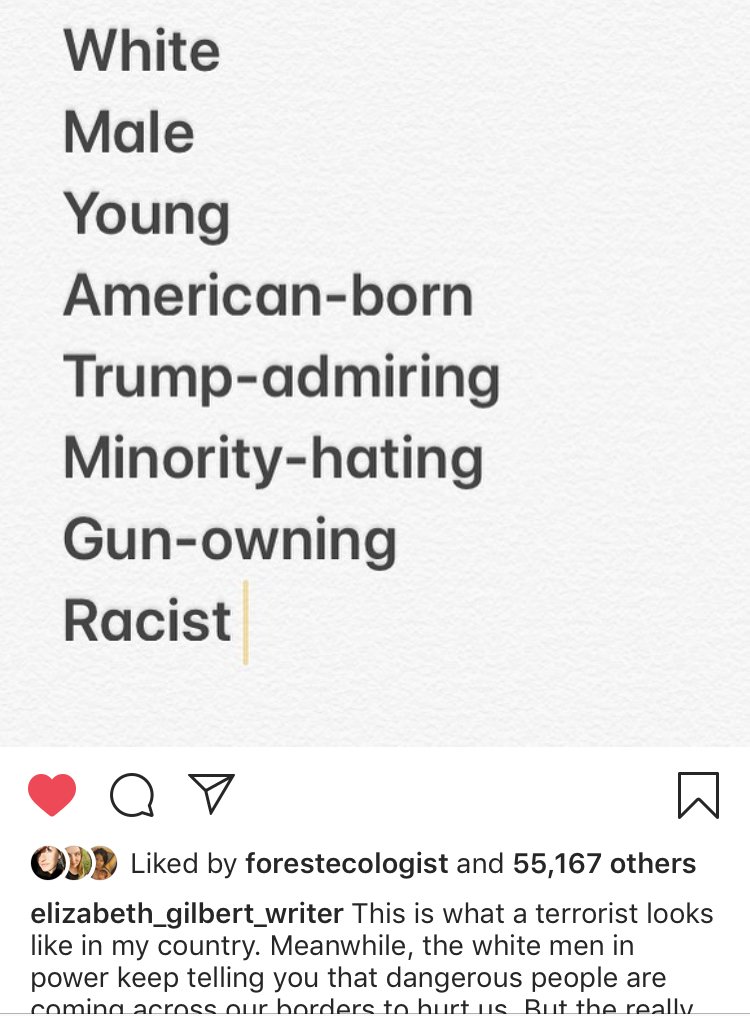 Source: @elizabeth_gilbert_writer on Instagram (same for the following comment slides)
Commonly when people make statements calling out White Men, there are a lot of people who race to say "not all men". Writer Elizabeth Gilbert shared a true meme on her Instagram page only to have countless White Mothers say - "Not My White Son, I am offended by this generalization." Luckily many people stepped into the comments to provide insight into why we don't need to defend ourselves as White People- we need to in fact step up and keep the conversation going. I'll provide a few examples for clarity. Also realize that if you are having a similar reaction thinking I am saying "All White Men" know that if you (or your husband, sons, etc) are not aligned with these racial ideologies, plain and simple, I AM NOT TALKING ABOUT YOU. Set aside the defense for a second and hear that we have a very serious problem with some White Men right now and that this problem is a very old insidious one that we must face!!!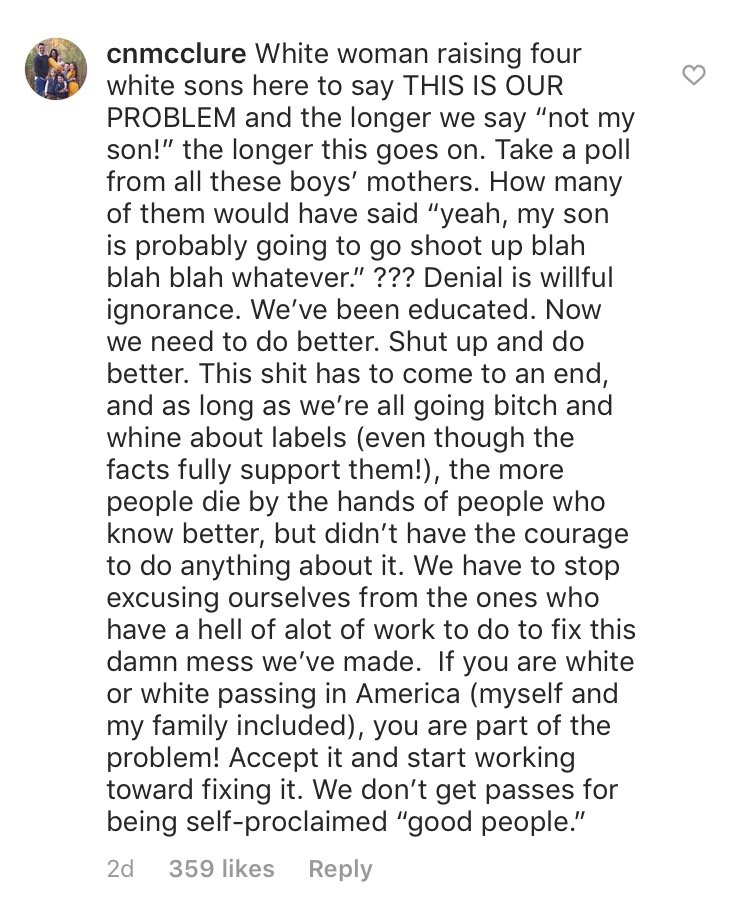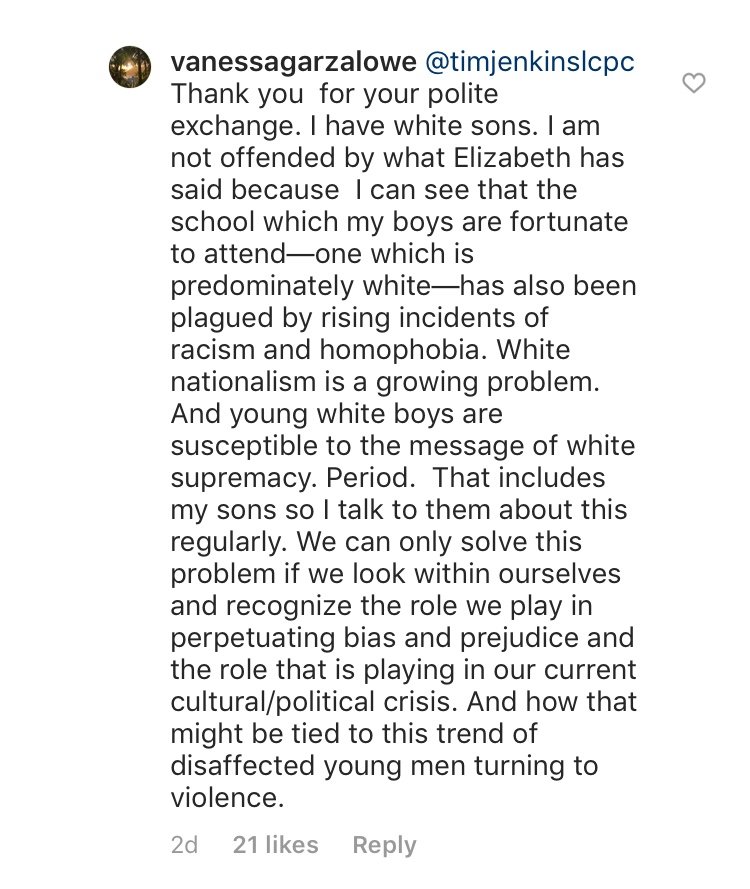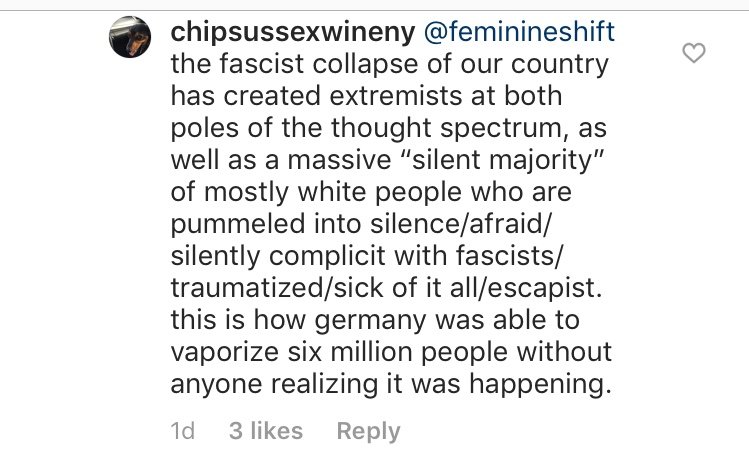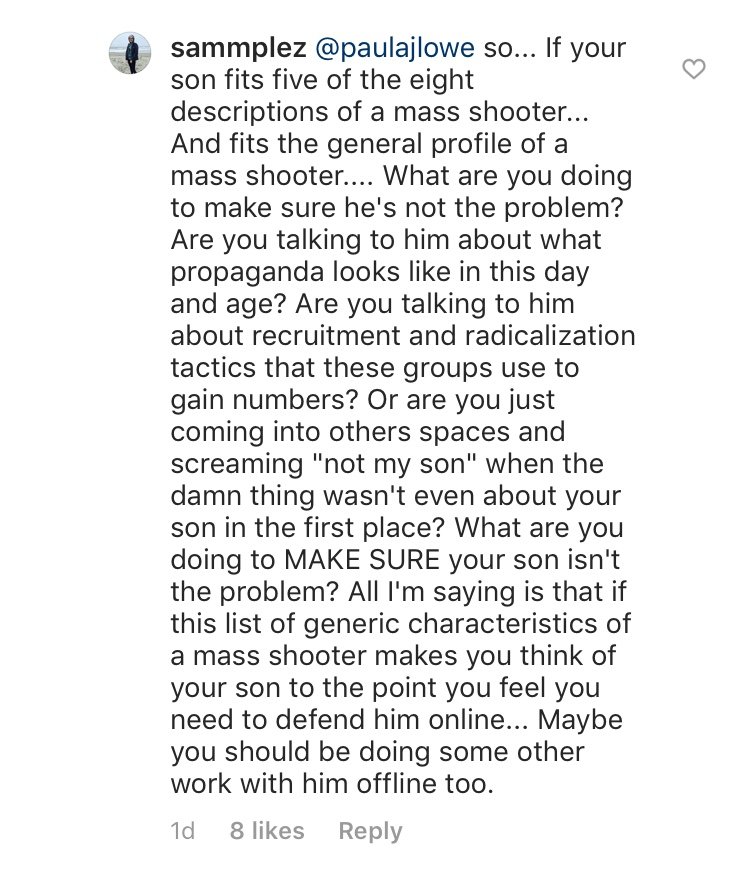 The fact is that if we don't start looking at this, shining a light on it, being aware about it, who will? We have for too long put the burden of toxic Whiteness onto people of color and people facing the impacts of racism. It is time for us indeed to step up, break through the taboos about talking about race, and create dialogue.
I personally am not a white person afraid for "pure white bloodlines" to be phased out. I am not afraid for our country to continue getting more diverse. In contrast to what the shooters talked about in their manifestos (about diversity being a weakness), I see diversity as a strength and I don't believe other cultures are seeking to wipe out White People or White Culture. I have no allegiance to White Culture. Many of these White Nationalists are separatists, truly hating people different from them or in the least promoting segregation. What is interesting is that there are some people raised in White Supremacy who change their ways as they go out into the world and meet people who are black and brown, different than them, practicing other religions, and from other cultures. Sadly, on the other hand, many White Supremacist groups are targeting colleges with a "We are Pro-European, Pro-White Framework" (instead of the more blatant anti-other cultures/religions/races previous rhetoric) and we really need to be conscious that many young college-aged males are vulnerable to this rhetoric.
Notice that nowhere in this article did I bring up Conservatives or Liberals (Republicans or Democrats). For anyone trying to reduce the argument down to this type of stereotyping, look deeper. This is not a Republican or Democratic issue. In fact, though the shooters referenced Trump saying that he was "the closest they've come to having one of themselves in office", they also mocked him and didn't ally themselves with the binary political framework. This is not a political issue as much as it is a racial issue that runs deep into this country's core.
While I am a believer in amping up love in instances like this, I also don't think we can solely be "love and light" right now. Alongside prayers, we need to take a good look at the foundation of this nation which was founded on "might makes right" and question the current powers of silence & writing this away as "another mentally ill white guy." This is an act of racial terrorism and it's not going to go away anytime soon. We can slow them down by taking away 8chan and we can pretend it isn't happening, but there will be more shootings as the violent rhetoric amps up, as the cries for "Acceleration" are fulfilled.
We need to have more conversations about race- not less and we need to uncover the fear underlying these hate crimes which is White Men's fears that they will be subjected to the same cultural and racial genocide they have enacted on people groups throughout time. Many of them refer to it as The Great Replacement and it is this which they are fighting against.
White men, you who have held so much of the power in this country since it became called the United States of America, this is an inevitable evolution of humanity. There is nothing you can do to stop immigration, cultural blending, other people groups from having children and living happy lives. Your fight is futile, your rhetoric tired and washed out. You will not win this fight you seek to put our country through. You will not get a chance at this Civil War of which you speak. Your love of your own European blood is founded on the hate & exclusion of other blood heritages.
The time for the divisiveness of hate is over. Take a step back. We know any perceived loss of power (because you have held it for allllllll of these years) must feel like the biggest slight, but it is only things righting themselves for you held that power unjustly & violently at the sake of all other beings. Perhaps you have a reason to fear the "flip side" of what you have enacted on these people groups for so long. Face the inevitable equalizing of America which could have happened from the beginning if White People didn't see the Indigenous peoples of America as evil & inferior from the get-go. You have every right to hide yourselves away somewhere with your "Pro-European beliefs", but you don't have the right to inflict hate crimes and mass murders on people fueled by hate. That's not my America.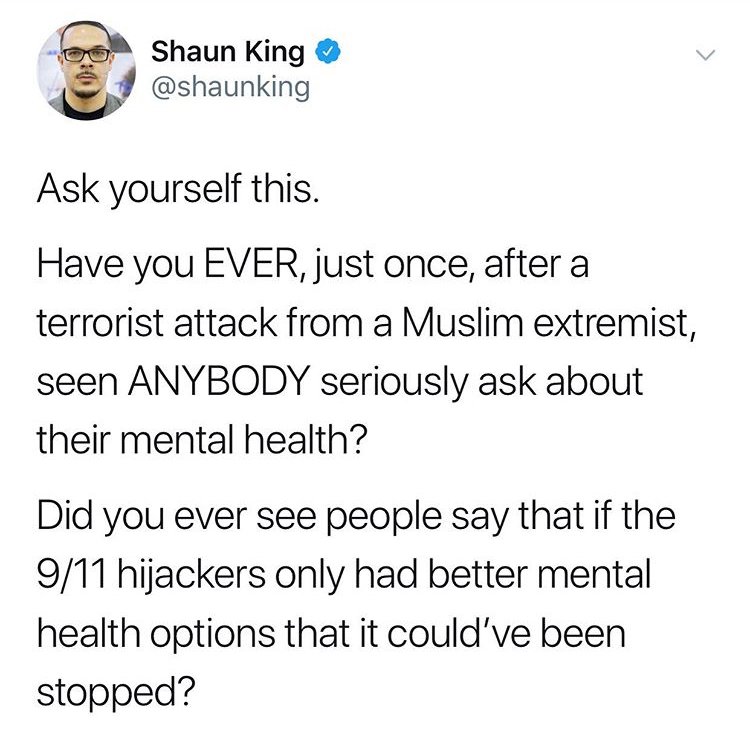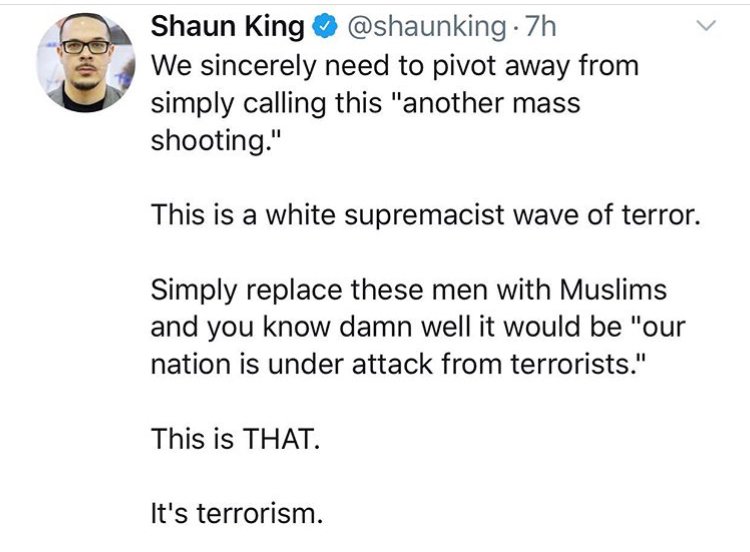 Source: Instagram of @shaunking