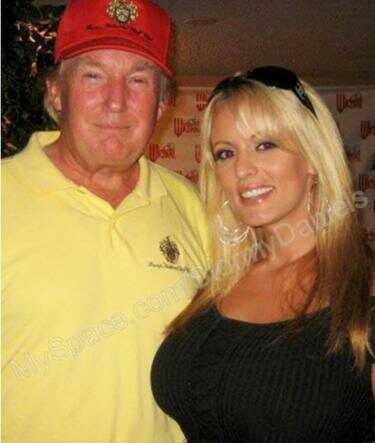 Stormy Daniels with Donald TrumpImage STORMY DANIELS
Image
Stormy Daniels says she had sex with Mr Trump at a Lake Tahoe hotel in 2006
US President Donald Trump has said his new lawyer will "get his facts straight" about a legal case involving claims of an affair with a porn star.
Rudy Giuliani this week contradicted Mr Trump's statements distancing himself from hush money that was paid to adult film actress Stormy Daniels.
At the White House, Mr Trump said Mr Giuliani was new to the job and "wasn't familiar with everything".
He did not specify what he thought his new attorney had got wrong.
The conflicting statements in the Stormy Daniels saga
Stormy Daniels sues Trump over 'defamatory' tweet
Mr Giuliani later released a statement "intended to clarify" his remarks.
As he left the White House on Friday, Mr Trump told reporters when asked about his new attorney: "He started yesterday. He'll get his facts straight."
Before boarding Air Force One, he told reporters that Mr Giuliani, a former New York City mayor, is "a special guy".
"I will tell you this, when Rudy made the statement, Rudy's great, but Rudy had just started, and he wasn't totally familiar with everything," the Republican president added.
Media On 5 April Donald Trump said "I don't know" about a payment to Stormy Daniels
Pressed on his shifting statements regarding the payment to Ms Daniels, Mr Trump said: "We're not changing any stories."
He then flew off to the National Rifle Association annual meeting in Dallas, Texas, where he and Vice-President Mike Pence are speaking.
In Mr Giuliani's subsequent statement on Friday, he said: "The payment was made to resolve a personal and false allegation in order to protect the President's family.
"It would have been done in any event, whether he was a candidate or not."
He added: "My references to timing were not describing my understanding of the President's knowledge, but instead, my understanding of these matters."
The president and the porn star: Why this matters
The big question at heart of Stormy Daniels saga
In a blitz of media interviews this week, Mr Giuliani addressed the $130,000 (£96,000) paid to Ms Daniels under a non-disclosure agreement.
The former federal prosecutor told Fox News that Mr Trump had reimbursed his other attorney, Michael Cohen, for the pay-off.
Just last month, the president told reporters he had been unaware of Mr Cohen's payment to Ms Daniels, and did not know where the money came from.
Following Mr Giuliani's remarks, Mr Trump posted several tweets on Thursday morning about the matter.
The president said that Ms Daniels was not given money from election campaign funds.
Mr Trump also asserted the transaction was aimed at stopping "false and extortionist accusations" by Ms Daniels of an affair.
The payment to Ms Daniels - just before the 2016 presidential election - is a potential legal problem for the president because it could be seen as an illegal campaign contribution.
Media Stormy Daniels: "I was threatened"
In his statement on Friday, Mr Giuliani began by saying: "There is no campaign violation."
FBI agents last month raided Mr Cohen's home and office, seizing a number of files.
M Trump's longtime personal attorney initially denied to reporters that any money had changed hands, but in February he admitted making the payment.
Ms Daniels, real name Stephanie Clifford, says she had sex with Mr Trump at a Lake Tahoe hotel in 2006, a year after his marriage to Melania Trump.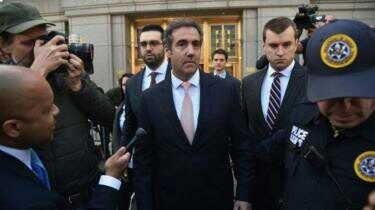 Michael Cohen is reportedly under criminal investigation for potential campaign finance violations, bank fraud and wire fraud
Mr Giuliani has said he is the president's new chief counsel in a Department of Justice inquiry into whether Trump campaign officials colluded with Russians before the 2016 election.
Meanwhile, a judge on Friday rebuked investigators of special counsel Robert Mueller, who is leading the inquiry into Mr Trump.
Lawyers for the president's former campaign chairman, Paul Manafort, were in a Virginia court in an attempt to dismiss charges of bank fraud brought by the special counsel.
District Judge TS Ellis warned that he would not grant "unfettered power" to Mr Mueller in order to pressure Mr Manafort to "sing".
"You really care about getting information Mr Manafort can give you that would reflect on Mr Trump and lead to his prosecution or impeachment," he told the prosecution.
As President Trump took to the NRA stage in Texas, he praised the remarks by the "highly respected judge".
"I've been saying that for a long time," said the president. "It's a witch hunt."
collected from
http://www.bbc.com/news/world-us-canada-44007320