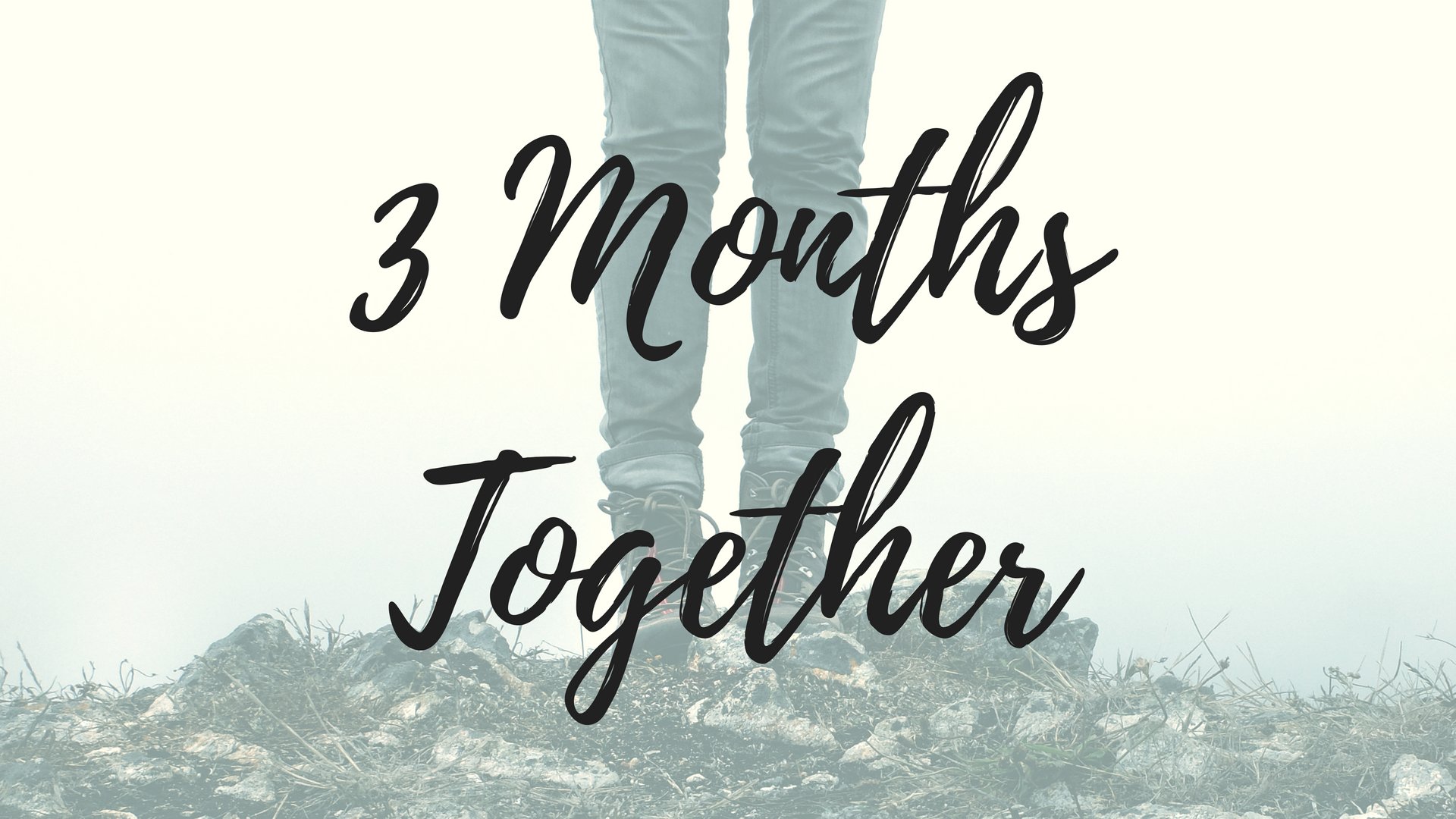 To make a 1 month to 3 month comparison, at 1 month my followers were 300 and was following around 1000 people. My rep was almost 50 as I closed in on one month, and I had powered up a little bit. At 3 months now exactly, I have 925 followers and I'm following around 1200 people — many of the same and a couple hundred more. My rep is almost 55. And my SP has doubled at least. I should probably note here, my own SP is about 124~ — this will help me look back later.
I've stifled myself a little because I chose to delegate outward also. I've thought about pulling some of this back at the advice of some friends who think I should mostly focus on getting to be a real Minnow or Dolphin before being too kind too soon. I admit I'm faced with moral dilemma upon moral dilemma trying to grasp and meet the various social and financial expectations of all the friendships I'm making, while living up to my own aspirations.
Growing my account was part of my 2018 Goals. Other goals are on par as well. One I fell back on a bit was photomapping my area. Getting my bike fixed is setting me back some so I'm working hard. And now the weather is nicer so I'm hoping to get back to that.
I've failed at posting as much as I'd like. I wonder what's "too much" posting. I appreciate the autovotes and that a lot of people have subscribed to trailing me and autovoting me. I don't even know if I hold back or I just don't have anything to hold back sometimes. I've thought about using Golos more (I signed up, same username) and getting a little more niche in certain ways.
Looking back on my Introduce Myself page, I wish I could have a "do-over" on that as well. What's nice to see is that there's several dozen people who've for the most part, stuck by me for the ride. Sometimes I feel like my current followers weren't really there to see where I'm starting from. I wonder what that might amount to a year from now.
---
Account Growth
If I was coin, would you invest in me? That's my slogan haha jk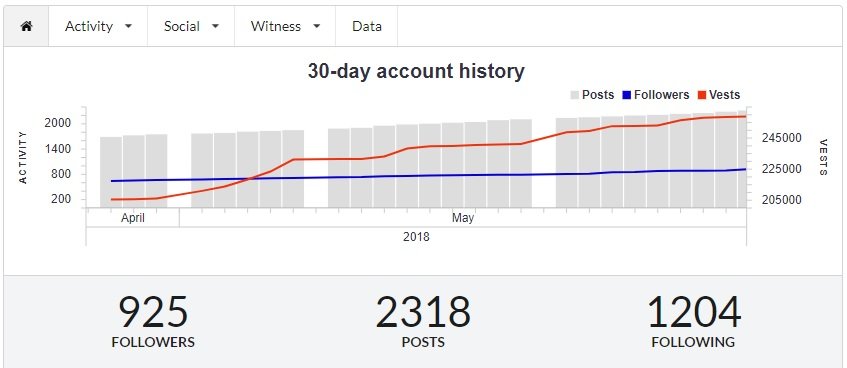 Word Cloud
It seems I use a lot of the heart emoji. Lol.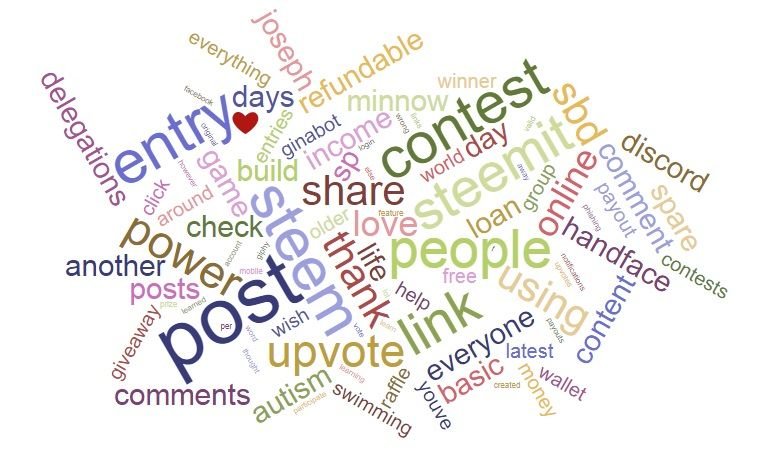 Steem Sincerity
Illuminati Confirmed?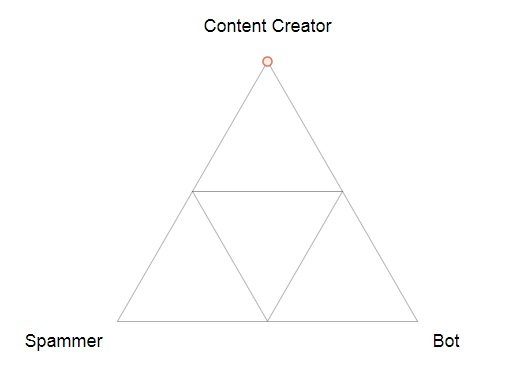 Curation and Engagement Leagues
Info on that here. I joined mostly because of the metrics. I don't win anything because of my naughty behaviors. I don't deal with group 1 because I'm not maxing rewards and I have a delegation. Group 2 helps me stay accountable as far as my personal engagement goals.
I'm going to have to learn to get my own data one day like they do. In the meantime, I'm so thankful that folks like @firedream, @abh12345, @paulag, @jesta and others are always crunching numbers. ♥️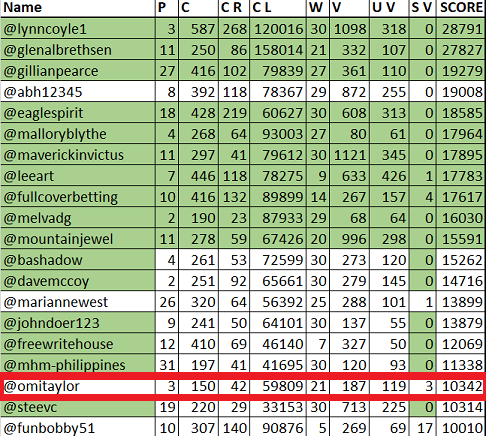 ---
What's Going On?
I turned 41 on May 24th. I colored my hair from Auburn (natural) to Blonde (April) to Black (May.) This is so girly but hey it's a way I let some of my creativity leak out. I got my first GREY single solitary hair. I was against coloring it, so I plucked it out and kept it. I'm weird like that. Aging is something I've never confronted before actually seeing something like that. It's funny how we can confront the fear of so many things, including death, and yet the idea of slow aging is another whole mind-fuck. So while I'm not yet at a point of a mid-life crisis, lol, I've accepted this is a marker in my journey — kind of like when the US signed away it's gold and you know inflation is inevitable. I guess I should stop eating potato chips at some point.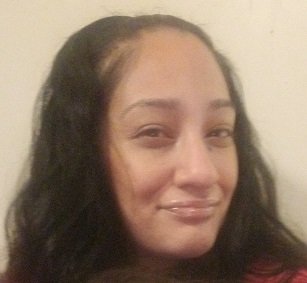 I won a Steem Mug
This was a fun contest held by @tecnosgirl. See post here. She holds some awesome contests on her page for cool Steem Swag.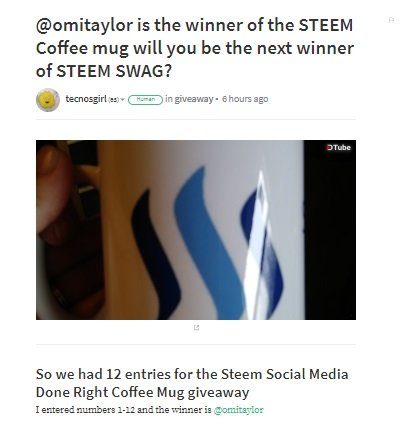 I really love this contest and hope to participate more soon, as well as, relaunch a better #Handface contest. I really enjoy making games for @newbiegames. My time and account are spread thin right now so I've not been able to make as many games in awhile. But it's truly something I enjoy. The winning post for that #GooglyPrize is here.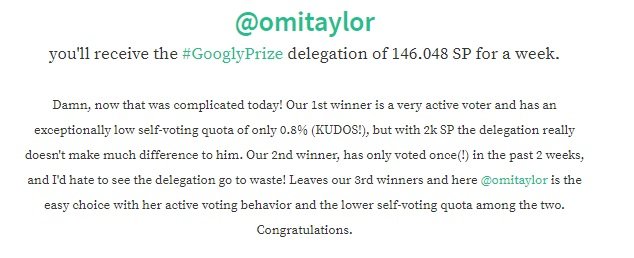 I won @Simplymike "Protect From Phishing" Contest
The winning post I wrote is here and her Winner Announcement is here.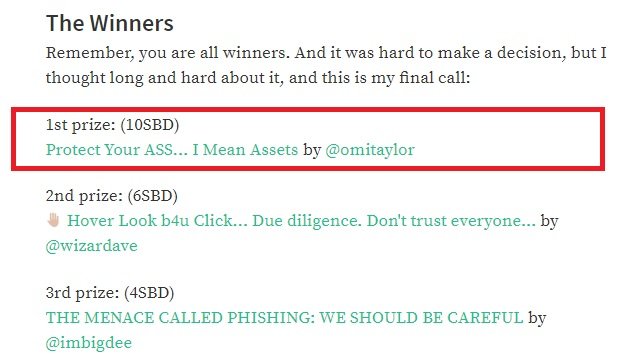 @asapers featured this post too!
What was strange was I was't even part of A.S.A.P.E.R.S. but somehow they found me. The post they featured this article in is here. They do a lot to curate undervalued content on Steem. If you like regular digests of variety of content, they're really dedicated to their cause.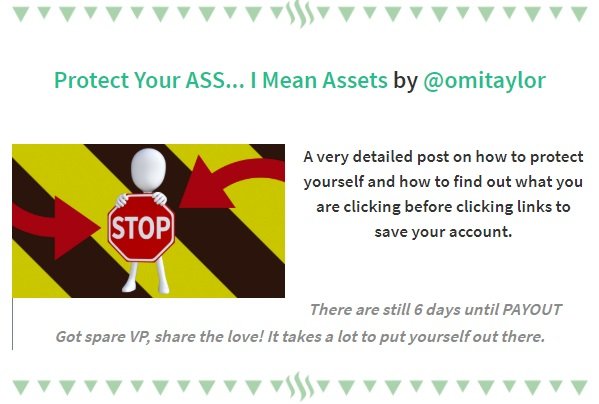 I won a 500SP delegation from @SMG
There's no post to show the process of winning but here is the post where I announced this.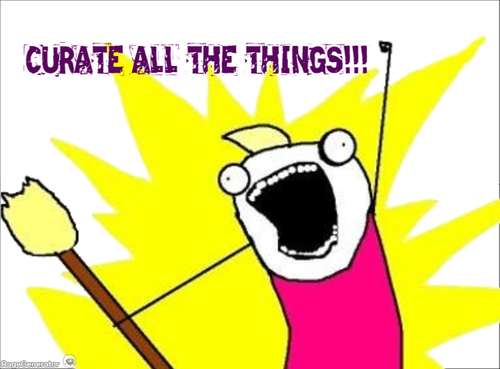 Made with rage generator
I was also featured in the Curie Author Showcase (April 13th, 2018). This was for Breaking The Silence: An Autism Journey Part 1. I'm still writing Part 2. Thank you to @andywong31 for choosing my post for consideration. It was this post that @meno invited me to join @helpie.♥️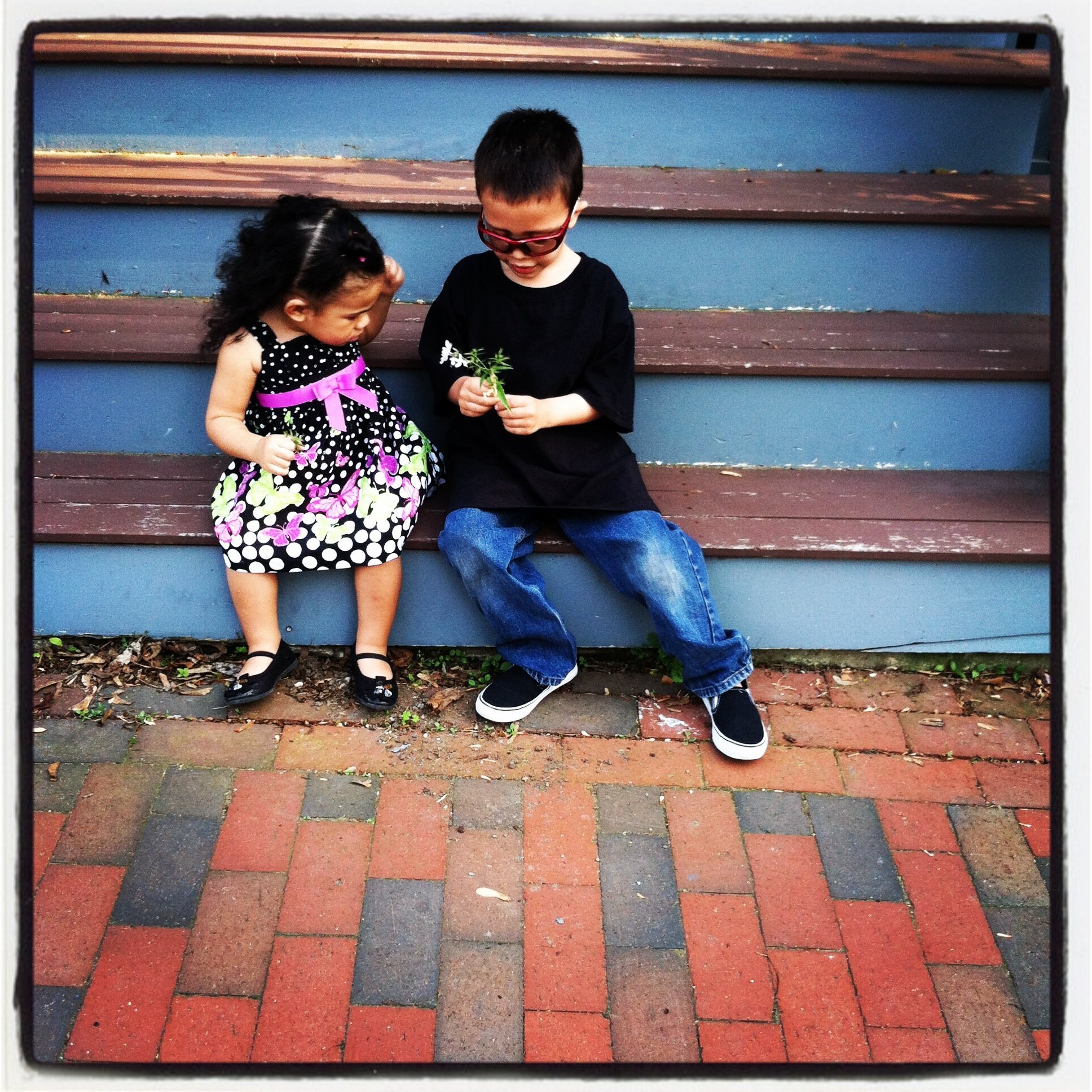 Sneaky. Hm. Guest curator @tcpolymath gave me some love by curating my announcement of my web magazine project. The post is here. I'm so thankful to have this project noticed. It and #steemtipathon have called to me.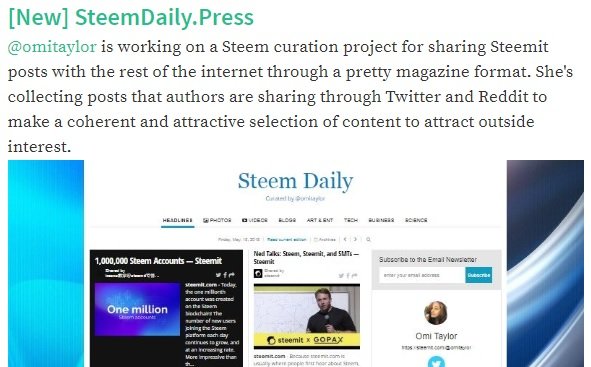 4/7
4/12
4/14
5/11
and more...
Nice bit of acknowledgement here and he always includes me in his roundups of those actively promoting Steem on social media and on the web. I think this was kind because I've been trying to get some support from #promo-steem for my efforts on the SteemDaily and SteemTipathon. So it was nice that he acknowledged my activity on Twitter.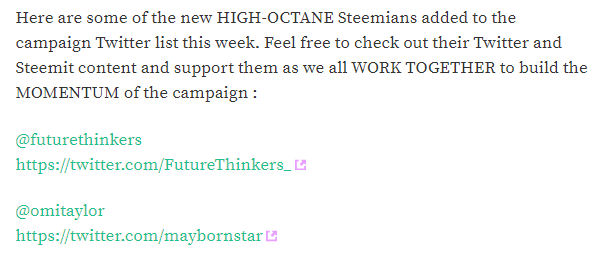 I would have to list every post to thank @resteemable crew enough for simply resteeming me all the time. I never asked them to do it and stopped doing the Re: thing awhile back. They just look out for my content and I really appreciate that.
Ongoing Delegations
Please consider following and voting for @meno, @novacadian, and @gpalav for their ongoing faith in me.
---
What I'm Doing
Steem Daily Press Presentation explains about steemdaily.press in more detail. It's all in pictures so it's easy to grab the gist of it.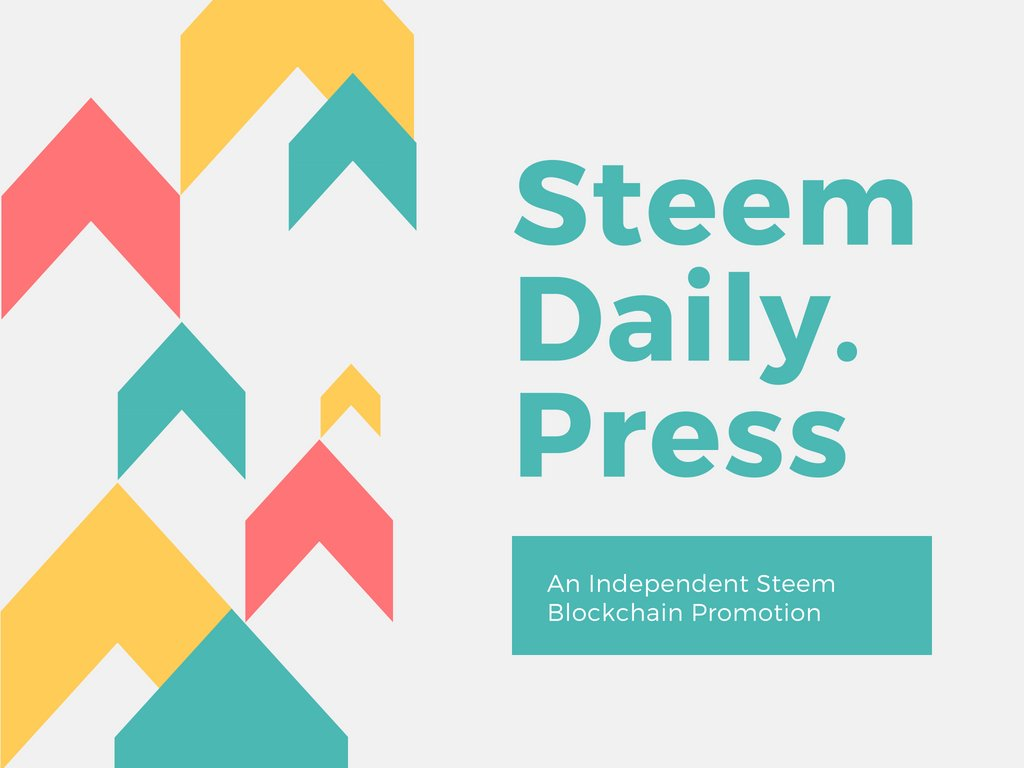 #STEEMTIPATHON is a Social Media Onboarding Campaign /slash/ Music Show. You can read more about it here It's a work in progress..

@steemitkids — This concept logo was put together by @nasirparwaz and if you need a logo, he's available for hire.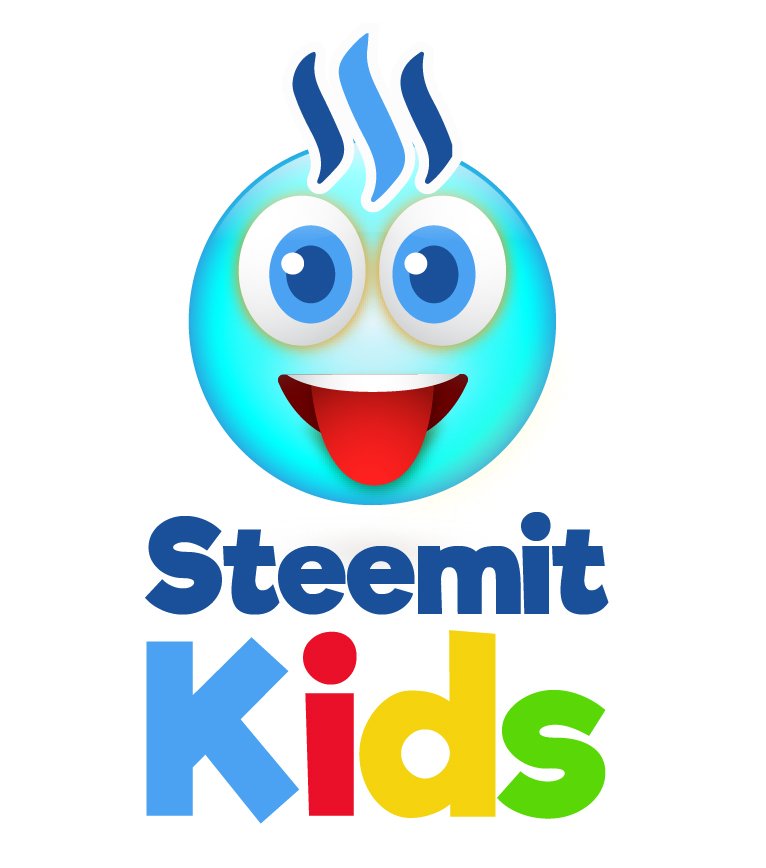 After drafting this, I found out someone already came up with the blue emoji idea. They kind of went off Steemit though so Idk how to reach them. So I may change this. But basically, my kids want me to upload their twitch to dlive. So that will be their piggy bank. I'm welcoming them to grow into mini dolphins with mommy and become Steem influencers. Since they can't use Steemit, we're using Wordpress and I'm being the middleman for the Steemside.
@steemthemer — My sister doesn't want any credit for this. But it's a dual thing. She'll sign up, don't worry. Working on this along with a layout for @darrenclaxton and possible ways of using Steemit and Steempay to sell music on Steem and offSteem for Steem. Hm... mad scientists. @atomcollector also had us interested in pull requests of condenser to see if anything can be done to broaden the embedded media options on various interfaces. Experimental. No promises.

An Onboarding Platform. This is somewhat complicated to explain. I use @steemtipper from @followbtcnews / @crimsonclad as a core part of #steemtipathon. This distributes steem off the blockchain to prospective users. Solving for the problem with getting people pre-educated without overwhelm, onboarded successfully, invested in themselves and others, and having a successful first month is the focus of the platform. It will make more sense when I have an Alpha version running.

I'm in 50+ Discords including Steemers, Witness Communication Assembly, Helpie, SMG, Steem Community Coalition, Asapers, SUPA (Steemits Unbreakable Parents of Autism), Hip Hop The Blockchain and many others; also moderating passively several of these.
And more things to announce. But one foot in front of the other.
I have met many wonderful people this past few months. Some in person and many online. Too many to name. And I think this post is long enough right now. But I owe many a manual curation post. So perhaps I'll highlight them as I go.
---
If you don't use all your Steem Power every day and you wish it not to go to waste, I will use it wisely.
Would you like to 🍵 Buy Me A Coffee? 🍵 <<< How cool is that? ;)
---
⏱️ If this post is past payout, please do not upvote it.
Instead, please upvote my latest post instead.
---
More Post By Me...
If you're not following, you can see older posts and more at https://steemit.com/@omitaylor