Dear Steemers,
I wish to keep this simple.
To write quickly and effectively, you will find hundreds of tips and techniques. There are even thousands of books written around it.
And if you ask any blogger or writer, you will be surrounded with more ideas. They may tell you to walk out of your room. Or listen to some good music.
Maybe go back to your living room.
Take a deep breath.
Even run.
Or jump.
These are not universal solutions. They may or may not work for you. Not all of them are doable. Personally, I couldn't continue with them every time I sat down to write.
My way of writing has evolved.
Perhaps that is why, in the past couple of years, I have published well over 3000 plus articles. And now I am writing 5000+ words each and every day.
Right now, I am writing this post from here: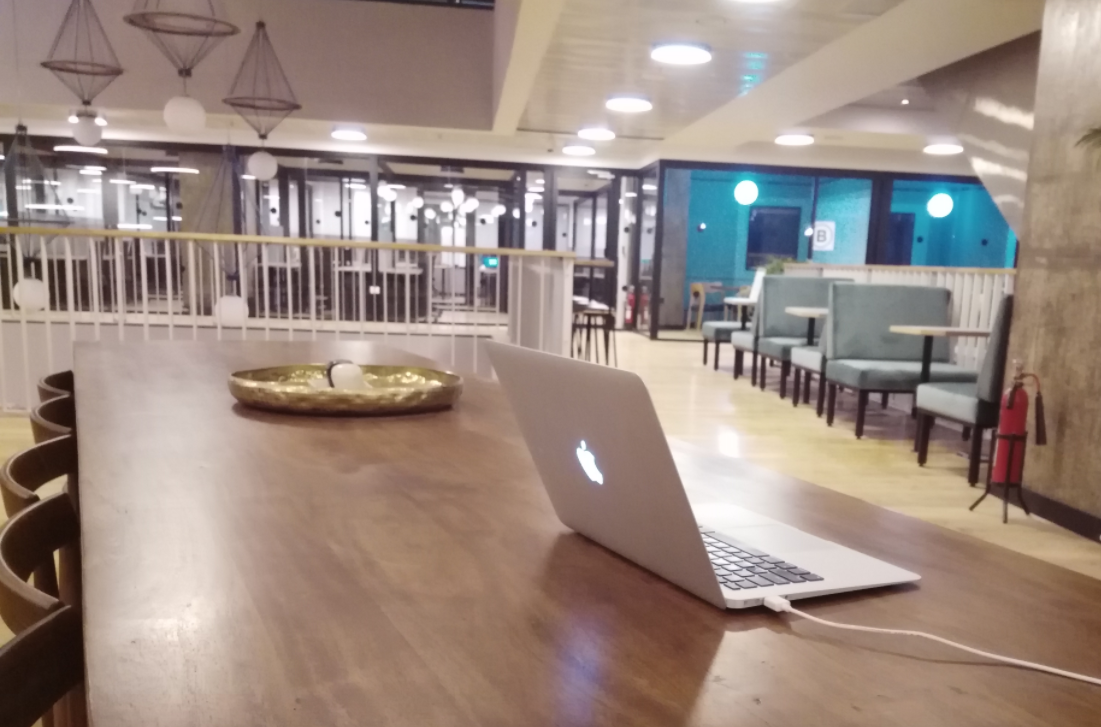 Fact is: I can do it from anywhere.
Maybe because writing is my life. It is my business. It is what I do for a living. And it is what puts dollars into my bank account.
---

---
I was never a writer. I never started that way.
I have no degree in journalism. No one to guide. No mentor. And no formal education in writing anything.
I remember how every day, after coming back home from college, my favorite hobby was to read books on grammar.
Then I would write paragraphs after paragraphs.
This fun task is my profession now. Which means every word you are reading has to be carefully chosen. I pick them out of my mind and put them here.
Then, after selecting these words, I have to decide its placement. I have to think of the best possible way to place them. I have to add what is important. And drop what is not.
My next task is to shape these words into meaningful sentences.
Here I have to stop and think.
Because I am creating several sentences, I have to place them next to each other like I did with those words. I have to do it wisely. And when that happens, thoughts are formed.
You can already see how this works.
To repeat:
First, I carefully pick words carrying weight. Then I put them together to form a sentence. I then create a stream of sentences.
These stream of sentences contain thoughts.
Wrapped inside these thoughts is a message you must accept. And if this message is simple and clear to understand, not only will you accept... but you will also remember it for the rest of your life.
When you think about it, you are following a logical process. You are going from words to sentences to thoughts and messages.
In fact, by tweaking this same process, let us see how we can write quickly and easily. Let us see how you can boost your productivity. And how you can kill your writer's block almost immediately.
It is what I have discovered in my writing journey. And it has helped me write well over 500... 1000 and even 10,000 words a day.
My feeling is that you will find this useful in your own journey.
No need to walk. Run. Or jump.
In fact, this new and simple way works on the same principle we discussed just now... with a small change. Here, though, we:
---

---
So first, we begin by thinking of a message. We come up with a message that our readers desire. Here we research and think deeply.
We select one reader in our mind and ask:
What does my reader want?
Then we carefully pick a single important message we wish to convey. If you can, always pick a message that changes lives and touches soul.
Next, we take this dominant message and break it down into a series of logical thoughts. Once again, we ask:
How should I share this message with my reader?
Here we are creating thoughts. We take these thoughts, write them logically, separate them, and convert each one of them into a stream of sentences.
Now, once again, we stop and think.
Because, if you are new to this, you will have to practice. The more you do it, the easier it gets.
And then, as your final step, once you have these sentences, the next step is to construct them. You already know how to do it — by placing one word after another.
That's all there is.
This way of writing is incredibly powerful. Here you are transferring your message — your intention — your purpose — to your readers. And you are doing it all logically.
You are satisfying your readers' desire. Plus, as you know when to start and when to stop, you are increasing your output.
Just doing this will increase your productivity and make your posts valuable. You will be able to write quickly and effectively, and you will do it in a way that's far more easier than any of the techniques available out there.
Try it out next time and let me know.
Plus, it goes without saying, I have used the same technique to write this post. I hope you enjoyed reading it as much as I have enjoyed writing it.
Cheers,
Sid