Hey Everybody!!!!! Sorry, I'm a bit ecstatic right now……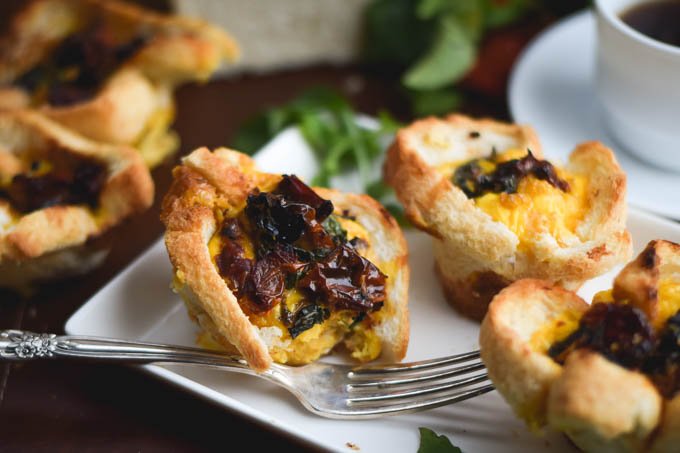 Credit it to a brilliant sunrise, my excitement for the coming warmer months after what feels like the longest Winter ever, (remember, for those who are following me at @gringalicious, you'll know that I live in the Southern Hemisphere and Spring is coming!) and probably one too many sips of the vanilla hazelnut coffee that I'm dangerously addicted to right now.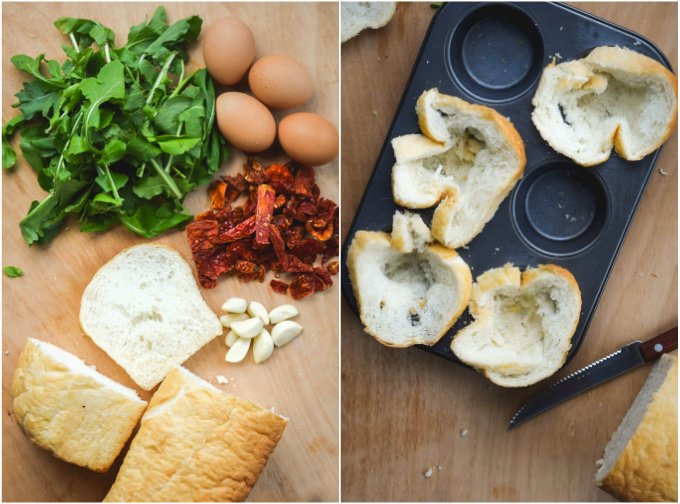 Can we take a quick pause for a moment while I joyfully scream to the world at the top of my lungs that Spring is upon us? Thanks. Okay, so I know that's not the case for all of you but hey, you guys have Fall coming and that's nice, right? It's crazy the difference that a bit more light everyday can make in your mood. I didn't realize how much more productive it makes me. I also didn't realize how much Winter has been harshing my mellow, killing my chi, crushing my inspiration!!!!! I was getting so sick of being cold all the time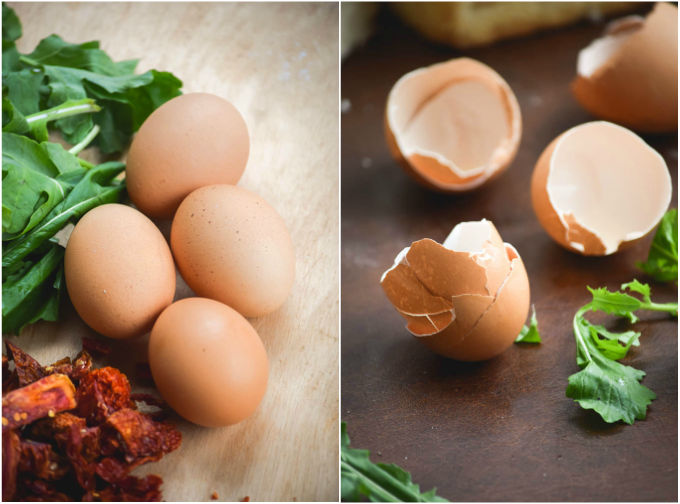 All­righty, but I'm pretty sure you're here for the recipe so let me shut up about Springtime and talk about deliciousness! Oh, and it's super quick cuz clearly I'm just all about the quick stuff right now. For all of you that aren't coming into your Spring season, don't worry, I'm fully planning to fake that it's Autumn with almost all of my next recipes because I don't think I'll ever be okay with celebrating the holidays when it's warm out, blah!But, I just can't help slipping in an occasional recipe that's more seasonal for us down here also, there's too much fresh produce coming in right now.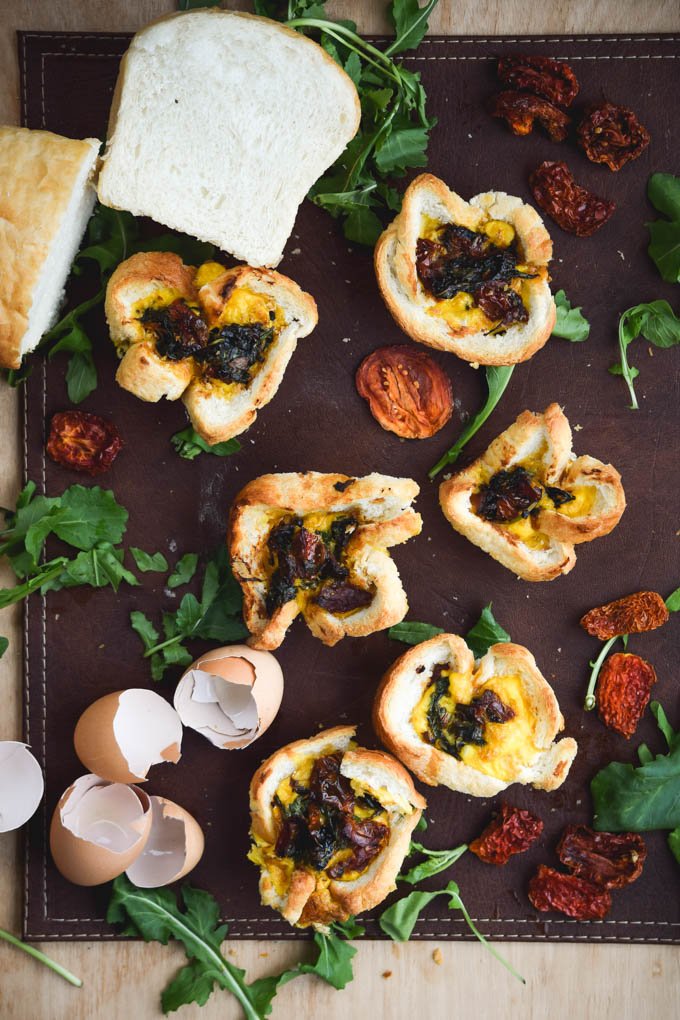 These eggs and toast quichelets are what I'd consider one of my more revolutionary recipes because they are complete lifesavers you guys! Seriously, they're so simple, so fast, so versatile, and everyone loves them! Isn't it fuuny how sometimes these type of recipes end up being enjoyed way more than foods that take 3 or 4 times the labor ;and effort? I can't tell you how many times I've gotten excited about testing a new and more complicated recipe but then invested extra time and love into it only to have certain (shorter) family members request a pb&;J for dinner. Oh, or worse, top ramen! That's always a low blow for me as the cook/foodie/chef, and I'm sure many of you can relate.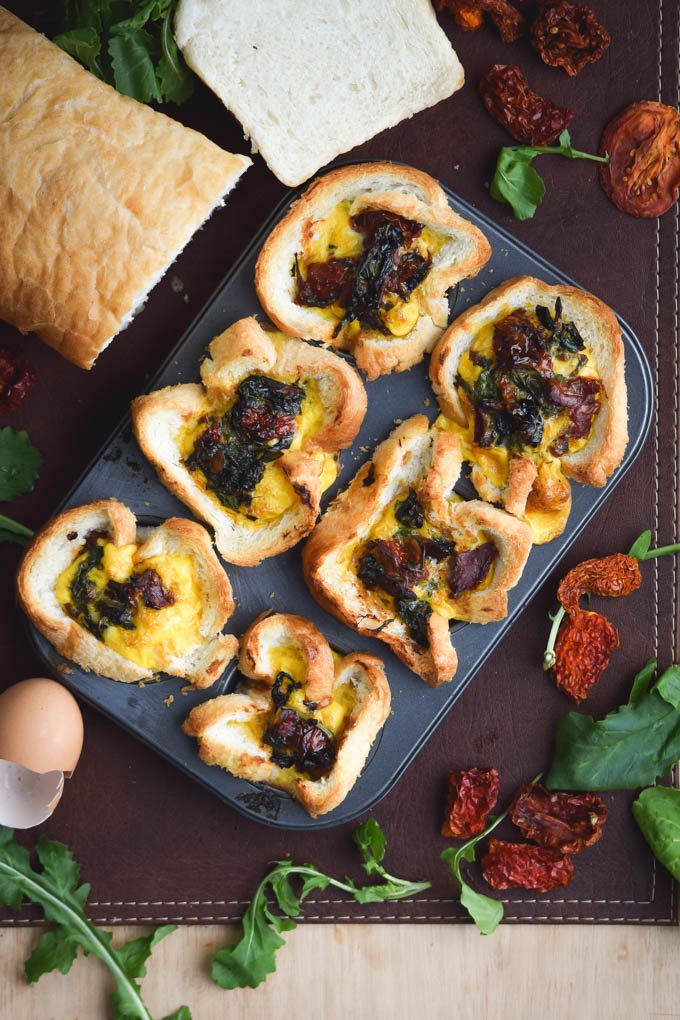 K, so I know I already said this but these are soooooo easy. I think you're going to love this whole idea to use your old stale bread for these no hassle, speedy crusts. Come on, isn't it brilliant? I honestly don't remember where I first saw it but I was so glad I remembered the other day because these turned out to be something that I know I'll be doing again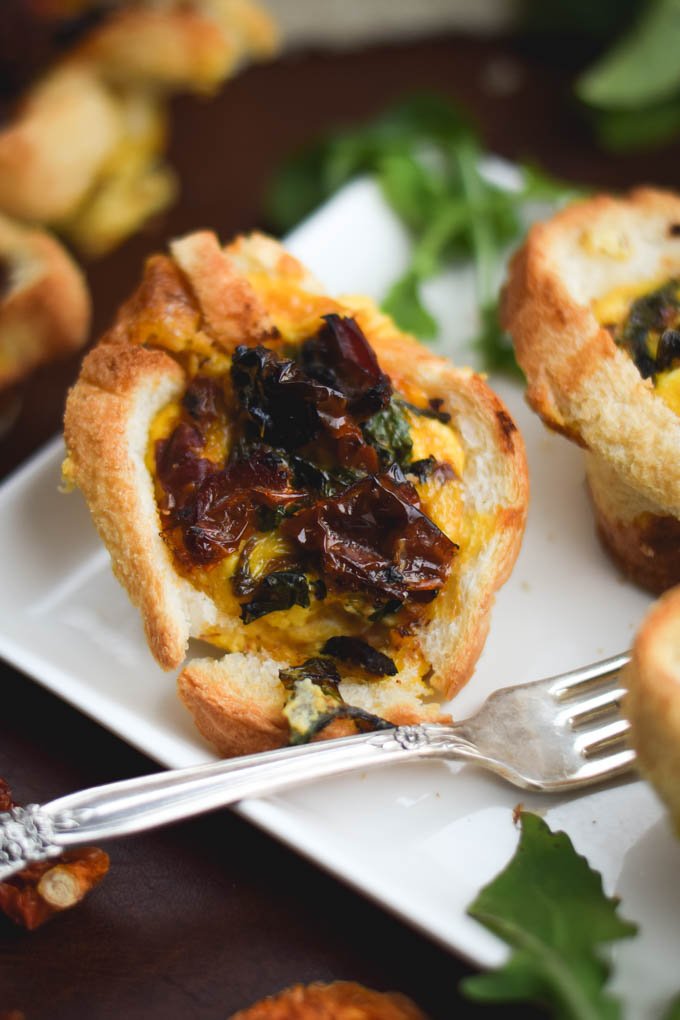 And I meant what I said about their versatility, you can pretty much add any veggies, meat, and cheeses you want. I also tried an even quicker family­size version of them in a 13×9 casserole pan and loved the results. What I'm trying to say is that there is no excuse for you not to give these a try. They make a perfect breakfast, lunch, dinner, or even on­the­go snack any time of day you want! ;
­­ RECIPE ­­
Prep Time: 10 minutes
Cook Time: 20 minutes
Total Time: 30 minutes
Ingredients
1 cup (110g) sun­dried tomatoes packed in olive oil, roughly chopped*
1 1/2 cups fresh arugula, roughly chopped
2 tablespoons olive oil, plus more for pans
4 cloves garlic, minced
1 teaspoon freshly ground nutmeg
6 large eggs
1/3 cup heavy cream
1 1/4 cups grated Swiss cheese (or preferred kind)
1 teaspoon sea salt
1/2 teaspoon freshly ground black pepper, or more to taste
12 slices sandwich bread
Instructions
Preheat the oven to 325 degrees F (160 C) and grease a 12­count (or 2, 6­count) muffin pans well with oil.
Heat 2 tablespoons of olive oil in a small skillet and add the garlic. Stir over heat for 2 to 3 minutes until browned and fragrant. Now add the arugula, tomatoes, and nutmeg to pan and cook for an additional minute just until the arugula has wilted. Remove pan from heat and allow it to cool for at least 5 minutes.
Whisk the eggs, cream, salt, and pepper in a medium bowl until combined. Add your somewhat cooled veggie mixture and about half of the cheese and fold in to combine.
Now take a few pieces of your bread at a time and flatten them as much as you can between two flat objects (cutting boards work well or you can use a rolling pin instead.) Press each slice into a slot in your greased muffin pan(s) and flatten against the sides as much as possible.
Divide your filling between the 12 slots and top each with a sprinkle of additional cheese.
Bake them in the oven for 20 to 22 minutes, or until the filling has slightly browned on top and does not jiggle when you nudge the pan. Remove from oven and cool for a few minutes, then loosen each quichelet from pan and serve hot.
Notes*The sun­dried tomatoes that are available where I live and that are seen in the pictures are actually dried completely, not packed in oil. To use these in place of the ones packed in oil they can be simmered in a small pot, with just enough water to cover them, until they are tender. I have also had success with soaking them in olive oil for a minimum of 48 hours
A special shout out to @sisterholics for posting this for me, and hey for you too! ;Thank you for taking the time to read this post. ;Many more available at @gringalicious.