Helloooo, Lovelies.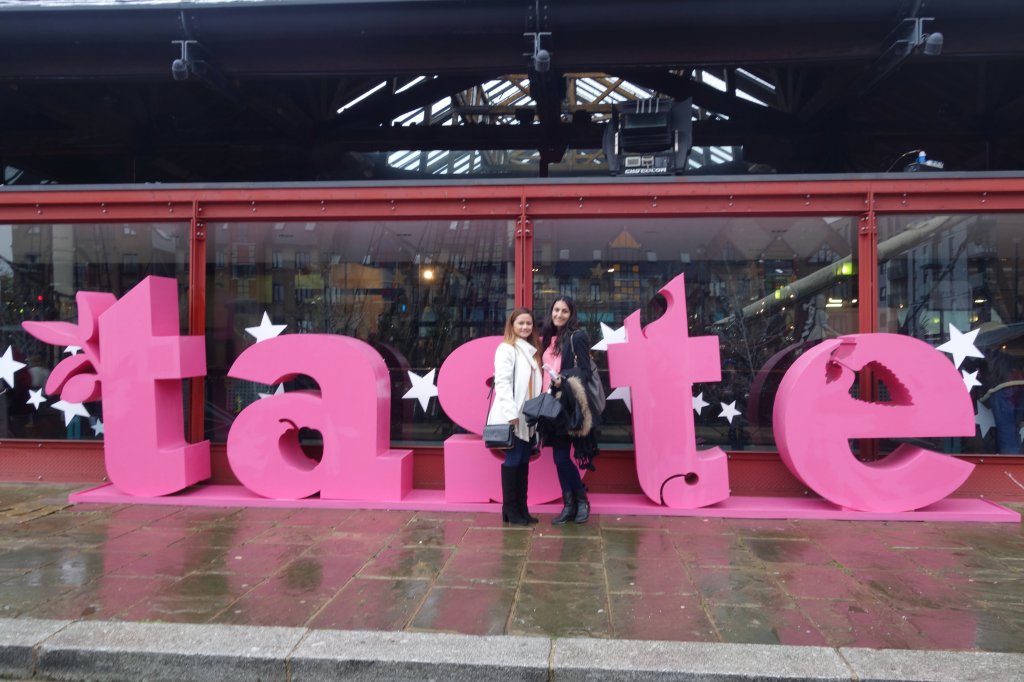 Let's go back a few months. Some of you may remember that we were at the Taste of London Summer Festival and how much we loved it? Well, the Winter Edition came around and we got quite excited! Rosie may even have flown over from Switzerland for it... That's not crazy right? Nooo, we didn't think so either.
Arriving late, we managed to find the very patient and sweet Mary at the entrance. 
We quickly snapped the picture above and entered the venue to begin our culinary adventure.First stop? The Ford Project. Something similar to a mentoring and innovation inspired project for new/young chefs. The Taste stand was a little competition where four Chefs created an innovative side/sauce or any other addition to a dish. You'd taste all and vote for your favorite(s) with a token or two.I was eager to try all, the first was a very herb soup with rich tarragon, peas and other goodness.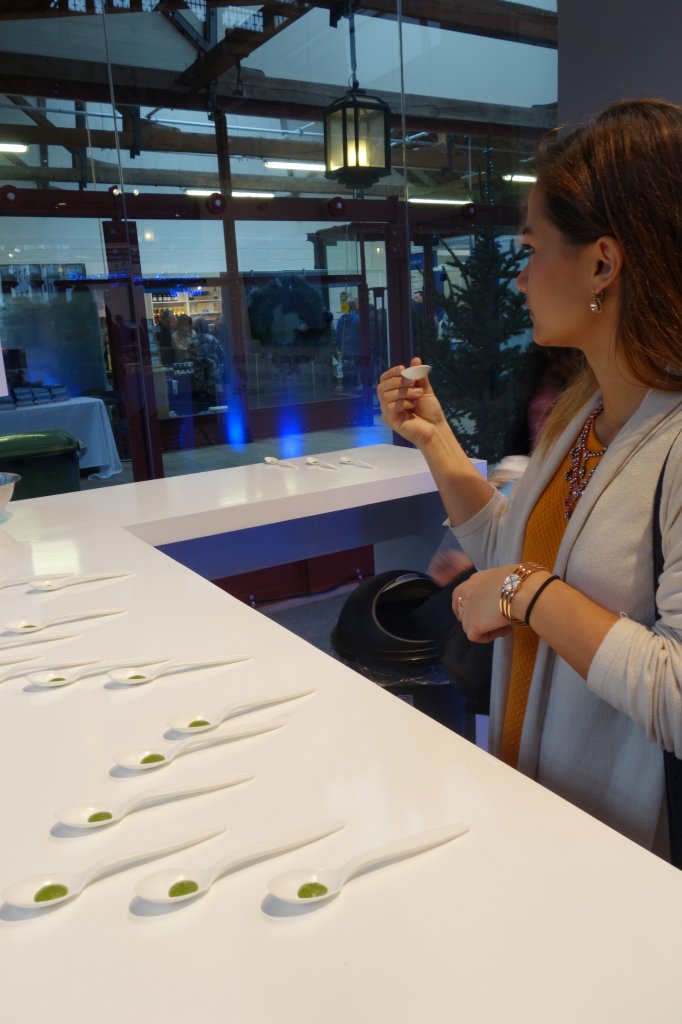 My "Food Critic" face. The soup was extremely strong in taste, but deliciously so.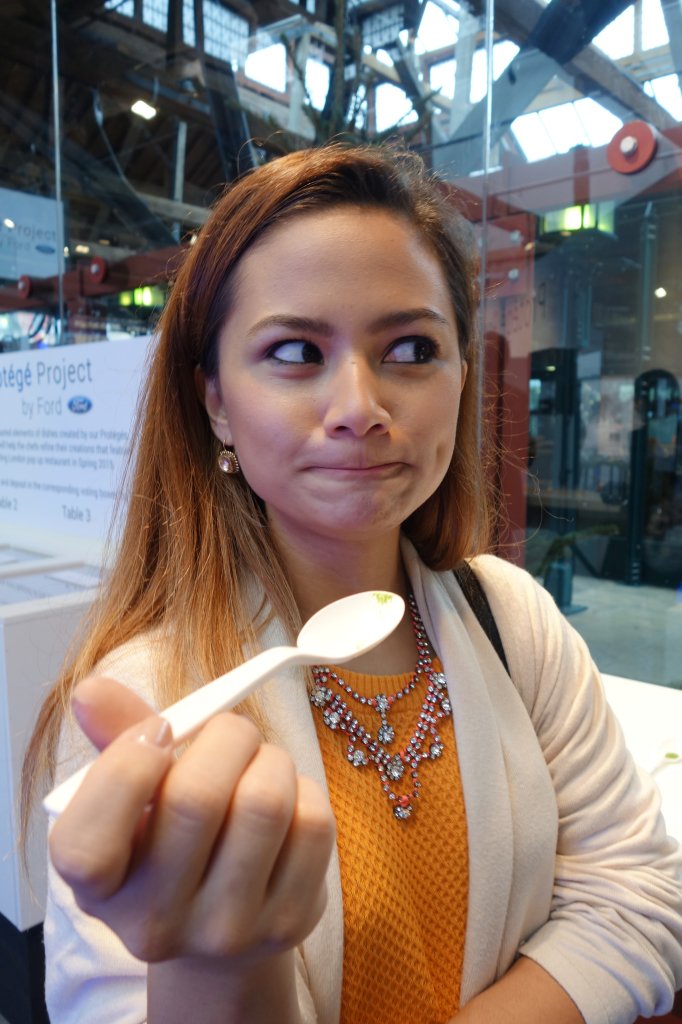 These babies below immediately caught Rosie's eye with their funny consistency. She quickly grabbed a spoon of the aerated whisky cask thistly cross cider...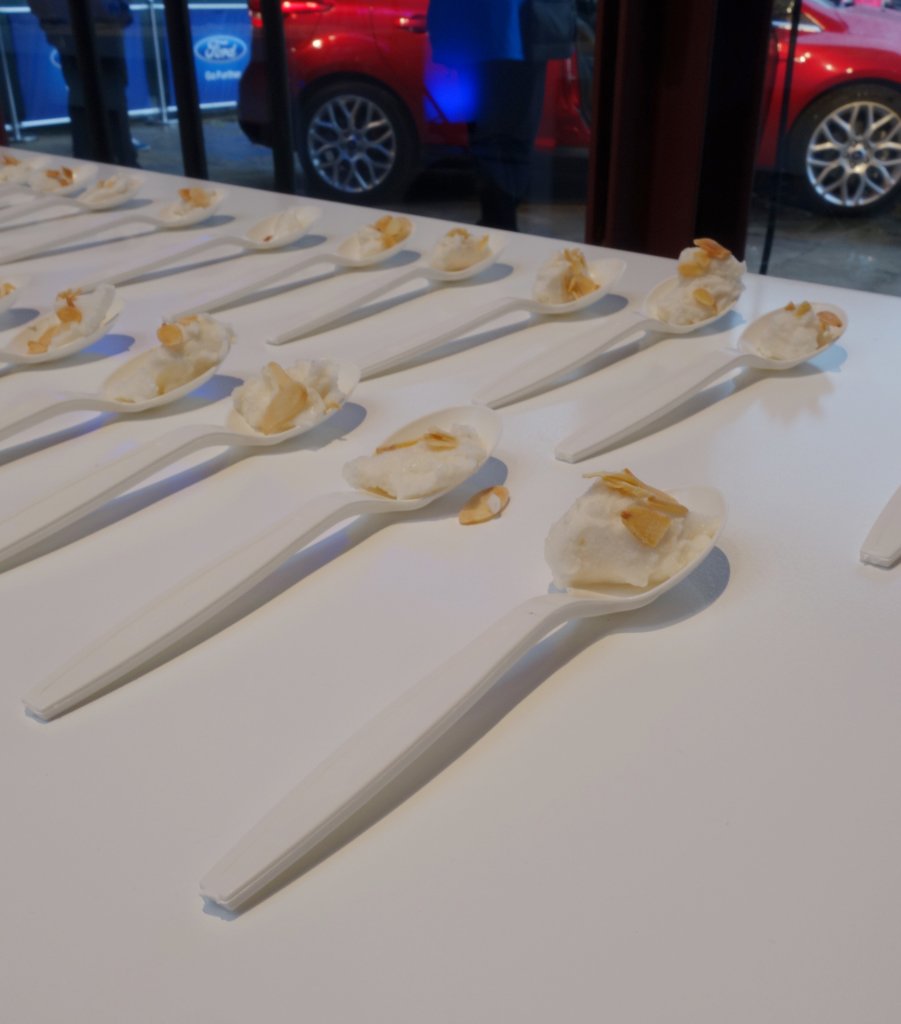 And had to feel the soft, bouncy texture.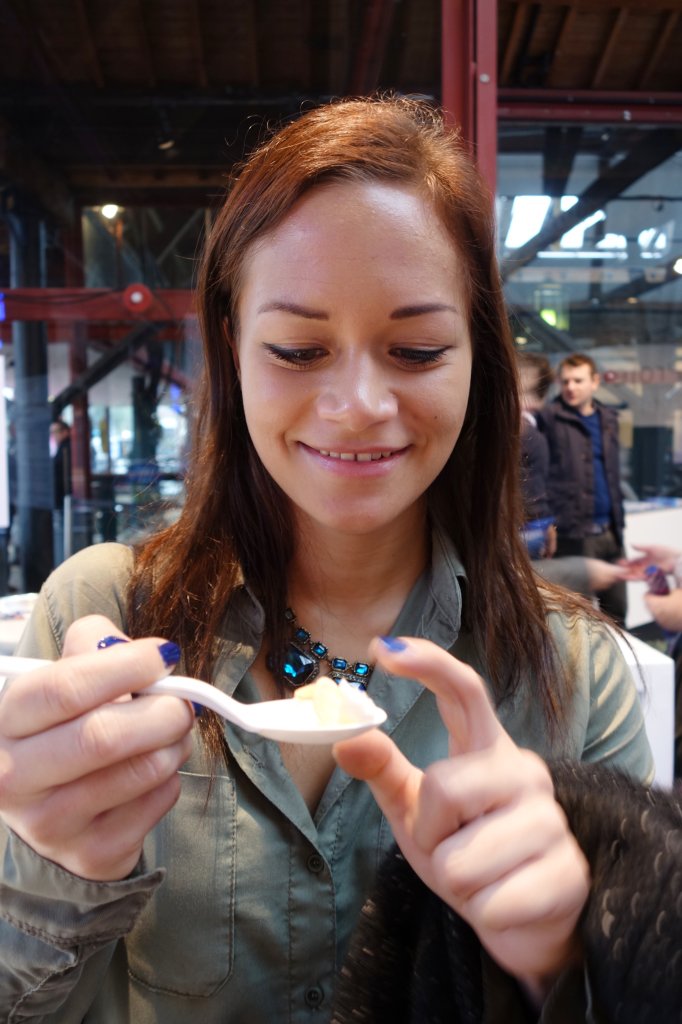 Then giggled at the funny texture and her need to touch things.

The up was by far our favorite... But c'mon, it's pretty clear why. The slightly salty, with the sweet and the sticky, it was pretty close to perfection... And we may have had more than just a single spoon but shhhh....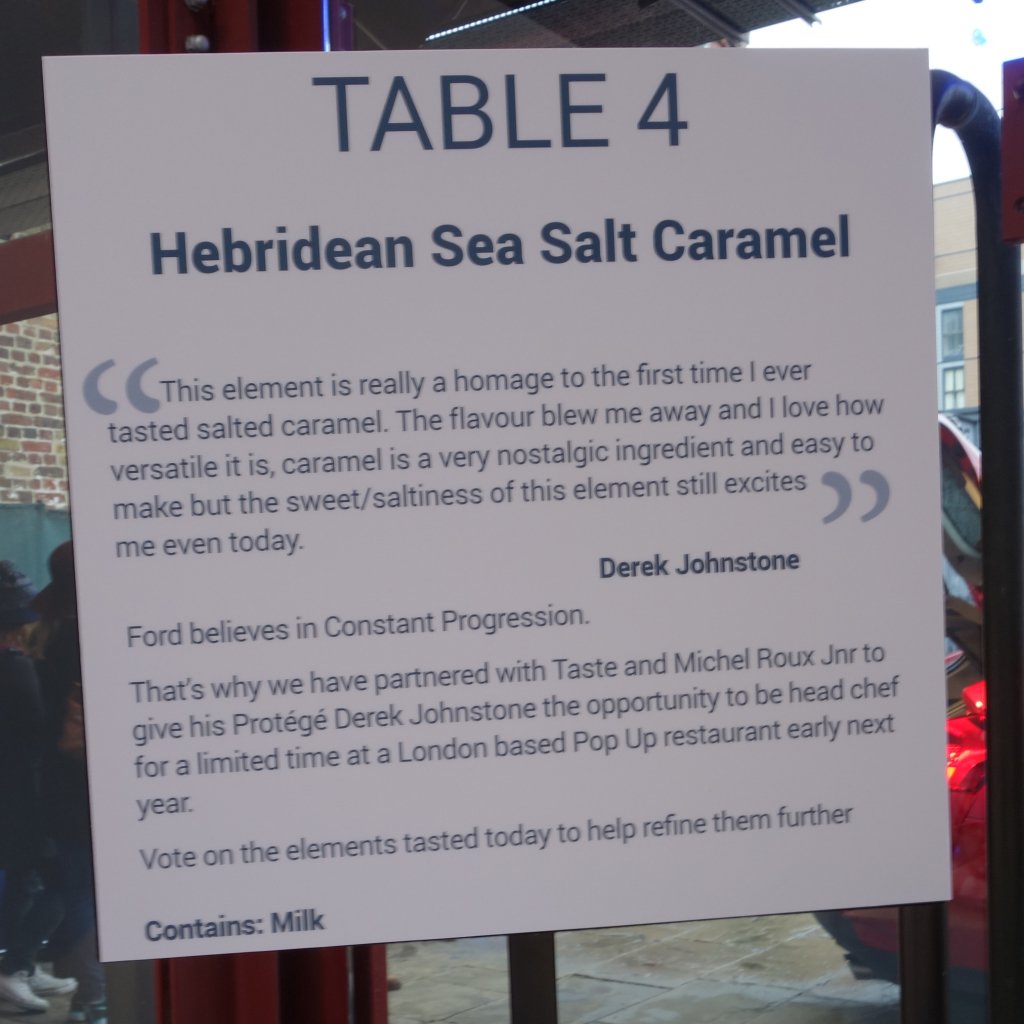 With the sweet remainder of the salted caramel taste on our tongues we went off to explore a little...Deciding it was still slightly too early for a cocktail we walked until we found ourselves at Benares, a Michelin star restaurant that serves up Indian dishes with a British twist.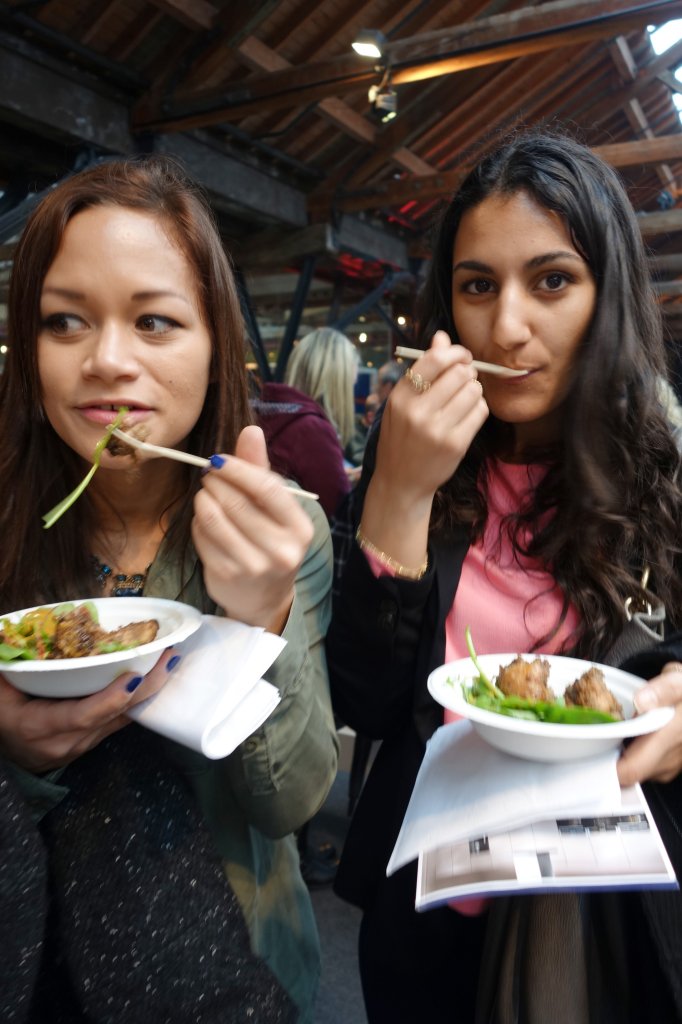 The girlies went for the bhatti murgh, a chicken dish with a tomato/curry based dressing.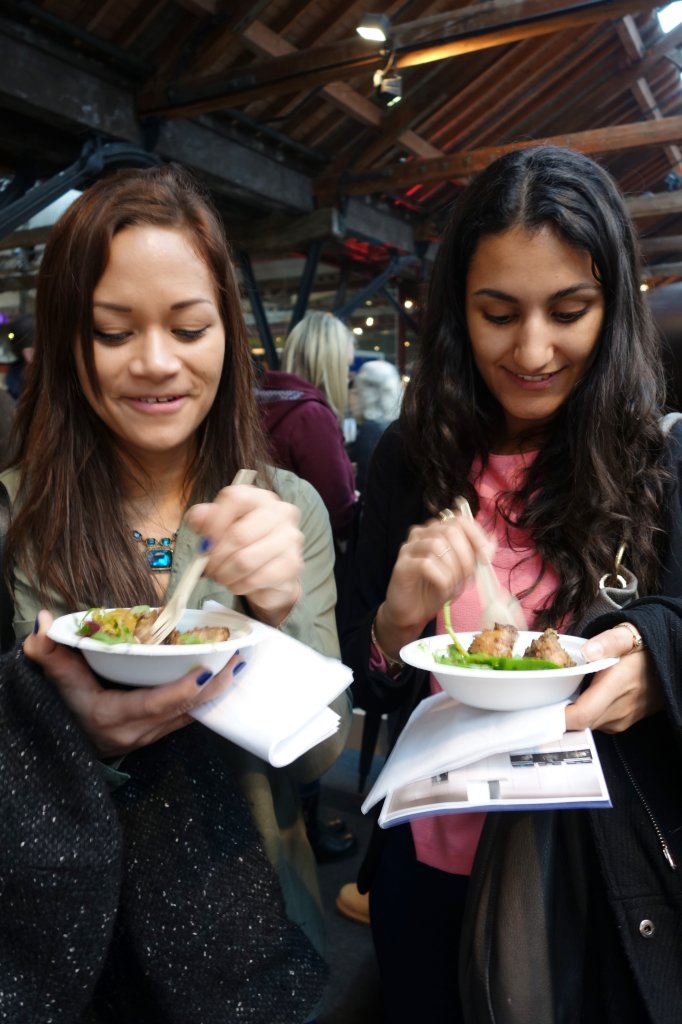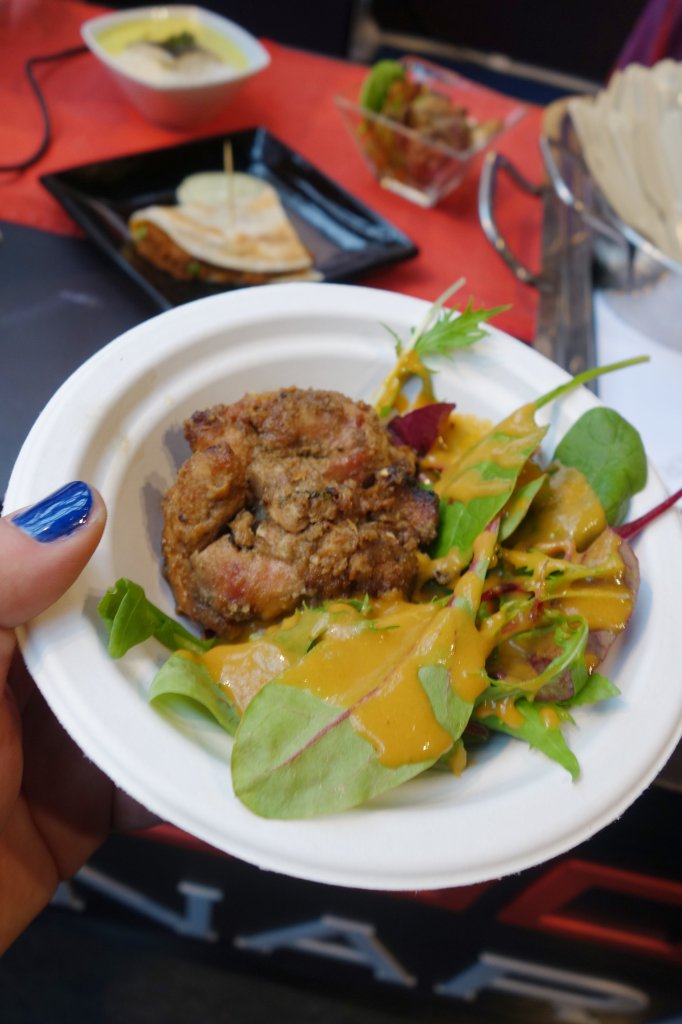 It seems like the definitely enjoyed it! I could see Rosie add it to her mental list of restaurants in London she needs to check out!After finishing my fish with coconut curry dish, we made our way downstairs and found ourselves in front of the Action Against Hunger stand. 
A friendly chap from the stand saw us grazing around slightly lost and took it as his chance to approach us.It didn't very long for him to convince us to try one of their various different hot dogs and grilled padron peppers.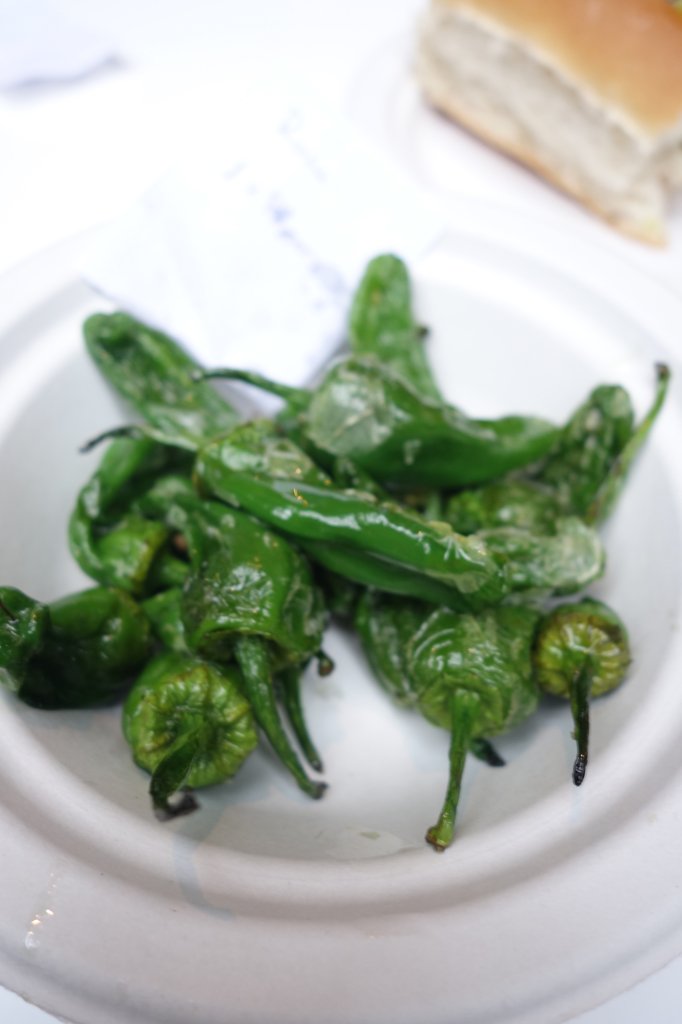 After they landed on our table, I couldn't help but say "Padron me, but those look quite delectable! Could I try one?"Then very quickly before she could disagree, I nibbed one for myself.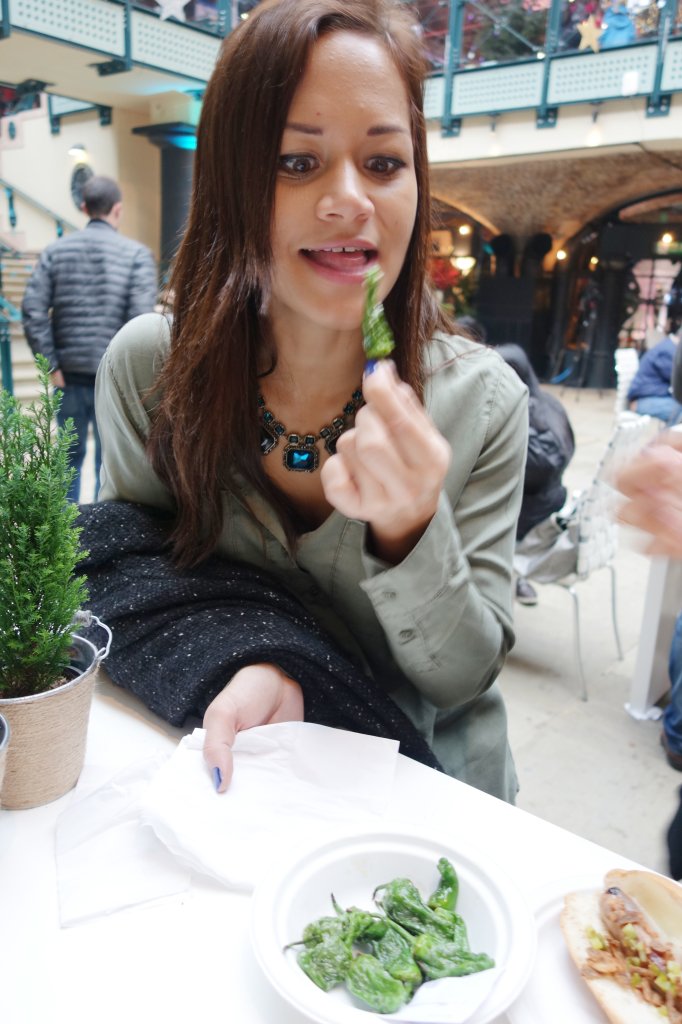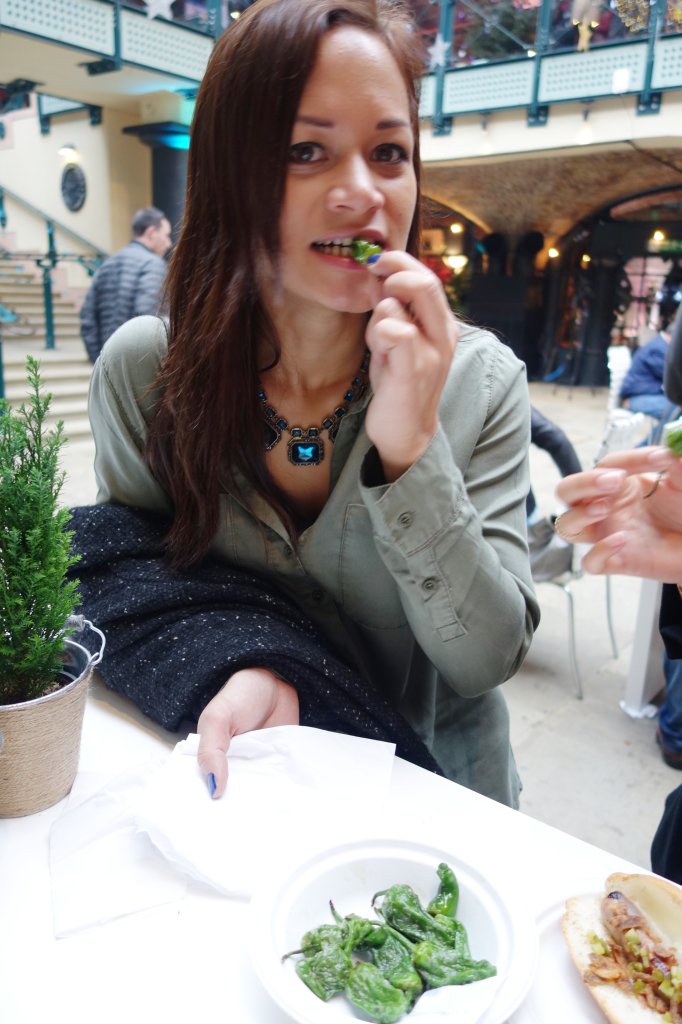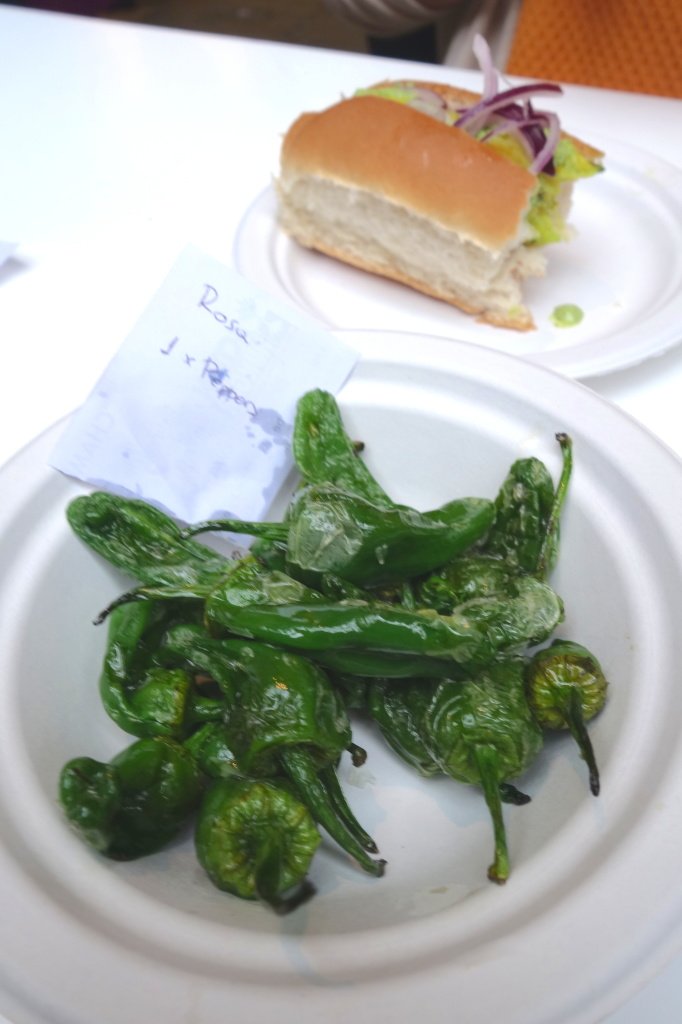 I had ordered the vegetarian hot dog which was made with potatoes and was deceivingly filling and scrumptious. The chutney was made from a chili-coconut-mint mixture; spicy, creamy and fresh all at once.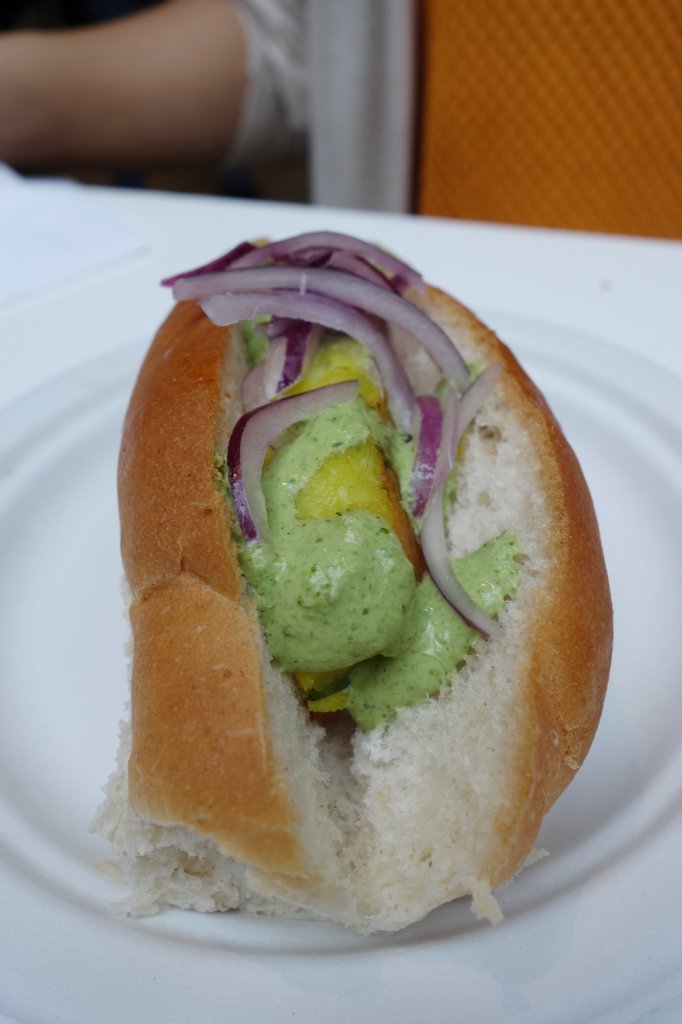 Hot dogs, like burgers are just one of those foods that cannot be eaten gracefully, so I just went for it. 
Please excuse these pictures but life is life and not everything goes perfectly!A little hesitation as I was trying to decide the best way to tackle the job.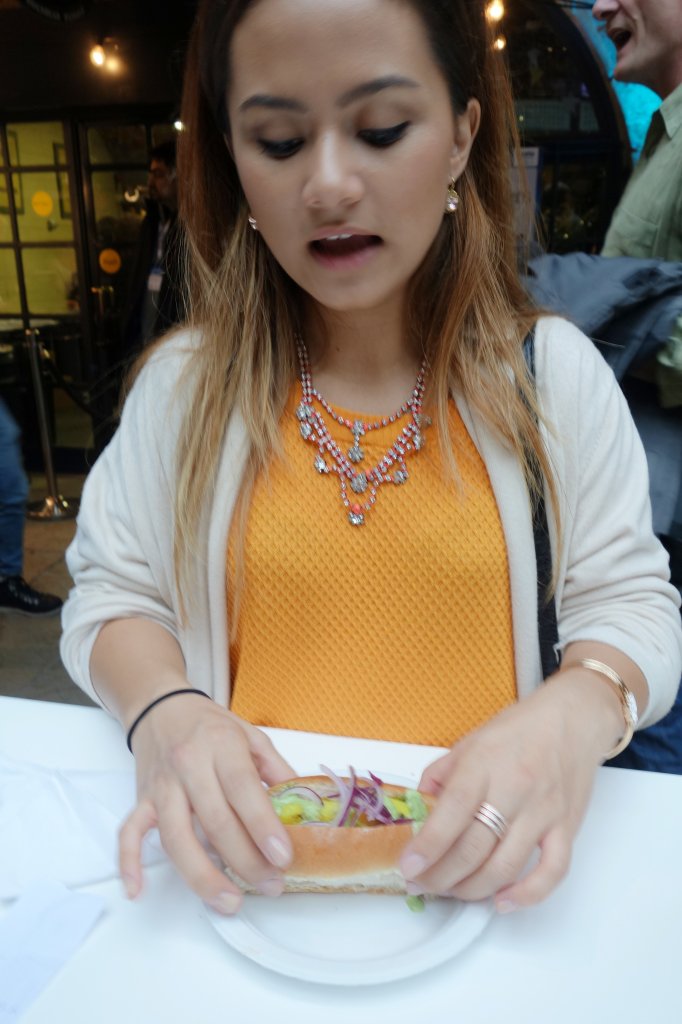 After a few seconds of deliberating the best way to eat it, I realized there was just no way I could eat it neatly, not even for the camera. Speed was by best option.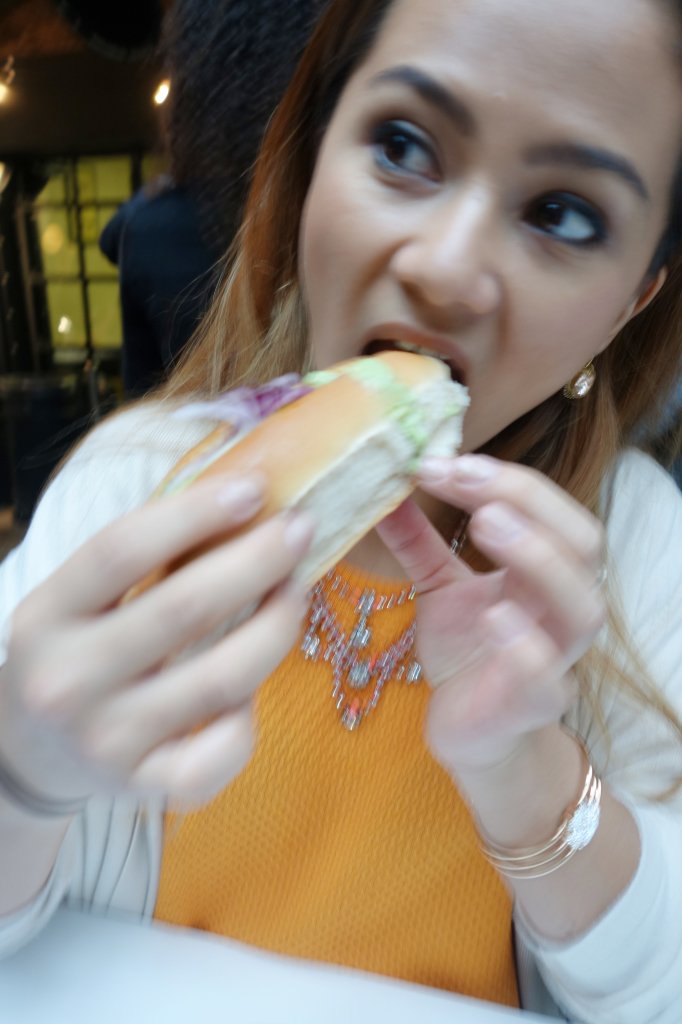 Except, I was wrong. Oh so very wrong. Learn from me children, there really is no way to eat a hot dog without creating a mess of your face, your hands and your plate.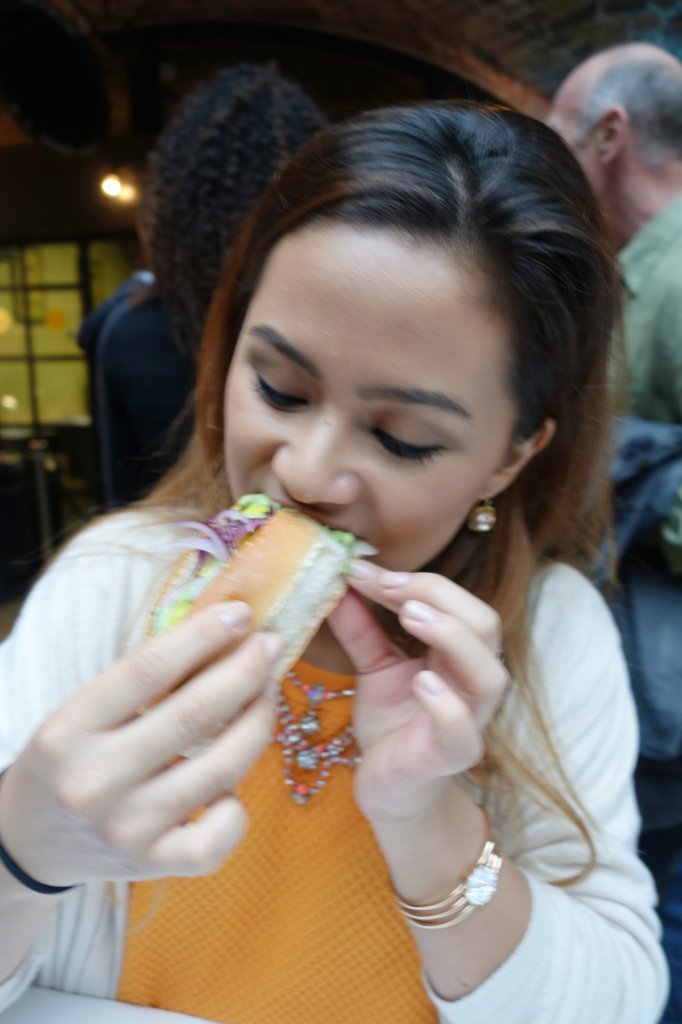 The chutney was incredibly good; so good it induced finger-licking actions, and we all know actions speak louder than words...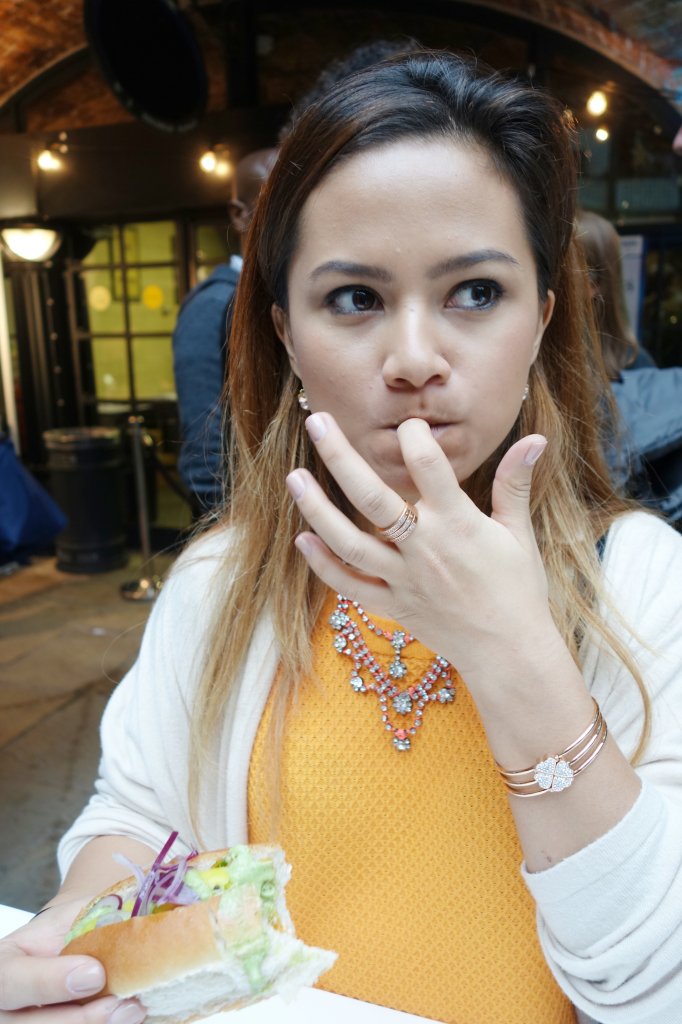 Just one final picture. Uuuff, just look at that gorgeous dog!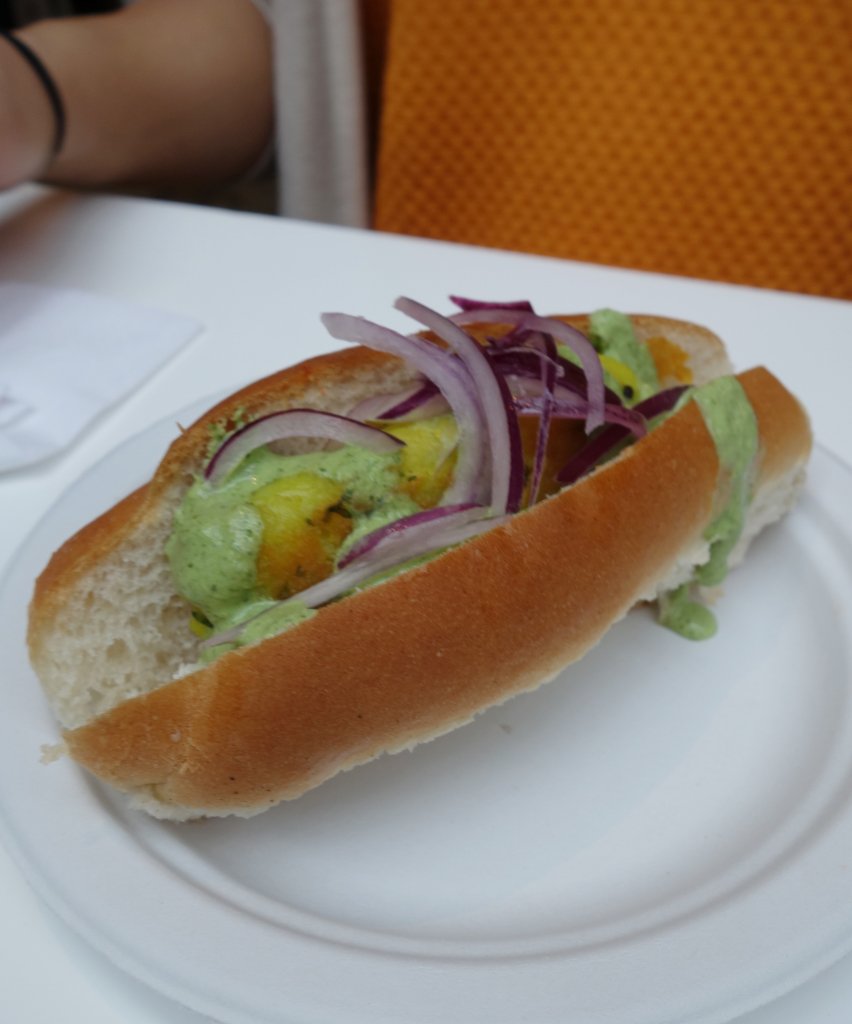 Now I'm off! Rosie will be sharing more of our Taste Adventures very soon and how we all caved in the Garden of Temptation.
Love,
Juliana 
Note: Also posted on our blog sisterholics.com