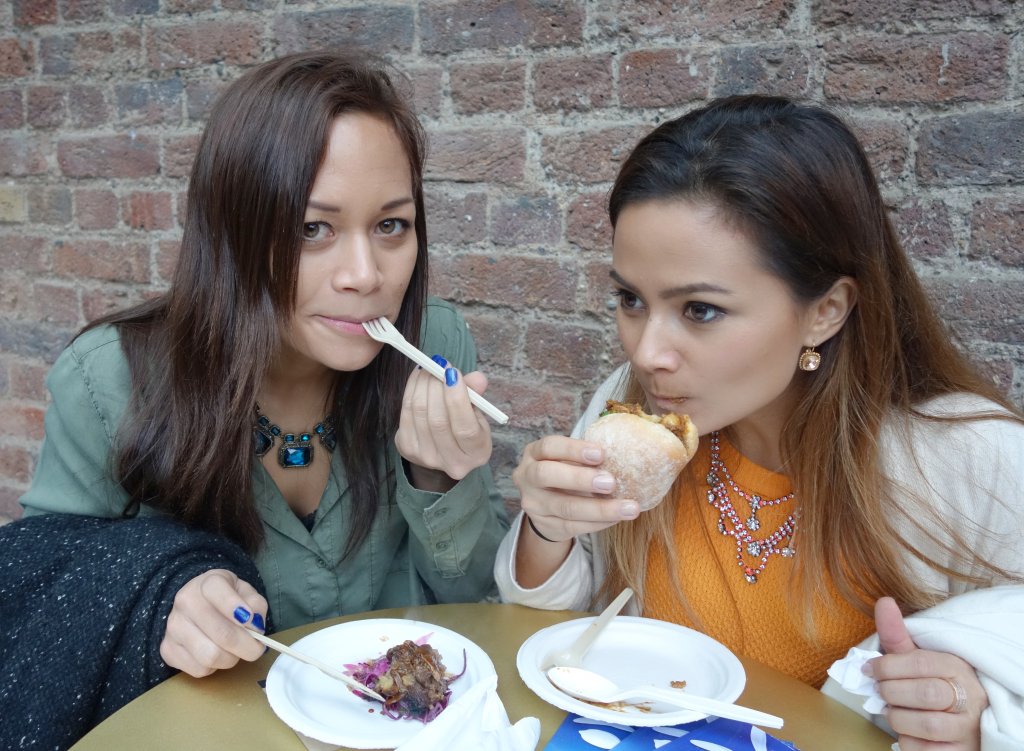 Where Julie left you, we had just wolved down some hot dogs, vegetarian dogs and some grilled padron peppers, so we were in dire need of something cool, sweet and refreshing.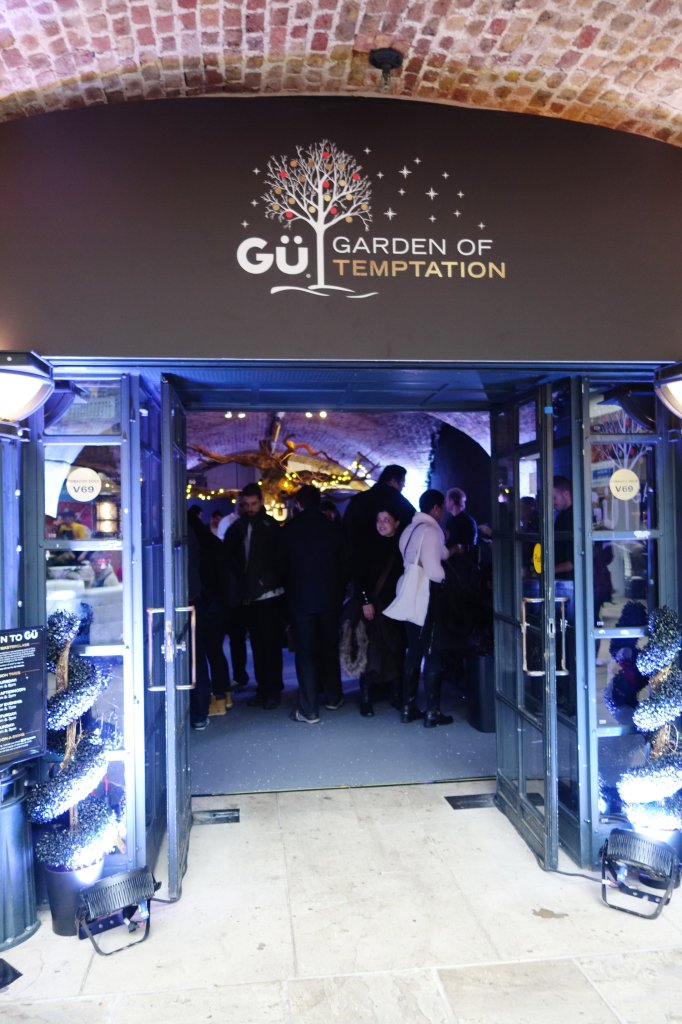 We walked around (well, took maybe 4 or 5 steps…) and had to look no further, for we had found the Garden of Temptation.Sounds promising right?
 We thought to ourselves and whisked ourselves in.Inside, we were greeted by the most tempting Santa Claus, Snowman and Christmas tree chocolates and were warned not to touch them. The temptation!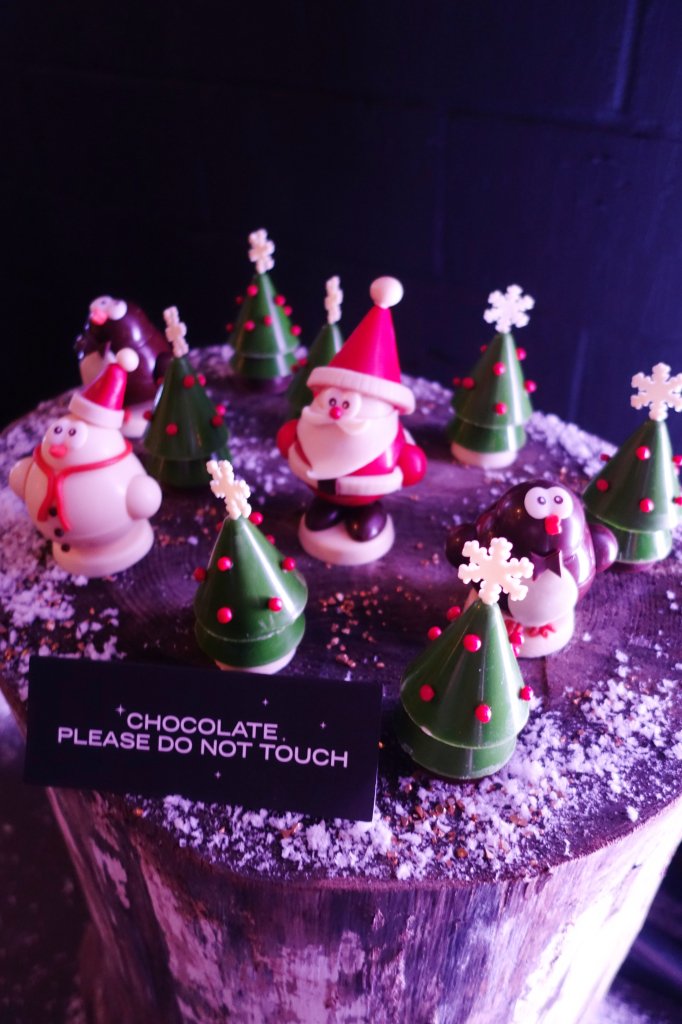 We were thankfully distracted by the amazing set of a swing in the back and so we hopped on that.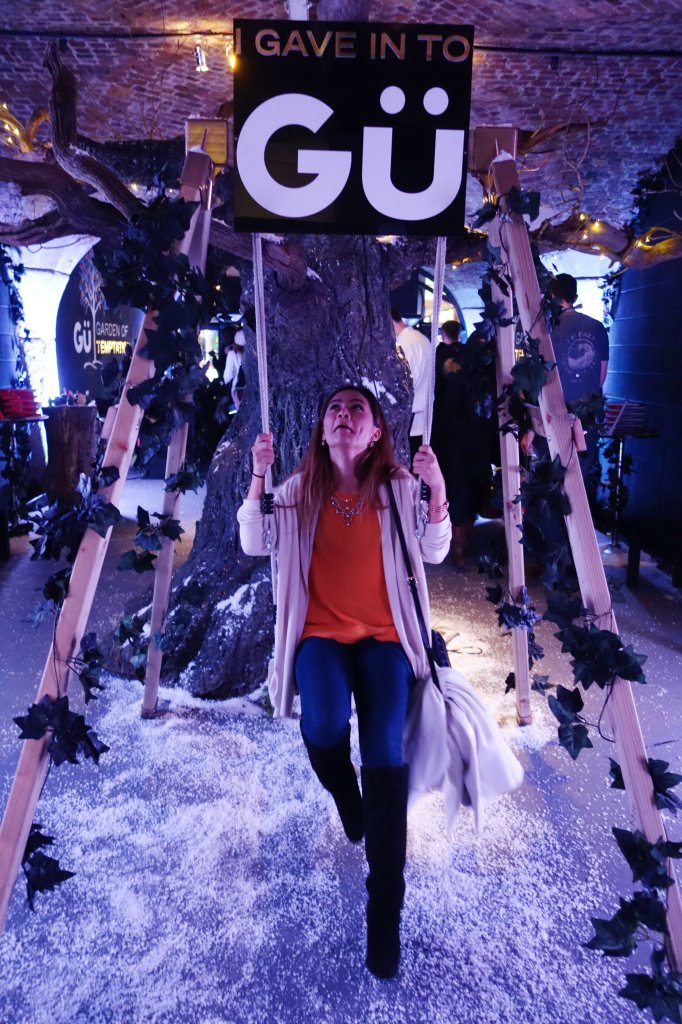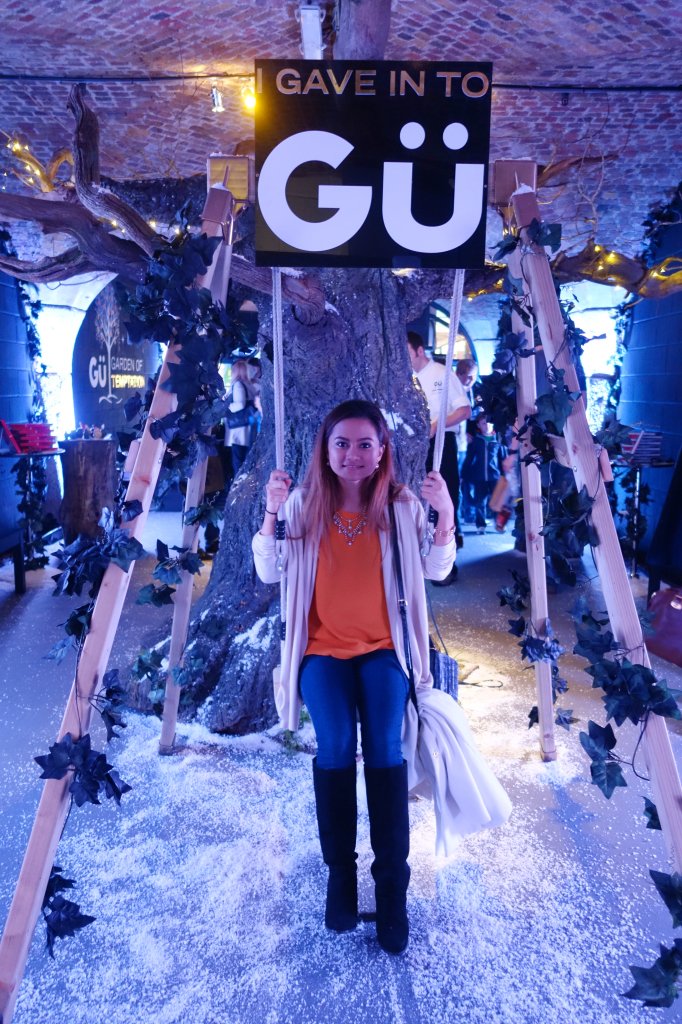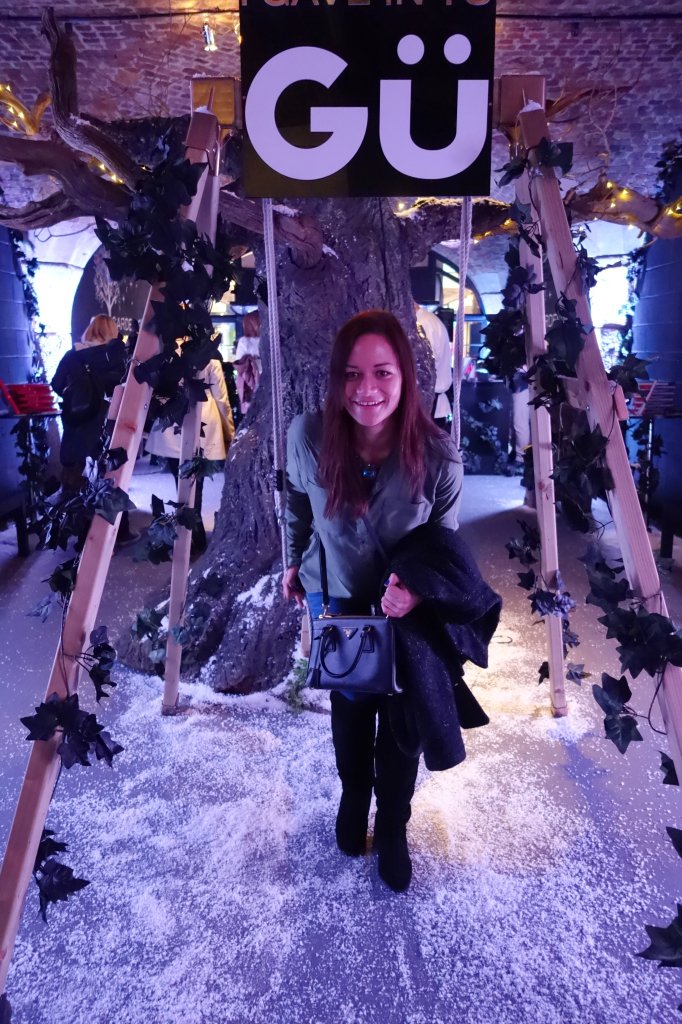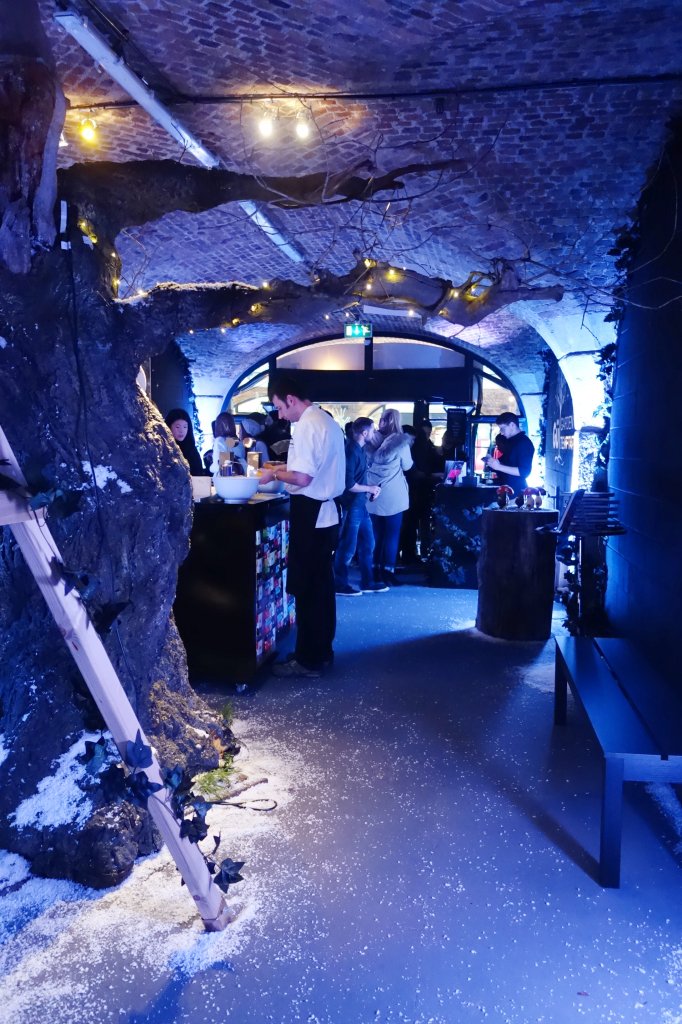 We were thankfully distracted by the amazing set of a swing in the back and so we hopped on that.What we did not manage to capture, however, is that the Garden of Temptation was entirely set up by Gü. Gü offer mousses, soufflés, chocolates, cheesecakes and other nibbles and naughties. 
In the Garden of Temptation, they offered free samplings of their cheesecakes, available in the following flavours: chocolate and vanilla and key lime pie. While we may have gone back and overstayed our welcome on the sampling, we each ended up buying some cheesecake pods to take home.
We walked around some more until we discovered Gaucho. There, Mary and I went for the grilled boneless honey glazed short ribs, which were fingerlickin' good. 
Since Gaucho is a meat restaurant, there was not much choice for Julie, so she went for something from Assado. There, she picked up a chickpea xacutti in pao, a unique curry with chickpeas from Goa that is served in a bun.As you can see, we were quite happy with the turnout. Pictures speak a thousand words, don't they!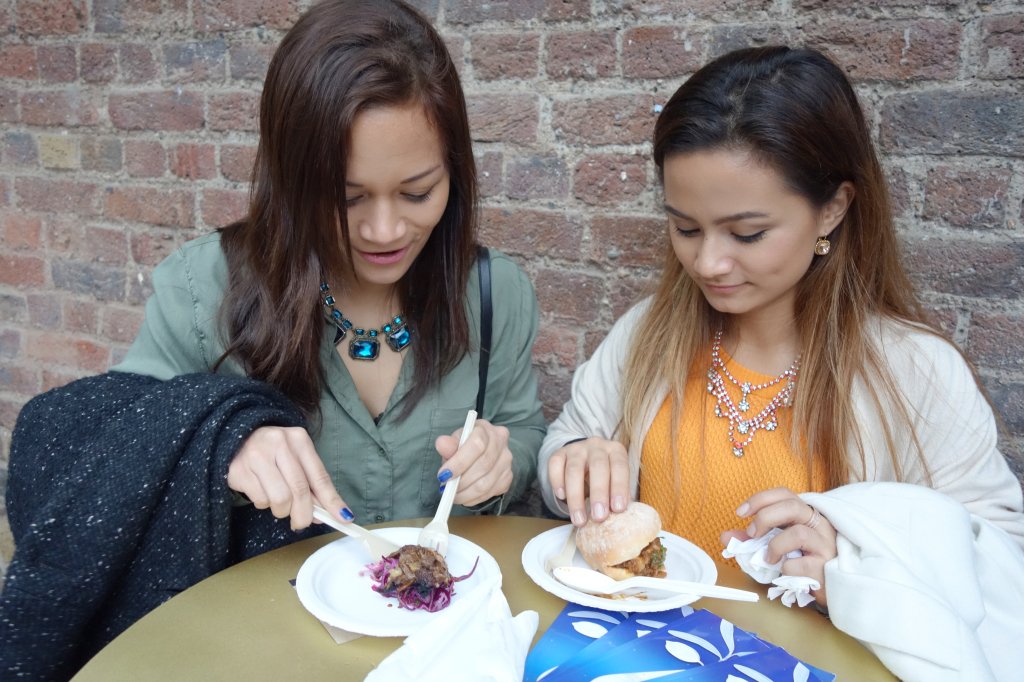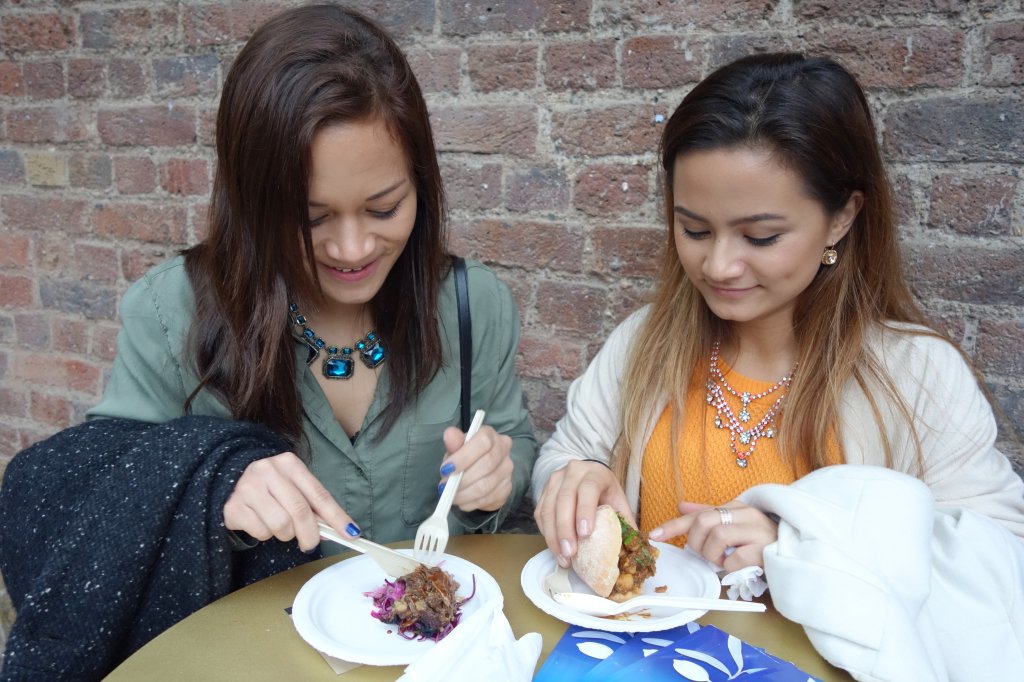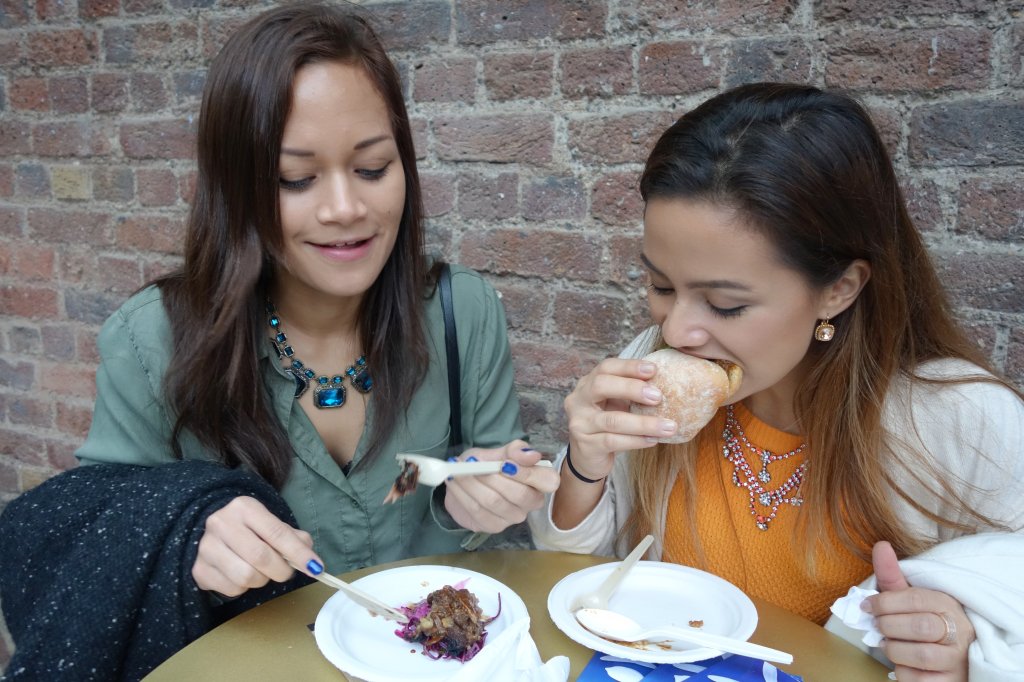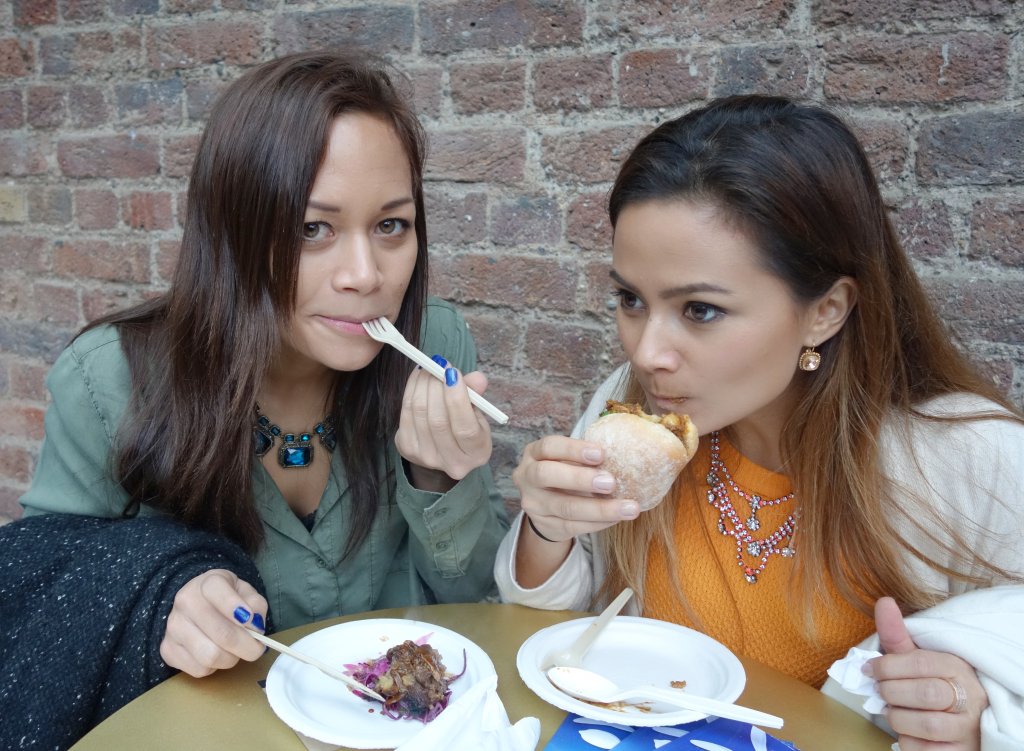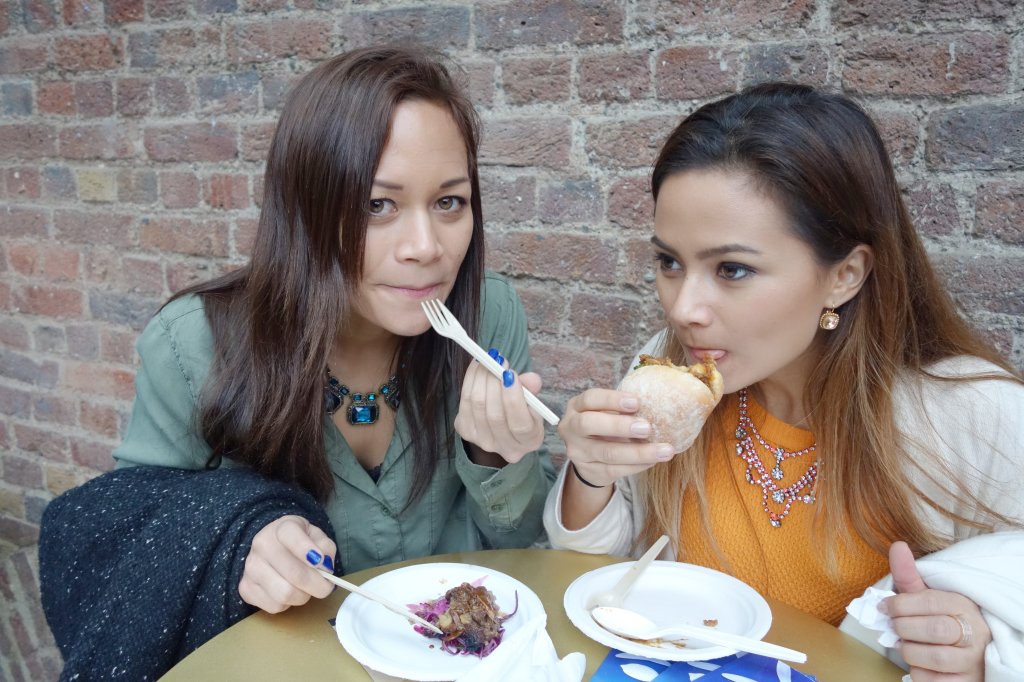 At Taste, they also had drink stands, and this included the stand of LiquidGold. Their bottles were taunting us with their shiny and pretty colors that we could not help but pop in and have a peek and a sip. We picked up three peach bellinis and enjoyed the interior mood lights.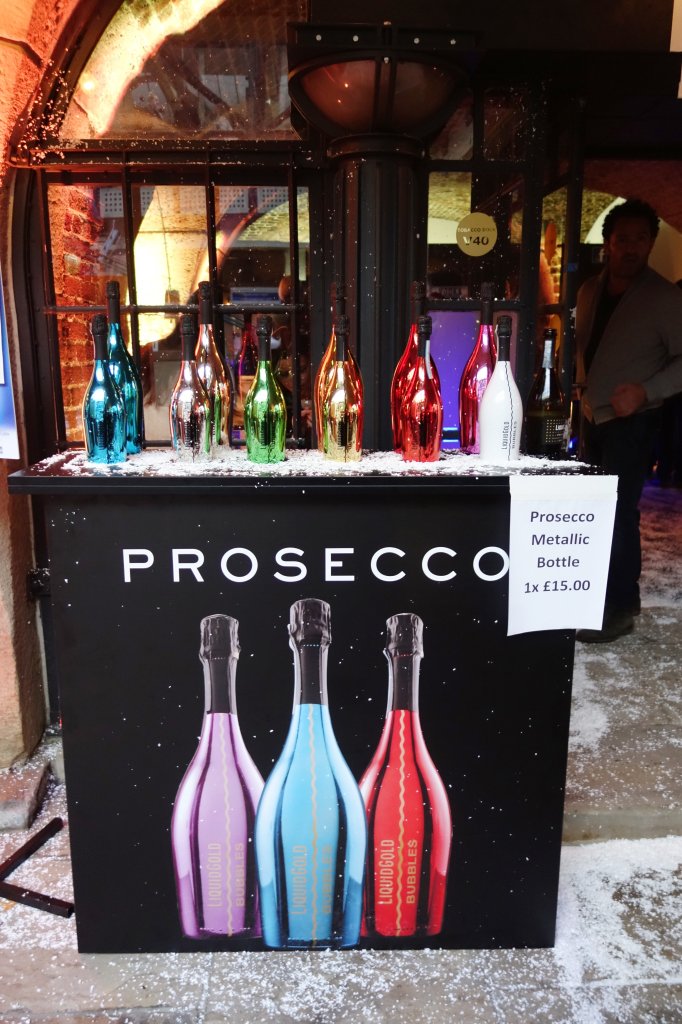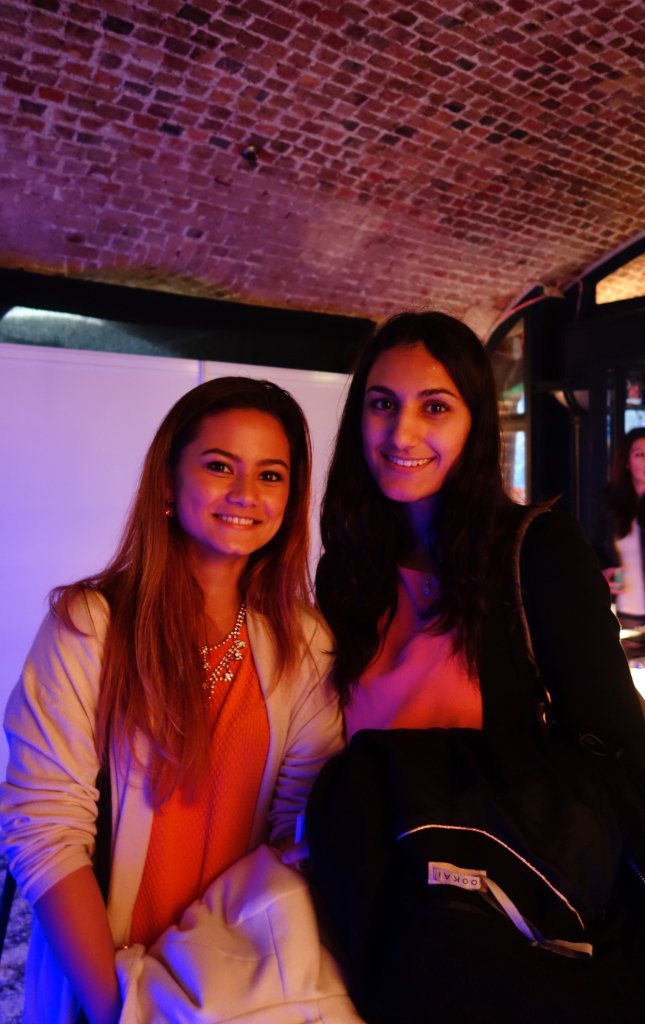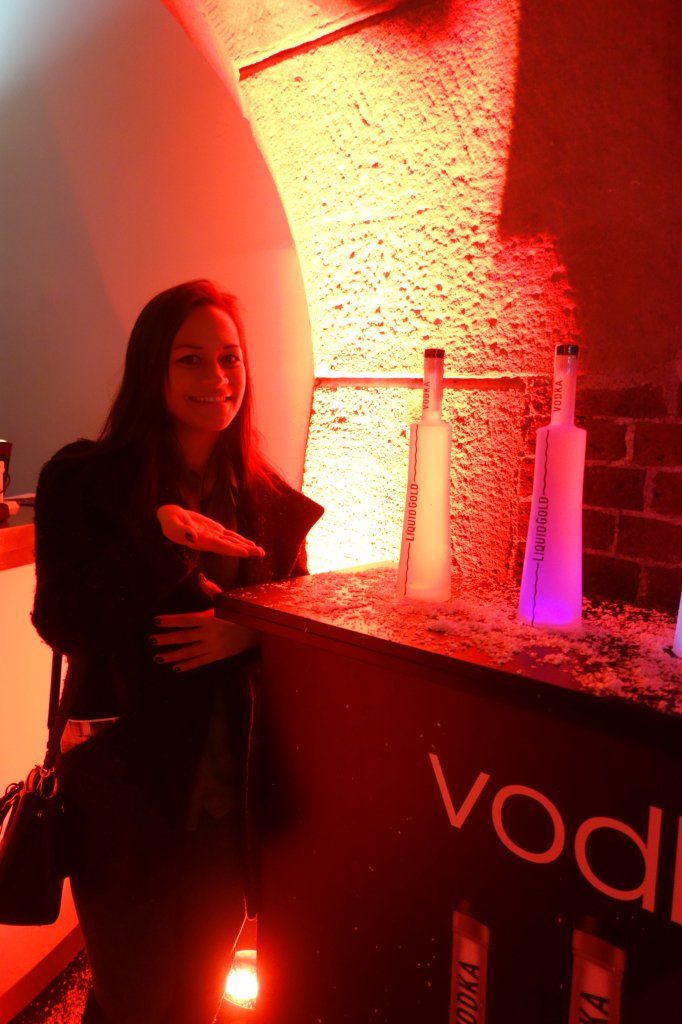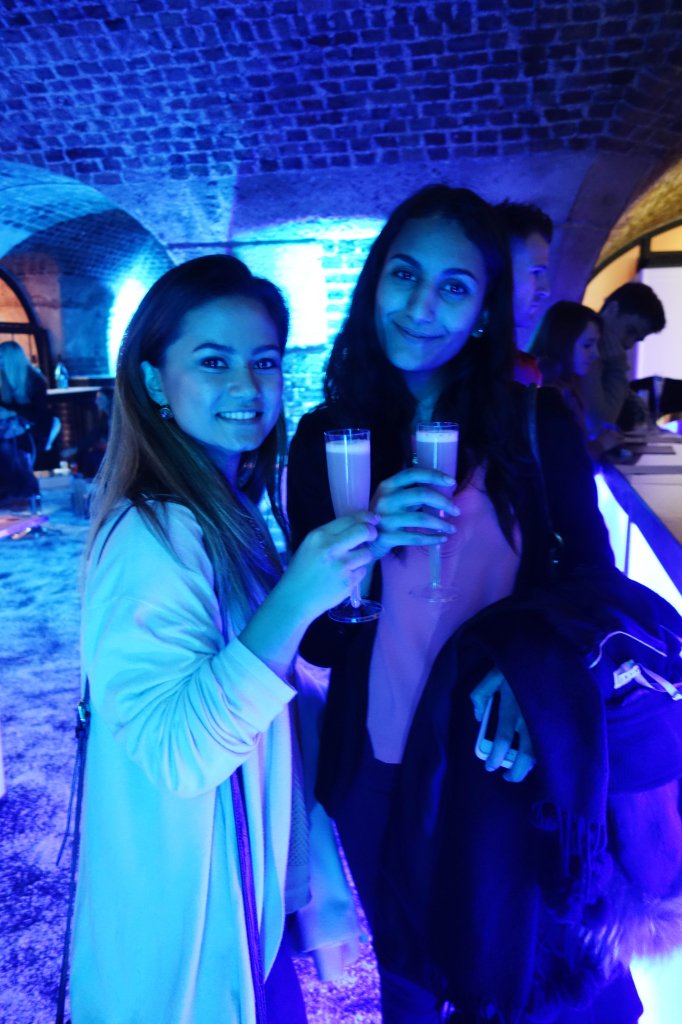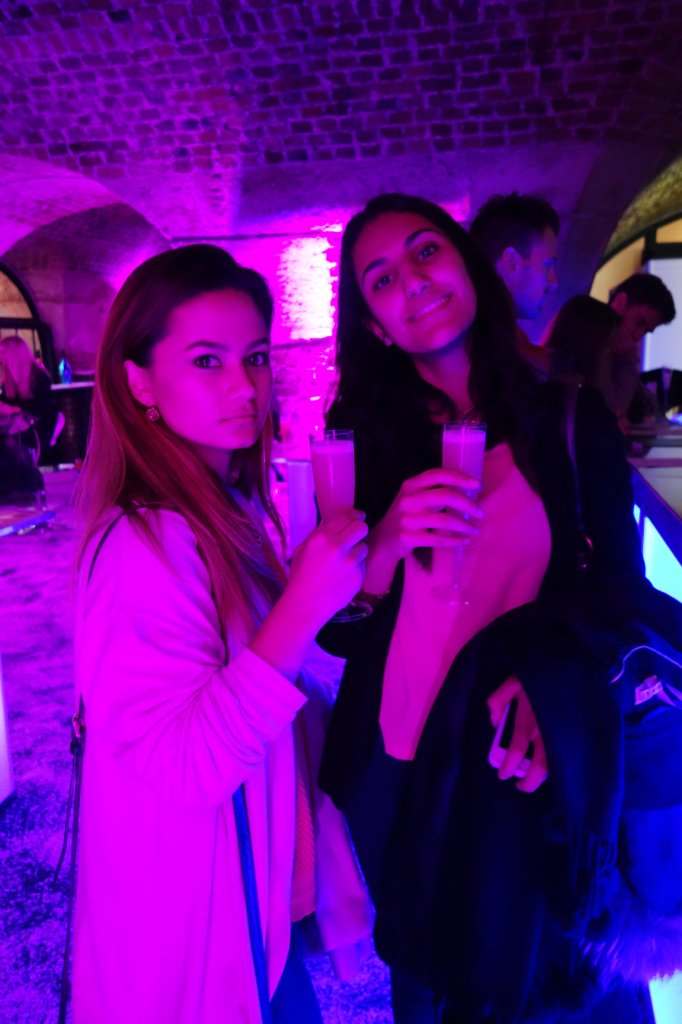 Just a few steps away outside, there was a fizz bar, where you could even pick up a drink or an Aperol to go! How cute!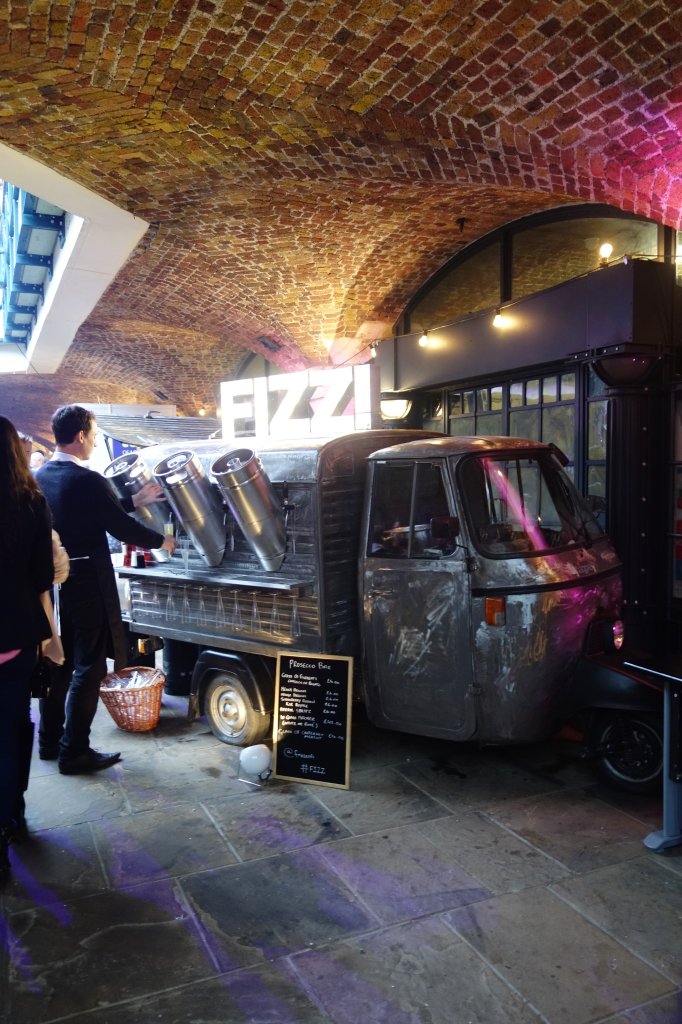 It was time to move on yet again. This time, Mary and Julie headed somewhere we have already told you about several times, but that won't stop us from mentioning it again – Shake Shack. Mary got herself the normal Lil' Shack burger and Julie had the Lil' Shroom burger.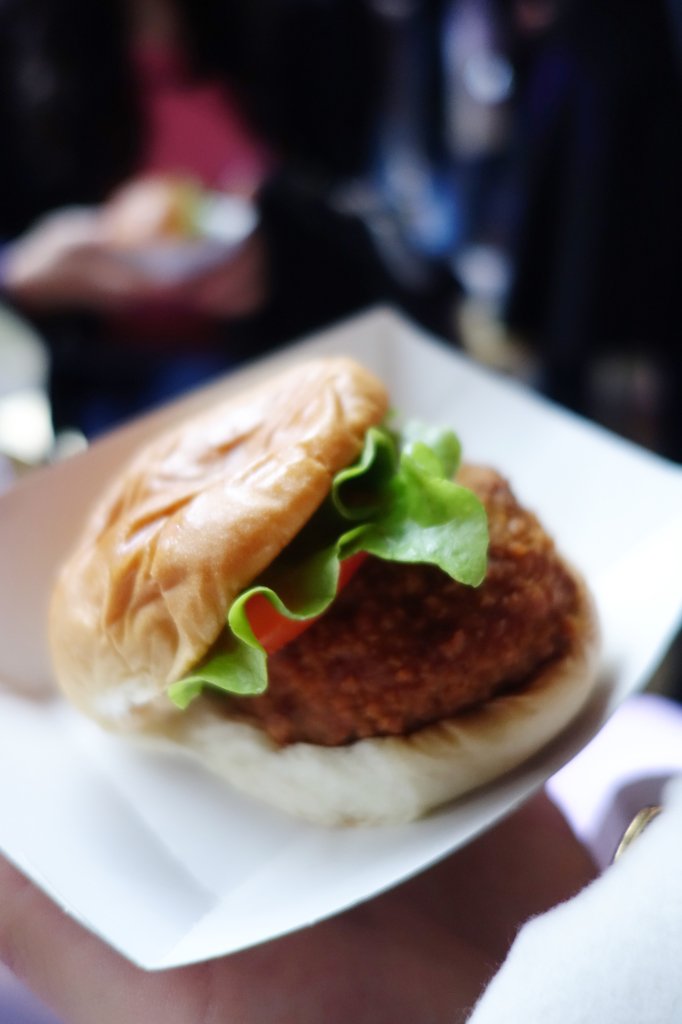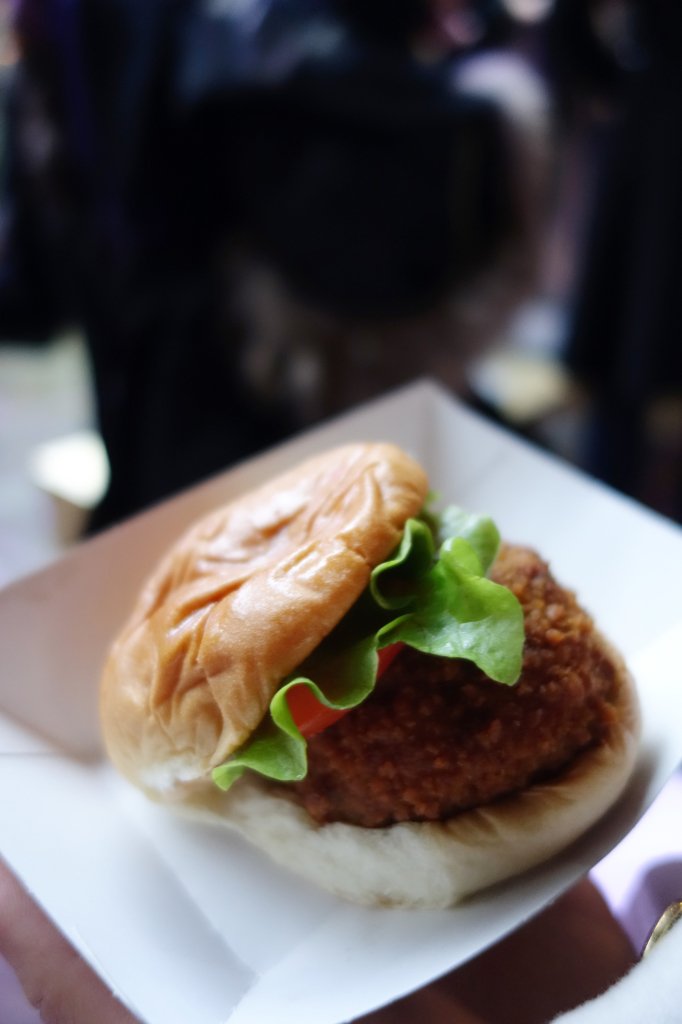 I decided to go for something more spicy, from Roti Chai. I picked myself the five spice pulled pork cooked in a south Indian style with a layered butter paratha. I'm a huge fan of pulled pork, and even more so if it is spicy! I will definitely have to check out their restaurant the next time in London, it seems very promising!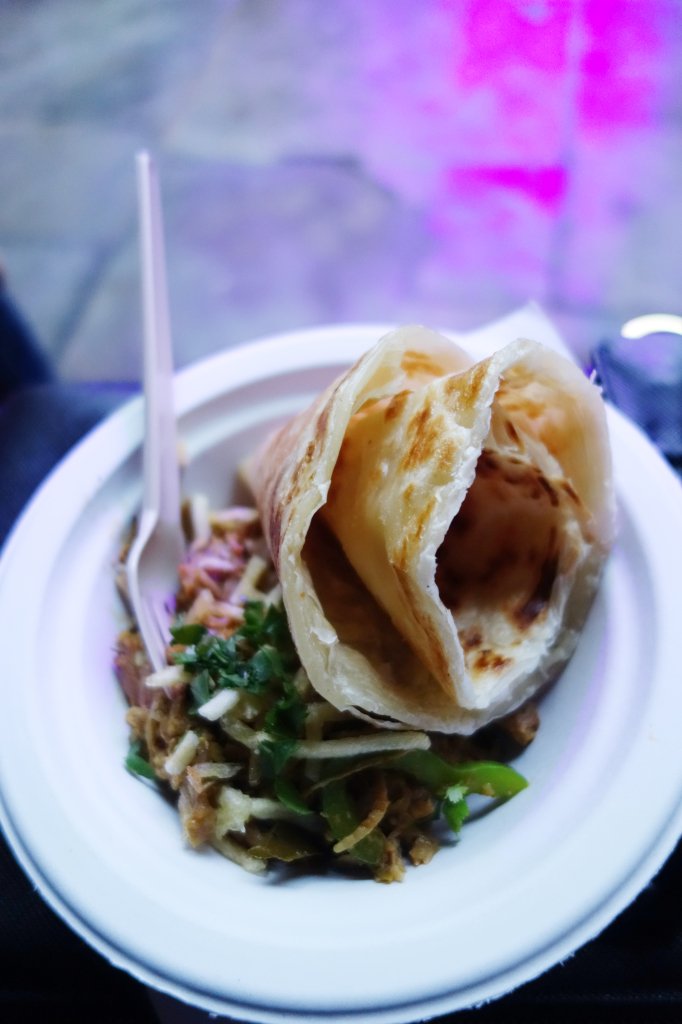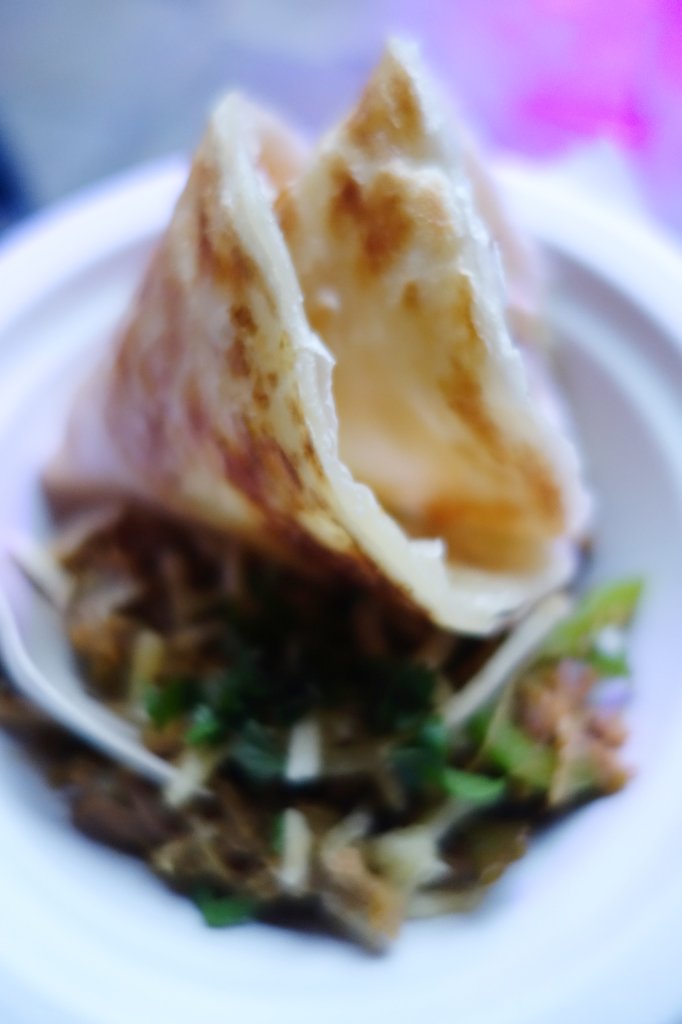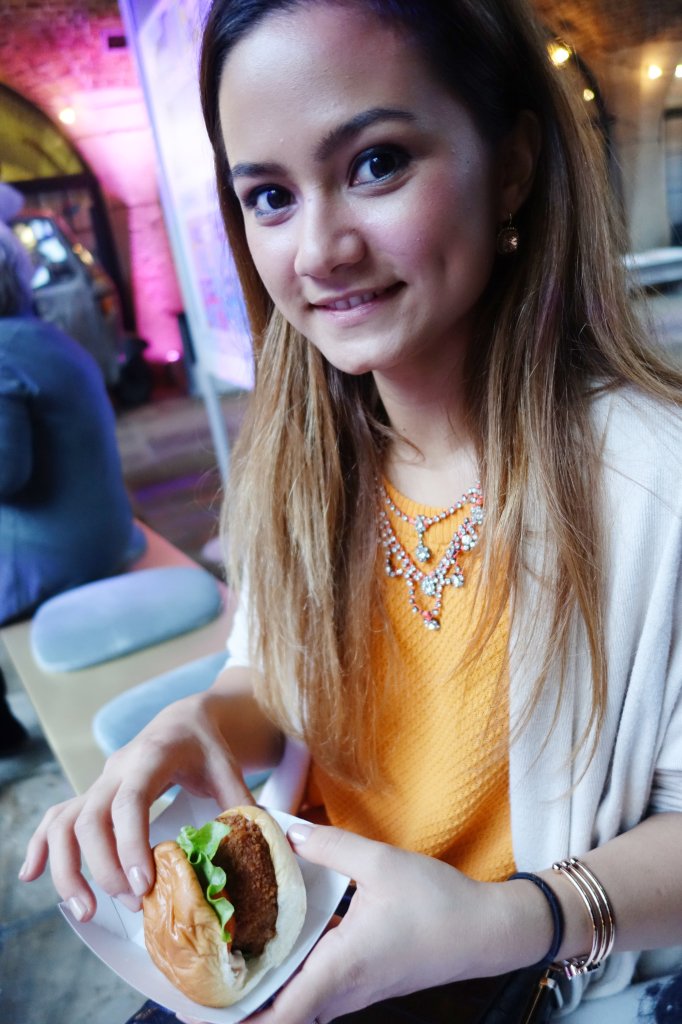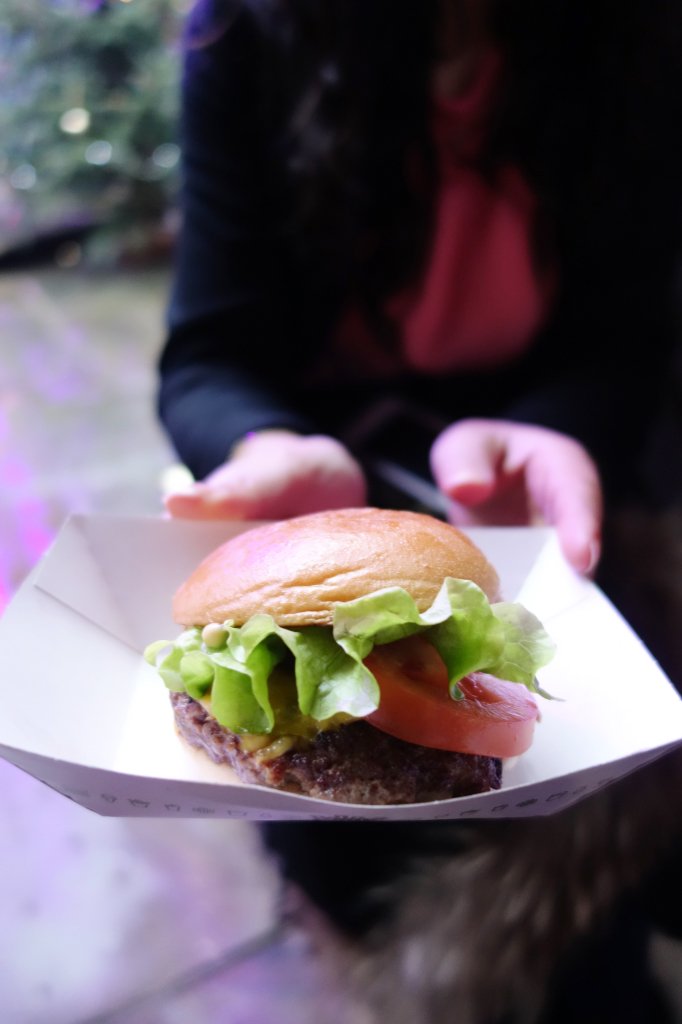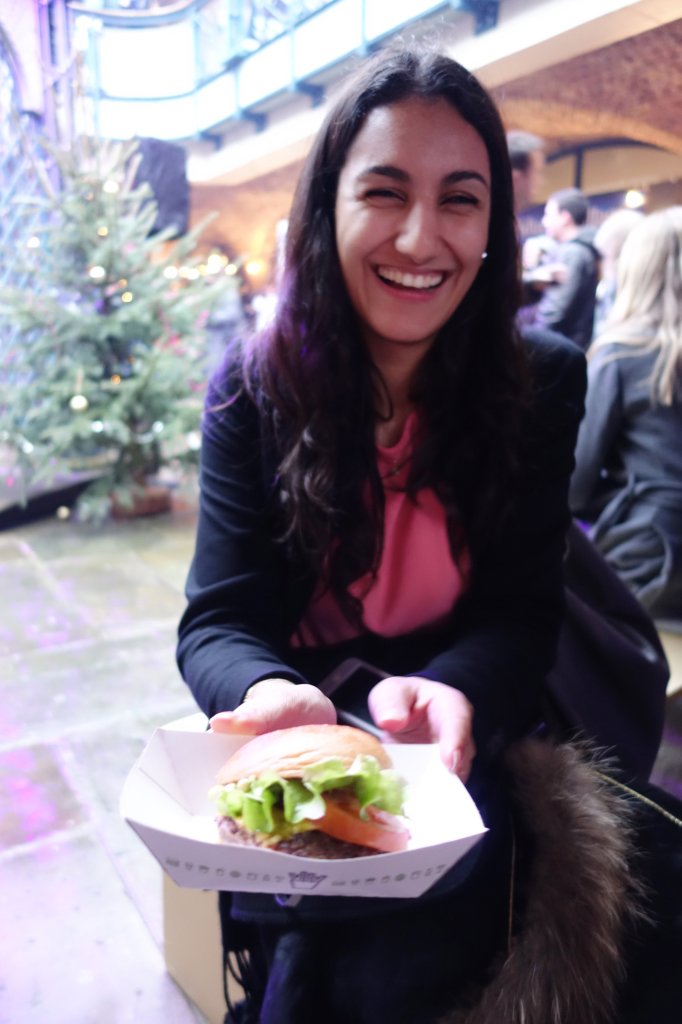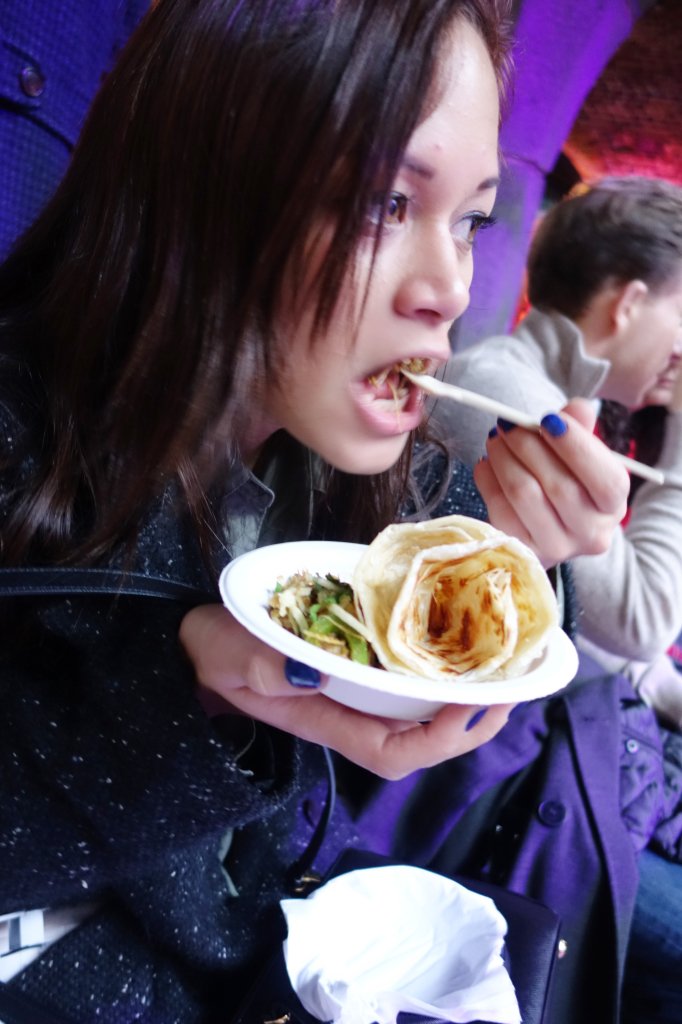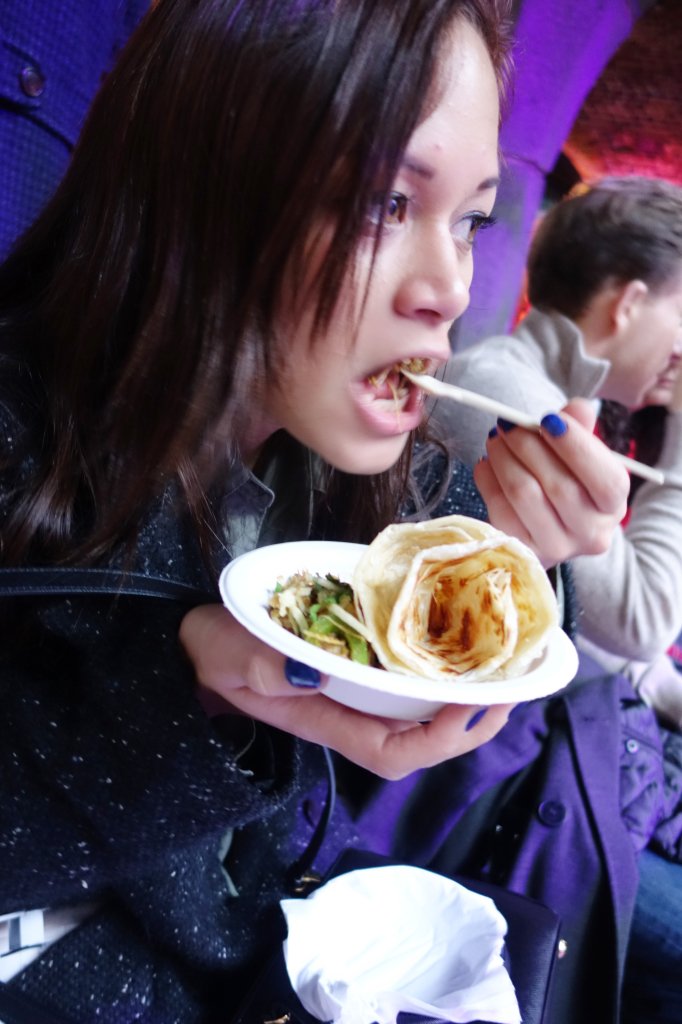 How many men does it take to mend a grill? I guess it's more than one, from this picture.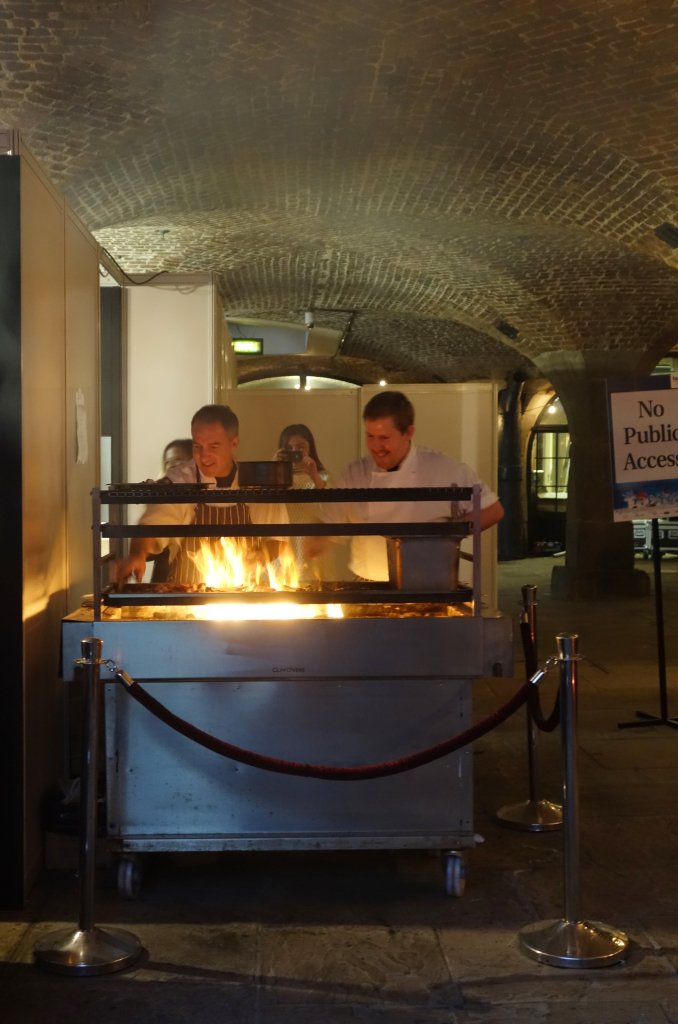 Then, one of our last pit stops was Ember Yard. We stood in line for a good ten minutes to get a charcoal grilled octopus pinchos with saffron alioli and iberico pork ribs with quince glaze and squash puree.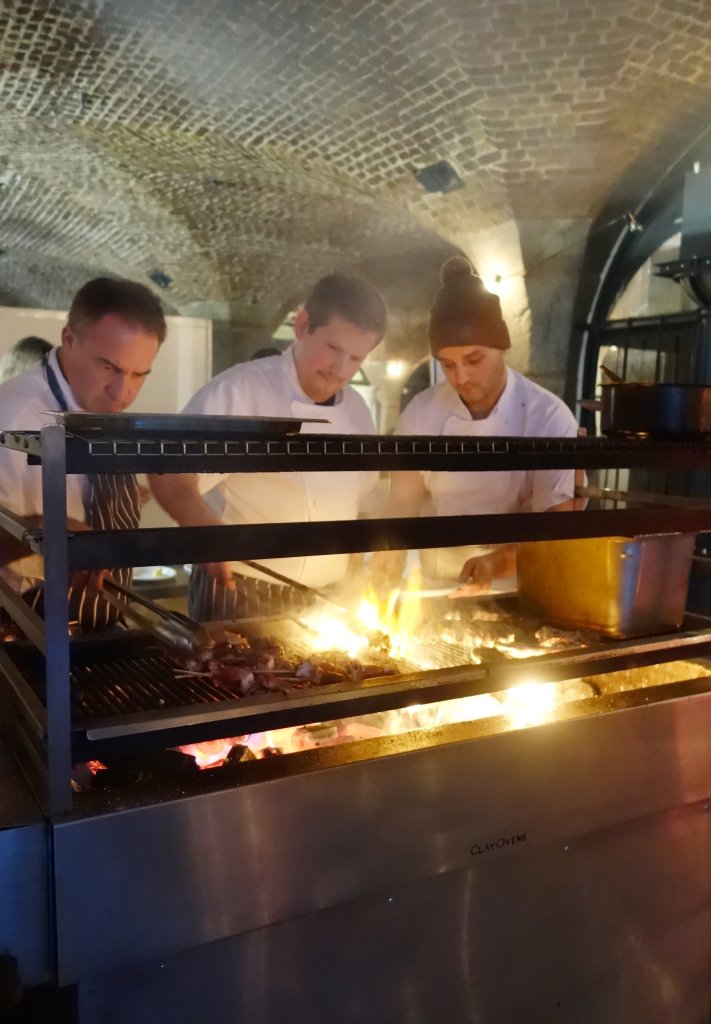 The delicious pork ribs.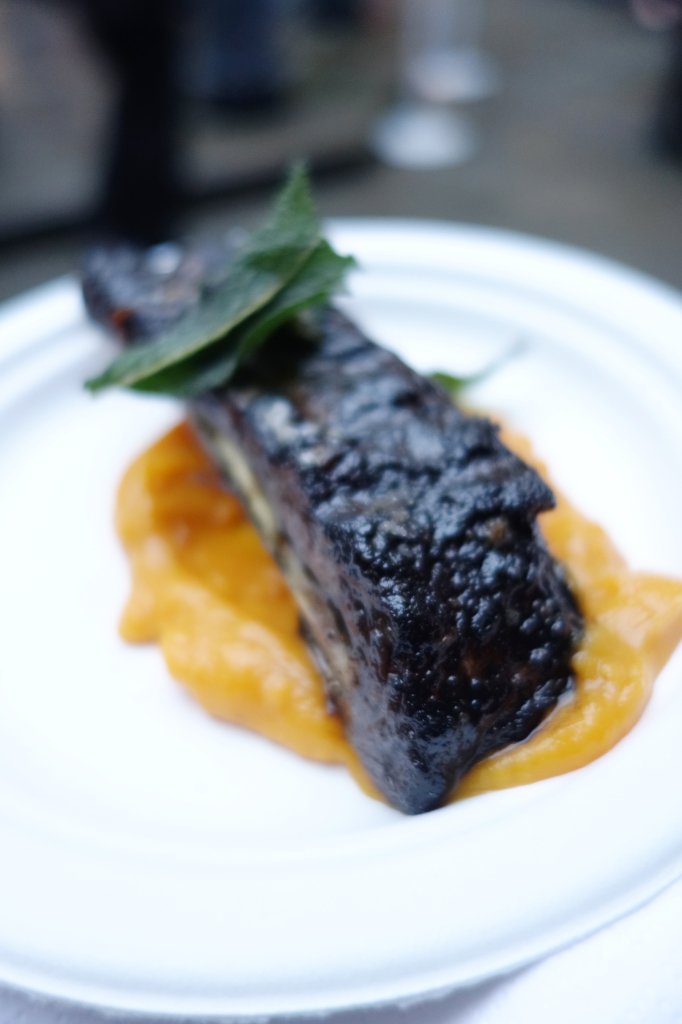 The grilled octopus.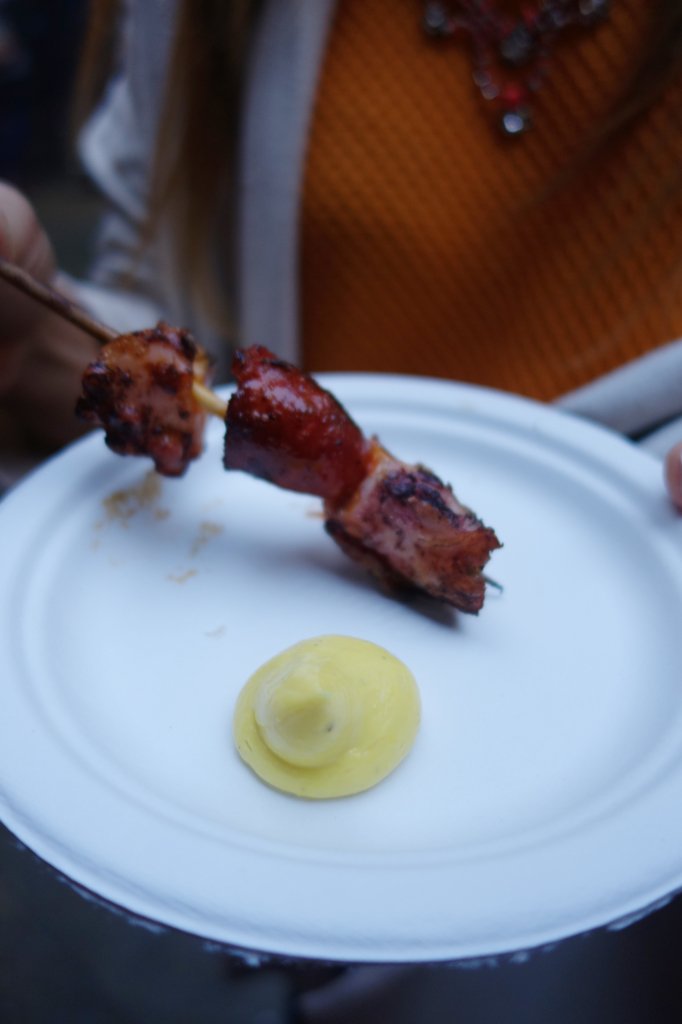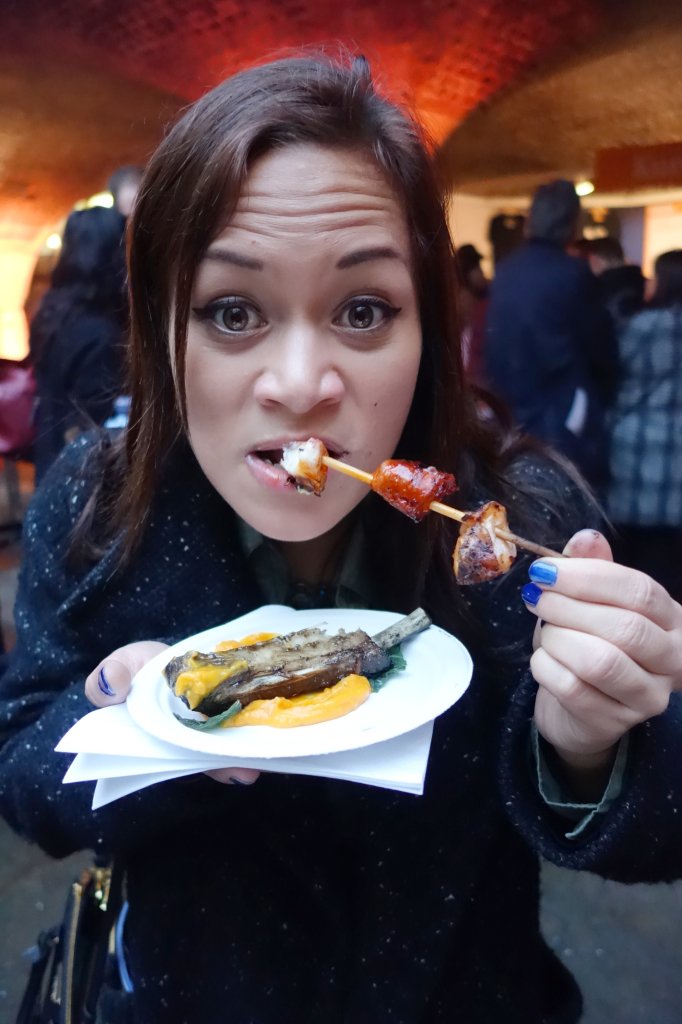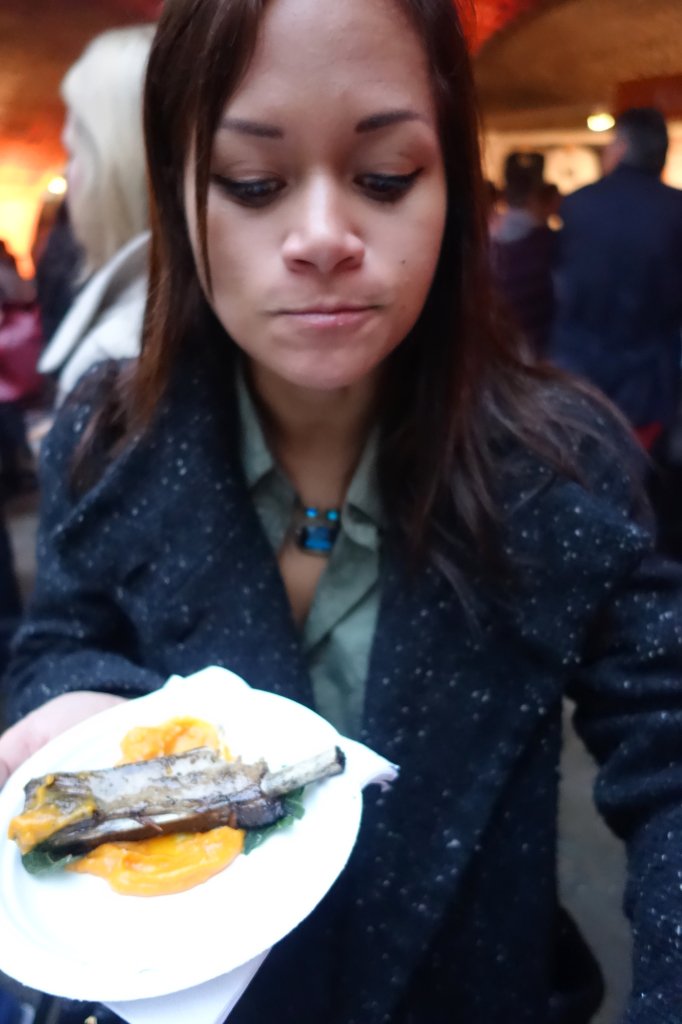 We looked around some more and went to see the baked goods. There were so many delicious and pretty looking things that we wanted to try them all. Unfortunately at this point our eyes were (almost bigger than our stomachs).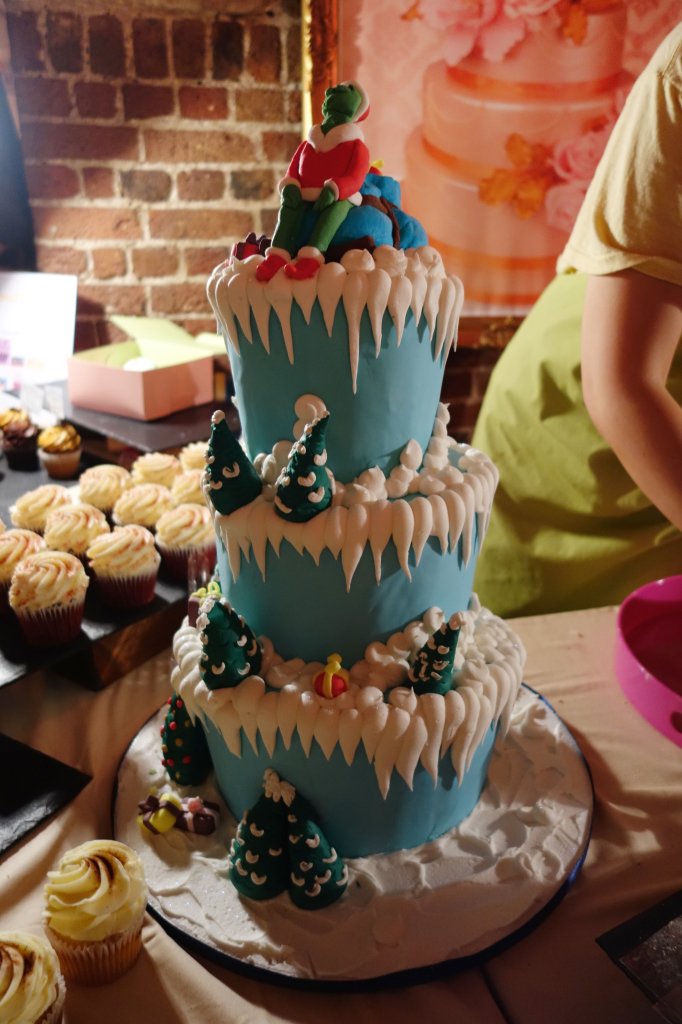 It was almost time to leave… but… not before one last bite!A bite of the Peruvian gold chocolate mousse from Hixter. *cue Angels singing*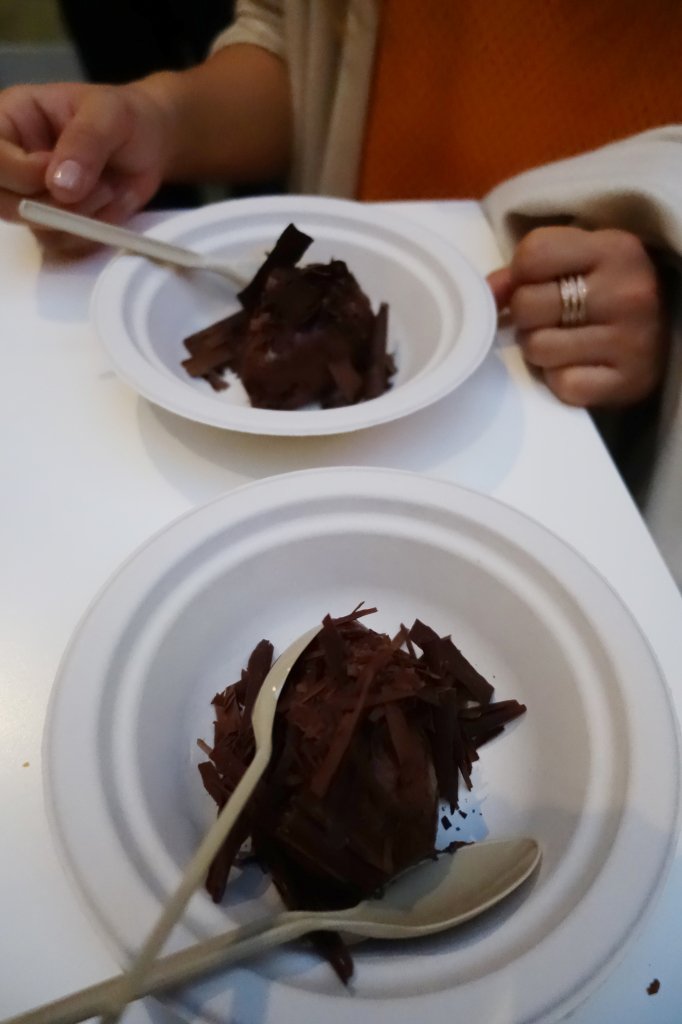 We all got one bowl each and enjoyed each spoon blissfully until all of it was gone.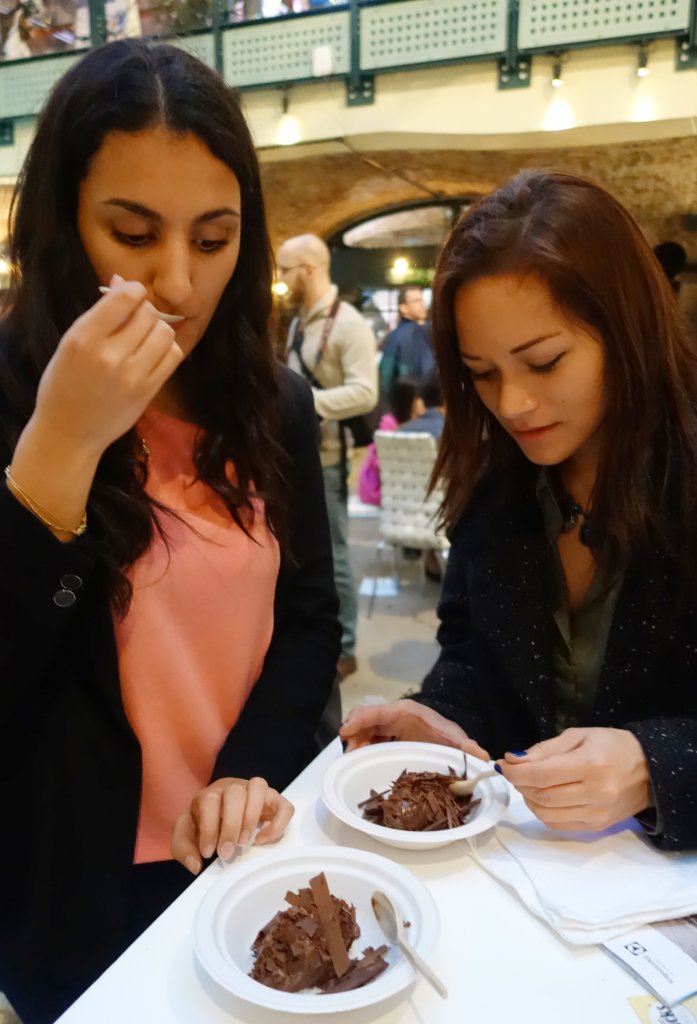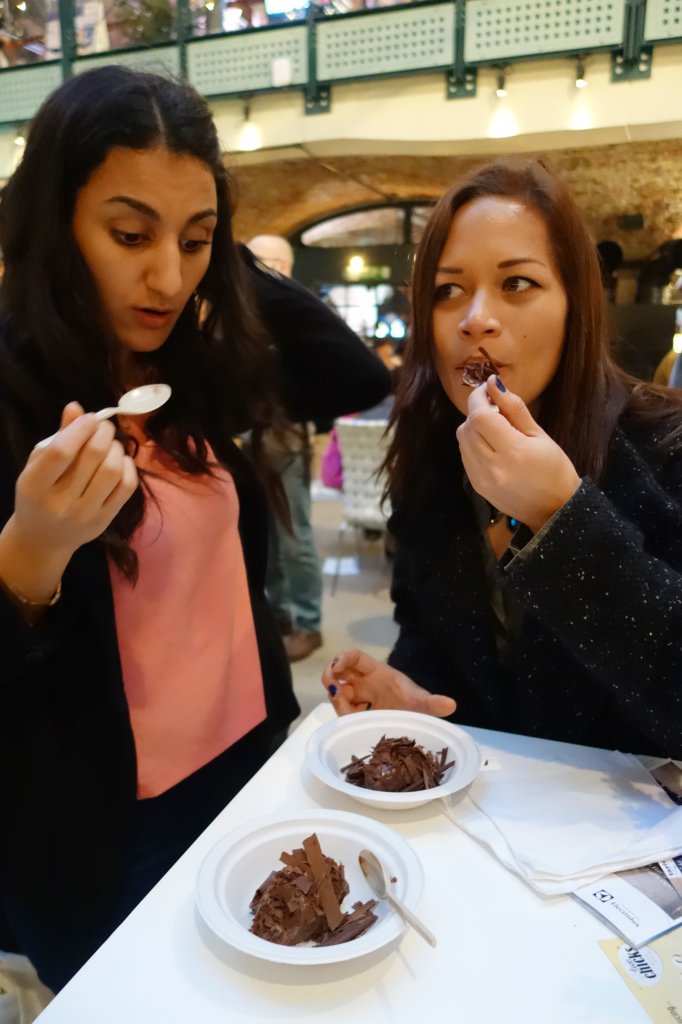 With our bellies full, and our taste buds lingering with the Peruvian gold chocolate mousse, we wondered out of Tobacco Dock and into the cool London evening heading home for a full bellied nap. 
Love,
Rosalina x