Hello Steemians!♡
I have been losing ideas what else I could blog but I decided to treat this as if it's youtube, in any way I hope.
I would like to start a series!
What I mean about series is about making bunch of vlogs of this one Topic of I have been thinking and give tips and tricks! Like giving tips and tricks how to remain organized, how to take notes, and etc!
I can give other types of series like a review of something I found that might interest you.
Here are some of my upcoming Series!♡
Treats with Tricksters
•It some sort of series of discussing many types of urban legends, scary stories and anything that is good for giving vibes of Halloween for those people who loves Horror like me! :P
Tips and Tricks!
• This is the series of blogs of me giving some crafts and hacks to make cute supplies, make great decorations, or just being all organized!♡ Now these hacks are for those artistic bloggers out there ♡
Story Review!
• Now this will be one of my favorites!☆ I will be sharing a story with any genre and I will be giving my comments about the story and find some theories (If there are) since I enjoy amazing stories. It can be fiction, non-fiction, famous, or not.
Now if you noticed the title, It's gonna be a Tips and Tricks series!
● Today, I'll teach you...
》 HOW • TO• START•A• SERIES《
Since I have this sort of idea, I would love to share if you feel like starting a series of your own as well!♡
Now, I may not be experienced too much but I appear to make my own way to make myself feel more comfortable because it seems not only entertaining but also gives good ideas to start making a blog without worrying all the time for a topic to share.
》TIPS AND TRICKS《
◇ Make a nice title for your series!
Giving cute and catchy nicknames always make your readers more interested and might also enjoy your blog!
◇Edit a cover for your blog!
Adding pictures to your blog is something makes our blog complete and maybe sharing your edited cover will also exite your readers! Here, I'll show you an example to show a tiny bit of ideas ♡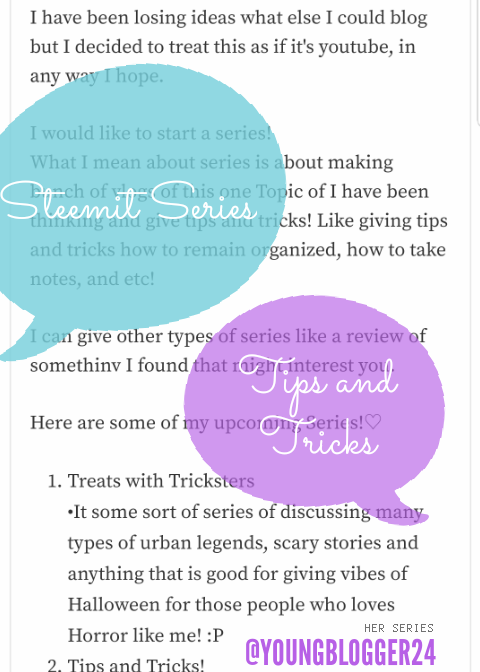 If you don't have any pictures about your topic, like if you are giving a guide and not see any objects representing "guides" easily screenshot your blog! might like to screenshot the important part of your blog or introduction.
◇ Design your text! Designing your blog like adding logos and emojis like what I am doing makes your blog more entertaining especially the titles! But I would balance my Designing because I don't like my blog to over exaggerate. But it also your choice!
Example:
• 》 《 ◇ ♡ ● • ☆
And the rest, it's now up to you! :D
Make your blog great by your taste!♡
Thank you again steemians for checking my blog today and hopefully you have a great day!
If you have tried my tips and tricks about making series please send your thoughts about and tell me how it felt :P
If you know more tricks, feel free to post it down to the comments ♡
I'd love to see your work! ♡
Thank you, love you, bye bye! ^3^