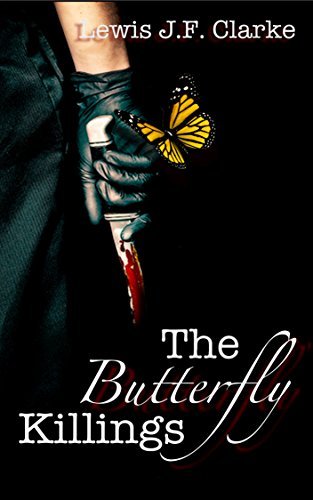 Photo Source: Amazon*
I am very excited to write a review for this book because I have waited for this to arrive on the doorstop for weeks (a month I guess?). Aside from the long wait, I am happy to be able to work again with some of independent writers through reviewing their works. I have written reviews when I was in university but stopped for a while. Now, I wanted to help writers to put the word out about the awesome books that they have been writing. Now, we will be talking about Lewis J.F. Clarke's (@lewisjfclarke) "The Butterfly Killings".
The novel is about a person having murderous tendencies, being hunted by authorities for years. She exiled herself and made a new life for herself with a new identity. There faced the consequences brought by the actions in the past and as well as some personal flaws. I hope I this review will encourage people to read this novel.
After this, I will also be reviewing Lewis J.F. Clarke's The Prince of Fame which is also a fine piece of work. Now let's head straight to the book "The Butterfly Killings".
FORM
The novel takes shape in a diary format. It is very confessional which gives you the feeling that you are within the personal space of the main character. But! Mind you! The character is not your typical neighbor. Though she is very inviting, she even allows everyone to be beside her but you won't even try to mess with her.
While reading the novel, it made me remember the gory and macabre stories of Edgar Allan Poe dealing with man's mundane experience. The difference is "The Butterfly Killings" carried a more recognizable contemporary urban life, very didactic (because of it's diary format). You will like how the narrative is structured. The writing style is also very friendly and fun. It isn't safe to say that this novel is light read but not that heavy for you to throw up and end up being dizzy.
If I will describe "The Butterfly Killings" in a few words, it is "Pscyhologically arresting". It shakes your sense of balance, It will disturb your senses.
CONTEXT
This novel talks about abuse and the nature of abuse. It attempts to map out the how abuse affects the life of everyone in the society (not just the person being abused). It also explores the depths of human connection and intimacy. I wanted to believe that this novel is one of the best platform where we can launch ourselves in discussing social and domestic violence. It may have some sexy, intimate parts but it shadows the elephant in the room which is abuse and violence.
For the character, I hated her so much but I also feel sorry for her. I feel sorry about her life and the struggles she has to endure. She is a perfect example of an independent woman, caring less of what society might think of her but she has a soft side which I think brought her down in her demise. By the end of the novel, you will start to feel like "Hmmm. I hope there's a way that I could help her".
POTENTIAL
It is more apt to describe this work as a novella than a novel but as a reader of fiction, and an aspiring writer, I believe that the book can leap to far more places if we are to make this as a trilogy. Having it in a diary form is incredible. I can't be able to write a good story using this form but it seems that we can still extend it to a trilogy. It gives the fast paced storytelling style freedom to express its beauty if we could slow the events a little bit. It will also gives the reader time to ponder on the choices the main character has made and at the same time understand and sympathize her.
I might not see what the author wants to achieve by using such form but I hope if this novel will take the form of a trilogy, it will still serve the author's intention and interest. But one thing is for sure, I wanted to read a slower narrative line from the author. I am looking forward to it.
I hope I could get an interview or two with the author to know him more and of his work. Please follow him in his Steemit account @lewisclarke.
CLICK HERE TO BUY "BUTTERFLY KILLINGS"

DID YOU MISSED A BOOK THAT WE'VE DISCUSSED?

FOLLOW | UPVOTE | RESTEEM
About GIL
@gilnambatac
RELATED POSTS

*Photo Source: Amazon