At last, we've had some clear skies and comfortable weather around Boston.
Maybe it's not tee-shirt weather yet, but you can keep your shirt and tie on and walk around without a jacket.
I was as surprised by this as a flock of pigeons.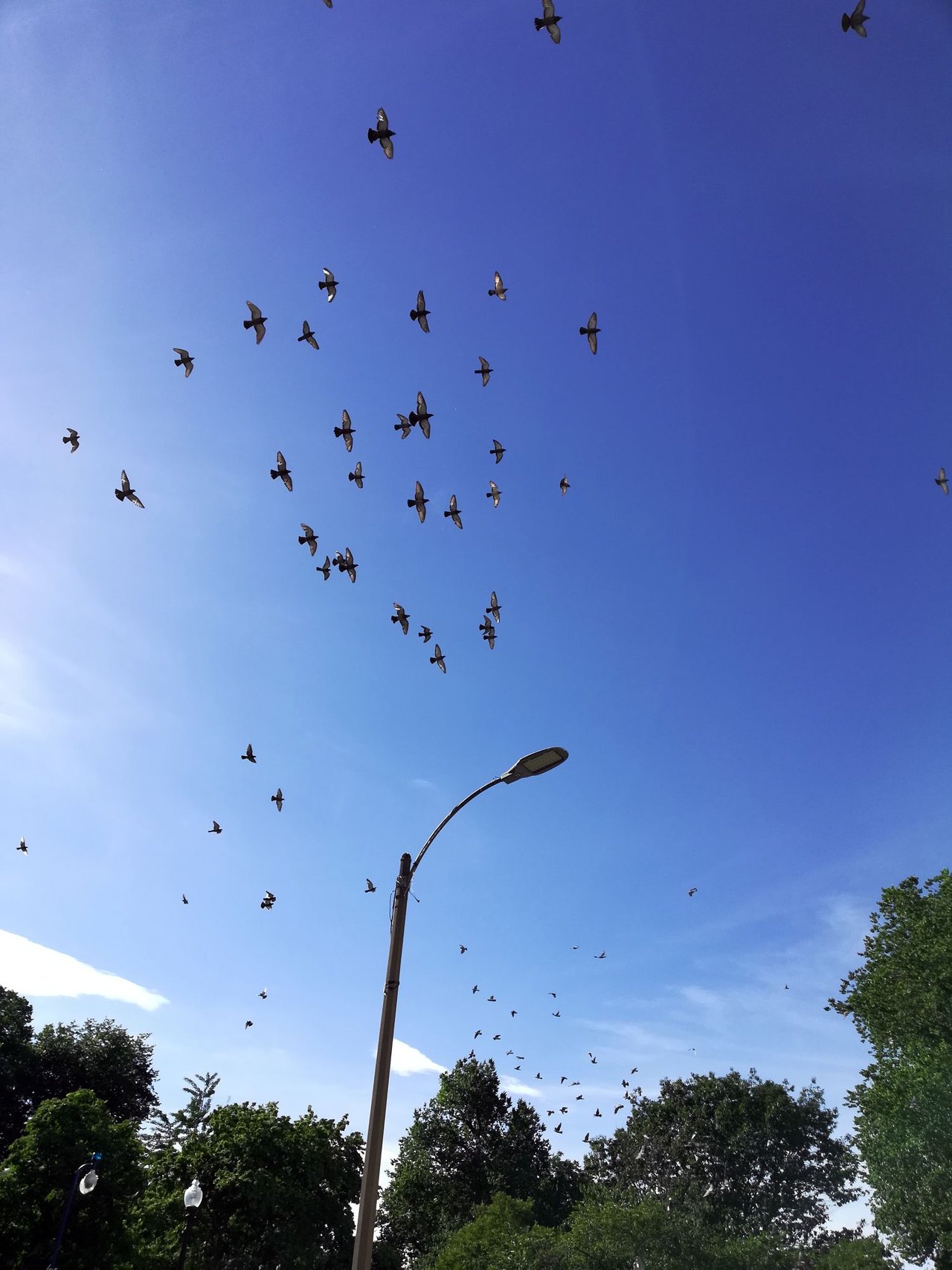 Just look at all that blue!
Emerson College, which owns this building I have to walk by every single day, is finally finishing some renovations that have covered the sidewalk and half a lane of Boylston street with scaffolding for the last year and a half.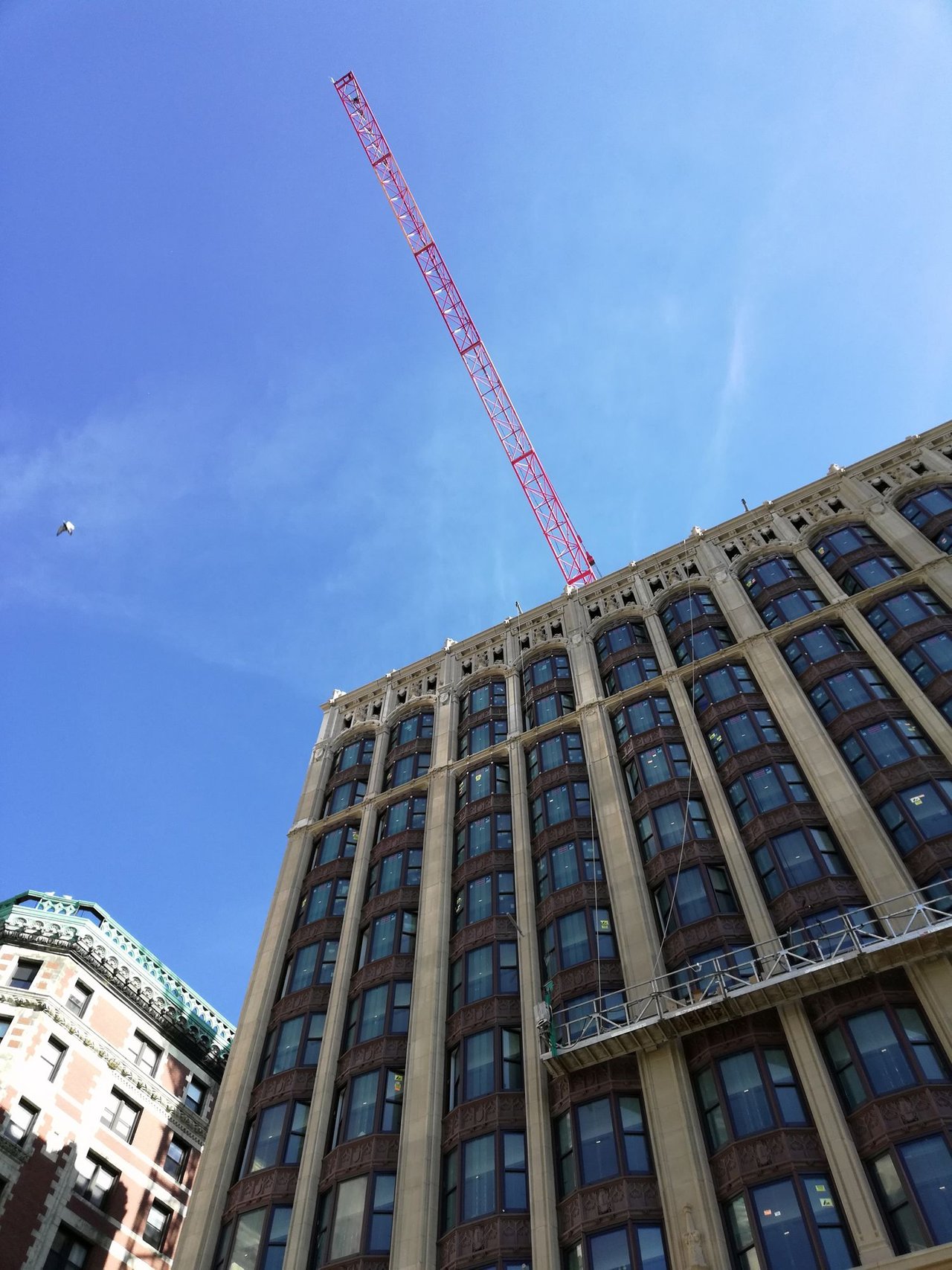 I'll admit, the results are impressive! These are going to be dorm rooms, ready for fall, that face Boston Common. Can you imagine? But I guess your kids better get something impressive for $43,000 a year.
Meanwhile, back on Earth,
it was a difficult week for commuting.
Just four days after a green-line train derailed in a tunnel (it happened during Pride Day!) a red-line trolley came off the tracks and scraped along for a third of a mile before impacting this switching station.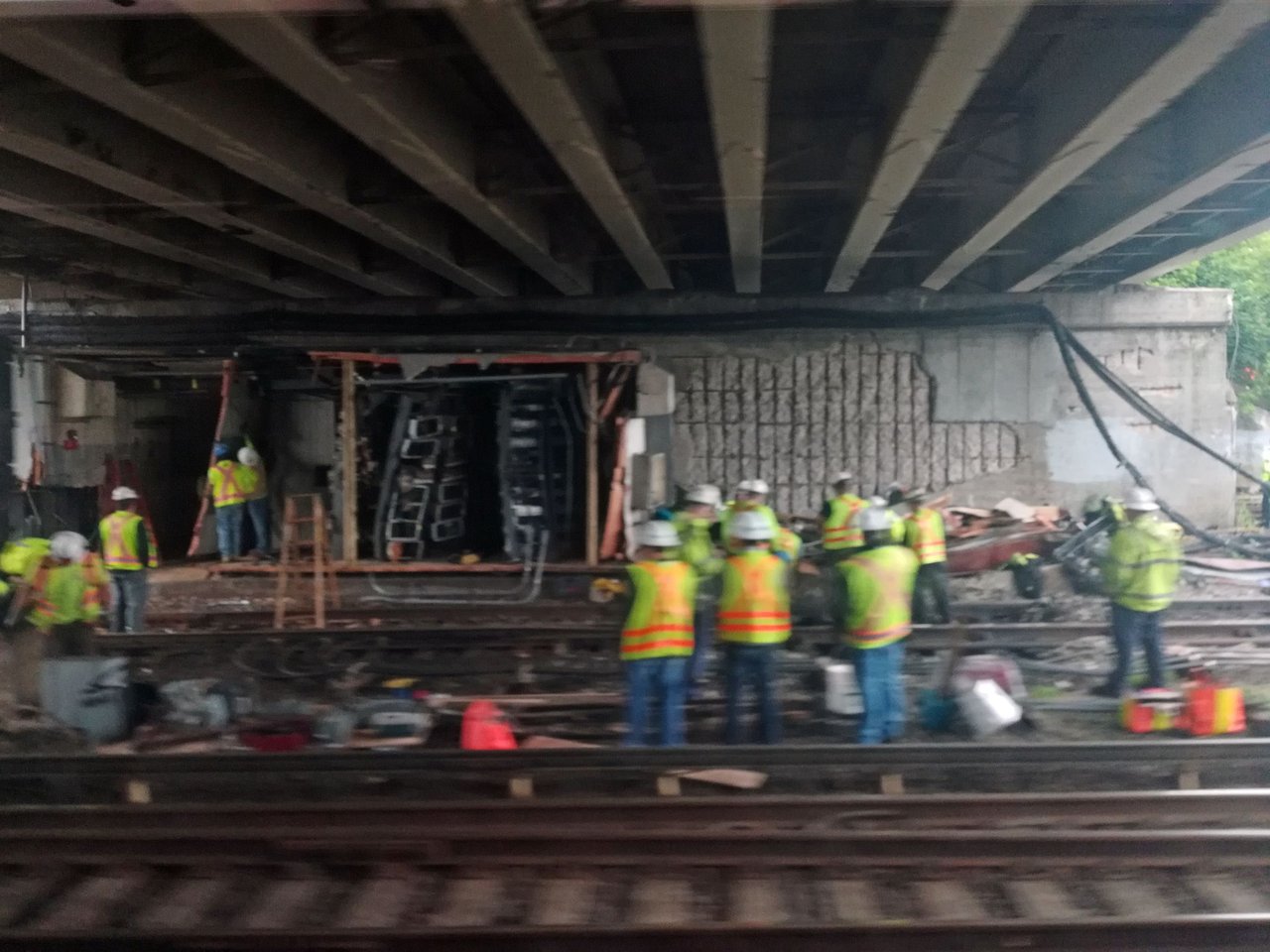 Apparently, all that high-tech looking stuff in the trailer is responsible for sending the southbound red-line trolleys off to their respective branches. These guys in yellow vests have been standing around scratching their heads at the scene for the whole week.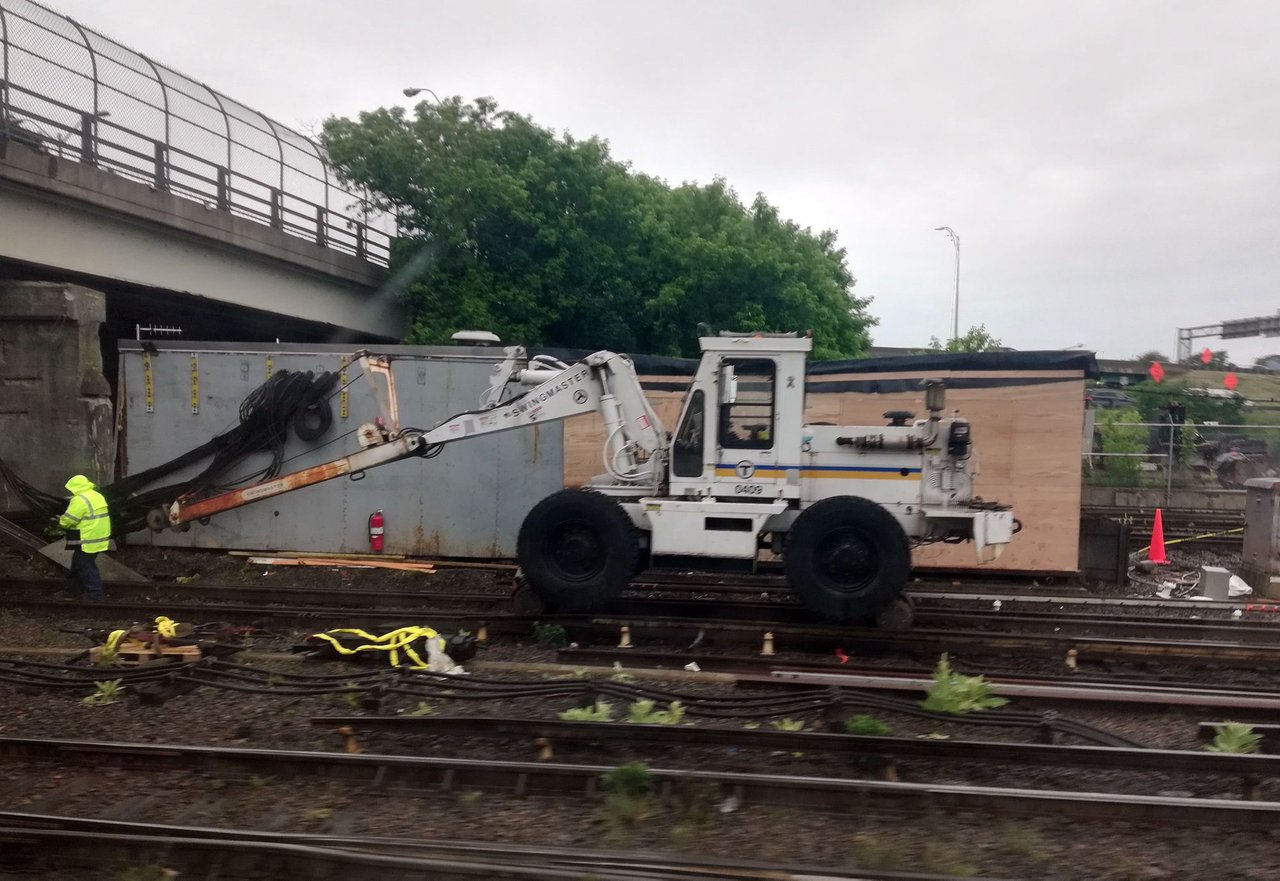 (I love how it looks like this guy is leading a mechanical donkey to the river for a drink.)
It actually took an entire day to get a crane up on the overpass to lift the damaged train off the tracks, which actually blocked vehicular traffic into the city at the very time the train wasn't an option.
This all means the commuter-rail line that I take has to travel slowly, since all this switching has to be done manually in some fashion. I guess I'd rather they take their time and get it right. Red line passengers have to take a train to this station, then get out and transfer to a train for their particular branch. And they're packing the commuter rail cars with hoi-palloi to ease the burden. This means extra stops on top of the slower service, and some really packed riding conditions.
You'd think a repair like this could be effected in a couple of days, but apparently this equipment is so old that replacement parts are hard to come by.
I'm grateful no one was hurt. Also, that my boss doesn't seem to mind a few minutes of tardiness on what's turning out to be every single day. But it's also starting to feel like third-world service at first world prices, and rates are set to go up again in another week.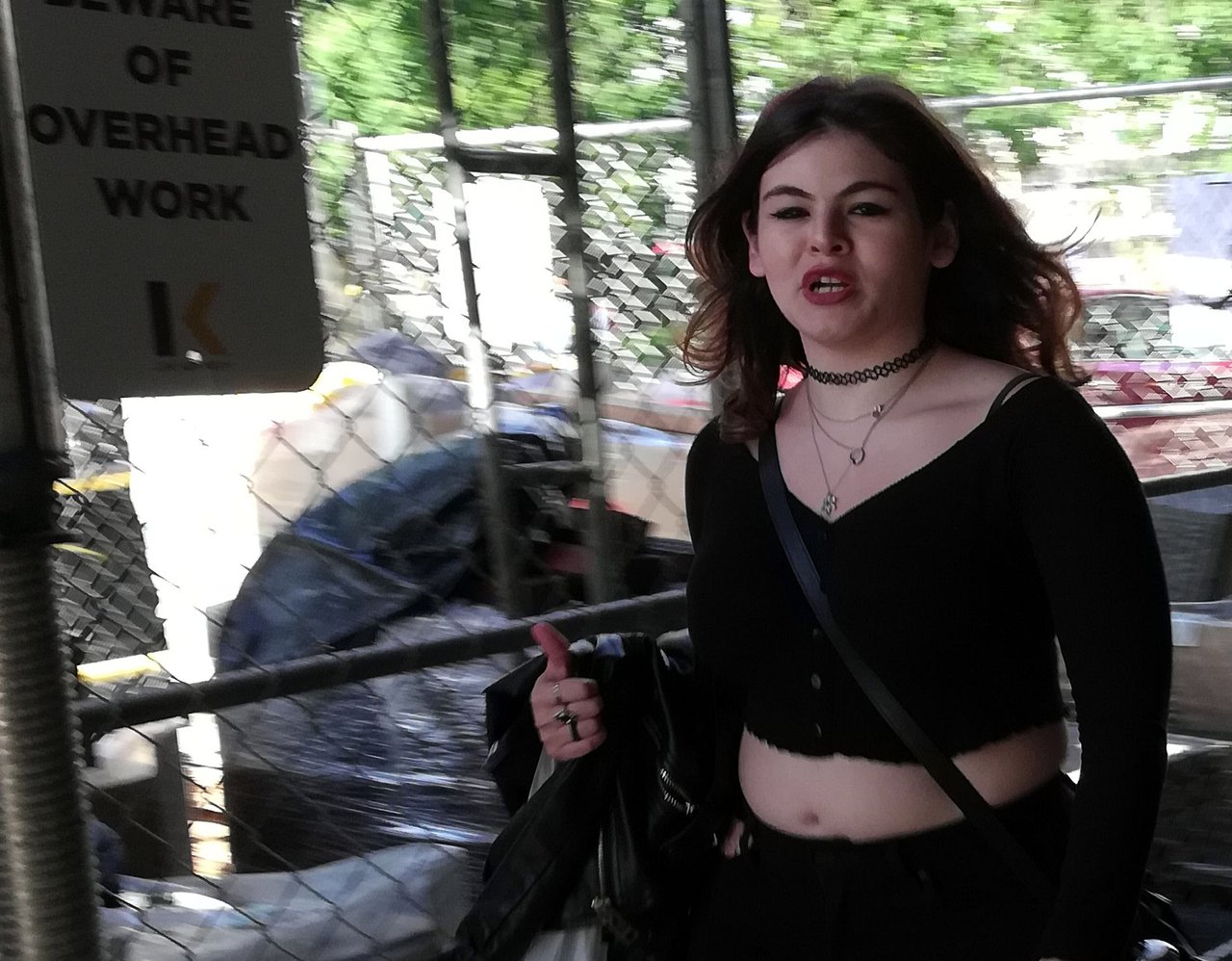 It tends to put a scowl on one's face.
Still, it's nice to see some of this "overhead work" come to an end, and be able to look up and see the birds, instead.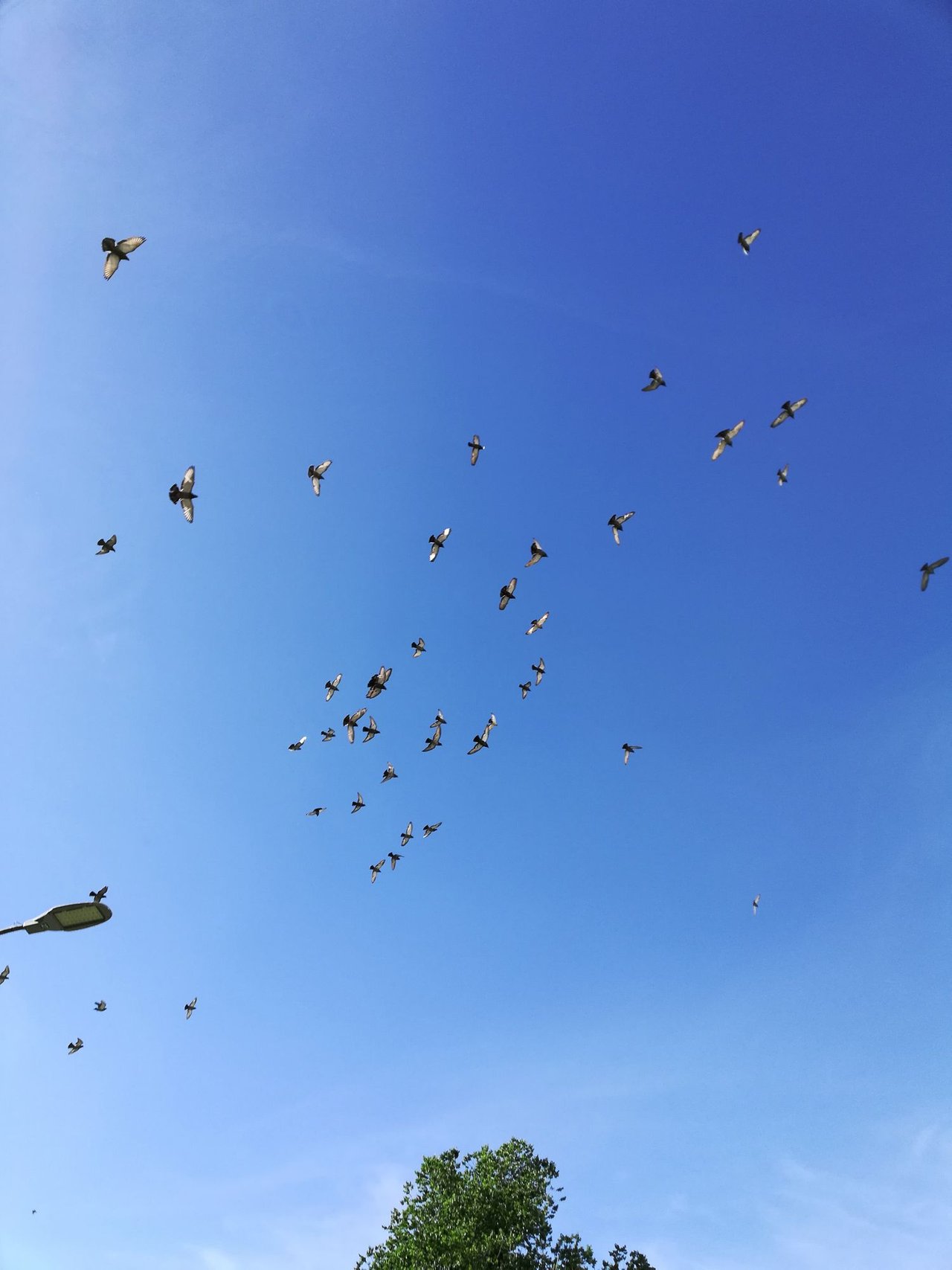 ---

---

---
Unless otherwise stated, photography is the work of the author. Feel free to copy, remix and share photographs from this post according to the terms of a Creative Commons Attribution Sharealike 4.0 International license.
Camera divider and signature illustration by @atopy.
If you'd like to read more, you can check out a categorized catalog of my posts on Steemit here.