Hi friends steemit, and especially those who like boxing, do you know Adrien Broner does not want to be fooled by Manny Pacquiao's age when the two boxers fight jotots to fight over the WBA welterweight belt at the MGM Grand Garden Arena on Sunday (01/20/2019) WIB . And he said, it could not be used as a benchmark and he gave an example of Floyd Mayweather Jr.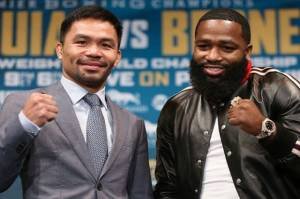 "Many people say that Pacquiao's age will be a factor, but I don't see it like that. And you see people like Floyd Mayweather who remain invincible at an older age. I just focus on being me. As long as I do what must I do, I will win, "Broner was quoted from ESPN on Wednesday (01/16/2019).
Broner didn't worry too much about the name of the boxing fan who called him an underdog boxer when he was in the ring with Pacquiao. And also According to him, there are many great boxers in this sport, but they don't carry what they carry in the ring.
"With a win against Pacquiao, it will put me where I should be. And also I always want to fight big names like this and I know I have to keep working hard and the time will come."
"As soon as the bell rings, I will make adjustments and get my winnings. And also I don't have anything I want to prove and come out. It's just a matter of winning. That will say everything," concluded Broner.
And I'm sure this is very exciting and I hope for the lover of boxing, never miss it.