One of my viewers wanted an update to the market, so I thought I would share my perspective on the present situation.
Looking at the BTC chart, we see a formation that is either a double-bottom or a bearish break below the 3,600 level.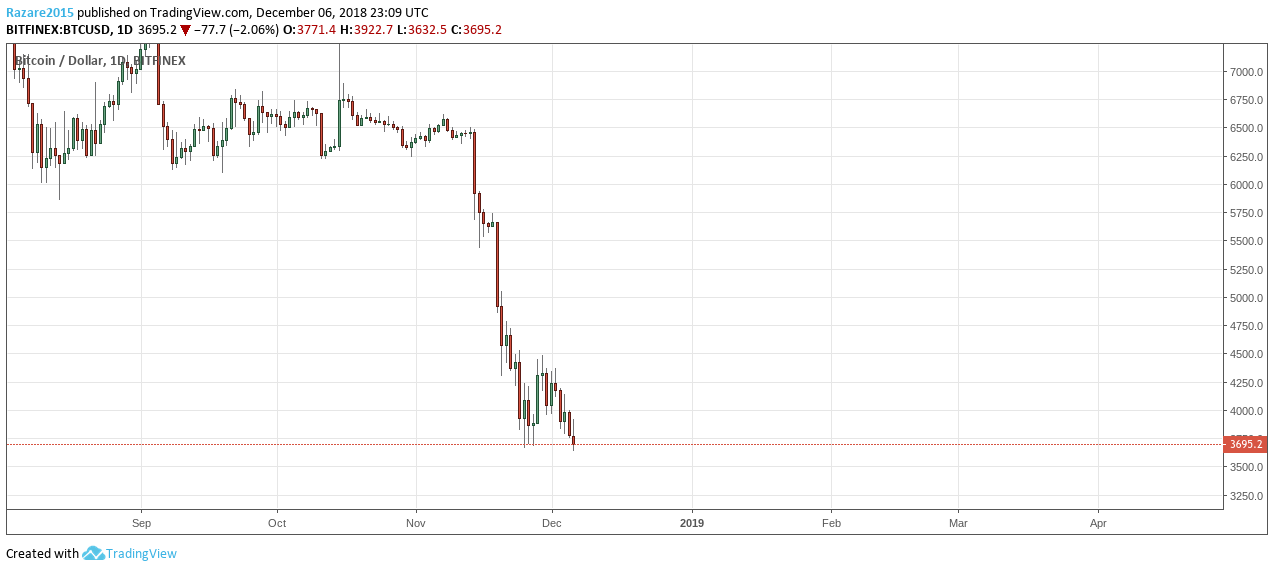 These declines are interesting because in terms of Market Cap valuation, I think few of us believed we would return to 115 bil market cap. Picking valuation as a buy-level is great for stocks, when their companies can actually be valued. In 2008, when the big crash happened, many small companies traded below their actual asset value level on the stock market. This meant, there were companies that you could just buy, and then sell off their assets and make a profit without the company ever being operationally successful. In the stock world, buying companies below their economic value is called value buying.
In crypto, it is hard for us to make claims of value buying. Certainly at 115 bil, the market seems like a value buy. Long-term, I wager 95%+ odds that it is a value buy, assuming we could buy the market and not the individual projects. Yet there is no immediate reason to say things are ready to turn around.
BTC could sell back to 1,000, instead of being a good buy at 3,600. With stocks in a crash, we have other things to look at besides chart formations and market sentiment to decide if something is a good buy. In crypto, we only have chart formations and market sentiment, and our fundamental analysis is never tied to a short-term precise analysis of underlying valuation of the asset. Fundamental analysis in crypto, is always a distant future perspective on what is possible.
---
I wager BTC breaks below 3,600
3,600 is the first major support level that BTC quickly found after breaking the major support zone in the 6k range. I see no reason that this would be the support zone that BTC ultimately decides is good enough. In a reassessment and rebalancing of the market, declines tend to come in multiple phases of new lows discovered. The very first low is rarely the last. For example, when the BTC declines first began down from the 20k range, at first BTC seemed to like the 10k to 11k range. It briefly found stability there before breaking down to find the 6k level.
I would view today in that same light. That likely since 6k was stable for months, that now it has broken, it is unlikely the first level we find is the one that holds. We could enter the 2k range for BTC... maybe the high 2k range, but I don't think it's done.