A week ago, I said it looked as if BTC would break the long-term wedge to the upside. After a preliminary pull-back, this break occurred with significant volume.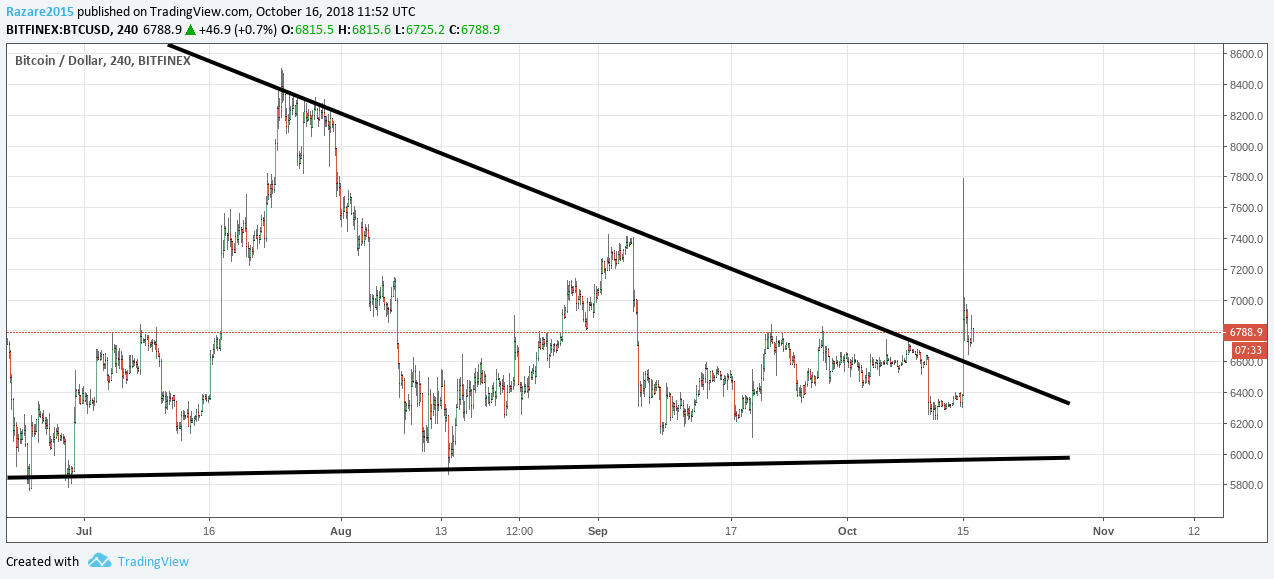 What interests me about this break was not the day-trader potential, but rather that this break holds a higher likelihood of going somewhere. As a long-term investor, it is kind of meaningless if our strategy devolves into swing trading monthly spikes, (though it's worth considering and is something I do occasionally since I have the time).
For investing, we want to find those transitional periods where we are buying at the bottom, and holding on a while for the long-term market increases.
Furthermore, this breaking of the wedge came with market enthusiasm as it went up 20% in a day. Normally, I really do not like trading wedges, but in this instance it gives the entire market a visible sign that is psychological where people think, "perhaps the bear market is over?" Even for people not seeing the wedge I outlined, this part of the market is visually appealing for investors. Declines have hit, been repeatedly unable to break the 5,800/6k level, and now we have a price spike as if there is accumulation to the point we may be seeing the market tendency to be bullish rather than bearish.
Market Entering a New Phase
I do not believe this is a pop and drop situation we are looking at. Sure, at the very least, this indicates a general market increase going into December, perhaps January. But beyond this, this simple movement, to me indicates that a shift has probably occurred. A shift concerning what assumptions the general market will be using going forward. Our assumption should be this is the early stages of a bull market, until we see indications otherwise. This manner of assumption is the safest and most likely assumption from how the market has behaved, and how cryptocurrency works in general.
Top Picks
These are the projects I like going forward:
BTC
XRP
EOS
STEEM (later stages of whatever rally we get, not best for early stages)
DASH (need to do research, I think it is still solid, but time needs to be done to verify)
Stellar (I like them because they've bribed me with giving me free XLM, and I got so much free XLM that when they have been increasing in price, their coin is actually worth something.)
Sidenotes
I no longer suggest NavCoin as a decent investment. It probably still is because it seems the dev team is still pushing forward, but NavCoin seems to have abandoned Anon Smart Contracts, and this was the primary reason I liked them in 2017. NavCoin right now is ranked 190 at $23 million. Very likely, if this is the bull market, then the middle and late stages of such a bull market could see NavCoin at anywhere from $50 mil to $400 mil market cap, which is anywhere from a 2X to 20X. Such an increase would follow as the natural result of bitcoin increasing in price, which eventually feeds down into the sub-100 ranked altcoins. Just the fact they have a development team, a website, ect, often results in these sort of increases. Me not suggesting it, does not mean it wont do amazingly well. 20X would be very decent if that happened.
Strategy
The strategy is simple:
BTC gets most of the initial blast, probably does 3 stage rallies.
Along-with and following BTC moves, the tier-1 altcoins move (XRP, Dash, Stellar, EOS)
Tier-2 coins move (overlooked is Steem, it doesn't work like a tier 2 coin)
Tier-3 down into the lower grade altcoins move, but usually only move significantly AFTER much price appreciation has hit the top coins, so a solid play would be to BTC or EOS first, down into the lower coins after these increase in price
EOS Projects
2019 could be the year of EOS projects being hyped big time. If this is the end of the bear market, then ultimately this means after tier-1 coins rally, and EOS projects start getting looked into more, I expect some EOS projects to rally on all the hype.
There could be legit 10X to 100X EOS projects from 2019 into 2020, so long as this proves to be the beginning of the bull market.