Are you missing the vola days as well? I certainly do. But I am 100% sure those days will come again.
This is typical behaviour in a longlasting correction. It's the calm before the storm again.
Some people say that the vola is gone, because the institional money has started to flow in, but that is total BS!
The CME futures volume is decreasing as well. Big players seem to avoid futures like the plague right now. They want the real thing. The real BTC. But it is extremely hard for them to get their hands on large quantities of BTC. Why? Because there are no good storage providers yet (at least not for reasonable prices).
How do you store 50000+ BTC for every big hedge fund safely and efficiently, user friendly but still available? They don't want that kind of risk on their own hands. So they are searching for insured companies that can offer them to store their BTC safely.
How many of those companies exist yet? Certainly not many. To be honest I don't know a single one.
Until that changes, big institutional money will likely not be able to freely flow into this market.
They have certainly started to buy small quantities on exchanges and store it in cold wallets, but they can't fully commit yet. It is too much risk involved even for hedge funds.
Here is a possible flat correction pattern: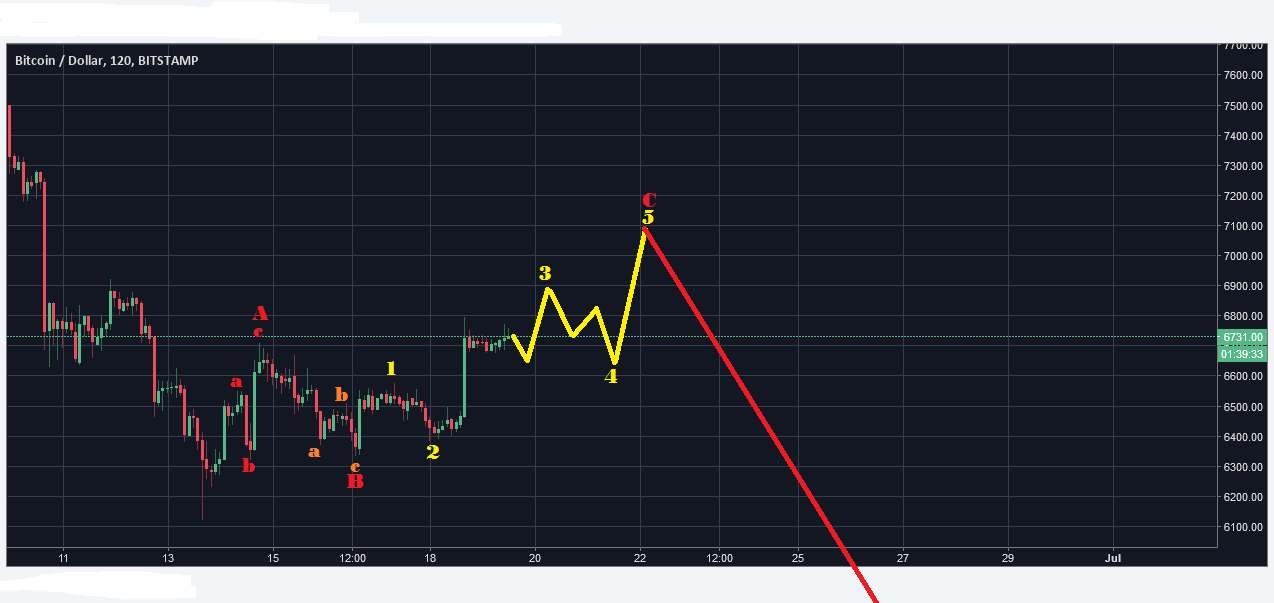 Have you heard about UUNIO yet? It is advertised as a better and fairer version of STEEMIT. lol, they base their whole company on being better than STEEMIT. What this says to me is, that the IDEA of STEEMIT is great and revolutionary, but poorly executed.
I have only read about it today. I don't even know if their blockchain is already live. They are still in ICO stage and I am by no means advertising this new platform. I just hope that STEEMIT inc sees this as a potential threat and starts acting accordingly, before the competitors actually are a lot better than the steemit reward system...
UPDATE: launch in August:
https://cointelegraph.com/news/blockchain-network-takes-on-flawed-steemit-by-offering-lifetime-earnings-to-creators


If you think this to be useful information:




Feel free to use and share my charts, but please mention me, @ew-and-patterns as the author. Otherwise it is considered plagiarism and I will flag you and advise my friends to do the same.



MUST READ!
DISCLAIMER: This post / analysis serves general information purposes only. I am not, and never will be a financial adviser. The material in this post does not constitute any trading advice whatsoever. This is just the way I see the charts and what my trading ideas (from my personal experiences) are. I use chart pattern and Elliott Wave analysis for my trading ideas.
For full disclosure: The author of this post is holding positions in this market at the time of this post. Please conduct your own due diligence, if you plan to copy anyones investment decisions!
If you make any trades or investments after reading this post, it is completely in your own responsibility. I am not responsible for any of your losses. By reading this post you acknowledge and accept to never hold me accountable for any of your losses.
Please consider leaving a comment, like or resteem, if this post entertained you or helped you see things differently...
Have a nice day :-)


#crypto #cryptocurrency #steem #sbd #bitcoin #btc #bch #eos #ethereum #eth #litecoin #ltc #ripple #xrp #stellar #xlm #nano #cardano #ada #vechain #digibyte #dgb #binance #tron #trx #iota #neo #xmr #dash #omg #verge #xvg #bitshares #bts #finance #money #investing