Quick BTC update 17.06.18: Ichimoku indicator on H4 chart is very close to creating a rare "strong sell signal". It may be only 1 or 2 days away before this signal gets activated.
Hey guys, I am back home, and I am excited. You know I am a longterm oriented HODLER and longterm bullish on most cryptos, BUT:
You better get ready for cryptos to drop 40-50% in the coming weeks. There is still a small chance that it will not crash, but it looks really bad to be honest with you.
Regardless of the count, the last relevant support level is 5920 (February low). If this is breached, I don't have any plausible shortterm bullcount left. But until then there is a small chance for this: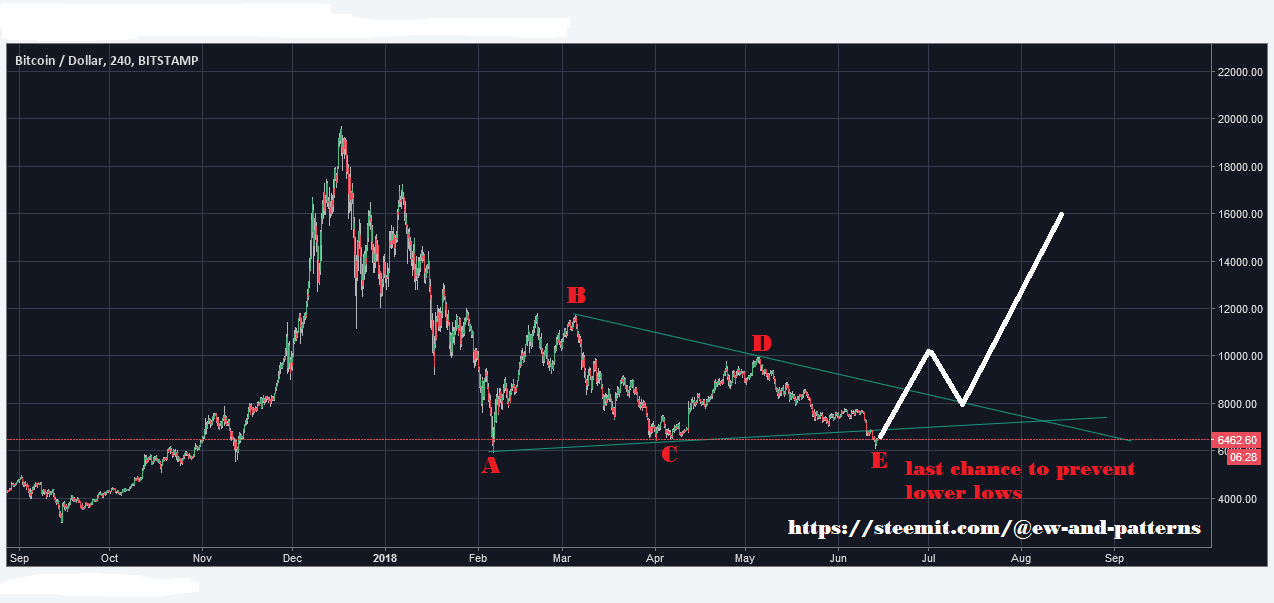 If we don't see this giant bullwick in the next two days, which brings BTC back into the triangle, I think this is what's going to happen: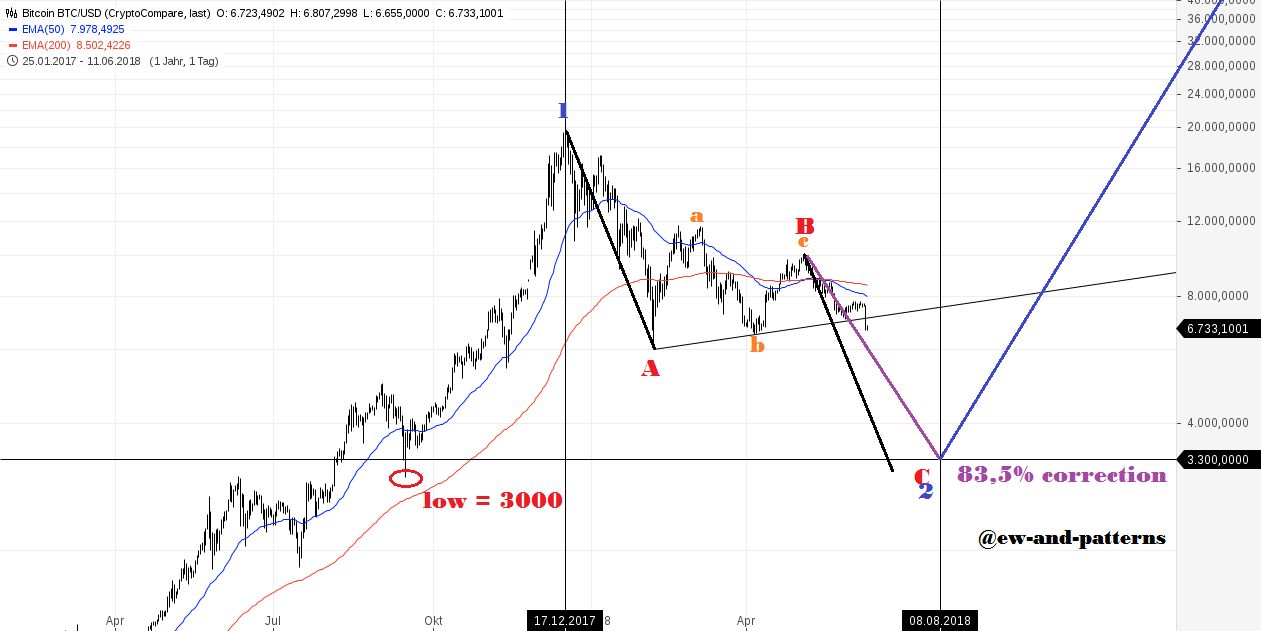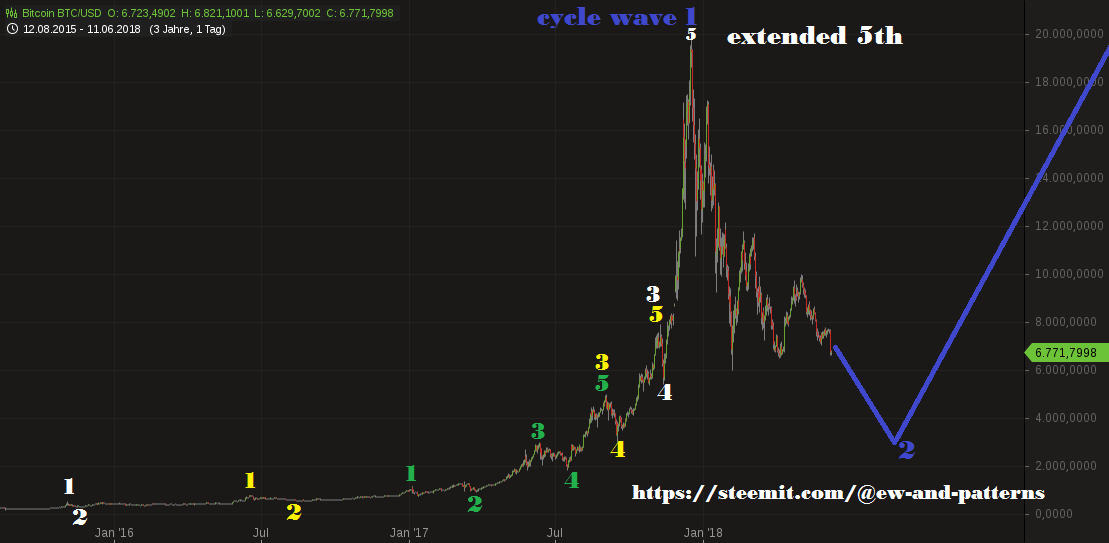 The second pic of this post suggests (white background) that the correction should be done in early August and that the optimal target for wave C is 3100$, because it would be the exact same length as wave A. (C=A happens quite often)
Are you ready to buy STEEM for 1$ again? Because you might be able to do that soon. I don't think STEEM will drop below 1$, because the demand @ this level is huge. So STEEM might be one of the coins, which does not drop 50% in total from todays levels.
The total marketcap suggests a 50% drop as well...

Also have a look at the volume: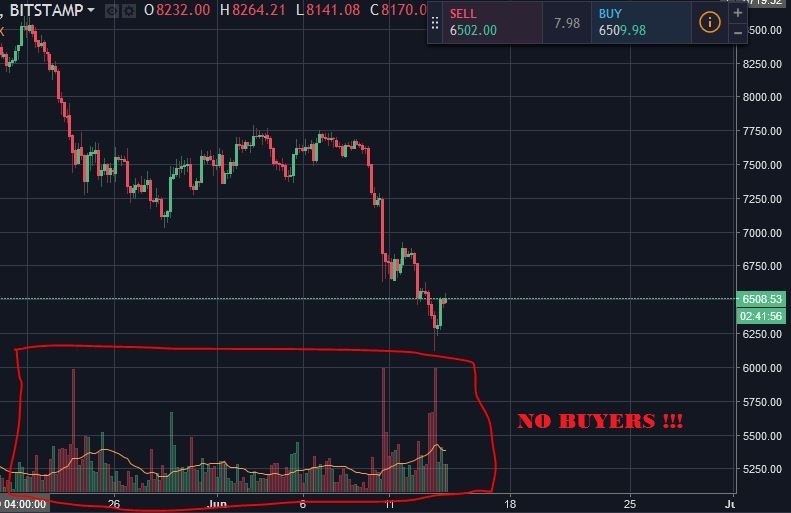 There are NO BUYERS yet!
If this drop happens, my taget zone is going to be 4500$ - 3000$.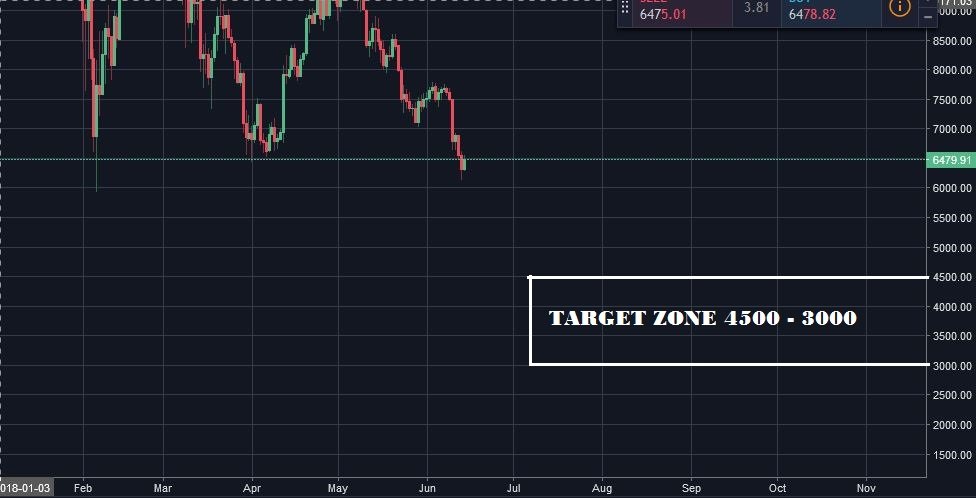 Stay tuned... and don't panic.


If you think this to be useful information:




Feel free to use and share my charts, but please mention me, @ew-and-patterns as the author. Otherwise it is considered plagiarism and I will flag you and advise my friends to do the same.



MUST READ!
DISCLAIMER: This post / analysis serves general information purposes only. I am not, and never will be a financial adviser. The material in this post does not constitute any trading advice whatsoever. This is just the way I see the charts and what my trading ideas (from my personal experiences) are. I use chart pattern and Elliott Wave analysis for my trading ideas.
For full disclosure: The author of this post is holding positions in this market at the time of this post. Please conduct your own due diligence, if you plan to copy anyones investment decisions!
If you make any trades or investments after reading this post, it is completely in your own responsibility. I am not responsible for any of your losses. By reading this post you acknowledge and accept to never hold me accountable for any of your losses.
Please consider leaving a comment, like or resteem, if this post entertained you or helped you see things differently...
Have a nice day :-)


#crypto #cryptocurrency #steem #sbd #bitcoin #btc #bch #eos #ethereum #eth #litecoin #ltc #ripple #xrp #stellar #xlm #nano #cardano #ada #vechain #digibyte #dgb #binance #tron #trx #iota #neo #xmr #dash #omg #verge #xvg #bitshares #bts #finance #money #investing