With alot of exchanges and tokens flying around, it may be hard to decide which is viable or at least, has a more feasible future. The moment you see a brand/startup do things differently from competitors, you know they won't be defined by limits. BTSE (BitSy) brings a lot to the table, scalability, reliability, distinction and precision all of which are some of the crucial elements that facilitate mass adoption. By identifying the inherent problems and challenges with other cryptocurrency industries, they are able to proffer working solutions.
BTSE EXCHANGE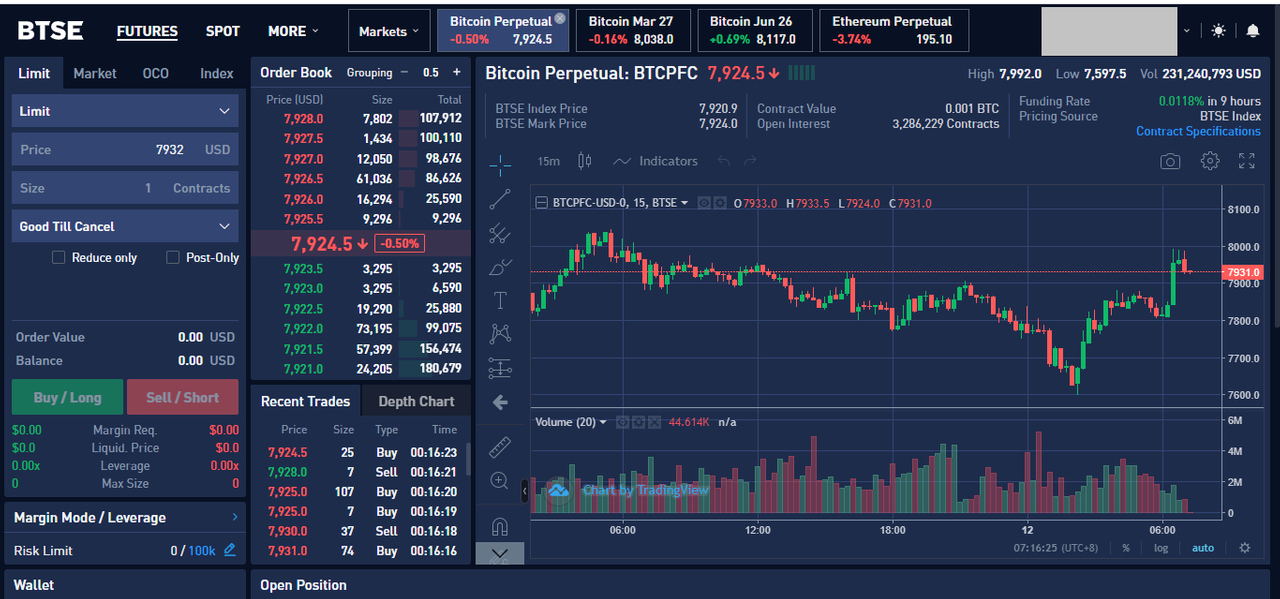 This is a result of a two-year work from dedicated specialists who have spent an ample amount of their time implementing various strategies to fix issues currently disturbing the market. Their goal is to make trading fun for all and sundry.
The BTSE platform is a multi-currency exchange - With support for major crypto assets like Bitcoin, Ethereum, Litecoin, Monero, Usd Coin, Tether USD and True Usd. These major crypto assets could be directly purchased seamlessly with Fiat, defeating the need for currency conversions. Less hassle, speed trade.
You can basically trade on BTSE without having to hold any cryptocurrency. Profits can be recorded in fiat without ever having to worry about the market instability or Asset volatility. They currently support 8 different FIAT currencies which include and of course not limited to USD, EUR, JPY, GBP.
BTSE adopts a linear model which allows traders to view profit and loss in real time. The profit and loss algorithm is integrated in the price movements. So which ever way it is going, you know where you stand. Profits can be directly converted to fiat with just a few clicks. Unlike other exchanges with non-linear models and inverse future contracts, this apparent complicated process is simplified.
Multiple currencies can be placed as margin collaterals and the good thing is, regardless of your collateral, you are allowed to settle your trades in any currency of your choice. Talk of BTC, USD, and USDT.
PERKS OF TRADING WITH THE BTSE EXCHANGE

Image Source
I think we can all agree that no one wants to engage with a brand that has security/privacy issues. It is one of the plagues in our modern online world these days and it's effects CANNOT be underplayed. In light of that, BTSE frequently align themselves with cyber security experts as a part of the ongoing security audit.
Additionally, BTSE tenant servers are fully enclosed in a ever functional DDOS(Distributed Denial of Service) protection which is augmented with state of the art firewall in order to ensure maximum security. BTSE is also fully self hosted. This means they can define the rules, customizing their scalable internal architecture at will so as to conform with high security standards.
They combine cold storage and hot wallet techniques to further secure funds. This translates to extremely fast transactions with no delay whatsoever.
A lot of traders watch out for some other factors that will determine if they should pitch their tent with an exchange; speed, reliability, efficiency and some others I listed earlier. Imagine a situation when you want to submit an order and you get "Order Submission Error", no one wants that. This can hamper the process of exiting and entering a trade, it can make a barrier or a trap.
BTSE has a high-speed matching engine that can process up to two million orders per second. That's more than enough to prevent any form of system overload. Everyone wants a seamless system, it builds up the traders trust and confidence.
As is typical of some exchanges, long embarrassing hours of downtime comes as an inevitable takeaway after system upgrades or system maintenance. Anything could happen during those lost market hours. BTSE runs on 24/7 with or without hot upgrades/maintenance. No more downtimes! Thanks to their horizontal scaling technologies.
BTSE Exchange will soon incorporate liquid USDT deposit and withdrawals which will make them one of the first of many exchanges to do that. This is made possible by their partnership with Blockstream's liquid network. This also facilitates inter-exchange transfers with quicker confirmation times and minimal delay. Alot of high-frequency traders have been limited by delays but BTSE eliminates this. This also means that traders can store their assets outside the exchange (personal wallets) while still being able to quickly pounce on trading opportunities by speedily moving funds in and out of the exchange.
BTSE TOKEN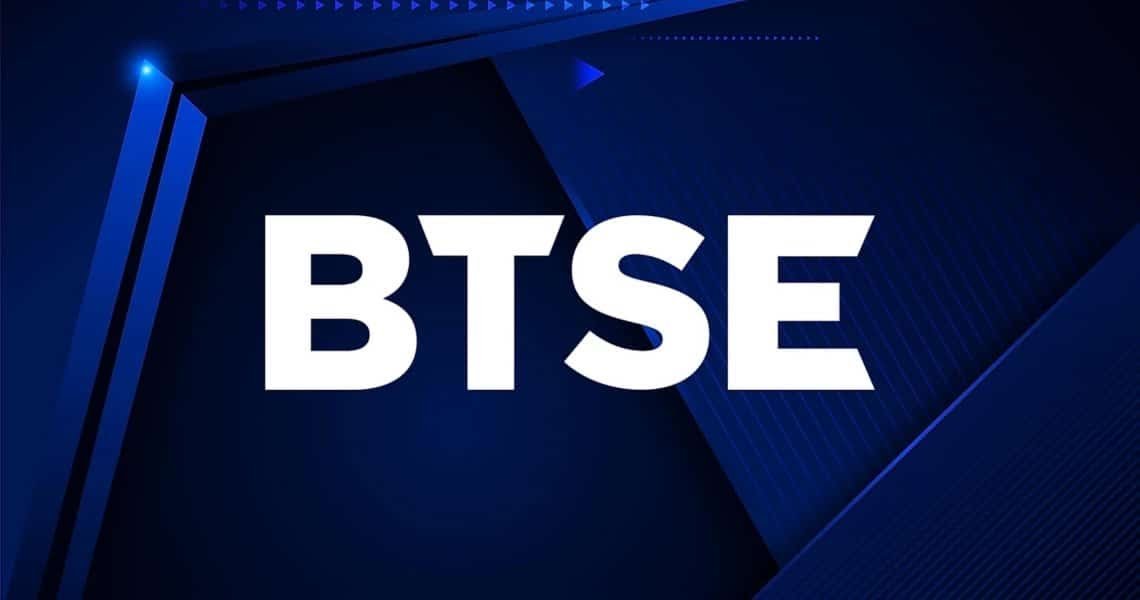 Image Source
The Token also goes with the symbol name "BTSE". Official token sale started on March 5, 2020 with 1 million tokens - part of the 5 million circulating supply. It goes for 2 USD per token. Sale will continue until all the available tokens have been sold. The current round has 50 million tokens out of a total of 200 million circulating supply. 16.2 million have been sold, the unsold 33.8 million tokens will be burnt. The aim of this is to reduce the total supply to at most 100 million. A move which will prove healthy for the token.
WHY YOU SHOULD HOLD BTSE TOKEN
First off, you can decide to deposit your tokens in an interest generating account. Interest payments are made directly from BTSE based on your token worth. The revenues for these interests are gotten from the trading fees generated from BTSE insurance fund. So you can just deposit your tokens, sit back, and watch it grow without having to lift a finger.
Additionally, only the holders of BTSE tokens will be able to purchase premium collocation services which will be made available to high frequency traders. These services grants traders reduced latency (delay time) and more stable connection. They can also purchase other premium services such as data feeds, algorithmic trading systems, backtesting and scripting platforms and white label services.
Large token holders can significantly increase the threshold of their ATM withdrawals, deposits and transactions while using any of BTSE's virtual banking services. If you hold a little, well you can also increase your threshold too but how well you can will depend on the amount of token you are holding.
If you - as a company - decide to list your token on the BTSE Exchange, mandatorily, you will pay a token listing fee. But then it won't be paid with any other token/currency other than the
BTSE token. These tokens can also be used to purchase other tokens from companies undergoing their ICO (Initial Coin Offering).
As stated earlier BTSE supports the use of multiple currencies as margin collateral. This support also extends to its very token. So you could also use the token as margin collateral while trading futures and other products.
Token holders have the liberty to pay for their trading fees with the token and this comes at a reduced cost. Holders get their takers fees reduced across the spot and future markets. The former will see the takers fee reduced additionally for traders who have a daily average balance that would be specified in USD worth of BTSE tokens held in their account the previous month. Same also goes for the derivative market.
The longer you hold your tokens, the longer you'll be able to get your trading fees reduced. You can in fact save up to 60% of your trading fees
How Then To?
Head on to Btse's Official Website, here you have information on the company, comprising both the exchange and token. You can go to the exchange from there. The exchange's User Interface is very fluid and interactive. Being as live as it can get, there's no offline mode. Once you're disconnected from the Internet that's a pause - even without having to refresh.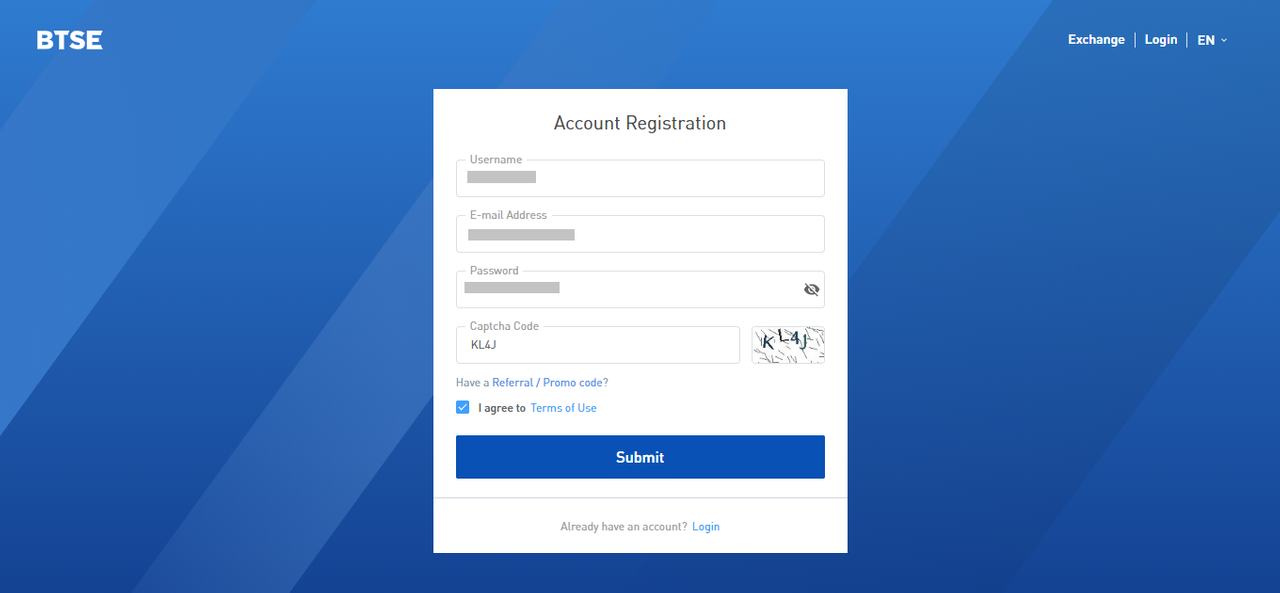 Registration on the exchange is easy-peasy. You just have to Input your Username, Email address, a strong password. Then you complete the captcha process. If you have a promo or referral code, you can fill it in.
You are automatically logged in after signing up. Deposit and withdrawals will then be enabled for you when you successfully complete the email verification process.
In line with standard security measures, BTSE also incorporates the Google 2FA authenticator for additional account protection. In addition to this, you can also specify the range of IPs that can access your account. This process called IP whitelisting allows you define specific IPs that can have access to your account. This can help to automatically ban unknown IP addresses from getting a wimp of your account.
BTSE Verification allows you to set up your account type (Individual or Private use). A verified individual account will require a KYC process where necessary/important details will be filled in. Submitted details will be verified accordingly and if it checks out, you will have a verified individual account ready.
For a corporate account, you will have to fill in additional details which include corporate information, office address, business address and contact information.
Verified account will enable you participate In the token sale which is already live.
REFERRAL SYSTEM


The referral can earn lifetime rewards as long as you keep referring. Even if you don't, there are commission levels that ensure that you can keep earning through your referred friend's friend.. And your referred friend's friend's friend. Like a chain referral system that is linked to the source, you. And these levels are unlimited. By referring you earn 20% of your friends' trading fees and 10% of your friends' referral earnings. They themselves also get 20% fee discount for 30 days. These bonuses are lifetime as long as the flame is kept alive.
PERSONAL OPINION
I know a lot is going on behind the scenes to see this project to fruition. It's not any everyday thingy to see this kind of project around. They have the interest of traders at heart, setting up a suitable working environment for them with all the Crucial elements to ensure they have a hassle-free experience. Their plan to solve the problems bedeviling major exchanges seem to be ingenious and well thought-out. The Token itself is infused with a lot of bullish potential. The incentivized system could see a wide range of BTSE token holders and plans are also in place to see the total supply reduced by at least half which is a good thing for the price. It's only a matter of time before we see it flying through the roof and we'll be surprised to learn that it's neither a bird nor a plane.
BEHIND THE SCENES
BTSE has a group of highly skilled professionals from different fields. It could only be pure hardwork that birthed this beautiful project. There's always work to be done and they have made sure to hire the best hands to get things running. These four dedicated individuals are the brains spearheading their workforce.
| CEO | CO-FOUNDER | COO | CTO |
| --- | --- | --- | --- |
| JONATHAN LEONG | BRIAN WONG | JOSHUA SOH | YEW CHONG QUAK |
Read more about the team here

Additional Information