Hello Air-Clinicians & Friends,
This writeup is in response to @JerryBanfield's post about "BUDGET PROPOSALS"
First of all, we thank Jerry for all the amazing work he is doing on the steem blokchain. He has single handedly advertized steemit with Youtube Videos, Facebook promo, Google Ads etcz. Also with the @jerrybanfield bot giving out an average of 60% APR to investors and delegators, its really one of its kind. Now the beautiful part of it is that he is using a good chunk of the profits for funding BUDGET PROPOSALS for Steem-related endeavours.
---
---
Now unto the business of the day. This is our budget proposal for the air-clinic website project. @AIR-CLINIC began operations 40 days ago to be exact. It was founded by a team of health-experts -Dr. George Edeh ( @NairaDaddy), Dr. Blessing Imade ( @TheLoveJunkie) and a health enthusiast Mr. Ejemai (@Ejemai).
---
We started as a discord community of health-experts, health-enthusiasts and clients where we deliver the following services to clients;
1- FREE MEDICAL CONSULTATIONS
2- DAILY HEALTH DISCUSSIONS
3- RADIO ACTIVITIES WITH MUSIC THERAPY
4- HEALTH-EDUCATIONAL CONTESTS
5- ONBOARDING OF HEALTH-EXPERTS & OTHER HEALTH-ENTHUSIASTS
6- GIFTS & GIVEAWAYS
7- BIRTHDAY CELEBRATIONS etcz
For a more detailed post about this, see "HOW #AIR-CLINIC HAS HELPED THE STEEM BLOCKCHAIN"
---
---
WHAT IS THE "AIR-CLINIC" WEBSITE ABOUT?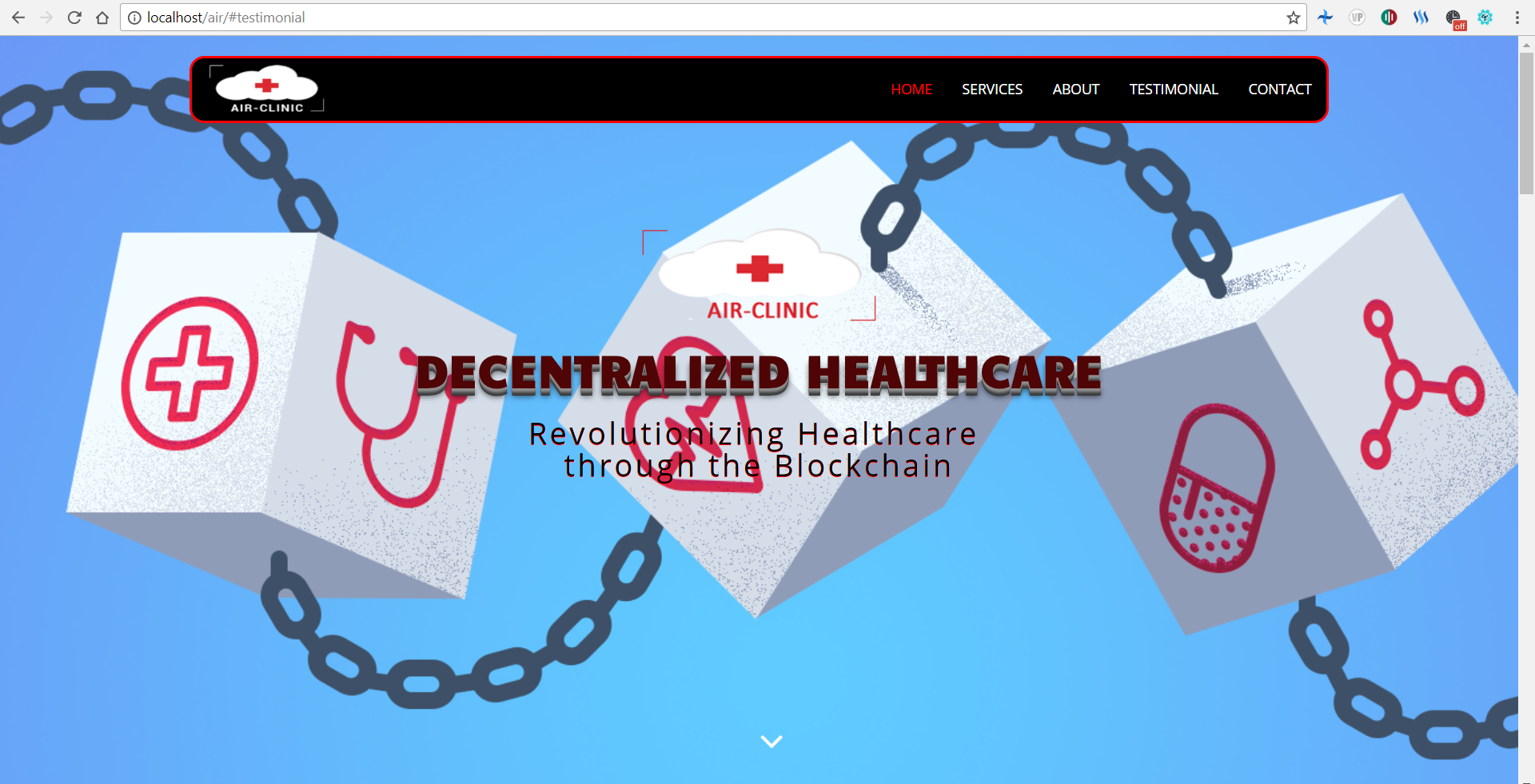 An Early Sneek-peek!
Mission:
We are building an open-source website on the steem blockchain to decentralize healthcare and reward positive contributions to healthcare
Vision:
We see a world where people are more disposed to live a healthy lifestyle and spread health-related matters including discoveries because they would be rewarded for it using the steem blockchainetc.
Features that enhance the steem blockchain:
Reward contributions to healthcare using a voting bot
Use steem/sbd currencies to pay for healthcare
Increase the visibility and popularity of Steem and steemit
Onboard healthcare experts including doctors, nurses, pharmacists, medical laboratory scientists, physiotherapists, psychologists etcz.
Onboard health-enthusiasts and make them much more interested in living a healthy life.
How It Works:
First of all we design a website where contributions to the medical sector can be posted
After promotions, people know about it and post their medical stuff on the website
We have moderators who sift through the posts and find those worthy of being on our website and approve.
Our upvote bot automatically detects approved posts and upvotes according to predefined standards.
Additionally, we will be able to give medical consultations, diagnostics and other services
Budget:
2000 STEEM which roughly equates to $10000- 12000 USD (at the current market prices)
Use Of The Budget:
Web Hosting
Web Domain Name purchase
Web development
Alpha & Beta Testing/ Bug-fixing
Upvote Bot development on the @air-clinic account.
Payment of Web Developers. Our Current devs include @akintunde, @casweeney etcz.
Payment of Bot Developer @neander-squirrel.
Payment for consultancy of other more experienced developers in cases of bottlenecks.
Payment of moderators
Payment for Online Promotions including Steemit promotions to trending page, Facebook, Google Ads, Viral Marketing
Payment for Offline Promotions including Billboards, newspapers, magazines, radio, live meetup etcz
Verification:
RoadMap:
Build the first decentralized website for healthcare
Get closed/open Beta testers
Release the webapp when fully functional
Get Steem Power Delegations To Run The Upvote Bots.
Active Promotions in both online and offline media
Outlook on the SMTs, and token rewards system.
---
---
With these, we believe we have laid down a good foundation towards decentralizing the healthcare sector via the power of the Steem Blockchain. More news and info to come soon.
We also want to use this opportunity to reach out to everyone that has been helping #AIR-CLINIC to reach her dreams so far. Thank you all.
Cheers to a decentralized economy!
---
---
JOIN OUR DISCORD COMMUNITY
https://discord.gg/rqded5m