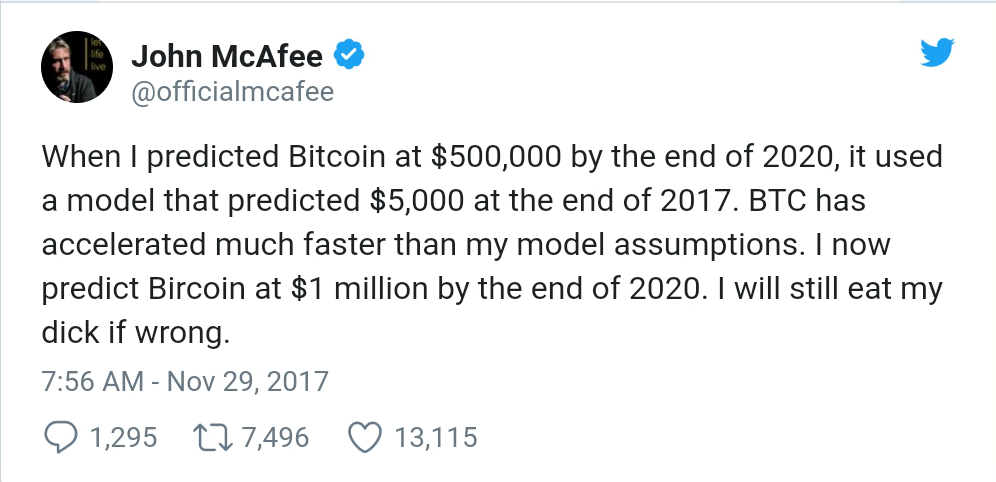 Mr. McAfee has stated that by December 31, 2020 if Bitcoin has not reached $1,000,000.00 per coin he will eat his own penis.
The bitcoin market is no longer about bears, bulls, moons, or lambos. Buy high sell low. We have entered a new market:
Eat dick vs. Keep dick
Let the memes flow!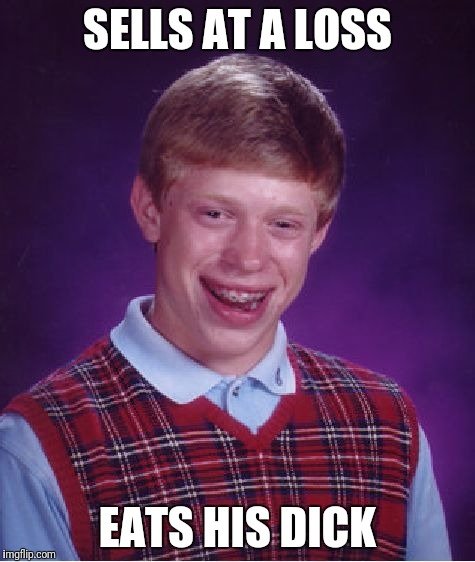 Could bitcoin's current rapid tumble ($8,960 at writing) from all time highs be the first indicator that the crypto space is buying into the cannibalism - Probably not. But we cannot discount the idea that leading up to "dick date" traders and investors have a magic number in their mind, $1 million.
The internet has been a crazy place for random viral fads and challenges, has John McAfee taken it to a whole new level? I have my suspicions that in an age where news, entertainment, knowledge, and all things within the collective consciousness of the human race is on tap and available, John may have already sealed his fate.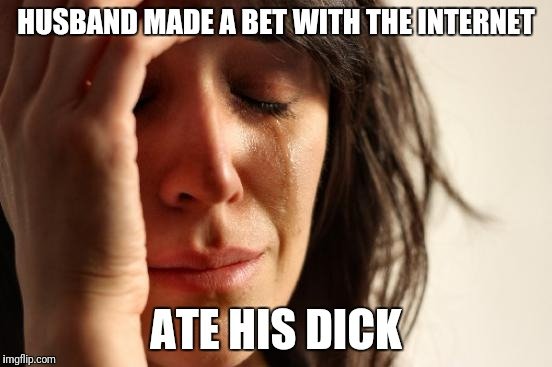 There is no shortage of attention seekers online, a quick trip to many social platforms that offer video, audio, and text content is easy proof. Demand for this content is constantly at all time highs. From explosions, car crashes, war, and disasters to celebrity leaked photos, drama, memes, and troll videos. We have a huge inventory of "stupid sh*t on the internet". People actually seem to take joy in watching other people failing.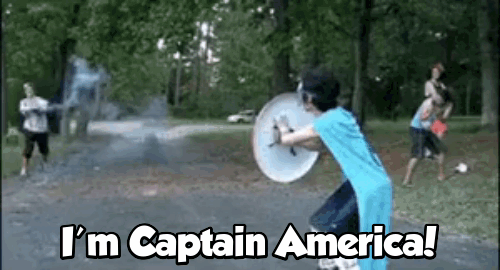 There are plenty of times the internet has come together to help those in need; more times than not, the internet is ready to see the poor sucker get whats coming.
With a possible net worth of ~ 100 million dollars, John is far from in need. In fact I'm sure someone out there would be willing to sell their dick to McAfee for a bitcoin, 1 bitcoin worth $999,999.99
Only time will tell if John McAfee's member is about to be cut from the team.
Liquidate those assets John, December 31, 2020 you better pump it to a million!
Stay tuned! More to come!

If you like what you read, follow @captboatface! Dont fall for the games of outdated social media. Support the people and projects you believe in!