The trip from Ibra to Fins in Oman had an interesting start as I found myself following a pick-up being driven by an Omani with two camels tied to the pick-up trotting behind – needless to say the pick-up was driving slowly as Omanis highly value their camels!
The road from Ibra was paved for quite some distance with the terrain being rather flat and barren with occasional trees. A right turn onto a dirt rocky track changed the terrain from flat to a steady climb that became extremely steep, as the Prado four wheel drive started the climb up the Eastern Hajar mountains, that rise to a height of 3,000m. The track wound its way up towards the steep escarpment towards the Eastern Hajar desert plateau. Before reaching the plateau the impressive ruins of the Jaylah Beehive Tombs appeared – dry-stone tombs that date back some 4,500 years. After stopping to view the tombs it was pleasant to sit in a millionaire's chair (the name for a comfortable chair after a rough trip!) and have a lovely sandwich and drink whilst taking in the spectacular views of the Eastern Hajars. Continuing across the plateau villages and donkeys appeared with the temperature now being quite cool due to the elevation. Having crossed the plateau the track suddenly descended and became a serpentine track leading rapidly down to the coastline of the Arabian sea.
~
Die Reise von Ibra nach Fins hatte einen interessanten Start, da ich mich in einem Pick-Up befand, der von einem Omaner mit zwei Kamelen, die an den Pick-Up gebunden waren, gefahren wurde - natürlich fuhr der Pick-Up langsam, da Omanis ihre Kamele sehr schätzen!
Die Straße von Ibra war über weite Strecken gepflastert, wobei das Gelände ziemlich flach und karg mit gelegentlichen Bäumen war. Eine Rechtskurve auf einen schmutzigen felsigen Pfad änderte das Gelände von flach in einen steilen Anstieg, der extrem steil wurde, als der Prado-Geländewagen den Aufstieg in die östlichen Hajar-Berge begann, die bis zu einer Höhe von 3.000 Metern ansteigen. Der Weg führte nach oben in Richtung des steilen Abgrund zum östlichen Wüstenplateau Hajar. Vor dem Erreichen des Plateaus tauchten die beeindruckenden Ruinen der Jaylah Beehive Tombs auf - Trockenmauern, die etwa 4.500 Jahre zurückreichen. Nachdem angehalten wurde, um die Gräber zu besichtigen, war es angenehm, auf einem Millionärsstuhl zu sitzen (der Name für einen bequemen Stuhl nach einer harten Fahrt!) und ein schönes Sandwich zu essen und etwas zu trinken, während man die spektakuläre Aussicht auf die östlichen Hajars genoss. Weiter ging es durch die Plateau-Dörfer, vorbei an Eseln, wobei die Temperatur aufgrund der Höhe nun recht kühl war. Nachdem das Plateau überquert war, stieg der Weg plötzlich ab und wurde zu einem Serpentinenweg, der schnell hinunter zur Küste des arabischen Meeres führte.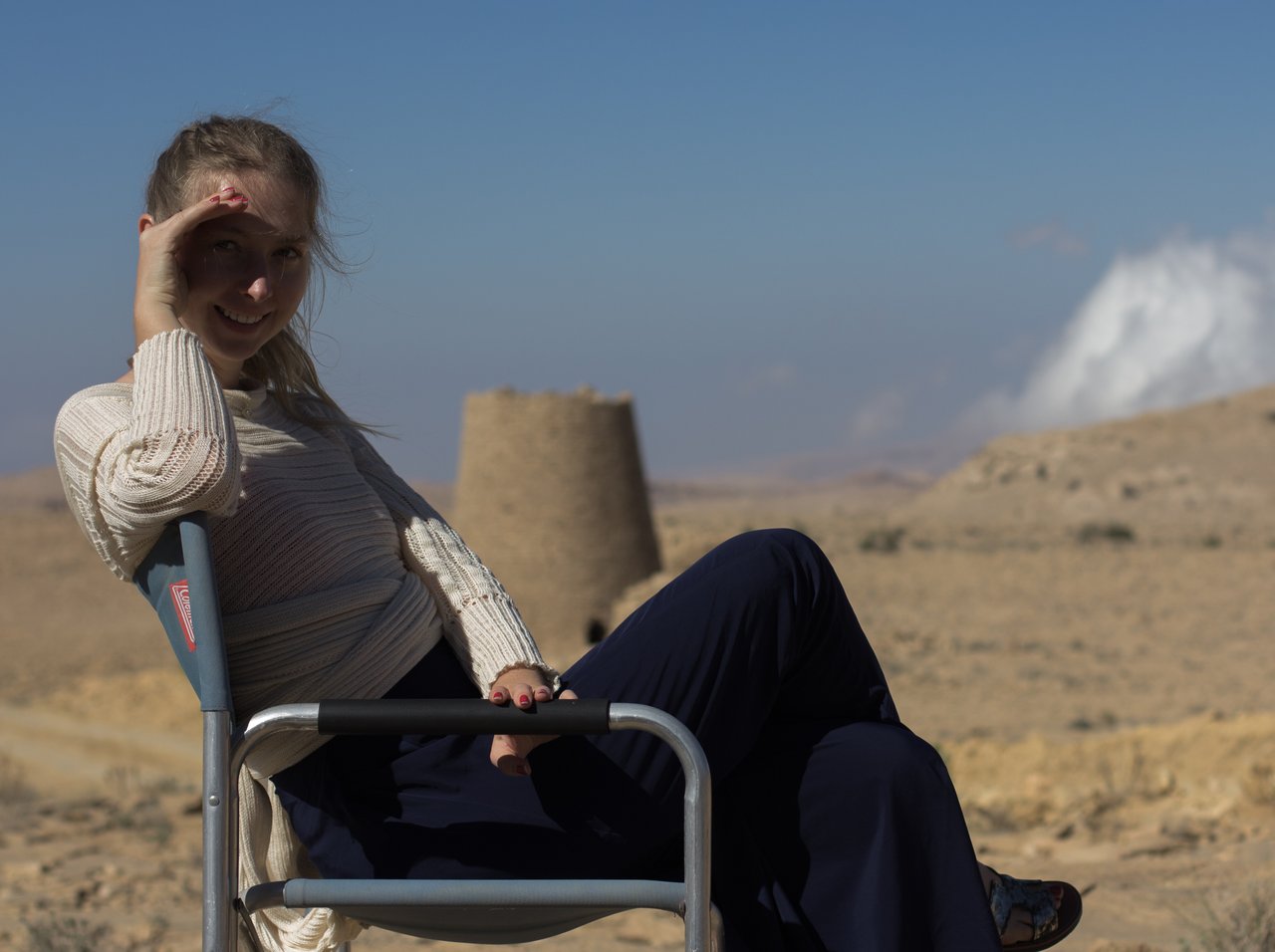 Content and all photos by @kam.ila