The World Cup is here again and pubs are stocking up. Why is football so much fun at the pub than in the comforts of your home? Is it the freedom to yell without restraint or the useless analysis from the neighborhood "experts" of the beautiful game? Sit close to the experts this time around and you may learn the finer details of game plus some techie stuff like Video Assistant Referee Technology (VAR).
Nevertheless, where you watch the game from (home, pub, or Russia) will not have the slightest impact on results but you could tell us which nation among the usual suspects you think is likely to walk away with the trophy. Here are my top picks but kindly note that I'm not giving any professional betting advice here. I wouldn't bet my rent on this.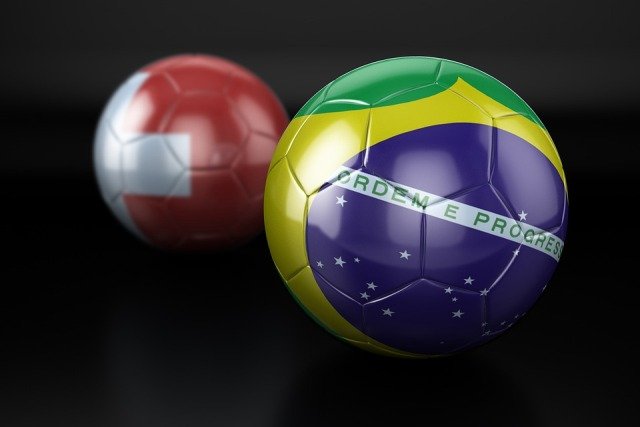 Image Source
Who'll Win the Trophy?
It's been said that no South American team has ever won a World Cup tournament hosted in Europe but that won't knock out Brazil from list of likely winners. Germany have their sights set on retaining the trophy, which is quite unlikely but if Brazil did it way back in 1962, then Joachim Low's boys can still do it. Spain and France are strong contenders too. Here is why any one of these teams will win.
1. Brazil
The five-time world champs have the strongest line-up and a great coach. Gracenote, a data company, gives Brazil a statistical advantage over the rest but seriously when did statistics ever win a game? If I could count the number of bets I've lost after betting on the strength of head-to-head and other statistics...
Anyway, Brazil has a better team this time around with the likes of Coutinho, Marcelo, David Luiz, Fernaninho, Firmino, and of course Neymar. Big names that make a real World Cup winning squad. I still expect Neymar to torment most defences while the midfield of Coutinho and Firminho, who used to play together at Liverpool, will maintain a strong cohesion and deliver results.
Brazil has always had problem with defense but hopefully this time around David Luiz should be able to cope with any threat at the back better than 2014. Remember Brazil is out to make amends for what happened in their backyard four years ago.
2. Germany
There's that almost cliché quote by Gary Linekar, the English football legend, who said football is a game where 22 men run after a ball for 90 minutes but at the end the Germans win. Well, there's an element of truth in the quote. The Germany team is good. Almost as perfect and well-coordinated as the DIY tools and cars manufactured in Germany.
They have a great coach too. Joachim Low has taken his squad through five big tournaments including the EURO 2008, the 2010 World Cup, EURO 2012, the 2014 World Cup, and EURO 2016. In all these major tournaments, Germany won the 2014 World Cup, were runners up in 2008 EURO in Spain, and finished at least in the semi-finals in the rest.
With Low at the helm, expect anything from the Germans, including retaining the title. Remember they still have the best goalkeeper in the world, Manuel Neuer, who won the 2014 Golden Glove award.
3. Spain
I strongly disagree with most betting sites which have placed Spain in the 4th position after Brazil, Germany, and France. Spain is a major contender for the title, almost as good as Brazil and Germany. The current Spain squad is a great improvement from what we saw 4 years ago in Brazil.
There's fresh blood in the new squad supported by the veterans such as Sergio Ramos, Gerrard Pique, Andreas Iniesta, Sergio Busquets, and David Silva who plays both as an attacking midfielder and an excellent winger. Spain is definitely a team to watch out for.
Top Picks for the Best Player
Top 3 picks for best player are Leo Messi, Neymar, and Antoine Griezmann.
1. Leo Messi
Messi is without doubt one of the best players in the world despite having a rather disjointed Argentina squad. Russia may be his last chance to play in the World Cup and he's expected to shake the net several times but can he be four times lucky and scoop another best player award?
2. Neymar
Neymar has not had the best half season in the last few months but still rose up to the occasion when his country needed him. The agony Brazil suffered 4 years ago should be enough motivation to break every defence he encounters throughout the tournament. That is if there are no injury worries any more.
3. Antoine Griezmann
France is counting on Antoine Griezmann to at least reach the quarter finals if not beyond. Griezmann is the most sought after striker in Europe, especially after helping Atletico Madrid win this season's Europa league. We saw his magic in the EURO and expect to see more in Russia.
Surprise Teams
Which team do you expect to spring a surprise and go beyond the quarter finals despite being seen as a non-contender for the top spot? I'm keeping my eyes on Colombia, Belgium, Poland, Portugal, and Croatia. One of these teams may just turn out to be a giant slayer. After all, it's the World Cup where you always expect the unexpected.
Over to you now. Who do you think will win the coveted trophy and best player? Which team do you expect to spring an unexpected surprise? And lest I forget, England will AT LEAST reach the quarter finals.