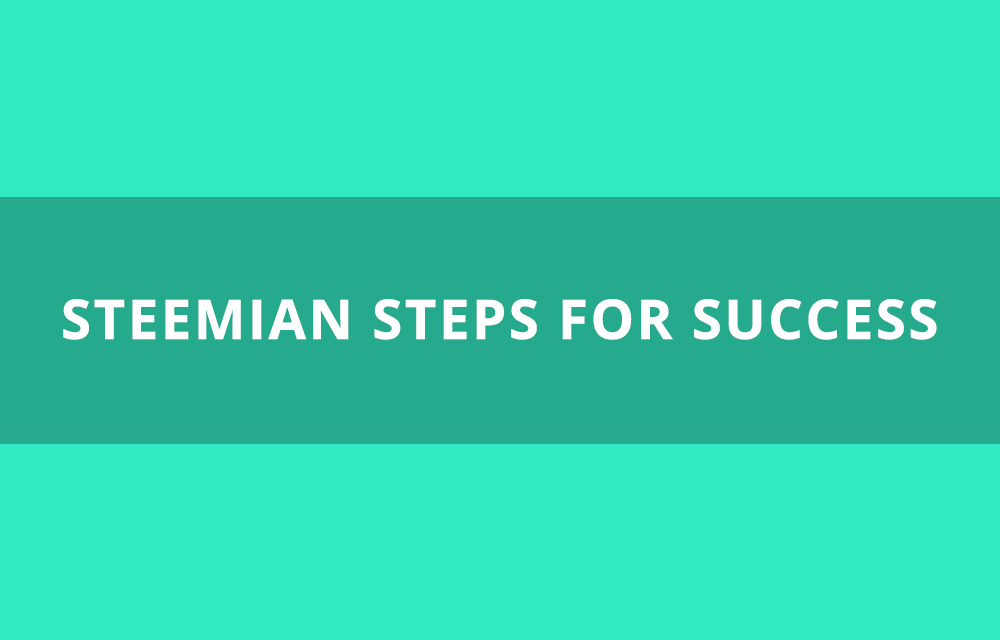 Every new Steemians struggle on Steemit for getting success, but success doesn't come by giving up. It comes from writing quality contents and engaging with the right audience on Steemit.
I know that every Steemian who first joined the Steemit platform, They don't have enough information about the platform and some of them are not taking the right steps because they actually don't know how to get engaged with the Steemit community and what steps to follow, but as they move on they gradually understand that how the platform works and also getting familiar with different communities and the Services.
Here in this post, I'll walk you through to follow some steps for getting success on Steemit by knowing the right strategy, communities, and the right services.
Steemian Steps to follow for getting Success
Below I'll share some of the Steemian Steps for getting Success on Steemit, The purpose of this post is pretty simple to help the new and existing Steemians to save their time. So here we go.
Produce quality contents
I think It is one of the most important steps that every Steemian should follow is by writing quality contents without doing any plagiarism (Stealing others contents or photos) because quality content is something that compels whales, dolphins, and orcas to upvote your posts. Always focus to write informative and quality contents about any topics that you like and have enough information, and think how the users can get more benefits out of your post.
Commenting
As a newbie Steemian, nobody knows about you and your content until you didn't let them know about your new account existence. There is one easy way that you can do, is by Commenting on their post. I mean commenting not spamming (Sharing your post link in the comment of someone's post and say follow me or upvote me is not the right strategy, It is basically spamming). These two terms are totally different from each other, one benefit you and the other will down your reputation score if you got a flag.
First, try to find some Steemians who produce quality contents related to your niche, then read the articles that interest you and give engaging comments as well as add your own points if you have related to their post.
I think the comment should be slightly longer between 100-150 words and should be meaningful to the point. Writing good and more comments also help you get more followers and upvotes, It basically increases your own Steemit blog audience.
Join Communities on Discord
Communities are great for the post promotion and for networking with different Steemians because a lot of networking occurs outside of Steemit. There are some communities that help newbie Steemians to grow their rewards, reputation scores, and their accounts. So let me share some of the communities that I found helpful to me and the other Steemians.
PAL (Minnow Support Project) - PAL is a community that gives a lesson of Peace, Abundance and Liberty, which help minnows by free upvoting their post in the upvote section once in 24 hours, It is a good place for networking with high ranked and new Steemians. They also have a section for post promotion where Steemians can promote their post. This community is very supportive and engaging, so basically they give value and respect to the quality contents. If you're interested to join this community then click on the link (https://discord.gg/HYj4yvw) and create an account on discord.
ADSactly (https://discord.gg/CvQpfSD) - ADSactly is a great community that is a made of different people from all over the world, This community is very helpful for every Steemian either established or new Steemians. First, The community helps the Steemians by the networking and second, This community select one post as "ADSactly post of the day", It means that ADSactly gives a huge upvote to that author who has been selected. The rule of this community is pretty simple, just add ADSactly tag in your post and share your post link in the "post promotions ADSactly tag" section. The good part is that If you're not writing post regularly, You still can share your existing quality post link once a day until 7 days that it doesn't get a payout.
The Other helpful communities
WhaleShares https://discord.gg/DX7zErC
Earth Nation https://discord.gg/6AmGwU4
Steem Gigs https://discord.gg/NuFVxKA
Tpot http://discord.gg/4h64RA8
BuildAWhale https://discord.gg/yebax27
Join Steemit Services
There are some projects/services out there, which is quite helpful for the hard worker content creators for the visibility of their post on the Steemit platform. Let me share some of the good ones with you.
@qurator is a curation guild which helps the Steemians in promoting their quality content by offering a lifetime of upvote and support with a 1-time subscription fee of 4 Steem. It is one of the best upvote services out there on Steemit but the criteria of selection are slightly strict and totally based on the quality contents.
@steembasicincome is a sponsor based 1-time subscription fee service for a lifetime upvote of your post and your sponsor's post. Its subscription method is quite easy, Just you have to transfer 1 Steem to steembasicincome and the name of your friend that you want to sponsor in a memo. After everything is done, your sponsored friend and you mean both of you get an upvote for one single subscription.
@moonbot is a monthly subscription service with a fee of 1 SBD. This service gives you an upvote every time you publish a new post. It gives you more reward than your subscription fee, If you post daily.
@ginabot is one of my favorite notification services, One thing you have to keep in mind that Ginabot is not an upvote service, I include here because I like to use this service because it let you know about every activity that is happening to your account. e.g: who upvote, comment and resteem your post? who follows and unfollows you? who replied to your comment and how much SBD or Steem you transferred to other accounts?
I like this service very much and I also recommend you to register yourself for this service. It costs you nothing, Just transfer 0.001 SBD to Ginabot and follow their instructions and they return you back.
Conclusion
These are Steemian steps that will help you to get more Visibility, Followers, Upvotes and engagement with the community of Steemit or in other words this is a way to get Success on this platform. If you follow these steps correctly that you'll get success in the long term.
Now I'd like to hear from you about Steemian Steps to follow for getting success on Steemit by sharing your useful thoughts below in the comment, Maybe I missed something.
If you like this article, so please Upvote, Follow and Resteem.