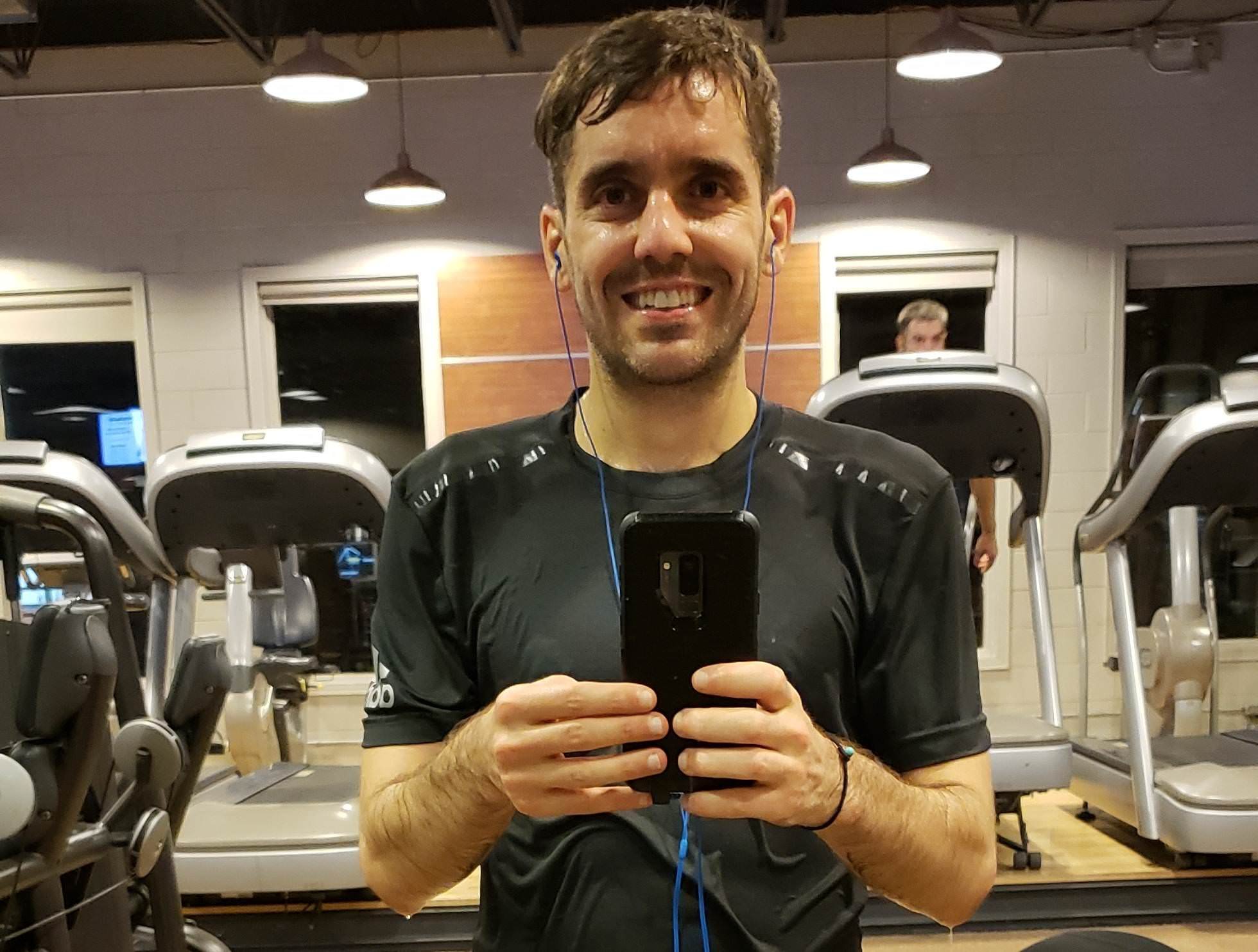 This Bangkok half-marathon is this November and I have a shot at the podium, and even though my chances are quite small, I'm quite stoked by it and my current training.
1:18 would have ranked me second in last's year Bangkok half-marathon and I've actually ran 3 sub 1:18 half-marathons in the last 5 years. That said, I'm far from my prime condition.
Less than 2 weeks ago I ran Nicolet's half-marathon in 1:25 or 7 minutes slower than I would need to, to get a good shot at the podium. The podium is something but it's far from everything. It's mostly a silly goal.
Run For Your Life!
In order to achieve my sub 1:18 half-marathons, I usually run at least 100km (60 miles) a week with a pace averaging between 4:00-4:30/km and intervals ranging from 3:15-4:00/km. I'd say I need around 4-8 weeks of these and going as high as 140km a week. The hick is that the race is on the 18th of November and I currently run 70-80km a week.
Also, I'll need around 5 days before the race to recuperate from all the training and thus that leaves me less than 2 weeks of intensive training. Not only that but I'll be traveling during those weeks, meeting with people I've long to meet for more than 2 years now, which could potentially make training very unappealing during that time.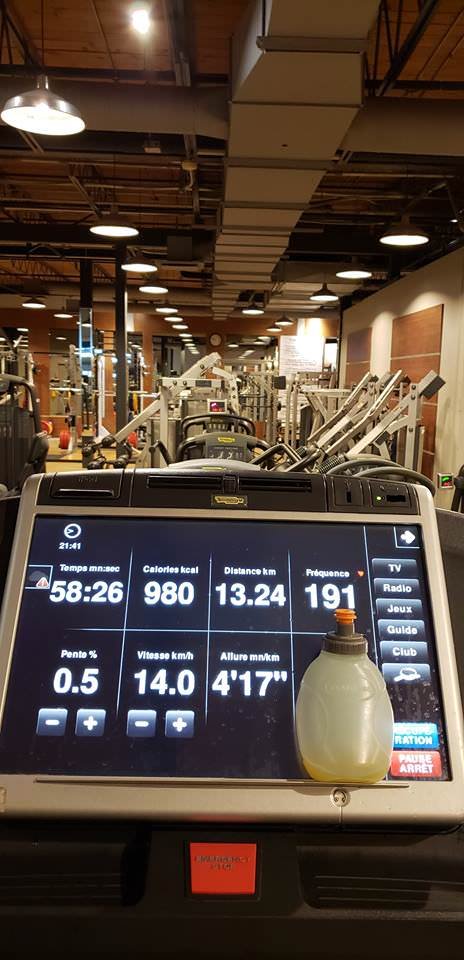 Yesterday's training (Not my heart rate!)
But I have a shot at this podium, okay not so much anymore and it doesn't really matter. A podium is mostly just a nice place from where you stand, a couple of inches higher than most and from where you salute people you mostly don't know that take pictures of you.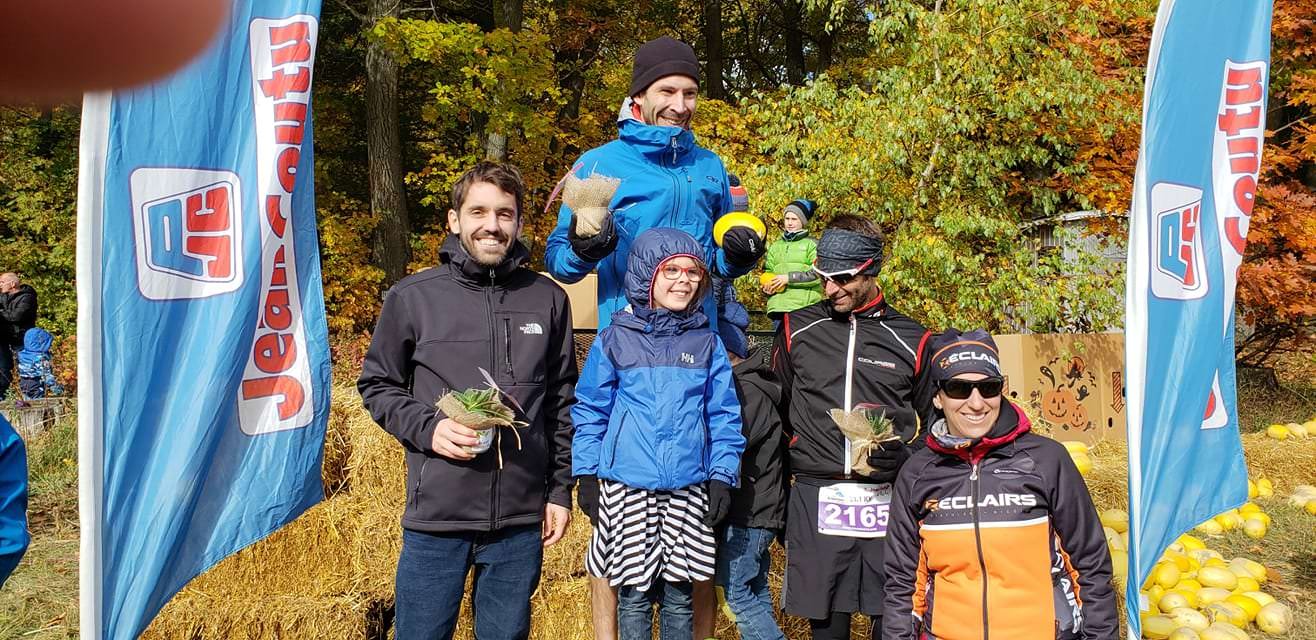 On the 2nd step of the podium in Nicolet 2 weeks ago
For me it's moslty about going beyond my limits and about strength, endurance and stamina I'm gaining and can use in all other walks of my life. Strength, endurance and stamina aren't just part of life, they are life itself. They are like the resource credits, voting power and Steem Power of Steem, without them nothing can be done.
Martial Arts At Heart!
Health is life and moving is a primordial aspect of it. I've recently begun doing some martial art training, thanks to a good friend of mine who also started recently. Martial arts are a very good way to push our limits. I've been watching some martial arts video this week and I've been fascinated by some of the incredible physical abilities they displayed.
This one guy can seemingly break coconuts using only his index finger to crack the nut open. I'm pretty sure any regular person would end up breaking their own bones no matter where they'd try to hit this guy. I'm very impressed by what the human body can achieve when put under constant stress or repetitive shocks. Martial arts would have left their masters practically unassailable prior to the advent of modern technologies.
The Struggle For Survival!
Self-defense should be part of any logical system of education. It's one basic aspect of life. All animals in the wild need to know how to defend themselves. Delegating self-defense always has its drawback. People should be armed and know how to defend themselves.
The better armed and trained people of a given region are, the smaller the incentives for governments and despots to try to gain control over that region. I'm not saying governments couldn't totally destroy those regions but then there would be no one to take control of, no one to take advantage of. Governments and despots always have it easier with defenseless people.
Securing Life, Liberty, And Property With Blockchain Technology!
I'm all for peace and the dissolution of current governments [1] [2], for a future where fiat currencies have become irrelevant and where governments and companies as we know them today have been replaced by blockchain based one.
If Bitcoin's price continues to rise at the rate it has over the past 3 years, then in the next 2-3 years people would seriously begin to question fiat currencies' future, possibly causing a total meltdown of the old and outdated financial system.
Hyperbitcoinization or Steemization or cryptolization are very real possibilities with stronger rationals than most realize. I'll get back to those rationals and economic forces in an upcoming post.
The Podium I've Missed!
I once won a podium but because I didn't carefully check the ranking, I didn't realize I had placed first in my age category while finishing 14th overall. This was at the 2016 Montreal half-marathon where I always dreamt to make it to the podium and thought it seemed impossible. It was far from my best race finishing in 1:19 sharp.
I've only realized I made it to the podium when a month or so later I received this trophy in the mail! What a bummer! I couldn't even be there to salute those stranger when they so needed me!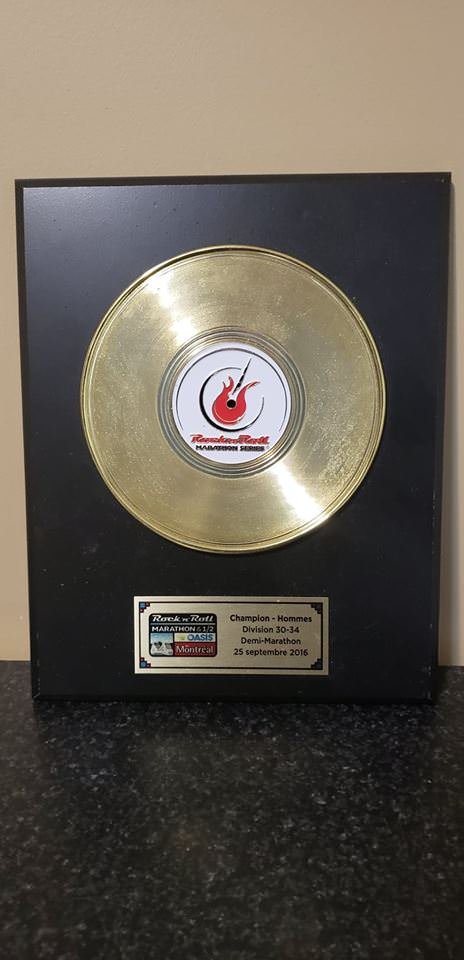 .
A Return On My 4 Most Recent Posts!
I wish I went at some of the subjects those posts talked about, in a more careful way than what I did. We can always improve and that's what I'm striving for.
For one, I think it would have been more responsible to ask witness privately whether they support some sort of witness vote decay or renewal, when would they want to see such a feature added and if they are doing anything to make it happen. I'm still considering doing it. I've also corrected some incorrect statements I've made.
I can easily understand why some people felt like some of my recommendations felt clumsy at best and illogical at worst. I sincerely apologize to those who felt this way and I understand and agree I should have known better.
In regard to some of the disagreements I've expressed toward some actions of some Steemit employees, even though I stand my ground on those disagreements, it doesn't mean I don't respect those people or that I don't look forward to meeting them. As long as people are non-violent, I respect them.
Everyone is entitled to their opinions and from disagreement sometimes spring great insights. So I've reached out to them privately and let them know that even though we might fundamentally disagree on some stuff, I look forward to meeting them and if the chance presents itself, shake their hands and if they'd prefer not too that's fine too...
And now it's gym time for me!